Summer may be winding down, but temps are staying warm in SoCal, and the fun is still going. Whether you're enjoying the season by the pool, at the beach or just with friends and family, here's how you can stay hydrated—with a tasty spin.
The global hard seltzer market has been valued at $5.5 billion, while the sparkling water business is valued at $29.71 billion. With these ever-growing industries rapidly making money, there are plenty of Asian and Pacific Islander-owned businesses getting into the game. If you want to help support API entrepreneurs while staying cool this summer, get to know these nine seltzer and sparkling water companies making a big splash on the beverage scene!
1.Moshi
If you're on the hunt for a brand that's gluten-free, vegan, non-GMO and Kosher-friendly, look no further than Moshi. Using Japanese Uji matcha and yuzu citrus as basic ingredients for their sparkling waters and sodas, the company offers new takes on traditional refreshments. Uji matcha drinks come in four flavors: original, white strawberry, ginger and coconut, while yuzu is available in original, unsweetened, white peach, red shiso and apple. As an added bonus, each of these drinks are 120 calories or less.
2. Nectar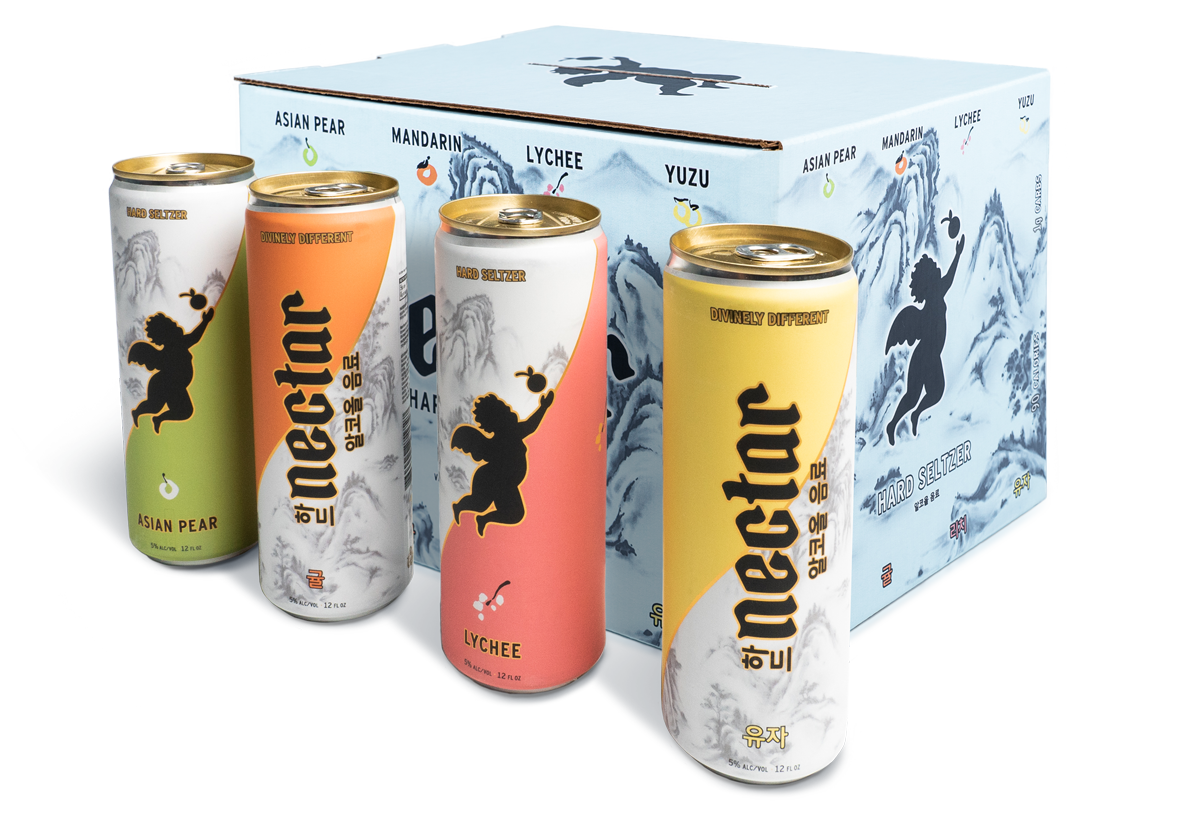 With drinks clocking in at 0 grams of sugar, 1 gram of carbs and just 90 calories each, Nectar hard seltzer brings healthy flavors in yuzu, lychee, mandarin and Asian pear. Besides offering a healthy alternative to the seltzer game, their tactics at quittheclaw.com could definitely convince White Claw fanatics to try this AAPI-owned brand. If you are looking to satisfy your taste buds, go to their website and sign up with your email to get 15% off your first Nectar box and other exclusive offers!
3. Droplet
Droplet is not your average drink. Using adaptogens in all of their beverages, Droplet offers non-toxic, all-natural herbs and botanicals that help regulate stress. Three different drinks contain ingredients to benefit your health and well-being. The Pretty Balanced drink is made with white peach, ashwagandha, moringa, lemon verbena, lemon juice and antioxidant-rich Himalayan pink sea salt. Pretty Bright contains yuzu, ginger, coconut nectar, Himalayan sea salt and reishi mushroom, which can support mood, and Pretty Happy has passionfruit, cacao, vanilla bean, organic coconut nectar and rhodiola to boost mood and energize skin. Droplet is also women-driven and -founded!
4. Genki Forest
Chinese-based sparkling water company Genki Forest has started to find a foothold in the North American market. With several refreshing, fruit-based flavors—lychee, white peach, grape delight and more—Genki Forest offers sugar- and calorie-free drinks that, according to the company's website, are two-and-a-half times more bubbly than other sparkling waters on the market.
5. Sanzo
Sanzo offers sparkling waters in traditional Asian flavors like yuzu, lychee, Alphonso mango and calamansi. With a mission to bridge cultures by using authentic flavors in their products, Sanzo's creators were inspired by multiple achievements within the Asian and AAPI community, like blockbuster films directed by Asians and Asian Americans, the rise of Korean pop music and other notable moments. If you are still skeptical about trying Sanzo, order their four-flavor sampler pack! Plus, they have positive feedback from publications like Business Insider, New York Magazine and Epicurious.
Kona Brewing Company's spiked seltzer is composed of various tropical ingredients that can transport you to Hawaii in just a couple of sips. With seltzers in four distinct flavors (tropical punch, strawberry guava, passion fruit orange guava and starfruit lime), this father-son founded business is ready to share their delicious drinks in aesthetically pleasing cans. Not only does Kona incorporate tropical ingredients and vibrant seltzer cans, their drinks are also gluten free and zero sugar.
7. Year Of
Coming to you live from record label 88rising, hard seltzer brand Year Of is bursting with a wide range of vibrant Asian fruit flavors. Year Of drinks come in combinations like strawberry and dragon fruit, lime and mint, white peach and pineapple and mango and passion fruit. That means you've got plenty of options next time you try belting out 88rising tunes at karaoke.
8. Mizo
Family-owned hard seltzer company Mizo is a spin on the Japanese word mizu (水), the Japanese word for water. Mizo integrates innovative packaging with strong ties to childhood juice drinks. Each 10-ounce hard lemonade pouch is 90 calories, 4.5% ABV, gluten-free and comes in four distinct flavors: blackberry lychee lemonade, mango passion fruit lemonade, white peach lemonade and original lemonade. Not a fan of pouches? Mizo also provides seltzer cans in three more different flavors, lychee, Asian pear and calamansi lime, with 0 grams of sugar, 100 calories and 5% ABV each.
9. Lunar
Besides their concise and appealing tagline, "Asian Americana in a can," Lunar brings real, premium flavors like lychee, yuzu, winter melon and plum with no artificial flavors or chemicals. From initially brewing Lunar out of their apartments in New York City, Lunar's founders' goal is to build a movement for Asian inclusion within the alcohol industry. Visit Lunar's website to learn more about their unique and exclusive flavors!