To promote his new film, comedian Jo Koy did what most movie leads do: make an appearance on "The Tonight Show." Host Jimmy Fallon (a former comedian himself) asked Koy to describe "Easter Sunday's" premise, to which Koy responded, "It's [about] my family… we're Filipino." At the mention of "Filipino," a faint, yet ecstatic cheer is heard from what seems to be a single person in the crowd.
As a staple in the entertainment landscape, "The Tonight Show" is one of the largest platforms in late-night TV today. It acts as a threshold, over which a select few get to cross from minor to mainstream. And now, thanks to "Easter Sunday" and Koy, that door is open for more underrepresented cultures and communities to tell distinct and unique stories through their own major studio films.
The world of "Easter Sunday" begins with the titular holiday serving as a catalyst that brings together one messy, but close-knit family in Daly City, California. "'Easter Sunday' is like the Filipino Superbowl," Koy's character Jo Valencia quips in the film. The film follows struggling comic and actor Valencia as he tries to balance fatherhood and his career with the X-factor of a family that needs him to travel several hundred miles upstate to help mend their tempestuous relationships.
Making a movie like "Easter Sunday," which premiered on Aug. 5, takes an enthusiastic, influential and massive fanbase. This following, anchored heavily in the Filipino diaspora, has rallied behind Koy as a modern cultural ambassador for Filipino Americans. His stand-up material includes hilariously detailed anecdotes about being raised by his working-class, immigrant, single mother, and observations on being half-Filipino and half-white. In addition to Koy leading "Easter Sunday," he is supported both behind and in front of the camera by two heavy hitters in the AAPI comedy space: producer Jimmy O. Yang and director Jay Chandrasekhar. Koy's co-stars include other Fil-Am luminaries such as Lou Diamond Phillips, Tia Carrere and theater veteran Lydia Gaston.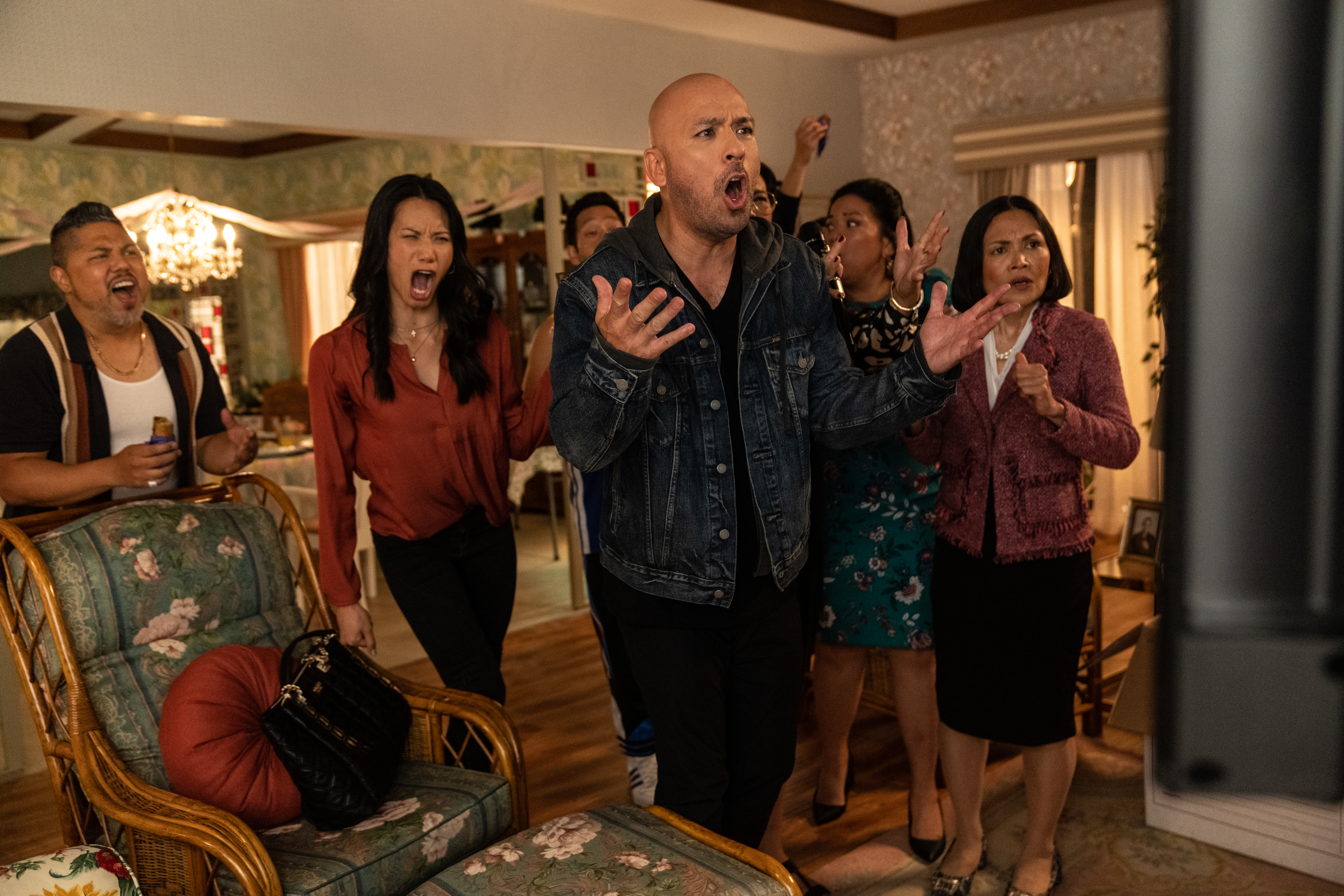 Though production moved from pitch to filming at record speed, Fil-Ams taking the lead in Hollywood is long overdue. "It took a long time to get us front and center," Carrere told Entertainment Weekly in an August interview. Both Carrere and Phillips have been acting for over three decades. Phillips has only played a Filipino character twice before; for Carrere, this role marks a first.
Similar to Phillips and Carrere, Koy also has a 30-year tenure to his name, but in the stand-up circuit. After the 2019 release of Koy's Netflix special "Comin' In Hot," representatives from Steven Spielberg's Amblin Entertainment requested a meeting with Koy. Once Koy pitched the idea for "Easter Sunday," the Amblin team picked it up for production on the spot. Koy and Amblin went to work right away in putting together the production team, which included producer and Rideback founder Dan Lin and screenwriter Ken Chang. "Spielberg greenlit the script from Ken on the first draft. It went from ideation to shoot date in six months, which was unheard of," says Yang, who came on as producer through Lin. "This was really fast-tracked, partially thanks to Jo's brilliance, Ken's great writing and the passion of Steven Spielberg, who really believed in it."
Next came Chandrasekhar, known for directing 2000's endlessly quoted comedy "Super Troopers." Chandrasekhar worked on later drafts of the script, incorporating Koy's jokes and other bits from his stand-up. "I wanted it to feel like a full-on entertaining comedy," Chandrasekhar says. "It was important to me that it was funny, because I want Jo to succeed as a film actor."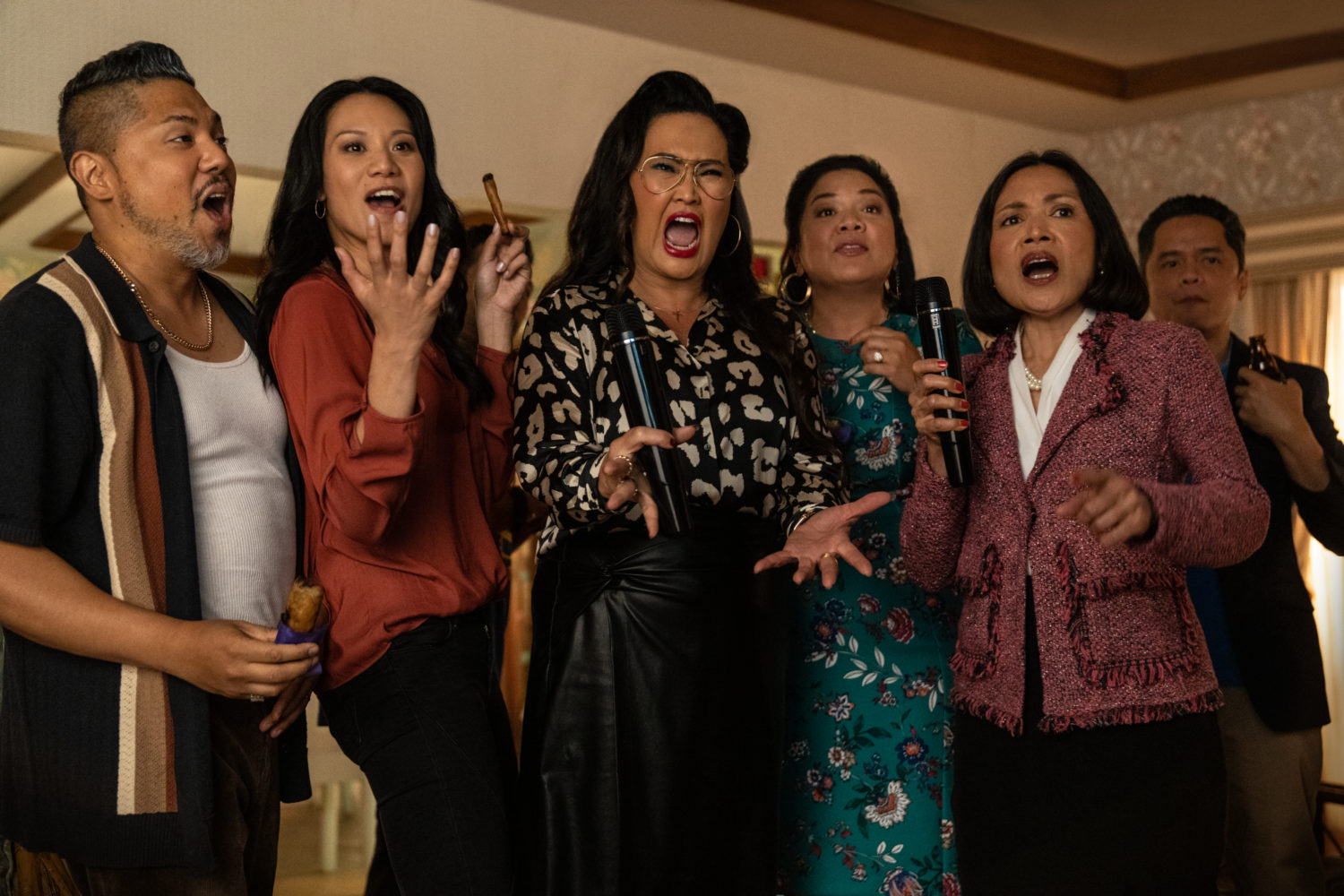 As zany, chaotic and funny as Valencia's family is, it's equally full of love. Valencia and his troublemaking cousin Eugene, played by the pitch-perfect Eugene Cordero, spend the bulk of the film running around the streets of Daly City in a series of increasingly absurd misadventures, all while navigating the expectations of their boisterous family. The Valencia family home also serves as a sort of literal and narrative home base in which the characters gather to eat, sing or fight with each other, speaking to the similar experiences of many families despite their specific cultural backgrounds. "There's a lot of fun characters that you will absolutely relate to," says Yang.
Though a veteran director of hot-mess family dynamics, as on Fox's "Arrested Development" and ABC's "The Goldbergs," Chandrasekhar says he relied heavily on Koy and the rest of the cast to make sure he was getting all the Fil-Am specifics correct. The director made sure the story worked from a narrative and comedic standpoint, then, he let Koy weave in the specifics. "I'm usually in control of the language, but some of the slang, I needed to make sure I knew what the intent was," the director explains. "Jo, Lydia, Tia and Eugene helped brainstorm the right things to say. We were excited about the eventual end result to feel like [these references] are an integral part of the whole story."
Yang also cites Koy's additions to the script as integral to the representation on screen. "Jo's not afraid to get real specific, and that's the same with this film," he says.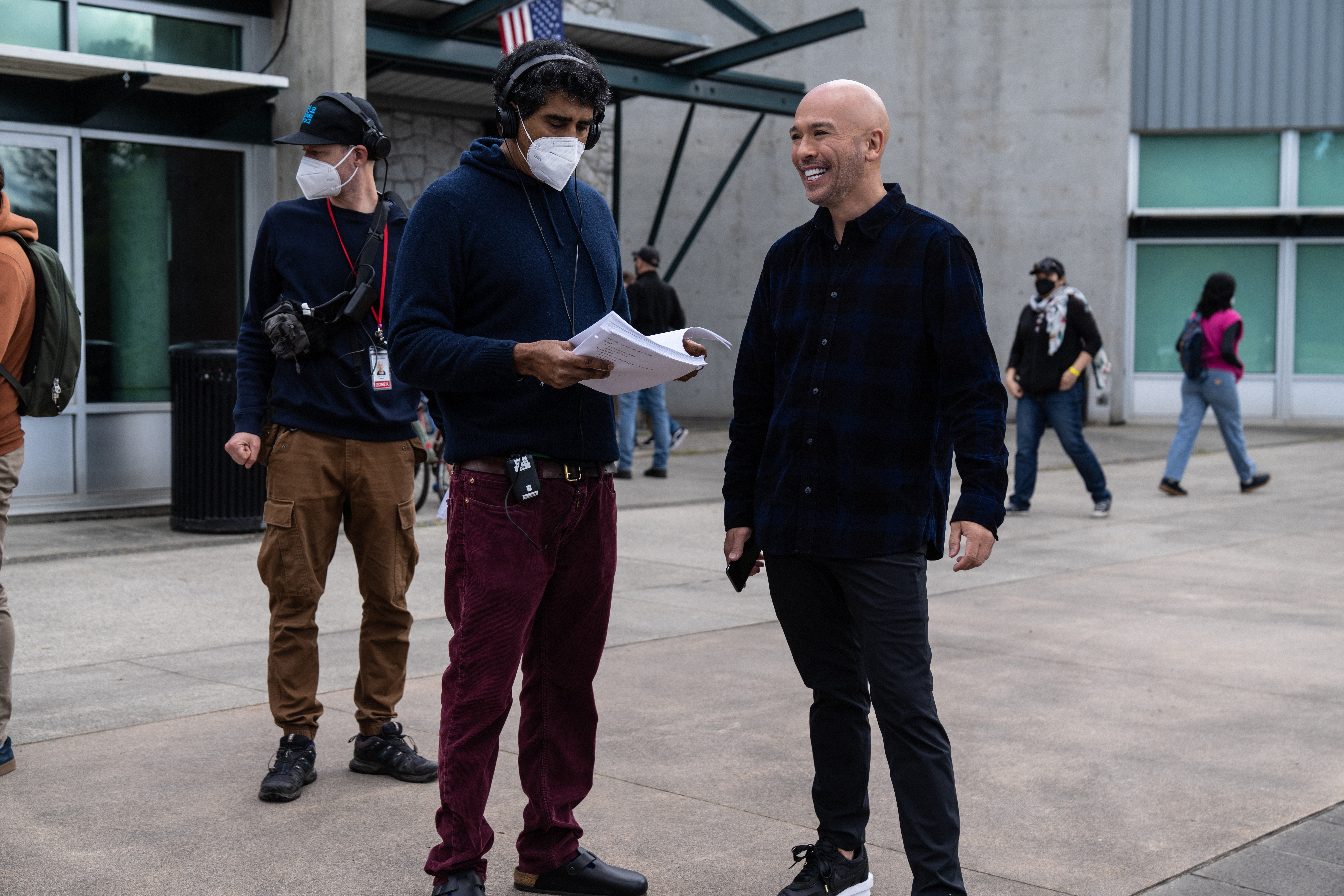 The supporting cast of "Easter Sunday" truly help the film sing, both literally and figuratively. Koy recalls Chandrasekhar telling him, "'I've never been on a set where all the cast can sing! Like, really f*cking sing!'" Broadway star Eva Noblezada plays Tala, Jo Jr.'s (Brandon Wardell) Daly City guide and love interest, while the Valencia family includes some familiar faces, like network sitcom regulars Rodney To, Melody Butui and comic Joey Guila. Comedienne-actor dynamo Tiffany Haddish also makes an unforgettable appearance in the film. Her Officer Vanessa delightfully showcases Haddish's comedic mastery, prompting this Fil-Am writer to quote her line, "I could've been your momma—obviously, I'm not," for weeks on end.
But it's dueling matriarchs Tita Susan and Tita Teresa (actresses Gaston and Carrere) who anchor the Valencia family. Carrere requested to add a bold red lip to Tita Teresa's makeup, to highlight not only Teresa's judgmental facial expressions but also a common Filipino gesture: pointing to objects with one's lips. "You can tell a whole story with just the lips," Carrere says. Gaston, meanwhile, implemented a number of Filipino phrases not in the original scripts. "We were joking off-camera, and everybody would be like, 'My mom used to say that!'" Carrere says of Gaston's improv work.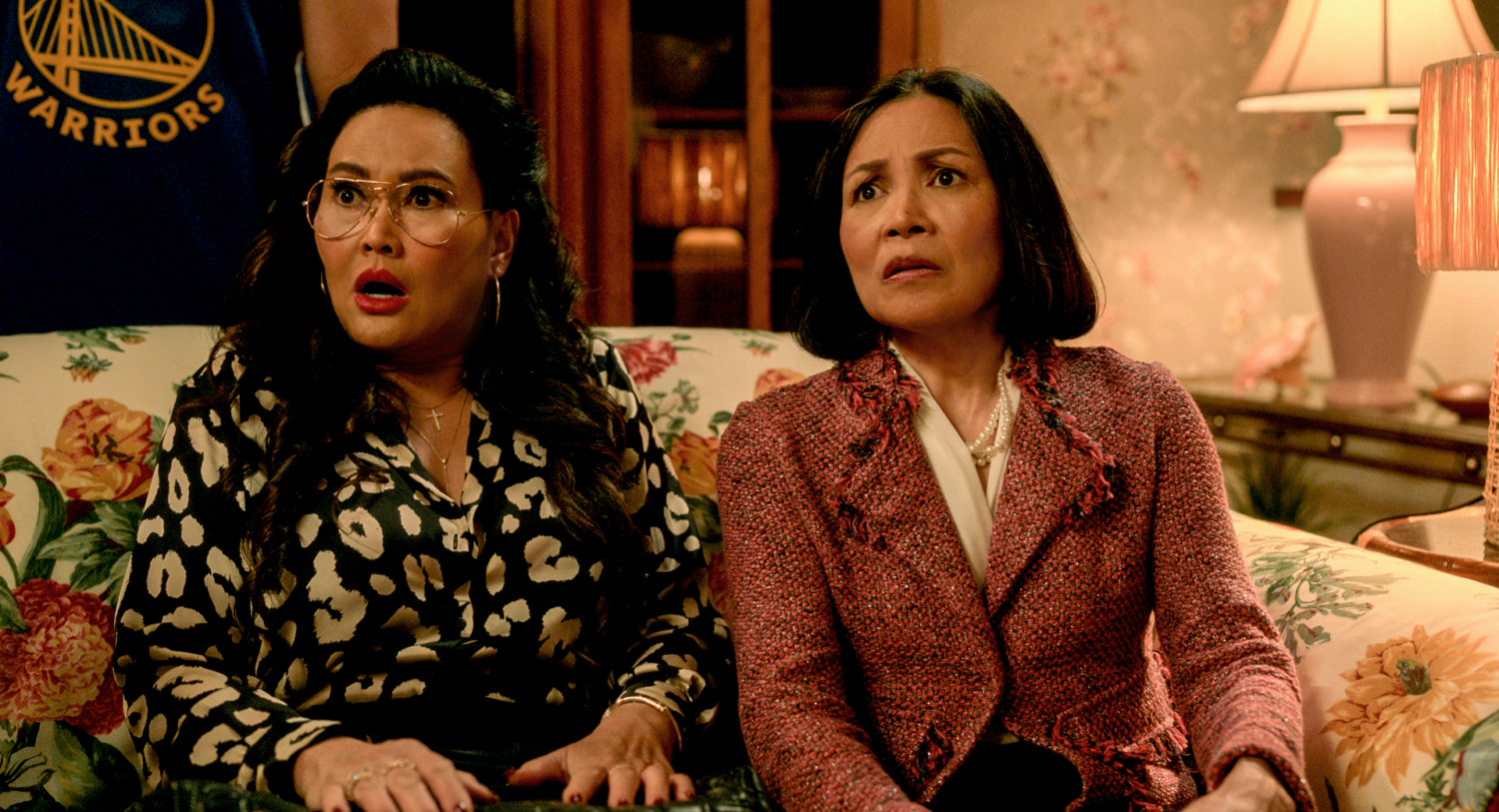 Playing Jo Valencia's mom, Gaston faced high expectations from Koy's fans. But the long-time theater actor kept Koy on his toes, acting-wise. "You can't be alongside her and do less-than," Koy says. "I had to step up, she was so good."
Koy remains thankful for such strong support in front of and behind the camera to tell a uniquely Fil-Am story. In working on the script, he added specific references like the Balikbayan boxes, the child Jesus statue "Santo Niño" and inside jokes about Daly City. With Fil-Am culture on high visibility, what does Koy want others to know about the Fil-Am experience in entertainment? "We're talented!" he says, beaming. As for his goals for Easter Sunday, Koy wants everyone, Filipino and non-Filipino, to experience it together. "It's a family movie that just happens to be Filipino," Koy says. "Time to learn about other people, laugh and cry with other cultures."
Though "Easter Sunday" opened domestically to modest box office numbers, it's an important milestone for not only Filipino representation in mainstream media, but also for other marginalized BIPOC groups working twice as hard to get on-screen. Hearing the reaction to Koy mentioning his Filipino heritage on "The Tonight Show" may not have sounded like a big deal at the moment. But amplified to the power of the collective Filipino American communities worldwide, that barely audible squeak from the crowd now feels more like a roar.
---
This article will appear in Character Media's Annual 2022 Issue. Read our 2021 issue here.