(For those confused by the jargon used in the title)
A very, very happy pride to my AAPI friends across the nation and those out of the country.
The gravity that representation holds in film and television is hotly debated, with some finding it vital, and others, trivial at best. Regardless of where one stands on the issue though, it's a fact that as time pushes forward we're seeing more and more queer characters on our screens. And it's not all sunshine and roses, we're witnessing representations who are far from one note — these gays are lovely, devious and, my favorite, a mix of both! With all that said, let's dive into the API LGBTQ+ characters that I believe deserve a nod this Pride.
Akeno "Aki" Menzies – "Gossip Girl" (2021)
In the words of Miss Swift, "Goodbye, goodbye, goodbye, you were bigger than the whole sky. You were more than just a short time." When the news about the (HBO) Max "Gossip Girl" Reboot cancellation broke, I fell to my knees. Not because I'd miss the tedious plot or hyper-specific pop culture references; but instead, because one character practically became alive and breathing to me: bisexual, empty-brained, skater-film-bro Aki Menzies (Evan Mock.) I was losing my real-life son. Throughout the two seasons, Aki dealt with his sexuality, was outed on national television by his Murdoch-esque father (who just wanted to score brownie points with the marginalized,) and discovered his true love was actually *loves, in the form of a throuple. Polyamory won! All Aki wanted to do was make movies, skate and have a boyfriend and girlfriend. He just wanted to vibe, which is admirable in a world full of high-society drama. I'll miss you, but your memory lives on, Aki. May you be skateboarding in heaven.
Basically the Entire Cast of Characters of Netflix's "XO, Kitty" (2023)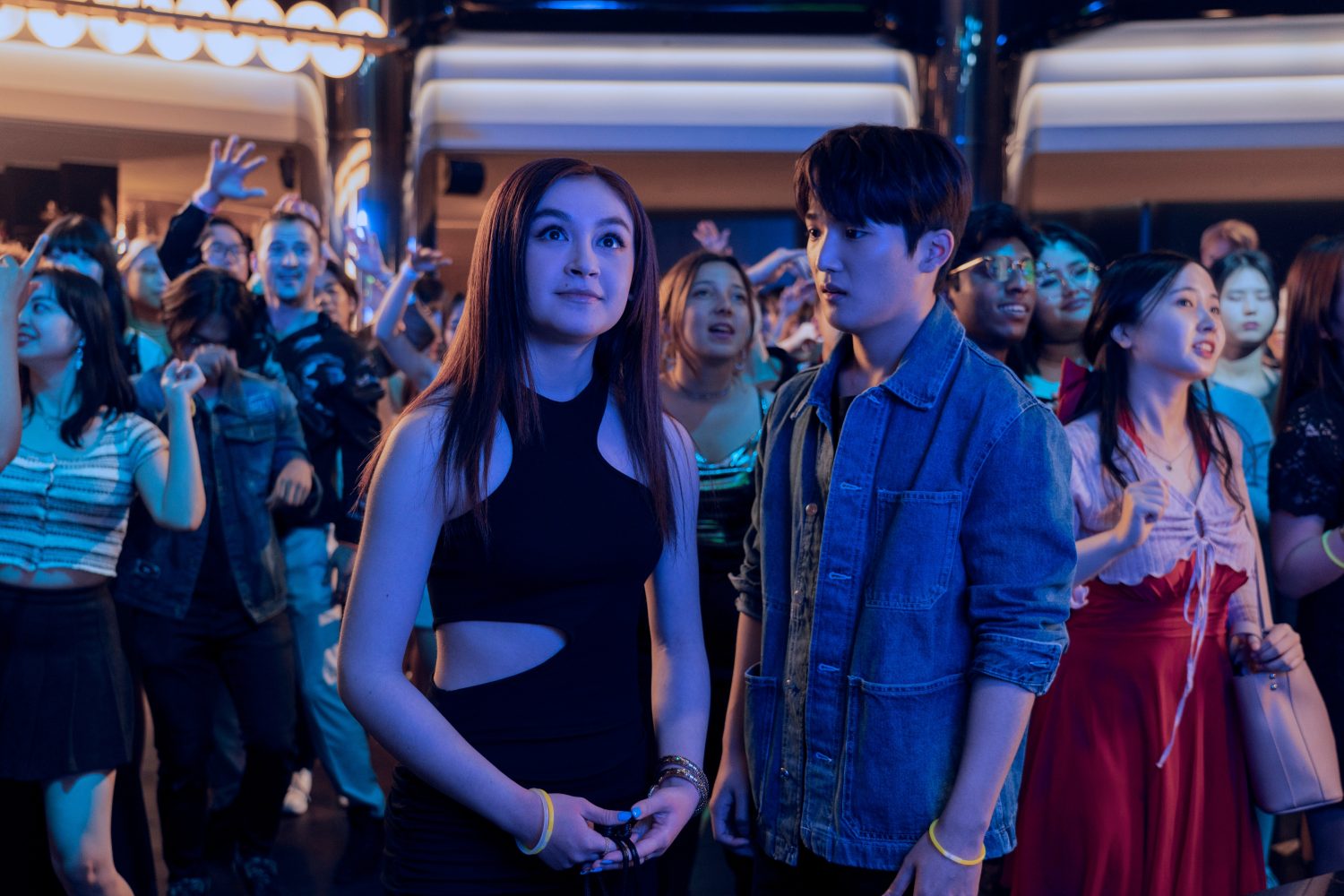 In the spin-off series of "To All The Boys I've Loved Before," little sis Kitty Song Covey (Anna Cathcart) makes the international journey to her mother's high school alma mater in Seoul, South Korea. There, she matures, honors the memory of her late mom and makes a big ol' gay group of friends, (listed below in no particular order.)
Spoilers Ahead for the first season of "XO, Kitty."
Q Shabazian
Kitty's BFF and roomie, Q (Anthony Keyvan,) is a sports-obsessed jock who spends his free time pining after classmate and film connoisseur, Florian (Théo Augier Bonaventure.) Q keeps Kitty grounded when her starry-eyed outlook gets in the way of practicality, and Kitty, being the matchmaker she is, pushes Q to pursue his heart's desire (wink, wink.) Some may critique their dynamic for toeing the GBF (Gay Best Friend) line, but "XO, Kitty" dodges this trope, fleshing out Q and making sure his character isn't at all dependent on our main girl.
Kitty Song Covey
Technically, Kitty didn't make "friends" with herself at boarding school, but she did uncover a very gay part of her identity that helped her understand her identity more. Yes, that's right, Kitty Song Covey is a girl-liker! She enjoys the occasional cute guy, too, but doesn't commit a label — fluid, bisexual, pansexual? Who cares? What she identifies as is not that big of a deal in the grand scheme of things. What is a big deal is that this complicates every facet of her love life, which was already doubly confusing. Personally, I love when LGBTQ+ stories have lighter overtones, and that's what "XO, Kitty " supplies. Love is hard, and it's even harder when you've added another love interest to the mix.
Yuri Han
My world shifted on its axis during the Kitty and Yuri (Gia Kim) midseason dream sequence. To be candid, I was already forever changed when the show revealed that "It" girl Yuri Han was a lesbian who engaged in a forbidden summer romance with her best friend-turned-lover, Juliana (Regan Aliyah,) but adding Kitty's crush into the mix made surefire that Yuri's sapphic storyline wouldn't be pushed to the wayside. Apart from her loveline, Yuri is bold, spunky, and always dressed in the brightest Barbie pink possible — like, I just know she's waiting in anticipation of July 21. There are times when she schemes and can be downright mean, but it's refreshing to have a queer character who has to iron out some kinks. Anyways, Yuri shows her true colors by the end of the series (and they're some pretty gorgeous hues!)
Naomi – "BEEF" (2023)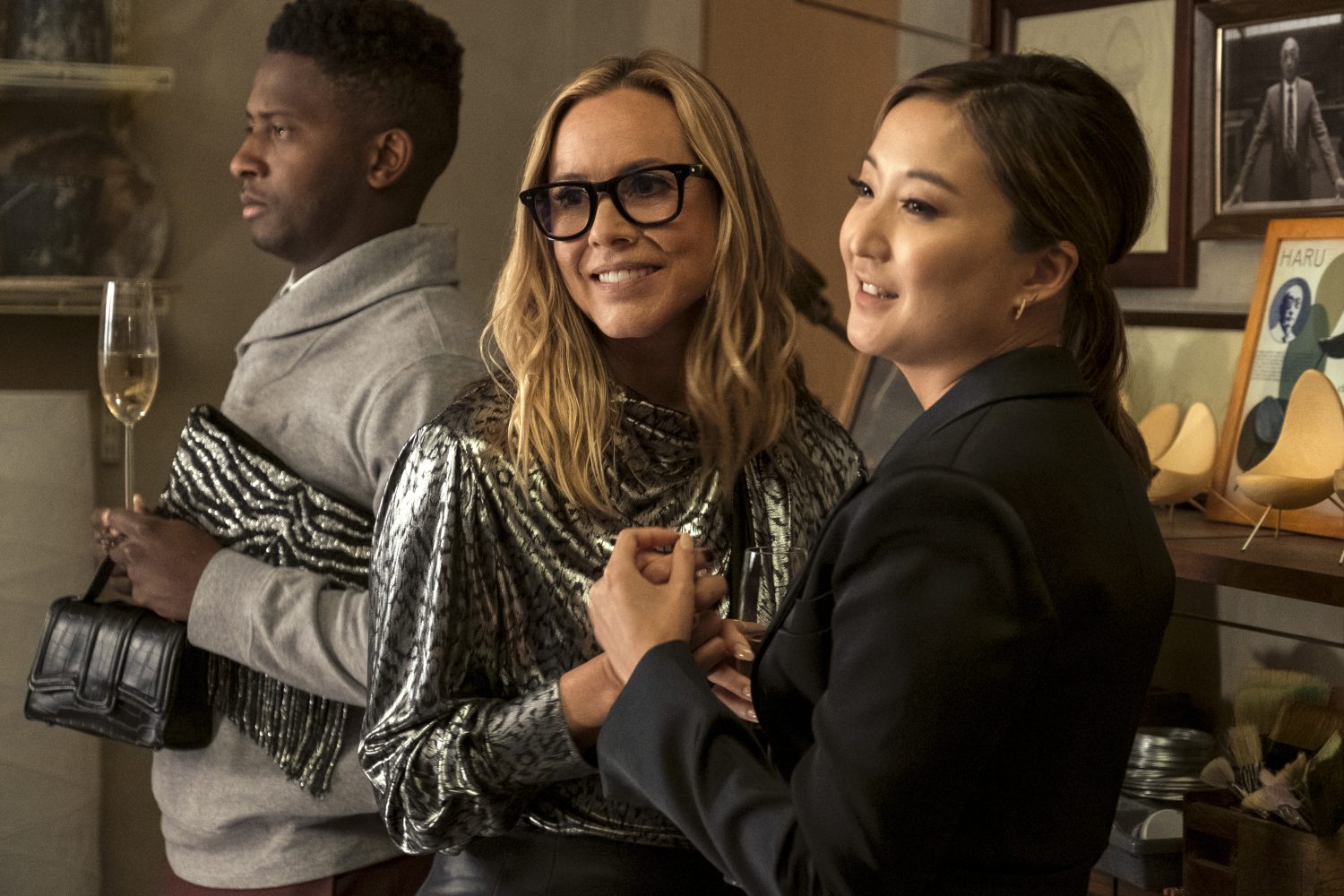 It's true that Naomi (Ashley Park) from Netflix's "BEEF" had approximately less than 30 minutes of screen time over the 10-episode series, but it's concurrently true that she squeezed every last succulent drop out of the scenes she did have. Whether trying to track down the infamous road rager who kickstarted the show's conflict or shacking up with her ex-husband's sister, Naomi's underhandedness had a hold on me. She's the embodiment of the nosy neighbor — nothing is ever her business but she makes it her business. She weasels. And hey, I get it girl! I want to be included in every single thing ever, too. Of course, this prying tendency comes to a head at the end of the series, but I think it's for a greater cause. Desperate and existentially unhappy gays deserve more representation.
The "Never Have I Ever" Girlies (2020)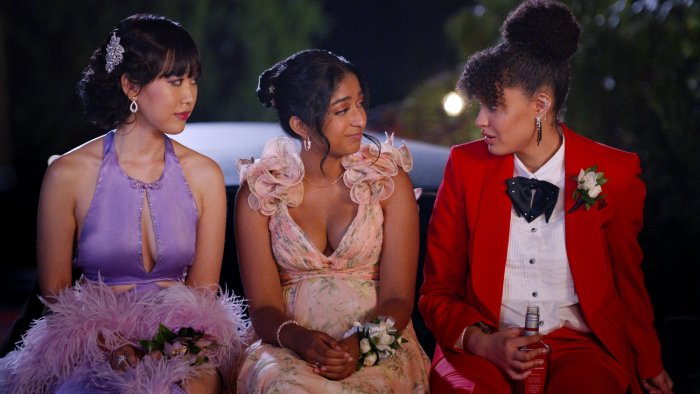 This list wouldn't be complete without a shoutout to the queer cuties of Lang Fisher and Mindy Kaling's "Never Have I Ever," who provide much-needed representation for the sapphic nerds of the world.
Fabiola "Fab" Torres
Fabiola Torres (Lee Rodriguez) isn't just Devi Vishwakumar's (Maitreyi Ramakrishnan) bestie or robotics club captain. Throughout the four seasons of the series, she has also kissed a number of ladies and femme-adjacent people. Pull, Torres! Pull! Fab proves that you don't need to be super smooth to have people lining up for you, in reality, a bit of awkward, futuristic tech-centered rambles can reel in a potential love interest (cough, Aneesa Qureshi, cough.)
Aneesa Qureshi
Messy bisexual awakenings, I love you. In season three of "Never Have I Ever," Aneesa Qureshi (Megan Suri) simultaneously cheated on her boyfriend and came to a "bisexy" realization when she kissed Fabiola in the Sherman Oaks High bathroom, and it might be the reason I'm still alive today. Sorry if the infidelity offends, but it was for the greater good. Her boyfriend was in love with someone else. Comparatively, a kiss in a high school two-staller is child's play. A certified soccer star and pretty lax academic student, Aneesa is a welcome addition to the bisexual canon, which is always in need of more feather rufflers. Be proud, girly!
Addison
To my dismay, Fab and Aneesa didn't end up working out, RIP "Fabneesa" (2022-2022), but, I forgave the writers because they gave Fab a new romantic interest in the form of nonbinary, private-school-slicker Addison (Terry Hu.) We don't really glean many details about their interior life because they have 5 minutes of combined screen time through seasons three and four, but their hair is chicly butch, they attend USC (film major? Perhaps?,) and they wear trendy, oversized short-sleeve button-ups — Let's go lesbians!
Edward Teach AKA Captain Blackbeard – "Our Flag Means Death" (2022)
Played by Oscar-nominated director Taika Watiti, Captain Blackbeard, or Ed, from the Max series "Our Flag Means Death" is in love with Stede Bonnet (Rhys Darby.) Throughout season one, we see Ed dealing with existential fallout: He's the most-feared pirate of all time, but the spark is gone. He feels zilch. To try reinvigorate himself, Ed embarks on a journey of civilized life with Stede as his mentor, and vice-versa, i.e. he's teaching Stede how to be a real pirate. As Ed and Stede spend more time together, their slowburn romance intensifies. It's a bit like Princess and the Pauper if they ended up falling in love with each other during the whole switcheroo ordeal. If your heart doesn't do even the tiniest flutter at the, "You came back?" "I never left.," scene in episode eight, you're on your own, kid.
Lawrence Yee – "Succession" (2018)
Debatably my favorite on the list, Lawrence Yee (Rob Yang,) Founder and CEO of website Vaulter, (which prodigal son Kendall Roy (Jeremy Strong) acquires and subsequently cans), is never not antagonizing the Roy siblings. For stirring that particular pot, he's beloved. Yes, we haven't physically seen him since season two, but during those first couple seasons, Lawrence was there — the opening scene of the show, the vote of no confidence, that dinner he and his partner had with Roman Roy (Kieran Culkin) who told them to "Keep it sexy!" when he left to take a business call — earth-shattering moments, everyone. And, even though Lawrence's face never graced our screens during the final season, his name was thrown out when the Roys were dissecting who could possibly be named CEO in their stead. Vaulter was gutted, but Lawrence continued to meddle from recurring-character limbo. His power is nonpareil.
---
Should Be Queer
I am contractually obligated to include a "Should Be Queer" section because my editor relented and said, "Fine." But don't worry, I'll keep it short and sweet.
Minho from "XO, Kitty," or, as I Like To Call It, The Queerest Show on TV
Riddle me this, why did Minho (Sang Heon Lee) join Q's movie night which was clearly a ploy to get him closer to his crush, Florian? Okay, okay, I'm hearing your outcries, "His mom was the main actress in the film!" "He wanted to hang with his roomies!" not so fast! Why did he squeeze himself into that two-seater couch and drape his arm around Florian? What was that about? Am I supposed to believe the director watched the playback and thought, "Platonic friendship achieved!" It's just not adding up. Maybe it's because the track record of "XO, Kitty" gay reveals is so strong, but I'm hoping we have another bi-awakening for our fashion-forward, skincare-savvy boy in season two (You heard that right, it's renewed!)
7. Lottie Matthews – "Yellowjackets" (2021)
Where would I be without the delusion that pretty-in-pink Lottie Matthews (Courtney Eaton) and bible-thumping Laura Lee (Jane Widdop) had a wee romance going on while stranded in the Canadian wilderness? The answer is nowhere. Square one. Ground zero. They raised me, (For context, I am 23, and "Yellowjackets" has only been out for about 2 years.) Let's look at the material: first, they share an emotionally charged moment when Laura Lee is baptizing Lottie in their campsite's lake. I know a spiritual awakening is transpiring which accounts for the tone of the scene, but you can't convince me trauma-bonding didn't take place when Lottie had an unnerving vision and came up for air screaming. The way Laura Lee comforts her, holding her so tightly. Chills! Then, during Laura Lee's, spoiler alert, death scene, the camera pans toward Lottie, who's screaming in agony. Hm. She even wears her late friend's dress to the survival squad's death-is-imminent party. Hmm? Okay, so, I have minimal evidence that Lottie or Laura have sapphic tendencies, but what if they did? We've had enough of the "bury your gays" trope, sure, but "LottieLee"'s writing would be so delectably tragic that I would make an exception. Sorry! (But not really.)