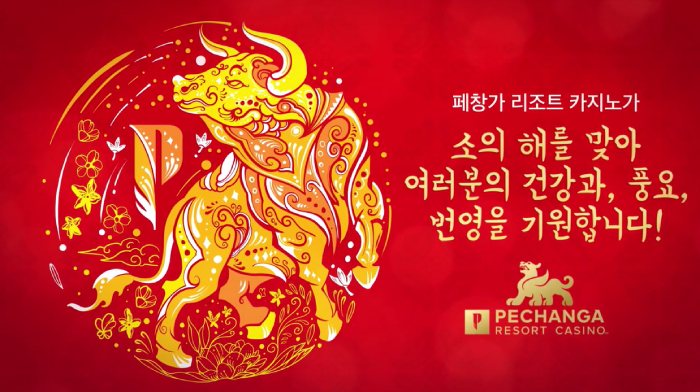 As the Lunar New Year 2021 approaches, Pechanga Resort & Casino welcomes everyone to join in the celebration of the festival with a series of games and promotions this February.
The Lunar New Year symbolizes the beginning of a new year and a new beginning. In celebration of this festival, Pechanga Resort & Casino has decorated the entire property with traditional new year elements, such as bright red lanterns, a refined oriental-style garden bridge, beautifully bloomed peach blossoms, traditional calligraphy spring couplets and more. Throughout the casino floor, patrons will be able to find countless photo-op spots for selfies or a family portrait, while capturing the stunningly displayed Lunar New Year decorations.
Pechanga Resort & Casino will hold a Lunar New Year Drawing on Friday, February 5 and 19, 2021, where 100 lucky winners of EasyPlay and cash prizes will be drawn each day. Members can earn entries by playing slots or table games from 6 p.m. to 10 p.m. each day. Drawings will be held at 7 p.m. with 50 winners of $250 EasyPlay, 8 p.m. with 25 winners of $500 EasyPlay, 9 p.m. with 20 winners of $750 EasyPlay, and 5 winners of $2,000 cash will be drawn at 10 p.m. each day.
Additionally, Pechanga Resort & Casino will allow its players to become even luckier with the "Lucky Red Envelope" promotion going on in the month of February. Club members just need to simply visit the Promotional Area every Tuesday in February between the hours of 12 p.m. and 10 p.m. for a chance to win up to $5,000 in EasyPlay!
So come celebrate the Lunar New Year with Pechanga Resort & Casino and enjoy the four diamond-rated service with comprehensive health and safety measures.
For more information on Pechanga Resort Casino and its health and safety measures, please visit their website here. Pechanga Resort Casino is located in Temecula, California.