On the gray, misty day of the 2017 Women's March on Washington, MILCK, aka Connie Lim, led a small group of singers to join the hundreds of thousands of people filling the National Mall. The main stage was dominated by the likes of Scarlett Johansson and Alicia Keys, but Lim and her a capella performers didn't go unnoticed. Wearing bright pink "pussyhats," the group marched through the crowds with Lim in the lead, standing wherever they found the space to perform "Quiet"—a song soon heard 'round the world.
"On the day of the march, it was a really charged atmosphere, but even then Connie was able to create a heightened moment," says Krista Suh, a long-time friend of Lim's, and the designer of those iconic pink caps. She attended the march with Lim, and helped outfit her group of singers. "One of her last performances of the day, she was captured by [filmmaker Alma Har'el] and went viral."
Suh is putting it lightly. Har'el's video skyrocketed to millions of views, and MILCK went on to perform on "Full Frontal with Samantha Bee" and NPR Music's Tiny Desk, signed with Atlantic Records and released her first EP in early 2018. In the summer of this year, Lim admits that when she wrote "Quiet," the story of her journey as a sexual assault survivor, she never intended to kickstart a movement or achieve international fame—her only goal was to share her personal truth. "I didn't feel like, 'I'm going to write an anthem for the Women's March,'" Lim says. "I was like, 'I really need to say this, or else I'm going to explode.'"
Her success might seem like an overnight phenomenon to some, but it's been a long time coming—over two decades, in fact. Lim grew up in Palos Verdes, a well-to-do oceanfront suburb of Los Angeles, and from an early age loved to sing and record melodies around her house. "I remember being five or six, walking around with my dad's little cassette tape recorder, skipping around and recording melodies," says Lim. "And that's what got me into playing music. My dad wanted me to learn how to sing well. He was like, 'If she's always going to be singing, let's have her train.'"
Lim took classical piano and voice lessons from a local couple, the Mendenhalls. Lim credits Mrs. Mendenhall for showing her an alternative to the straight-laced path expected of her as a Chinese American woman. Her piano teacher wore bright colors and eye-catching jewelry and owned a pet skunk named Donut, but most importantly Lim says, made her own decisions without relying solely on a man's input. And she taught Lim how to score music and compose, leading to her first original song at 7 years old."The first composition I wrote was just on the piano, and it was called 'Healthy People,'" says Lim. "I'd watched a commercial on television about starving children in African countries, and I remember being young and thinking, 'It's really sad that some kids have to be hungry, because I'm never hungry.' And that was my first attempt at writing something as a wish for something better in our world."
Though she continued to compose songs and write poetry, Lim didn't combine lyrics with her music until high school, when a boyfriend introduced her to Jack Johnson (via mixtape, of course). Lim was rapt as she listened to Johnson croon the lyrics to "Taylor," intrigued by how he conveyed subtle themes in his songs. She began to seek out other musicians who weren't afraid to address difficult subjects, and dove into the music of Tori Amos, Bill Withers and Marvin Gaye. It was obvious by then that light and frivolous songs wouldn't be Lim's cup of tea. "When I first started writing, I was very interested in how I could poetically deliver difficult topics," Lim says. "I love love songs as well. Who doesn't love a good love song? But I also love when art mixes with activism, and I felt like those artists did a really great job of that."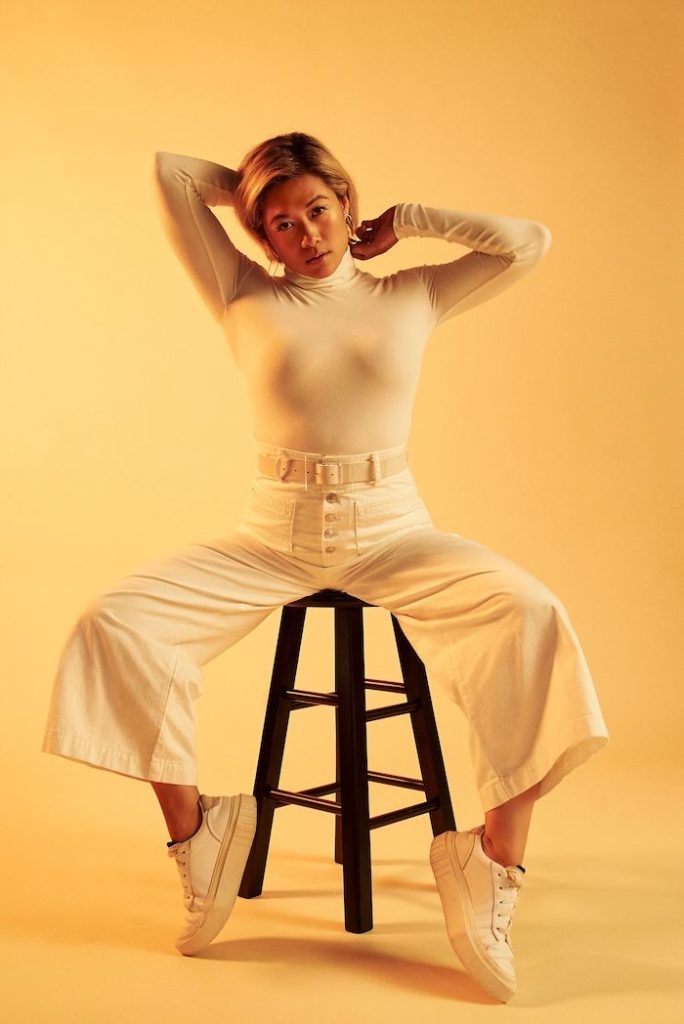 Lim would fit right in with the singers she idolized in high school. Following her viral success, emails began to pour in from passionate fans, sharing their own stories of surviving assault and thanking her for making them feel heard. Lim's personal truth was much more relatable than she'd thought. As she read the messages, she said she constantly shed "tears of gratitude." "I felt isolated from so many different communities, and I painted this story that I was an outsider," Lim says. "But then there I was singing about feeling like an outsider, and no longer wanting to be that anymore, and I found my family. My whole lifetime of feeling silenced and hiding was all meant to be so that I'd write this song. It was all kind of meant to be."
It's taken Lim some time to reach her current level of self-acceptance. Initially, overwhelmed by the global response to "Quiet," she formed a fund and donated proceeds from her merch and music to the Tuesday Night Project, Equality Now and Rise. "People brought me here, so I'm always gonna give back every step of the way," Lim says.
But after she signed with Atlantic, she suffered from imposter syndrome and questioned whether she could live up to the weighty expectations placed on her. Lim overworked herself over the course of the next year and a half, meeting with a seemingly unending number of other songwriters and artists, and wrote over 70 new songs in the process. "Being with the label and having had 'Quiet' go viral, I was fortunate to have exposure to a bunch of different production teams and songwriters that I've looked up to for my whole career," says Lim. "Ultimately, it was this merry-go-round of meeting with my heroes for a year. My head kind of exploded, but I learned that I just needed that information to experience all these different teams, and then find a way to ground myself, and create boundaries. I didn't want to miss out on these magical opportunities, but there is a magic to setting a boundary, too."
Suh, who's known Lim before she went by MILCK, empathizes with her friend's struggle. "A lot of artistry is surrender. You do all you can, but at some point you just let go and enjoy the ride," she says. She also mentions that letting go can be especially difficult for Asian American women, who deal with the combined expectations of two workaholic cultures. "It's a constant dance between the yin and the yang in that sense, and Connie is dancing that dance with even more understanding that she's not alone. That's a really beautiful place for any artist."
Lim acknowledges that she's still learning the steps to that dance. After taking a brief break at the end of 2018, she took a look back at all the songs that she created in the hustle and bustle of that year, and noticed that many created a narrative about her struggles in a past relationship. It's a tale of heartbreak, but of course, it wouldn't be authentic MILCK work if the songs weren't also about finding strength. "I found that I was unconsciously writing this journey of me leaving a relationship that was a beautiful relationship, but didn't serve me where I needed to go," Lim says. "So, I took that journey of forgiving myself and learning to love again, and understanding that the heart is still resilient after a deep heartbreak. Love can mean romance, or love for the world. A lot of us have had our hearts broken by the world. Understanding how to open up and love again has given me a really strong sense of agency."
Her newest EP marks yet another change of pace for Lim, this time, lyrically. Though the title and release date are under wraps at the time of publication, Lim says it contains some of the few love songs she has ever written. The five songs will each be accompanied by music videos, which when put together, create "an abstract narrative" centered around quotes from one of Lim's favorite poets, Mary Oliver. "I'm watching myself live out a dream, but I get nervous, because it is intense to make a five-part music video series with an intentional storyline," Lim says. "The music video just brings in a whole other sensory system, and so it's a lot of me learning how to take many leaps of faith. It's a different art form as a musician, because recording an EP is one way of doing things, but creating music videos that link together is a whole other art form."
The way that the videos link together might not be what listeners expect. To fully understand the narrative, Lim says, the EP should be listened to backwards. She laughs as she explains the concept. "There's a reason behind everything I do, and I chuckle because I never know what percentage of what I do is going to actually translate," Lim says. "But I did that because that's the way that we communicate with each other these days. It's commentary on how we consume each others' lives. That first song that's on the EP is technically the last step in this healing process, like a final social media post. But if you go back and look deeper, there's a whole journey of heartbreak and reconciling."
Even throughout these changes, Lim is still staying true to herself, and the little girl who wrote that first piano composition. "If anything, the brilliance of Connie is that she's stayed the same in many ways," Suh says, with a touch of pride evident in her voice. "She has such a beautiful desire to learn and connect. She calls her fans "Gentle Rebels", and she really exemplifies that. She's rebellious, but anyone who talks to her would be struck by how gentle and even silly she is, but that doesn't take away from her power. It's a good reminder that power comes in all different ways, including more feminine and so-called 'soft' ways."
Though she's gone from singing on the ground level of the women's march to commanding stages worldwide, MILCK is still about telling Lim's truth, and sharing where that takes her. "I just follow that inspiration now, and just simplify so that I'm not torturing myself with too much of my thinking, and I'm just following more of my feelings and my instincts," Lim says. "I wrote 'Quiet,' and the line 'I can't keep quiet,' because I spent a lot of years keeping quiet. And it's funny, because I keep re-learning and re-learning that lesson, just on different levels."
---
This article appeared in Character Media's September 2019 issue. Check out the e-magazine here.