Heirloom is a brand-new series celebrating the dishes that bring communities together. Asian American talent provide recipes of their own or from their families, showcasing the culinary foundations of our different cultures.
We also tested out the recipes in-house. Make sure you catch the videos and learn how to make these delicious dishes!
TEXT BY ADELE LIM
My family is Nyonya or Straits Chinese—Chinese merchant-class immigrants who settled in Malaysia in the 15th century. Our culture is a hybrid of old Chinese and Malay traditions, resulting in distinctive and colorful architecture, ceramics and cuisine (you must try an authentic assam laksa if you ever visit).
In preparation for the Lunar New Year, Nyonya women would make hundreds of pineapple tarts to serve guests and give as gifts. This is my grandmother's recipe. I remember helping my mother make them, rolling out dozens of balls of pineapple jam and piping the buttery shortbread flowers (an art I still haven't mastered). Modern recipes use cut-out molds, which are easier, but this is how I remember them.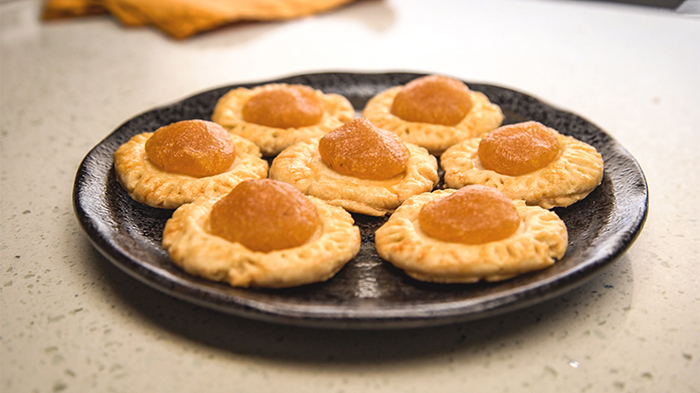 INGREDIENTS
For crust:
700 gm plain flour
500 gm butter
4 egg yolks (important: do not use cold eggs)
2 egg whites
3/4 tsp vanilla extract
1/2 tsp salt
For pineapple jam:
5 pineapples, skinned, with the "eyes" removed, roughly chopped
1 1/2 rice bowls of sugar
1 stick cinnamon
3 cloves
1 cardamom pod
STEPS
1. Blend pineapples in a food processor until a rough pulp.
2. Working in batches, push pineapple pulp on a sieve to get rid of the excess water.
3. In a large pot, combine the pineapple pulp, sugar (approximately the same weight as the pineapple), cinnamon, cloves and cardamom. Boil, regularly stirring, until pulp is light brown in color and a thick jam consistency, about an hour.
4. Let cool completely. Then roll out jam into balls 1 inch in diameter.
5. Preheat oven to 350 degrees.
6. Sift flour, mix in salt and rub in butter until mixture is well-mixed and crumbly.
7. Add vanilla extract to eggs and beat lightly with a fork.
8. Make a well in the flour and pour in the egg mixture. Knead until well-mixed.
9. On a parchment-lined baking sheet, pipe tarts using a pastry nozzle. Tarts should be about 1 1/2 inches in diameter, with an indentation in the middle for the jam.
10. Place jam "balls" in the middle of each tart. Brush with an egg wash (one egg beaten with some water) and bake at 350 degrees for 25 minutes.