I think when I say that I have problems finding a good fitting bra since I am so petite, some of you would probably nod in agreement because you feel the same way.  Yes, I have a small bust and I was ashamed of it.  Going to bra shops and trying on the smallest size they carry, usually a 32A, and realizing I can't even fill those up only added to my insecurity.  Ladies, if you have experienced the same situation, please know that we all come in different shapes and sizes.  You are beautiful no matter what size you wear and I am excited to tell you that you no longer have to worry about being "too small" because there are shops that carry petite lingerie so you'll finally be able to wear a bra that's the right size for you.
First of all, it's important to find out exactly what size you wear.  Lingerie companies tend to use different calculations to arrive at your bra size, but they always take the same measurements: the under-bust area and the fullest part of your bust. If you personally visit a lingerie shop, ask them to measure you, or for those who are shy, tell them your two measurements and they should be able to tell you your size.  If you buy bras online, be sure to check their fitting section since they tend to vary.
When fitting, you should be fastening your bra at the outermost hook because the band tends to stretch overtime and you can move in a hook when this happens and still fit the bra fine.  After you put it on, pull the back of the band outwards and it should only stretch out 2 inches.  Go up or down a band size depending on how much it stretches out.  Do take into account that cup size changes with band size: when going up a band size, go down a cup size (e.g. the cups of 30B and 32A should be the same).
Some of you may be comfortable and proud of your petite breasts.  You may not want to pretend to have more than what you own with major push-up bras, but can't seem to find small bras that fit you without thick padding.  Ellen Shing's lingerie collection, Lula Lu Petites, feature bras that are unpadded to lightly-lined. Sizes range from 32AAA-36AAA, 32AA-38AA and 32A-36A.
For those of you, like me, who don't have a whole lot in the chest area, but would still love some cleavage, Emily Lau from TLBC has the solution.  Their bras do not contain a whole lot of padding, but the size and fit are able to miraculously give you enough push for a desired shape.  They carry bras that range from 28A-36B in either smooth or lace cups.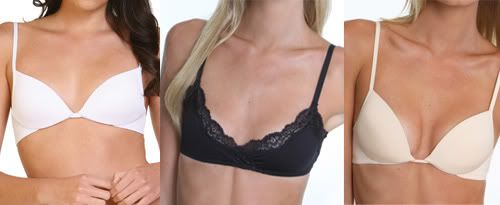 Jane Alden Hodgdon understands that grown small-busted women do not want to be searching the teenage section for a fitting bra. Women like us need a bra that not only provides support, but is also stylish and comfortable. They carry bras in sizes 32AA-36B.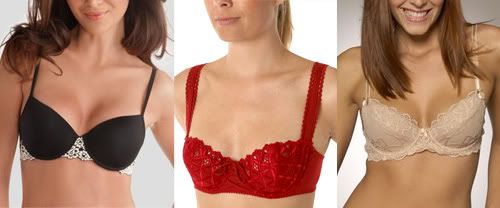 Figleaves does not specialize in petite lingerie, but they do carry small sizes, such as band size 28 and 30. They bring together bras from many different companies so there are plenty of options.
Editor's Note: As of February 2021, Figleaves.com has closed down, however, you can find a list of wonderful Figleaves.com alternatives at Quaries.