On a rocky planet far, far away, a pink alien meets an astronaut in a silver space suit. As the two look one another in the eye, it doesn't take long before a soft blush spreads across both characters' faces.
That crucial moment of the animated short film "Blush" was based on Filipino director Joe Mateo's first meeting with his wife, Mary Ann. "When I was introducing myself to her, she blushed. And the way she blushed, she turned all red," Mateo says, laughing at the memory. "Very concerning. Then I found out from her friends that that's just her thing. Her nickname in college was Ketchup. But it was too late, I was already charmed."
He also credits Mary Ann with helping him kick off his lengthy career in animation. Mateo moved to the U.S. after college and, with an introduction from his wife, got his foot in the door as a storyboard artist at Walt Disney Animation Studios. Over 25 years, he notched credits on a few movies you might have heard of: "Pocahontas," "Mulan" and, in later years, "Big Hero 6" and "Zootopia." But Mateo left the Mouse House behind to make his directorial debut with "Blush," which was inspired by Mary Ann's eight-year battle with breast cancer. The first project from the partnership between Skydance Animation and Apple TV+, "Blush" fittingly premieres on the streamer today, Oct. 1, the first day of both Breast Cancer Awareness Month and Filipino American History Month.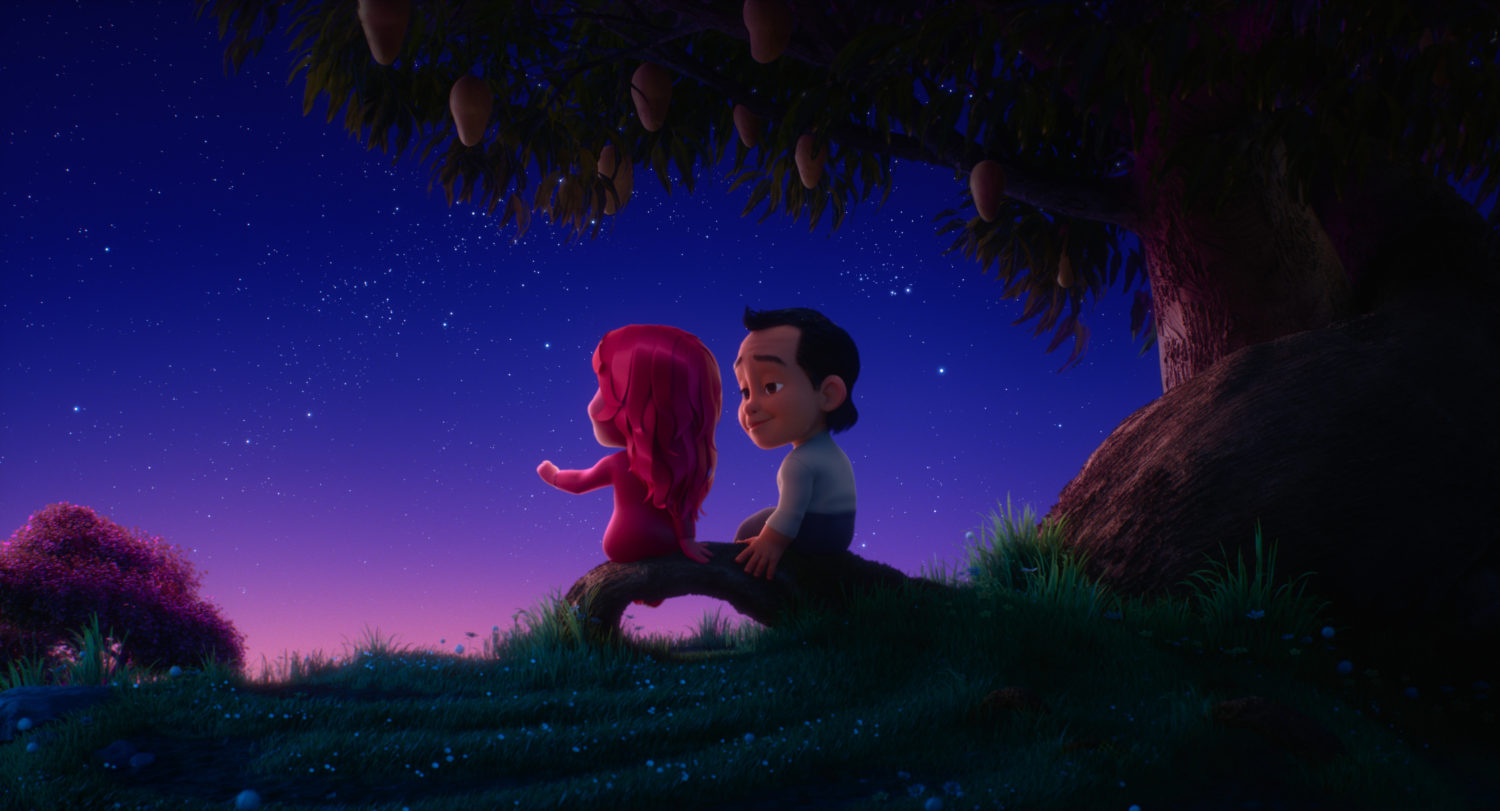 In the film, an astronaut crash-lands his spaceship on a cold, rocky planet and finds himself running out of air. But his bleak day-to-day life is disrupted by the arrival of a bright pink alien, who suffuses their new home with oxygen as the pair build a life together. The short's premise stems from Mateo's personal experience of struggling to breathe, as he recalls suffering a panic attack on the night his wife passed away and even calling a family friend for medical advice. "When I got to a better place, I was able to visualize what that could be in a story form, in an animation form," Mateo says. "And I [looked back] at our experiences together, like how we met. So 'Blush' is a snapshot of a lot of important moments in our lives together. All the scenes symbolize part of those times."
To create "Blush," Mateo worked with a team of animators based in both the U.S. and across the globe at Skydance's hub in Madrid, Spain. As they worked through the COVID-19 pandemic, Mateo says the filmmaking process provided him with a sense of normalcy. He was even able to find an unexpected source of healing in the team around him. "I remember having a hard time with it, but I felt so supported by everyone in the crew. And after, it was very cathartic," he says. "It was surprising to me; the message of the film is hope and healing, but I didn't expect for it to happen during the process of making it. I'm just so grateful for everyone that helped put this love letter to my wife and my family together."
The result is a deeply personal, yet universally moving piece that's sure to stir emotions in even the most stoic of moviegoers, so make sure to grab your tissues. Above all, though, Mateo wants "Blush" audiences to share in his feelings of catharsis and optimism, especially considering how difficult times have been for everyone throughout the pandemic. "It's the message of hope and healing. That's my main reason [for making] this film," he says. "And the way to get through it is to surround yourself with people you love. That's really the best way to get through something like this."