The anticipation began building four months before Meg & Dia released their surprise fifth album, "Happysad." On March 25, the sisters appeared on Instagram with their first post as a duo to announce they would play the Rockstar Energy Disrupt Festival. Less than a week later, they announced they would appear at the 25 Years of Vans Warped Tour, which first booked them in 2006 (as the festival's "official MySpace band") and again in 2007 and 2009.
The news came as a shock to fans, who flooded Meg and Dia Framton's social media profiles with fond memories—fans who fell in love with the guitar-driven, pop punk sound that typified Meg & Dia in the 2000s. It had been eight years since "Cocoon," the sisters' last album, and seven years since the two announced an indefinite hiatus from making music together.
"We broke up because we forgot how to appreciate our journey and how to be kind to each other," says Meg, via email. "At that time in our lives, we were young and tired. I was growing a bit listless. Eventually the excitement of pulling up to a new city, after you've seen hundreds of cities, hundreds of venues, just wore off. We played the same songs, did the same moves, over and over again for years. I started asking, 'What else? There's got to be something else here.'"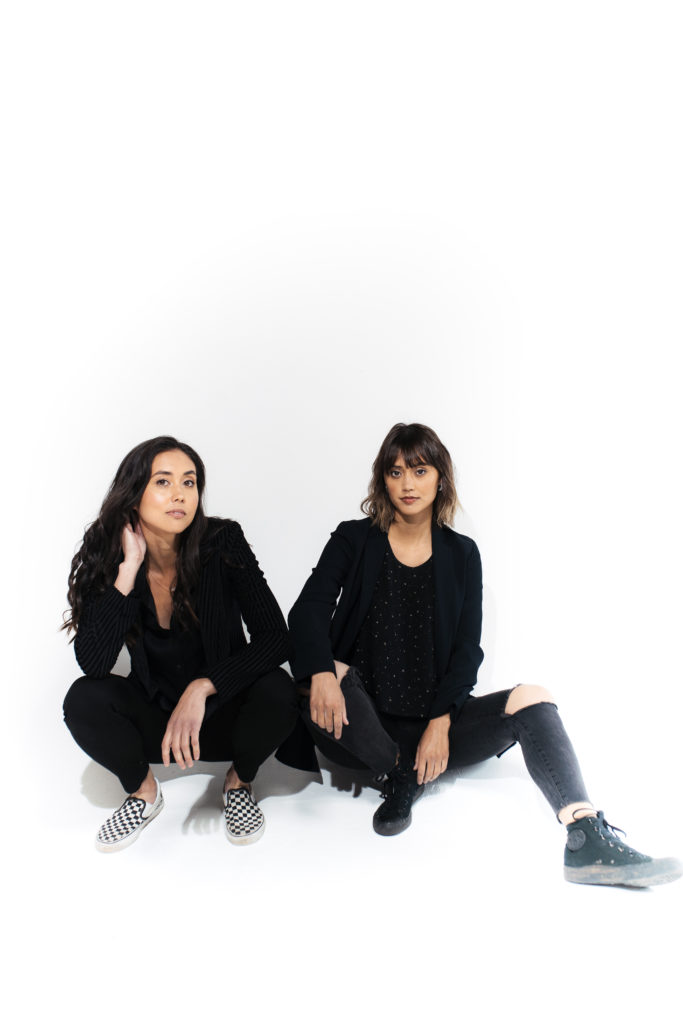 That question led the two in opposite directions as they grew apart. They made music separately and embarked on different ventures: Meg and her then-boyfriend opened a coffee shop in Salt Lake City, Utah; Dia, who finished as runner-up on the first season of NBC's "The Voice" in 2011, released two solo albums and began acting.
In a recent interview with "Billboard"—the first in this new era of Meg & Dia—the sisters have acknowledged how strained their relationship became after "The Voice," which Meg describes as the "nail in the coffin" that led to the separation. "Something had to snap, so we could wander around on our own for some time, to remember what we forgot about playing music with each other, and how much we really do love it," Meg says.
So why come back now? "Well," continues Meg, "we remembered."
"Happysad" was released on July 26, and features 10 songs that were mostly "written from a blank slate after we arrived at the studio each day," Meg says. Gone are the guitar-driven riffs that accompanied the angsty, alternative sound of their early 20s; instead, "Happysad" is filled with synth-heavy pop songs that showcase the sisters' lyrics and harmonies.
The collaborative writing process was part of the reminder the two needed to come back together — not just as "Meg & Dia," but as sisters.
At a recent show in Arizona, Dia described feeling nervous before taking the stage, which led her jaw to tense up. "It started to ache and get sore," she says. "As I was poking and prodding it, Meg came up to me and said, 'Why don't you just hold your jaw? Relax. Give it a little love.' And so, I did. I stopped getting angry at it for tensing up, and I just put my cheeks in the palms of my hands and took a deep breath. Meg said, 'Wow. This actually feels better.' That's just one example of what it's like to perform with Meg."

During that same show, one of the guitars cut out due to technical issues caused by the heat —but the two knew exactly how to handle it. "Instead of freaking out, Meg and I just looked at each other, shrugged, and sang the chorus a cappella together. It was really fun and unexpected," Dia says. "When things go wrong, when Meg's there, it becomes like a fun game or puzzle piece we have to put together, together."

Dia adds that the two are still growing as individuals, and that the time apart helped them learn to respect each other's personal space. "We're learning how to balance things," Dia explains. "I've always been afraid that if we don't do everything now, we'll lose it, and I've learned that operating out of a place of fear and loss is not a great place to be. You have to live your life, work hard and know that things will come your way when the time is right."

That's a philosophy the two have embraced during their time apart and now that they've reunited. Since stepping away from her coffee shop, Meg has made plans to travel the world, while Dia continues to audition for film and television roles. And, of course, there's music. While the sisters won't guarantee what the future has in store for Meg & Dia, just the fact that Meg & Dia is back as a duo is, as Meg puts it, "pure magic." Meg says, "I told [Dia] after our last tour, 'I'm my best self. I'm living at my highest potential when I'm playing music with you.'"
---
This article appeared in Character Media's September 2019 issue. Check out the e-magazine here.