Sometimes, we all just need a little bit of advice when it comes to navigating the strange terrain of young adulthood. Whether it's pursuing unconventional careers or being open about mental health, it's not often you get to have these kinds of conversations within the AAPI community. But who says you have to go through it alone? Luckily for us, there are six amazing Asian American women here to tackle these issues, and help you love yourself along the way.
On Saturday, Oct. 5 in Los Angeles, the podcasters behind "Asian Boss Girl," "Perfectly Imperfect" and "First of All" hosted their first-ever live event, Off the Mic. Serving as a safe space for AAPI women and allies, the event was a mix of panels, group discussions and networking opportunities that covered a diverse array of topics, such as careers, mental health, body image, cultural identity, relationships and self-care. Speaking at the panels were the Asian boss girls themselves—Christine Chen, Janet Wang, Helen Wu, Regina Fang, Melody Cheng and Minji Chang. The purpose of the event was to connect with their podcast listeners in-person, and spark meaningful conversations about issues rarely addressed within the AAPI community.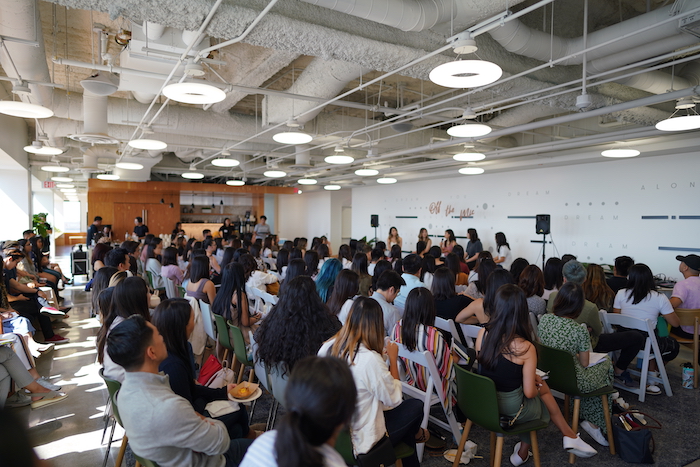 Issues like success, self-confidence and identity in the workplace were prevalent in the event's discussions. From microaggressions at the office to the pressure of adhering to family values, the women shared their experiences of finding the right career paths and believing in themselves. When Chang was offered to work at Kollaboration—a non-profit organization that supports AAPI artists and entertainers—she was faced with a difficult choice of quitting her job to do something she loved, at the risk of disappointing her parents. "The most common question I got [from Asian Americans] traveling across America on tour with Kollaboration was: 'How did you tell your parents? How did you own what you wanted to do, and then tell them that you wanted to do that?' It's a very loaded thing," Chang said. "It's a significant part of our culture. I don't know what possessed me…but I banked on the fact that I'll figure it out, and I try to turn minuses into pluses. On the other side of failure is success, and that's how you define it."
They also shared their experiences and frustrations of being women in male-dominated industries. "[At work], I'm usually one of two women, and when we bring up some ideas, the guys say, 'Let's table that one.' No, you table yours!" Wu said, to widespread cheers. "It's important to have more women in the room. I've had so many situations where I think, 'If there was another female in here, she would understand what I'm trying to say.'"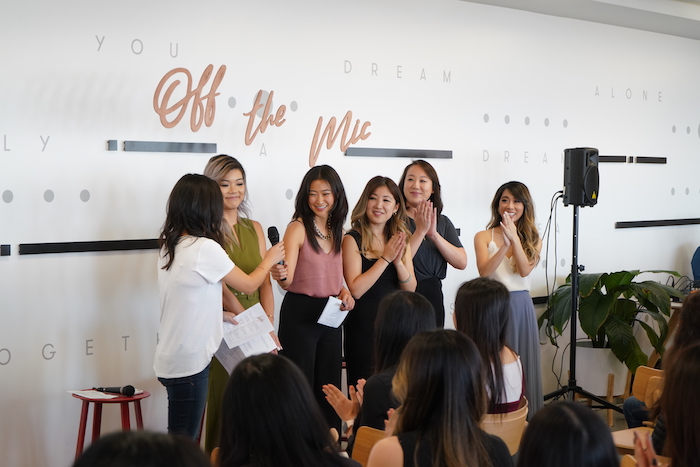 Perhaps the topic that resonated most with audience members were the podcasters' individual journeys towards self-love and growth. When asked about their experiences with imposter syndrome, each of the women were open about their past struggles and encouraged others to be kind to themselves. "Everyone has inherent value and self-worth," Chen said. "Imposter syndrome is not valid, because as long as you try to work on authenticity and honesty, then you're never an imposter of yourself. I'm going to share my opinion and hold these discussions, and if you don't resonate with it, that's completely okay. It's your truth. The more I learn about other people, the more that I learn about myself as a human being."
After the panels, the attendees split up into three smaller breakout groups of their choice. Each group discussed different issues—careers and side hustles, body positivity and relationships and mental health and the corporate world. The breakout groups stirred up intimate conversations, and helped connect complete strangers through shared thoughts and experiences. The free-form mingling and networking was made even more exciting with the addition of delicious food from local vendors (they gave out free coconuts, y'all!) and complimentary boba from Philip Wang's (Wong Fu Productions) Bopomofo Cafe.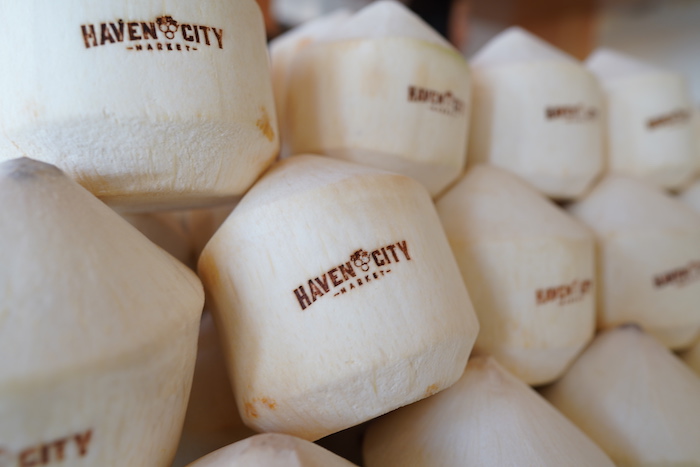 The event was an intimate, uplifting experience for those seeking helpful advice and mentorship about all things adulthood and provided a much-needed space for AAPI women to discuss issues that aren't commonly explored in their communities. As the event came to a close, the six women expressed their hopes that we all do the same to inspire others. "We're all influencing other people. Don't ever discount that," Chang says. "You're not as small as you may fear, and you can be bigger than you think. Just go be amazing."