Often overlooked in film and TV is the music that sets the scene. The orchestral swell as two lovers reunite after being separated, a pulsating dance beat dropping in the middle of a night out on the town, contemplative piano ballads taking over confessionals — sans the score, these kind of moments are likely to translate meekly or not at all. For composer Joy Ngiaw, it's her job to make certain a fitting melody accompanies every sequence.
Ngiaw, who was raised in Shanghai, graduated from Berklee College of Music in 2016 before making her way to Los Angeles. After scoring Skydance Animation's first ever short, "Blush," which won a Hollywood Music in Media Award, she went on to compose for Netflix's "Glamorous" (2023) and Skydance's inaugural logo. In our latest interview, Ngiaw describes how she first became interested in composition, her current creative process and the value emotion holds in scoring.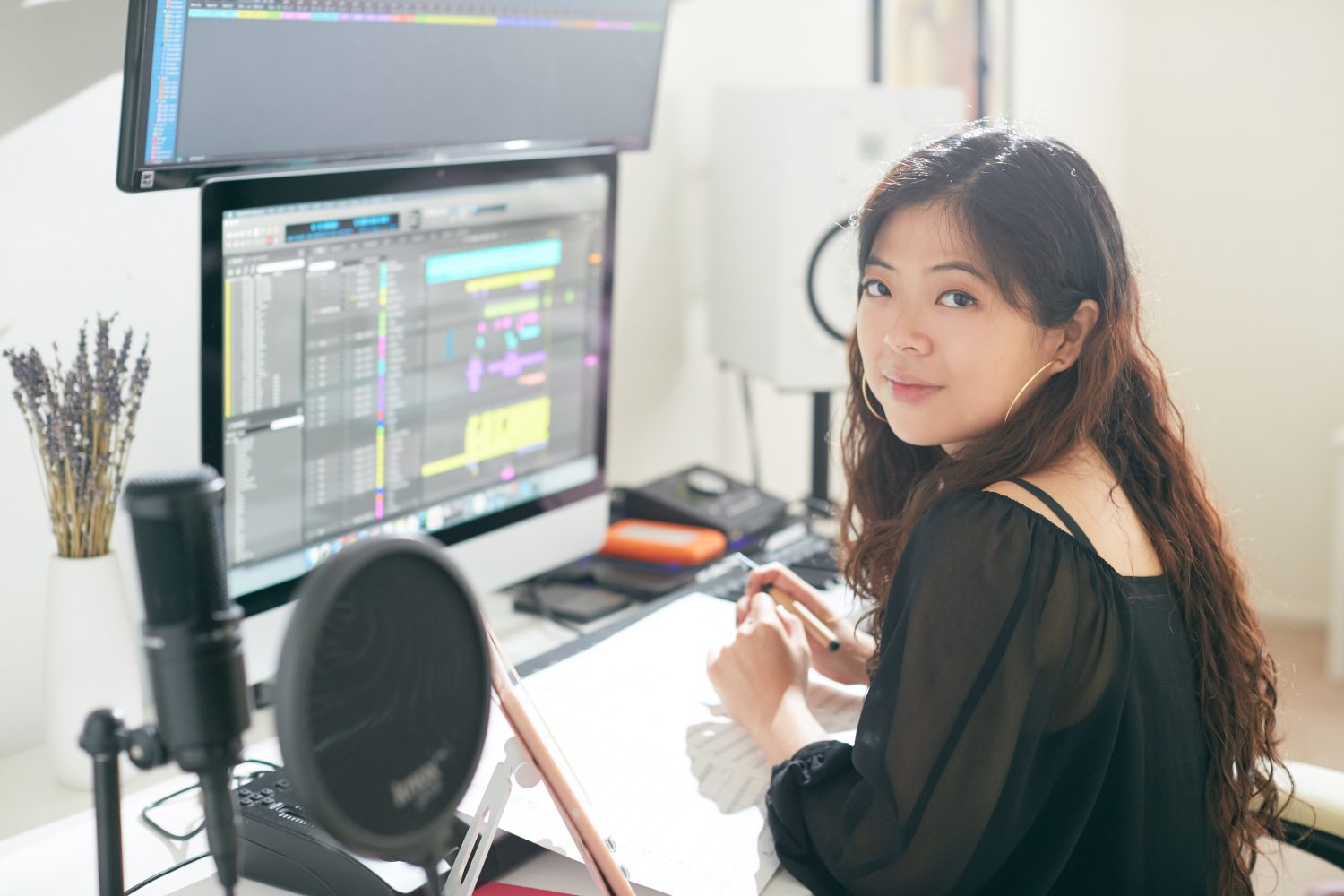 CM: When did you first take an interest in pursuing music, whether that be composing or performance?
JN: I've played classical piano since age 6. I love movies. And I am always fascinated by the music because it gives me a feeling of nostalgia — if I can remember a score and how it relates to the story and the characters. I decided to pursue it because I wanted to create that [feeling] and be involved in the storytelling.
CM: Did anyone in your life push you towards that [goal]?
JN: My parents are really supportive of me. But, I think what really inspired me was I've always improvised on the piano. And I didn't know that was composing. I just liked to play whatever I was feeling at the time.
One of my high school teachers walked in when I was in the auditorium improvising and she said, "You should consider composing. Because that's what you're doing." I never forgot that.
CM: That's so cool. Was it an art high school?
JN: It was actually just a regular high school. There was a grand piano in the auditorium, and sometimes during lunch break I'd sneak in there and play. As a child, I felt a lot of things. I was very sensitive. I think that was my outlet to express myself with no one hearing, but I'm grateful for that teacher because I love music. I love writing for orchestra. But I also love working with people. And everyone has unique stories. I thought that [composing] was the perfect match between music and human connection.
CM: How does the collaboration process [for film scores] work? Do you meet with the creators first?
JN: There's always the first initial "meet-and-greet" stage which is crucial. That's the chance I can ask a lot of questions: 'Why did you create this film?' 'What is your why?' That's prior to any musical conversation — I'm just curious about why you want to tell the story. And knowing is very important to me because it acts as a backbone to every musical choice that I make. I start gathering in my head, like, "What kind of instrumentation or sound palette is suitable for this project?"
CM: When you get to speak with someone who's created this piece of work, then you have things to fall back on.
JN: Even if I have a writer's block moment where I don't know what to write, [I'm like] scrap the music for a second, I just want to think about why we're doing this. 'What is the character thinking right now? What is the emotion that a director wants to put forth?' Always story first. That's how I like to approach things.
CM: With writer's block, do you try to work through it? Do you look to other music for inspiration?
JN: It depends. Sometimes, the filmmakers will already have temp music, [which] is a good place for me to start. But, when I have a writer's block, I like to be away from music. I like to step back.
CM: Totally. Stepping away can be the most helpful thing sometimes.
JN: Our job is so creative, right? It's also about living. We have to have real life to be able to connect or relate to the characters… To really understand human emotions. Which is the fun of this job — it's not just about the music; it's about relating to people.
CM: With "Glamorous" (2023), it's not as orchestral and is a bit more modern. How did you keep your own unique sound while balancing what was needed for the project?
JN: That's a perfect example of, like, a totally different genre. We had so many conversations about what sounds right. The keywords they used were always like, 'trendy,' 'sexy,' 'intriguing,' but there [were] also emotional moments. I had to think outside the box. Yes, orchestras were my comfort zone, but this [was] the chance for me to expand creatively. How can I use different sounds — while staying in the orchestra element — to [create] a modern flair?
And that's honestly kind of like what life is. It's not just one-dimensional, right? It's so multifaceted. And it gives me as a composer a chance to support each and every emotion — whatever is going on the screen.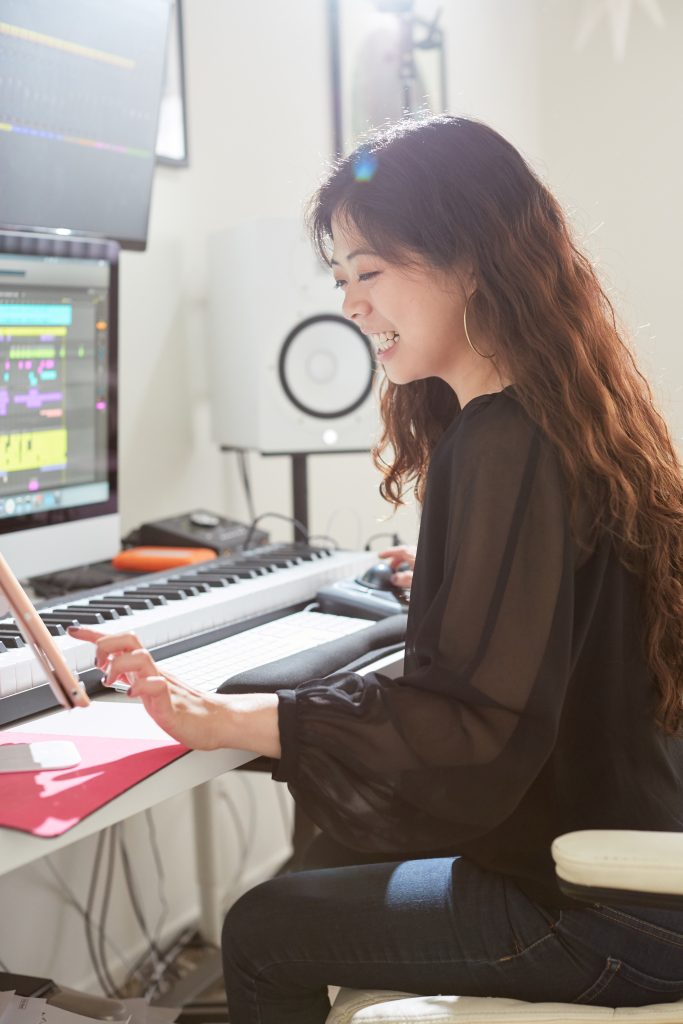 CM: As a woman of color, was there any uneasiness about entering the composing world? It is fairly white, cis and male — that can be a little nerve-racking, I'm sure. How did you conquer that feeling of caution?
JN: There definitely were a lot of stereotypes. The first callback that I had in LA. was for a film and the director liked it, and as soon as we met, [they were] like, "Oh, I didn't know you look like this." It was just really awkward. But I think the way I conquered it is I don't let those comments bother me. I did look at that director a little bit differently, [but] I always feel that we have to work harder to prove that we also deserve a seat at the table. I let my work speak for itself.
I [do] think there is more and more awareness of this in Hollywood, and I feel like studios are more open to hearing new voices. It's a good time in this industry for us to unite and keep making art.
CM: Do you have any advice for either your younger self or young composers today who want to get into film and TV composition?
JN: To my younger self, it's okay to be emotional. I was quite afraid to be [emotional] when I was younger. Growing up in China, in that culture during that time, emotions were very feared. I would tell my younger self that it's okay. [Your emotion] is your asset that you use to relate to others. And then you can [put] that towards your art.
For up-and-coming composers, try to surround yourself with as many creative people as possible. Go meet filmmakers, go meet directors, writers, producers, actors. LA is such a good place to be where you can walk into a coffee shop and there's someone there who is a creative. If you want to be a film composer or someone who can write for film, TV and characters, then you have to also be curious about other people's stories, you know? Be inspired and be curious.