Love comes in all different forms. The love one feels for family, friends and even romantic partners can differ from person to person. It's a bit more complicated than most romance films tend to portray, but "One True Loves" attempts to showcase how maybe tricky falling in love can be. As a bookshop owner, Emma Blair (Phillipa Soo) is faced with an unimaginable choice when her assumed dead husband Jesse (Luke Bracey) returns to her life right when her boyfriend/childhood friend Sam (Simu Liu) proposes to her.
With the romance movie releasing to theaters today, April 7 and releasing digitally on April 14, Character Media sat down with Michaela Conlin, who portrays Marie, the older sister of Emma, and helps the younger woman pick up the pieces after Jesse's assumed death to learn how the film is more than just about romantic love.
CM: Did you read the original novel? How did you want to portray Marie differently or what aspects did you want to keep with your version of her?
Michaela Conlin: I have read the book, very randomly; actually, a friend told me about it. I remember Marie from the book because I liked her voice in the book. I loved that Taylor Jenkins Reid, the book's author, was adapting it into an actual screenplay. I feel like she really knew Marie at her core; so much of it was already there. I just really thought Marie's voice was so sharp and also loving, and I felt she gave a sense of place to Emma's character that she needed. And I just liked everything about her in the book, and I felt like it translated a lot to Taylor and Andy [Fickman]'s adaptation.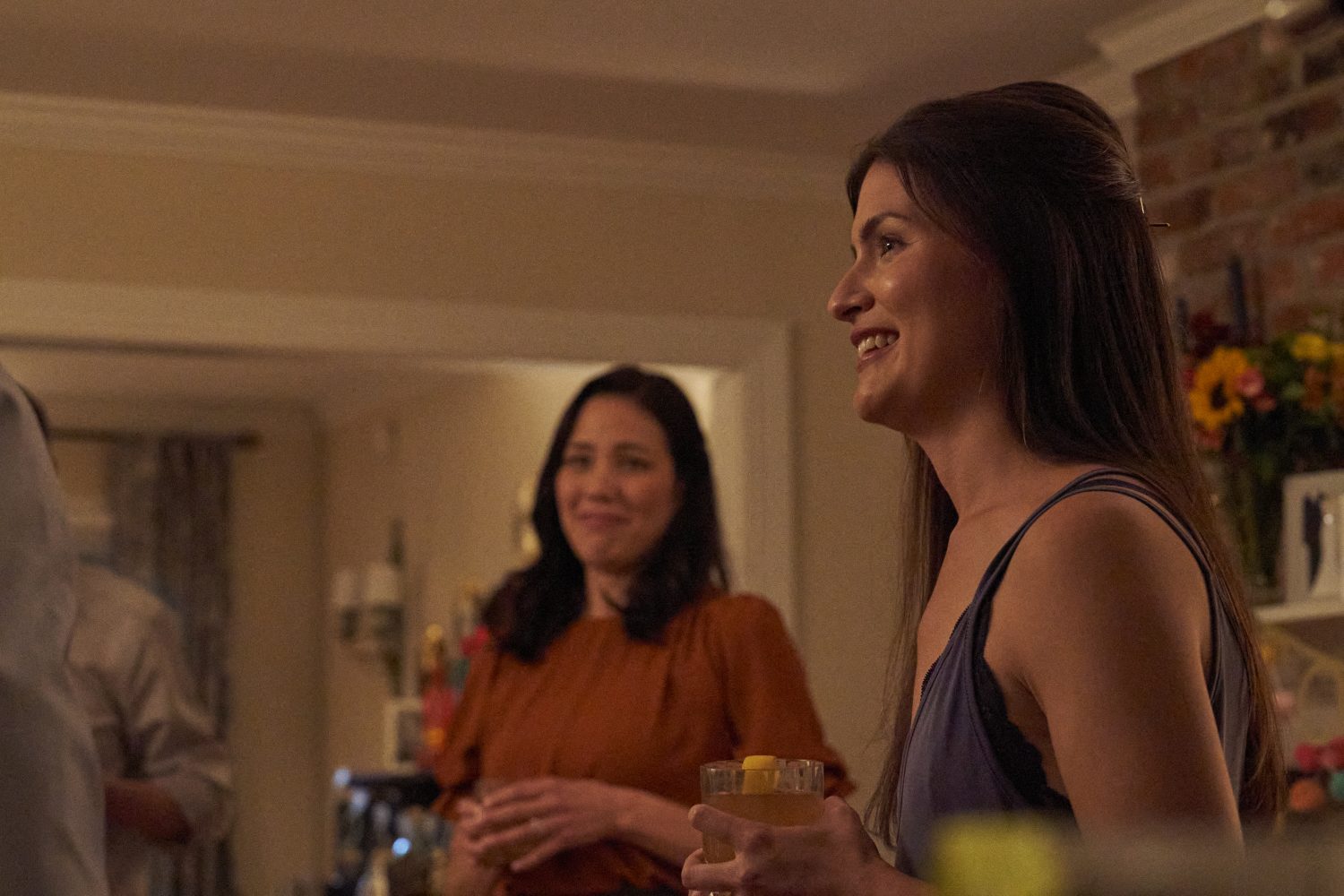 CM: The film showcased many different forms of love besides romantic relationships. One of the most important was the bond between Marie and Emma — how did you navigate that connection?
Conlin: The movie really is about relationships and how we make choices depending on who we were before and what we think is the best for us [now].
Philipa is such a lovely human being. I liked her immediately. Even though we hadn't met before, we were just in sync very quickly. [Director] Andy Fickman gave us time before we started filming to [connect]. He hosted dinners, and we had conversations, rehearsals, etc. We all knew each other a little bit before we started filming, which is very unusual, especially when you're on location and away from your families. It was wonderful working with her. I loved it.
CM: What were your favorite on-set moments while filming "One True Loves?"
Conlin: Oh my gosh, Philipa and I had a day off together and we went to the beach and got food. We stopped [and] talked for hours. That was a really special day. [The cast] had some great nights out too. We had to stay overnight and film a wedding scene, so it was natural that it started to feel like [an actual] wedding. It was very celebratory and was just a lovely group of people.
CM: How do you think the film embodies the romantic genre, while also stepping outside the traditional rom-com movie framework?
Conlin: It's such a dramatic situation — it's terrible if you think about it, but it's also wonderful to have somebody that you think is dead and then they come back [to life]. How many people can say that happened to them? So it feels like an out-of-the-ordinary scenario. And yet, you've got these two men that Emma grew up with, and she goes back to the town she grew up in. So it's familial and familiar, but then add in a situation that is very extreme. I think the two things together are changing [the film] into something new and different.
CM: For a more fun question, what is your favorite romance trope?
Conlin: I love a traditional meet-cute like somebody dropping something onto someone else's shirt or walking into someone in the street in a corny, cliché way. I find two people colliding very charming. And chance can just be so beautiful.