Editor's note: we're bringing you the latest scoop on what's happening in Asian American film, TV, literature and music in our monthly "Lookout" articles. We're doing the legwork, so you don't have to.
It seems like just yesterday we were soaking up rays at the beach and kicking off our summer vacations, but as hard as it may be to believe, the holidays are now right around the corner. And if the thought of visiting your thirty closest relatives sounds stressful, at least you'll have plenty of new movies and TV to watch, books to read and albums to jam while you're hiding from extended family or getting over that post-Thanksgiving food coma. With Daylight Savings Time ending, you have everything you need for the perfect night in.
Film
11/1 – "Earthquake Bird"
If you're in the mood for a thriller to watch while huddled on the couch, then you're in luck. Starring Alicia Vikander, Riley Keough and J-pop star Naoki Kobayashi, Netflix's "Earthquake Bird" takes place in 1980s Tokyo and centers on a young woman whose friend goes missing under scandalous and mysterious circumstances.
11/8 – "Last Christmas"
Is it really that time of year already? "Last Christmas" follows an unlucky department-store Christmas elf named Kate, played by the mother of dragons herself, Emilia Clarke. But when she meets Tom ("Crazy Rich Asians" star Henry Golding), she might just find herself believing in holiday magic after all. As an added bonus, Michelle Yeoh plays Kate's tough-love boss.
11/8 – "Midway"
Starring Darren Criss and a slew of talented Japanese and Chinese actors, "Midway" re-tells the historic Battle of Midway, a major turning point for the Allied forces in WWII.
11/15 – "Charlie's Angels"
The "Charlie's Angels" remake might not have Lucy Liu or her iconic black vinyl outfit, but it does have Chris Pang and "Aladdin" star Naomi Scott. Scott plays Elena Houghlin, a newcomer to the Angels group who's guided by Sabina Wilson (Kristen Stewart) and Jane Kano (Ella Balinska). 
11/15 – "The Warrior Queen of Jhansi"
Based on a true, larger-than-life story, "The Warrior Queen of Jhansi" follows freedom fighter Rani Lakshmibai (Devika Bhise) as she leads her people in a historic uprising against British occupation in 1857.
TV
11/1 – "See"
This dystopian epic drama from AppleTV+ stars Jason Momoa and takes viewers to a post-apocalyptic future, in which humanity has been decimated by a virus that's left all survivors blind. Hundreds of years later, rumors begin to spread that children have been born with the mythical gift of sight, prompting a war between rival factions.
11/1 – "Queer Eye: We're in Japan!"
In this four-episode special season, the Fab Five head to Japan to share their style and perspective with people on the other side of the world. They're joined by body-positivity icon, actress and comedian Naomi Watanabe.
11/1 – "Atypical" Season 3
The newest season of Netflix's drama "Atypical" follows Sam (Keir Gilchrist), a teen on the autism spectrum, as he makes the transition to college life. Standup comedian Nik Dodani returns as Sam's smooth-talking best friend, Zahid.
11/11 – "Blue's Clues & You"
Nostalgic '90s kids and preschool students alike will rejoice at the return of one of our favorite kids' shows, "Blue's Clues." Not only are the original hosts, Steve (Steve Burns) and Joe (Donovan Patton) returning, the show now stars Filipino host Joshua Dela Cruz, who accompanies Blue and her friends on all of their adventures.
11/15 – "Dollface"
This show takes viewers on a psychedelic romp down breakup road after Jules (Kat Dennings) is suddenly dumped by her long-time boyfriend. To get back her "account as a woman," she sets out to reconnect with her former best friends, Stella (Shay Mitchell) and Madison (Brenda Song).
11/15 – "The Man in the High Castle" Season 4
The fourth and final season of Amazon's critically acclaimed alternate history drama will premiere this month, though from the trailer, it doesn't look like happy endings will be in ample supply here. You might have to break out the tissues for this one.
Music
11/1 – "Monsters Calling Home, Vol. 2" by Run River North
The second part of the "Monsters Calling Home" double EP drops on the first of this month. Judging from the singles they've released so far, their latest work promises a number of funky jams and dance-worthy tunes.
11/1 – "Nothing Left to Love" by Counterparts
It sounds like this Ontario, Canada-based hardcore punk band isn't pulling any punches on their upcoming album. "Nothing Left to Love" contains plenty of the group's screamo stylings, perfect for when you need to blow off some holiday-induced steam.
11/15 – "Devastation" by Pumarosa
With a sound that's been described as "industrial spiritual," Pumarosa is one of the most noteworthy indie bands on the scene today. "Devastation" experiments with both traditional instruments and synth beats, with Pumarosa's signature haunting vocals layered on top.
Books
11/5 – "Song of the Crimson Flower" by Julie C. Dao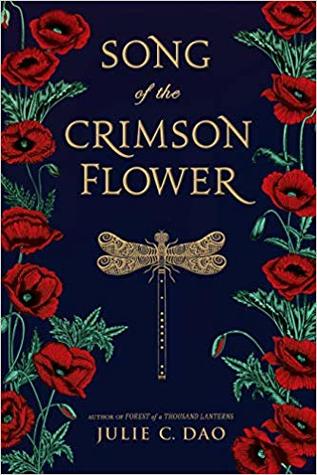 The author of "Forest of a Thousand Lanterns," an East Asian retelling of the classic Snow White fable, is diving back into the world of fantasy with her forthcoming book "Song of the Crimson Flower." The novel follows the story of Bao, whose soul is trapped inside his beloved flute after he's been rejected by Lan, the daughter of a wealthy noble. Some people just can't catch a break.
11/19 – "Blood Heir" by Amélie Wen Zhao
After being plagued by controversy that led to Zhao withdrawing her debut novel, "Blood Heir" is finally and quietly being re-published this November. Whichever side you may fall on in the real-world drama, one thing's for sure: "Blood Heir" looks like it'll be heavy on both supernatural and royal intrigue.