Editor's note: Adapted from our monthly listicles, "The Lookout" is our new weekly series bringing you the latest scoop of what's happening in AAPI entertainment. We're doing the legwork, so you don't have to.
The Illinois Senate and President Biden are taking steps to combat anti-Asian hate. The Illinois Senate has passed the Teaching Equitable Asian American Community History (TEAACH) Act, which will add an Asian American history curriculum in every Illinois public school, making for a more cross-cultural education and complete telling of American history as a whole. Similarly, Biden signed an executive order, which will push for more action-based change to achieve justice and equality for the Asian American Pacific Islander (AAPI) community in the midst of rising hate crimes.
The latest Hulu comedy "Plan B," is a raunchy, yet hilarious film about friendship and sexuality. Based on a screenplay by Prathi Srinivasan and Joshua Levy, the film follows Sunny, played by Kuhoo Verma, an Indian American high-schooler who enlists her friend in helping her track down a Plan B pill after having sex for the first time. As the duo embarks on a drive across South Dakota to find the closest Planned Parenthood, their bond is revealed through their chaotic adventure to beat the clock and get the pill.
Writer and director Nida Manzoor is carving out more positive and diverse representation for Muslim women on screen with her latest work, the musical comedy "We are Lady Parts." The Peacock original, streaming now, follows a Muslim, all-girl punk band, Lady Parts, on their mission to land a gig and find a lead guitarist. As the story unfolds, each band member brings in their distinctive personalities and opinions, as they lean into each other and the sisterhood they have formed through their music.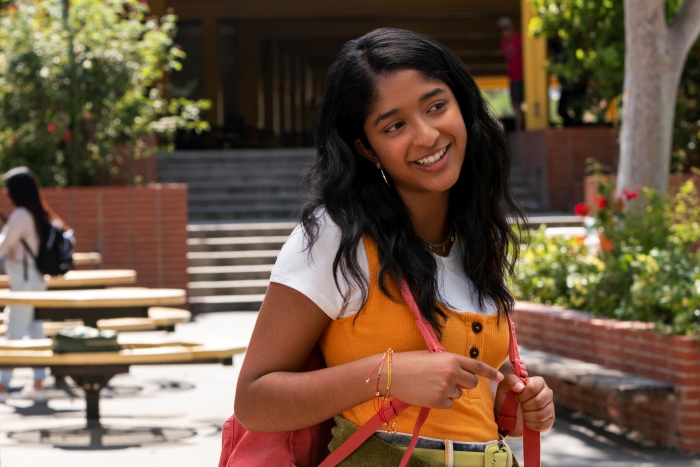 Actor Maitreyi Ramakrishnan, who made her debut in Mindy Kaling's "Never Have I Ever," is set to star in the upcoming Netflix rom-com, "The Netherfield Girls." The film is said to be a "fresh and contemporary" adaptation of Jane Austen's "Pride and Prejudice," with Ramakrishnan portraying a version of Lizzie Bennet, the smart and endearing protagonist from the classic book.
"Hamilton" star Phillipa Soo and "Shang-Chi" headliner Simu Liu will star in the film adaptation of Taylor Jenkins Reid's poignant romance novel, "One True Loves." The story centers around a woman forced to choose between the ex-husband she believed to be dead and the fiancé that has changed her life for the better.
Actress and musician Hayley Kiyoko kicked off Pride Month with the release of her self-directed music video for her new song, "Chance." The dreamy, pastel-colored video features actress Alexandra Shipp and Kiyoko in a summer romance, giving fans a sweet, queer love story centered around hope and promise.
Earlier this week, 10-year-old Filipino singer, Peter Rosalita, went viral after charming audiences and powerfully belting a cover of Celine Dion's "All By Myself" on the "America's Got Talent" season premiere. He earned a standing ovation from the audience, strong praise and encouragement from judges Simon Cowell and Heidi Klum and eventually, four "yeses" from all the judges, sending him to the next round of the competition.
Author Ly Tran makes her debut with the coming-of-age memoir "House of Sticks," in which she speaks on her and her family's immigrant journey from Vietnam to New York. In the book, Tran works to find her identity among the two cultures she's torn between and speaks on the nuances of immigration, while touching on themes of strength, hope and resilience. Overall, "House of Sticks" is, at its core, an immigrant success story that also serves as a tribute to Tran's parents and her upbringing.
Four-time Grand Slam champion Naomi Osaka announced on Twitter that she will not be participating in the required press conferences due to mental health reasons, leading to her dropping out of the French Open. Osaka opened up on the social media site about how she feels that the mental health of athletes is oftentimes disregarded and that she, herself, has been dealing with anxiety and depression, which can be exacerbated by press interviews. While causing controversy with her decision, Osaka has opened up a larger conversation on mental health in professional sports, while getting support from the likes of Will Smith, NBA star Stephen Curry, and even Nike, to name a few. Since then, the CALM app has also come out in support of Osaka, announcing that they will uphold Osaka's initial request and donate her $15,000 fine to Laureus, an organization dedicated to supporting young people through sports. CALM has also pledged to pay the fine for any other 2021 Grand Slam player who drops out of press appearances for mental health reasons.
Tune in next week for another roundup of the latest news in AAPI entertainment!