A return to laughs, tears and general debauchery is well-needed in the all-American TV scene, and by god, Mindy Kaling's "The Sex Lives of College Girls" is going to serve just that in its second season. 
Kaling and Justin Noble's "The Sex Life of College Girls"  follows the (mis)adventures of four roommates, Leighton (Reneé Rapp), Bela (Amrit Kaur), Whitney (Alyah Chanelle Scott) and Kimberly (Pauline Chalamet), throughout their time at fictional university, Essex College. Season one dropped in Nov. 2021, and season two will be following up that timeline, coming to screens on Nov. 17 of this year. 
On Thursday Nov. 10, cast, crew, friends, family and creators Kaling and Noble gathered in downtown Los Angeles for a special screening of the first episode of season 2, with a homecoming party and concert experience to come after—courtesy of  Japanese American singer, Joyce Wrice. 
Doors to the courtyard of Los Angeles Center Studios opened at 6:30 p.m., where, upon entry, guests were met with a barrage of on-theme food trucks and festivities. From a platform decorated with fictional Essex College paraphernalia— yellow, white and black balloons, streamers, school flags and more—to a  Bumble BFF-sponsored headshot booth, attendees had plenty of photo-ops to choose from Coolhaus, Trejos Tacos, other delicacies and, of course, drinks, were scattered throughout the event by way of food trucks and booths alike. 
At 8 p.m., the crowd was ushered into a theater for a special screening of the first episode of season two, which was kicked-off by none other than creators Kaling and Noble! The two sang the praises of the crew and cast, shouted out HBO Max for being the home of the series and thanked fans for their enthusiastic support. After the intro, the episode began, and, no spoilers, but if you enjoyed season one and its plotlines, get hyped for season one because the roomies are back and picking up where they left off.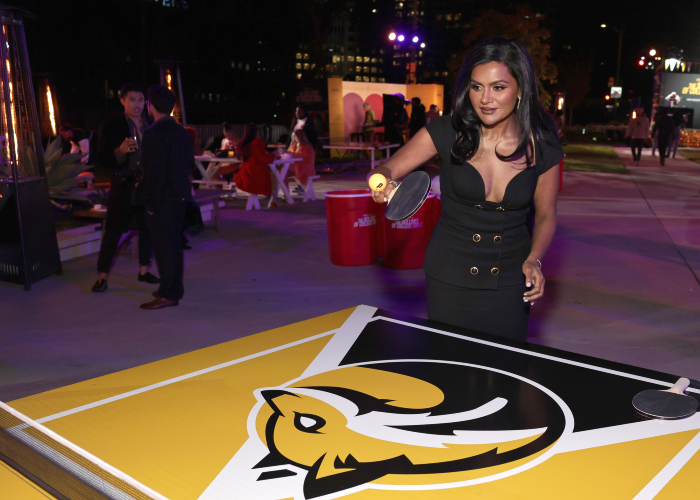 When the screening was over, guests were welcome to head back out to the homecoming festivities, where not just the food trucks and photo moments lay, but lifesize party games and DJ ROSEGOLD as well. With all the giant beer pong (minus the actual beer), massive Jenga blocks and ping pong tables a college kid could ever want. To close out the night, Wrice replaced ROSEGOLD on the stage and performed a high-energy, honey-vocaled set, which got everyone on their feet.
Season two of "The Sex Lives of College Girls" drops this Thursday on HBO Max, and if the rest of the season is anything like the first episode or the premiere party, we're in for a landmark semester at Essex!