Three, two, one, liftoff—this May, Jimmy O. Yang is headed for the stars. "This is the weirdest day," Yang's character, Dr. Chan Kaifang, remarks in the trailer for "Space Force," Netflix's eagerly anticipated new series that launches today, May 29.
In reality, exciting premieres and buzz-worthy new projects have become Yang's norm. Since 2014 he played tech expert Jian-Yang on HBO's recently wrapped "Silicon Valley," and his deadpan quips have been seen on "The Late Show With Stephen Colbert" and "The Daily Show With Trevor Noah." He's even authored a book that any second- and first-generation kid can relate to, "How to American: An Immigrant's Guide to Disappointing Your Parents." But it was his role as the affluent, party-hard Bernard Tai in 2018's "Crazy Rich Asians" that bumped him up to household-name status and made him a major player on the Hollywood scene. This year alone, Yang has seen some of his biggest projects release, including his first horror film, a comedy special and, of course, "Space Force."
Like many great (mostly) comic actors, Yang had his first brush with the entertainment world through stand-up. Acting was originally just a way to pay bills so he could continue pursuing his comedy dreams. "I grew up in Hong Kong, so I didn't watch any stand-up before I came to this country," Yang says. "The first thing that really spoke to me was BET' 'ComicView,' a lot of comics talking about what black people do, what white people do, just the subcultures and differences." As he studied for an undergraduate economics degree, he began performing at his first open mics in Los Angeles, where he jokes that he performed to a crowd of other comedians who "[didn't] give a sh*t." But it was still enough to inspire Yang. "I looked up to a lot of older comics, and I saw a glimpse where I was like, 'Wow, if I work hard enough at this, and if I'm funny enough, I could make it.' It's very one-to-one in stand-up comedy, where [what] you put in equals what you get out of it."
Yang eventually moved on from those open mics to a more established San Diego comedy club, known by day as the Greek Palace restaurant. At night the building converts into the Comedy Palace, where Yang managed seating, ticketing and more, learning all the back-end tricks of the trade. In exchange, he earned minimum wage and roughly 10 minutes of weekend stage time. "That's how I got my chops, and I did that for years until I got traction," Yang says. "But at the moment, when I was doing the Comedy Palace grind, the open mic grind, I loved every single second of it."
All that elbow grease went into the making of Yang's first hour-long comedy special, "Good Deal," which dropped on Amazon Prime at the beginning of May. Filmed in Seattle, Washington last November, the show features jokes about his ultra-traditional Chinese parents, how to nail tai-chi stances and a couple of memorable occasions he's been detained at both the northern and southern borders of the U.S.
Even over the phone, it's easy to hear Yang's voice light up when talking about the special. "It's 10 years in the making; it's every open mic that I've done, every hour that I worked for the Comedy Palace, all that culminates in this," Yang says. And yes, his early inspirations from "ComicView" do make their appearances, in the form of some upbeat bits about his heritage and American stereotyping. "There's some heartfelt moments in it about being an Asian American immigrant, but everything else will just be a great, funny hour of material."
While of course Yang wants audiences to laugh first and foremost, the special also serves as a way to introduce himself to audiences. For example, in case you didn't realize, Yang doesn't actually speak like his "Silicon Valley" character. "I just want people to know me a little more, instead of the characters I play," Yang says. Despite frequently making specific references to Hong Kong culture, Yang keeps his humor universal enough for audiences of all backgrounds to relate. "Growing up, when I watched Bobby Lee, Ken Jeong, other great Asian comedians, I saw a little of myself," Yang explains. "I want people to look at it and be like, 'Oh my God, that's so true!' or 'My dad does that exact same thing!' So they laugh, but at the same time feel a little more normal." And given the current pandemic conditions most of us are weathering from our couches, the special also offers a fun diversion from the 24-hour news cycle we've endured these past few months.
But Yang's got another welcome distraction coming our way: "Space Force." The show focuses on a hypothetical future of the current, real-life Space Force, a brand-new branch of the U.S. military formed just six months ago under the Trump administration. The series not only heralds Steve Carell's eagerly awaited return to comedic television as long-suffering Air Force General Mark R. Naird, the cast list also features heavy-hitters John Malkovich, Jane Lynch and "FRIENDS" star Lisa Kudrow. Combined with the creative team behind "The Office," "Space Force" is a dream come true for any comedy TV fan.
It certainly was for Yang, who gushes about his time working with the legendary actors. Although the actor is careful not to give away too much about his character, Yang's Dr. Kaifang is an expert botanist who the rest of the team frequently turns to for advice. "I'd be lying to you if I tell you I didn't freak out my first day," Yang says, laughing. "A lot of my scenes are with Steve and John, and it's great, but sometimes I'm just in awe. I'm watching it as if I'm in this masterclass that somebody signed me up for. I'm very humbled in their presence, but at the same time we're friends at the end of the day, and colleagues."
Though it might go without saying when you consider the names attached to the series, "Space Force" promises to be more than just your average sitcom. "Hopefully, we'll be the next 'Tiger King,'" Yang jokes. "Each episode's going to be visually stunning, very creative, and I hope it's a binge-worthy show that after the first 10 episodes, people will be asking for the next 10 in no time." The timing couldn't be better. As our own planet feels increasingly engulfed in turmoil, who wouldn't want to daydream about a trip to outer space?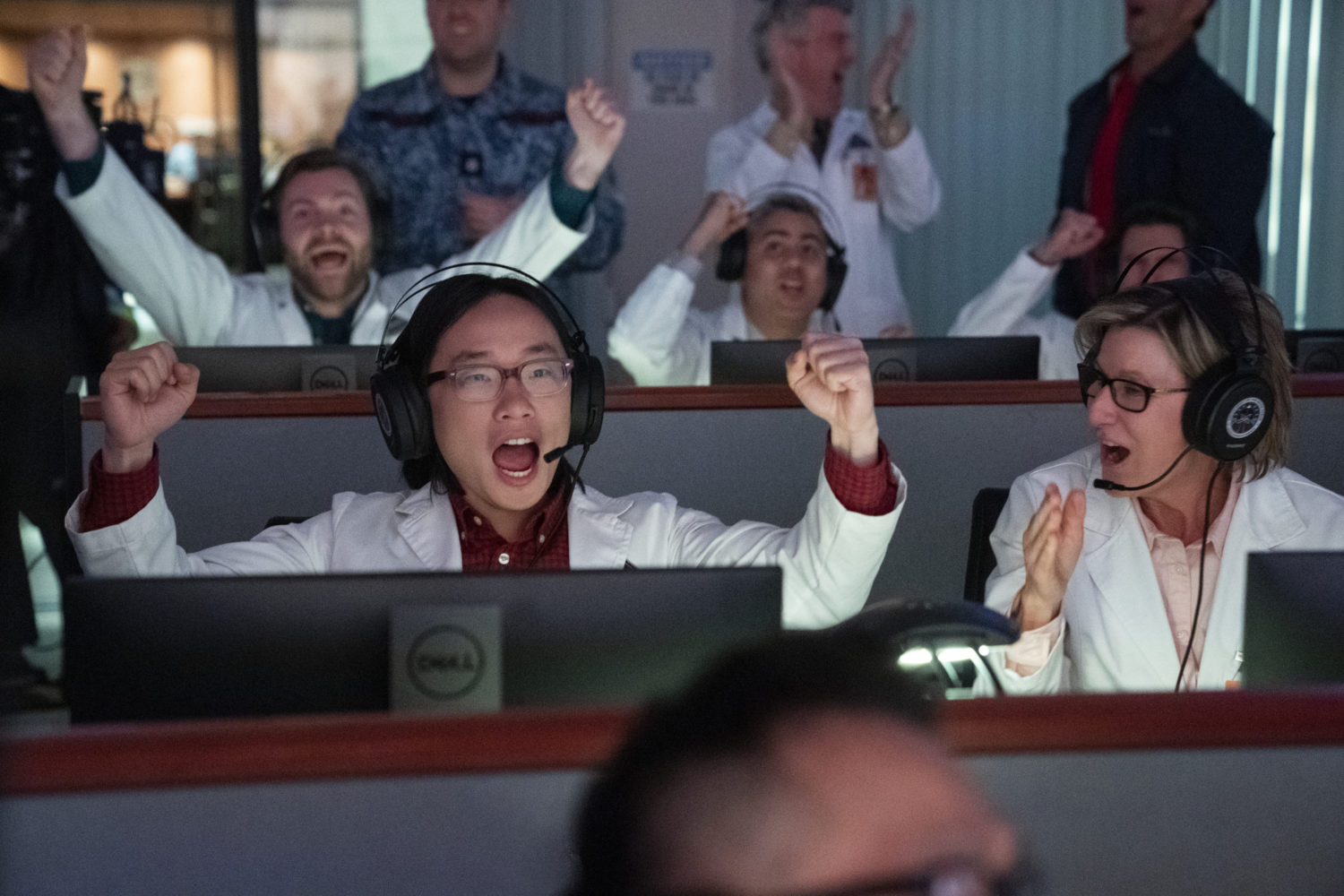 While COVID-19 has sidelined some of his other projects, Yang's got plenty of work ahead of him after quarantine. His Crab Club, Inc. production company is teaming up with Steven Spielberg's Amblin Partners and Dan Lin's Rideback to create an already anticipated film from Filipino comedian Jo Koy, titled "Easter Sunday." And Yang's pet pug Toffee is even getting in on the action with "Unleashed," a forthcoming FuseTV reality show. "It's me and [Toffee] walking with other celebrities and their dogs," Yang explains. "We'll have all kinds of people, from singers, models, athletes, to actors and comedians. I'm very, very excited about that." By the way, he wants readers to know that you can follow Toffee on social media, @toffeestarpug. Yang might be walking among the stars these days, but he's still got his feet on the ground.