Missed National Ice Cream Day yesterday? Lucky for you, it's not too late to celebrate! After all, there's never really a wrong time to celebrate ice cream, is there? But before you grab a scoop of neapolitan or cookies and cream, would you still be enthusiastic about ice cream if it tasted like a bird?
In honor of National Ice Cream Day, we decided to bring you something a little different. Here are 5 of the most bizarre ice creams from Asia. Believe us, they give a whole new meaning to "I scream, you scream, we all scream for ice cream."
---
1. Jipangi Ice Cream
Tired of sticky, messy ice cream cones? In South Korea, the ice cream shop Jipangi (which means "cane" in Korean) has introduced funky J-shaped cones to minimize the amount of melted ice cream dripping onto your hands. The thick, puffed-corn cones are stuffed with vanilla or chocolate soft serve — or both flavors, one on each end.
---
2. Crocodile Egg Ice Cream
It's just like regular ice cream — milk, cream, sugar, flavoring and eggs. So what's the catch? Instead of hen eggs, the owners of Crocodile Ice Cream Shop in the Philippines use crocodile eggs, which are supposedly creamier and more nutritious. Because crocodiles are endangered, the owners only use only eggs that do not hatch. This exotic frozen dessert comes in two flavors – durian and pandan.
---
3. Poop Ice Cream
Ditch the sugar cone for a dollop of fluffy soft serve in a squat toilet bowl from Modern Toilet. In this popular Taiwan-based restaurant chain, everything on the menu is designed to look like they have hailed from your bowels, ready to return. Some ice cream flavors include your favorite classics like "diarrhea with dried droppings" (chocolate) and "bloody poop" (strawberry). They're sure to bring back your favorite memories from the washroom.
---
4. Raw Horse Flesh Ice Cream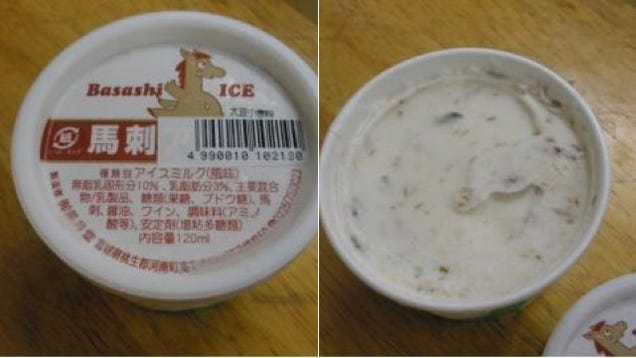 Who can say neigh to chunks of frozen, uncooked horse meat? This absolutely rancid ice cream flavor was one of many oddities featured in Japan's indoor amusement park Namja Town. Other unusual flavors included yakisoba and octopus, but nothing could be as traumatizing as the taste and texture raw horse flesh on your tongue.
---
5. Parakeet Flavored Ice Cream
Ever wondered what your beloved Pete the Parakeet would taste like as a frozen dessert? If so, check out the Parakeet Flavored Ice Cream from Torimi Cafe in Japan. Breathe easy, Pete — the ice cream does not contain actual bird parts; it only imitates the scent of the parrot species with its concoction of vanilla ice cream, seeds, honey and apple. Other fowl flavors include Java Sparrow and Cockatiel. According to Torimi Cafe, the taste of Cockatiel Flavored Ice Cream is like "when you're sleeping with your mouth open and your cockatiel runs over your face and gets its leg in your mouth." How exactly are they so familiar with this specific taste? We'll never know.