If you're a '90s baby, chances are that the words "handy-dandy notebook" and "mail time" will conjure up some nostalgic memories of your childhood: memories of Steve in his bright green stripes hunting for blue pawprints with his adorable dog, Blue. Or memories of singing like a pretend opera star every time the "Mail Time Song" came on, or even of crying your eyes out when Steve left the show to go to college. But a new generation of kids will soon know the references to this famous children's show.
That's right. "Blue's Clues" is back. And while old friends like Blue, Magenta, and even the original hosts—Steve Burns (Steve) and Donovan Patton (Joe)—will be returning for the Nickelodeon show's premiere on Nov. 11, there's a new addition to the family that will carry the show's legacy. Introducing the new "Blue's Clues & You" host, Joshua Dela Cruz.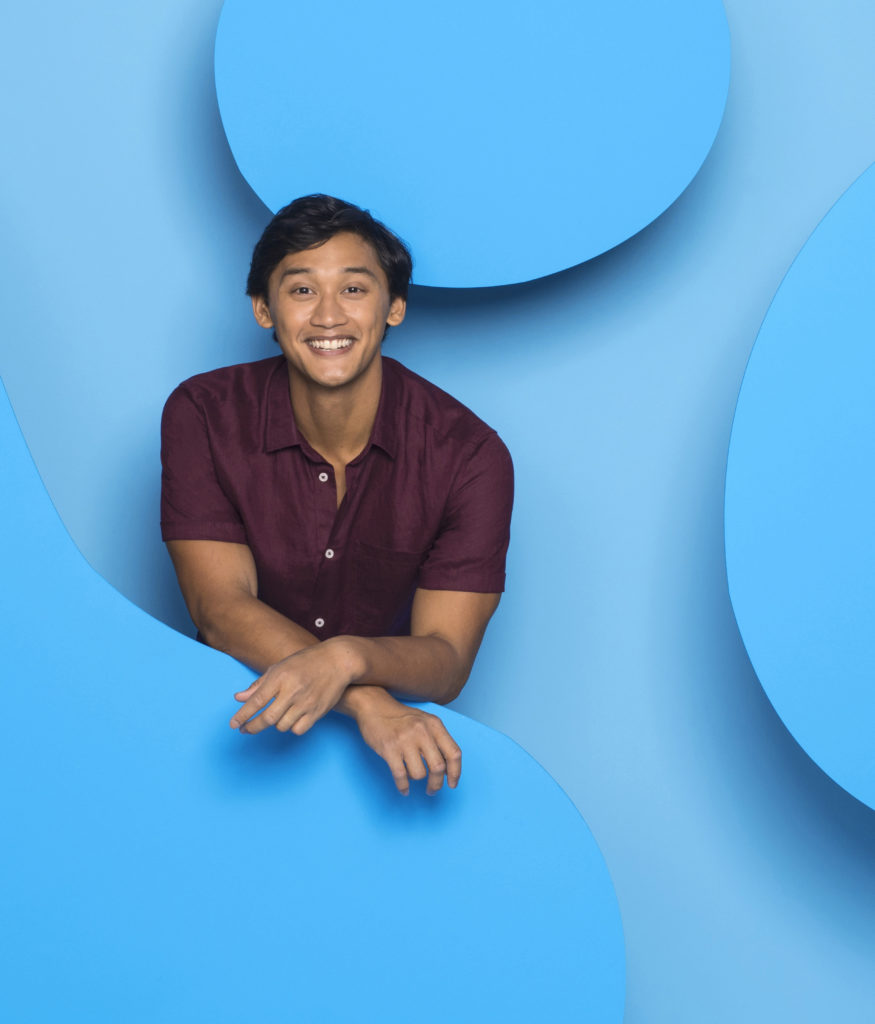 A former musical theater actor in the original Broadway cast of Disney's "Aladdin," Dela Cruz spent most of his childhood indulging in his love for music. Whether it was singing karaoke (a favorite pastime in the Filipino community, as he notes) or participating in school music programs, music played a significant role in his life. It wasn't until high school that his older sister encouraged him to audition for the school's musical, which ultimately made him fall in love with theater. Soon, he landed a scholarship to Papermill Playhouse—the regional theater in New Jersey—which eventually led him to pursue musical theater at Montclair State University. It was there that he met his wife, Amanda, and other aspiring artists. "That was the first time I had ever been around people that wanted to pursue acting in any form as a career," Dela Cruz says. " It's not something that I'd ever been exposed to, especially culturally. To be surrounded by people—particularly such a diverse groups of kids—who wanted to do this for a living because it was their passion was an awakening for me."
Straight out of college, he found himself on the right career path, booking a role in a production of "The King and I" at Kansas City Starlight, opposite acclaimed Pinoy actor Lou Diamond Phillips. "I doubt he remembers who I am, but Lou Diamond Phillips played such a huge role in my progression," says Dela Cruz. "During that production, I said I was nervous, and he pulled me aside and told me, 'You belong here.' And that was such a huge thing for someone to say, especially a Filipino actor who has done so much that had nothing to do with him being Filipino." As a Filipino American, Dela Cruz says that he often struggled to find representation within the theater world. "I've never seen anybody like me outside a production of 'The King and I' or 'Miss Saigon,' or really do anything other than playing an Asian person in an Asian musical," says Dela Cruz.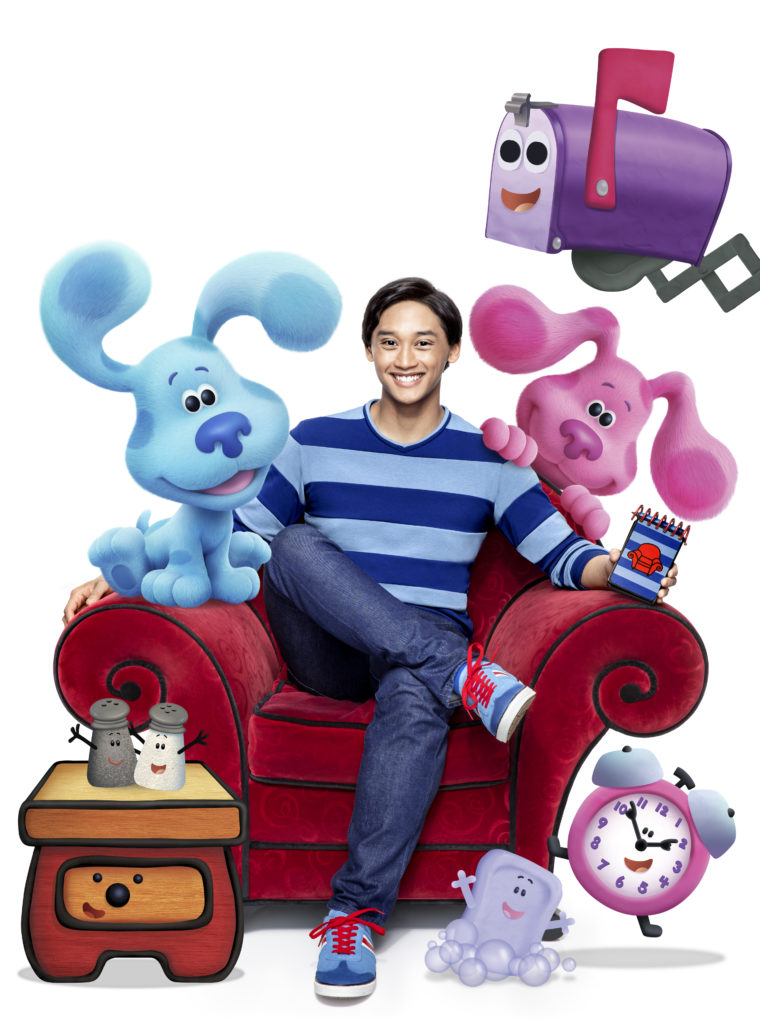 And perhaps that's why when Nickelodeon announced him as the new "Blue's Clues" host, the AAPI community went wild. For once in American children's television, there would be an Asian American in a show and role that's not necessarily about being Asian. "I love that with 'Blue's Clues' we're celebrating the fact that I'm Filipino, but I wasn't cast because I'm Filipino," says Dela Cruz. "And that's what's beautiful. I'm just so stinkin' lucky that I get to grow into me and be myself while impacting kids in a positive way."
For his first leading role on the small screen, Dela Cruz has some big shoes to fill. After all, "Blue's Clues" lives fondly in the memories of those who grew up watching Steve and Blue, as they solved puzzles and taught preschoolers everything from American Sign Language to how to tell time. But after watching Dela Cruz sing the iconic "Mail Time Song," you'll quickly realize your childhood is in safe hands—in other words, he's perfect for the role. Not only does he retain the original show's energy and charm, he brings his impressive singing and dancing chops to the table. Even the show's original host, Steve Burns (who is now the consulting producer and director on the new series) attests that Dela Cruz is taking the show to a new level. "He's a Broadway-level singer and dancer, and that is adding so many dimensions already," says Burns via email. "Neither Donovan nor I can sing. Or dance. At all."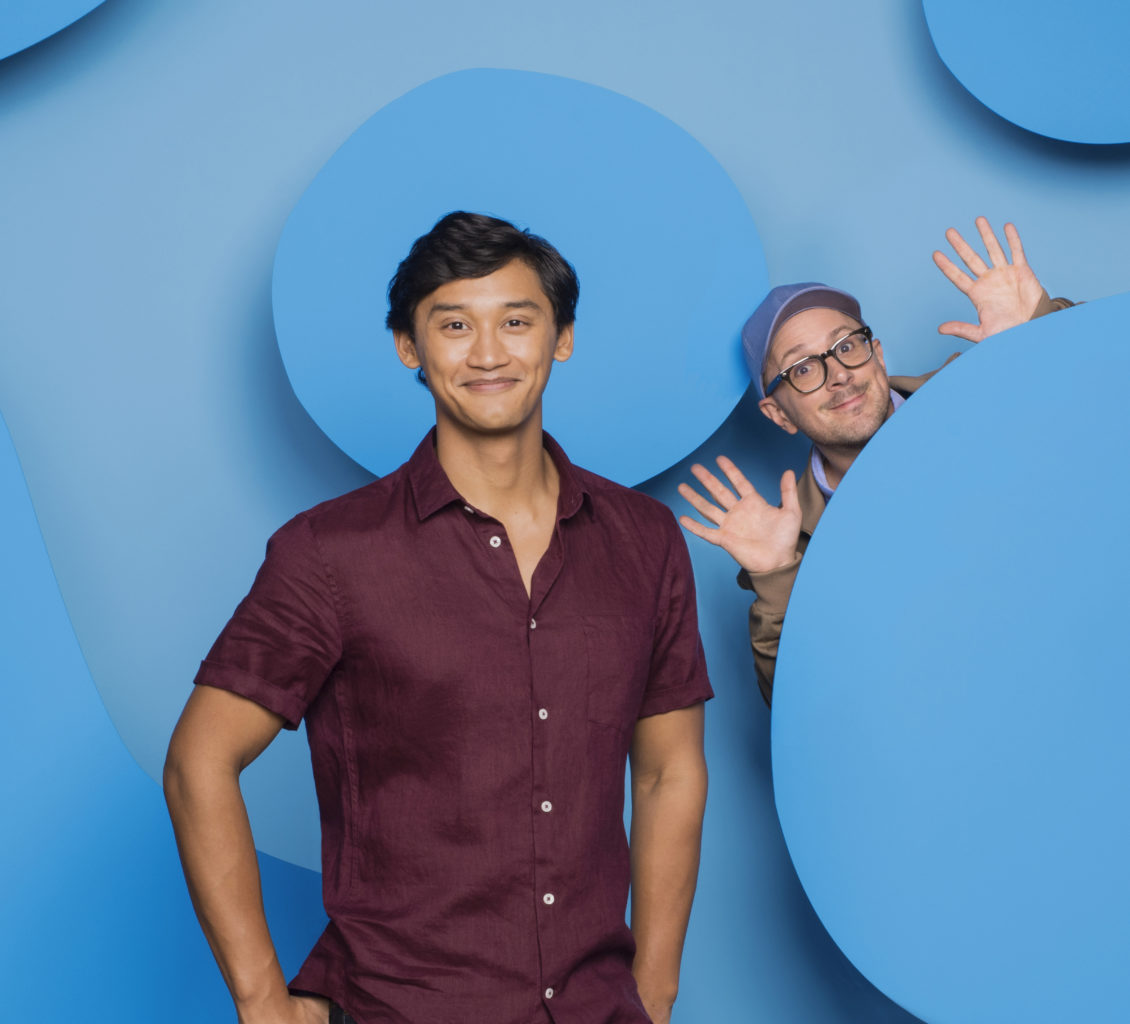 Dela Cruz was picked because he was the perfect guy for the job. Out of a pool of more than 3,000 auditionees, he was chosen for the role. Burns was also a part of the search, and who better than the original host himself to deem who's right for the role? "It always has to be real," says Burns. "Even when it's goofy. Even when you're freaking out because the mail arrived. The relationship between the host and the home viewer must be specific and real." When Dela Cruz went into his green screen test, Burns knew he had what it took. "Josh is genuinely imaginative and engaging, and he had an inherent sense for the blue screen demands of the role," says Burns. "Also, he's a great guy in general, and we all liked him immediately. Still do!"
Dela Cruz says that he found incredible support and new friends in the original hosts, Burns and Patton. "I used to watch them on TV, it's crazy!" Dela Cruz says. "And now I have their phone numbers and we're talking about old movies. They made me into family. They're the two big brothers that I need, especially with this show, they're just great role models and super supportive." But he also found a role model in another certain legend from children's television. While still working on "Aladdin," Dela Cruz felt he wanted to do more with his life than just entertain, he wanted to use his gifts to help other people. During the audition process for "Blue's Clues," the Mr. Rogers documentary, "Won't You Be My Neighbor?" came out. "It was one of those moments where it was the right place, right time," says Dela Cruz. "After my callback, I went to see the Mr. Rogers documentary and thought, 'Yup. This is the right thing. I want this so badly.' Mr. Rogers was so huge in my life growing up. And our creator, Angela [Santomero], got into this business because of Mr. Rogers. I knew this is what I wanted."
Parents, and old and new "Blue's Clues" viewers alike, are all ready to see what this new chapter of the show has in store for Blue and her friends. "More music, more songs, lots of dancing and super mega cool animation," Burns teases. "Also, his new notebook is like the coolest thing ever, and I'm jelly."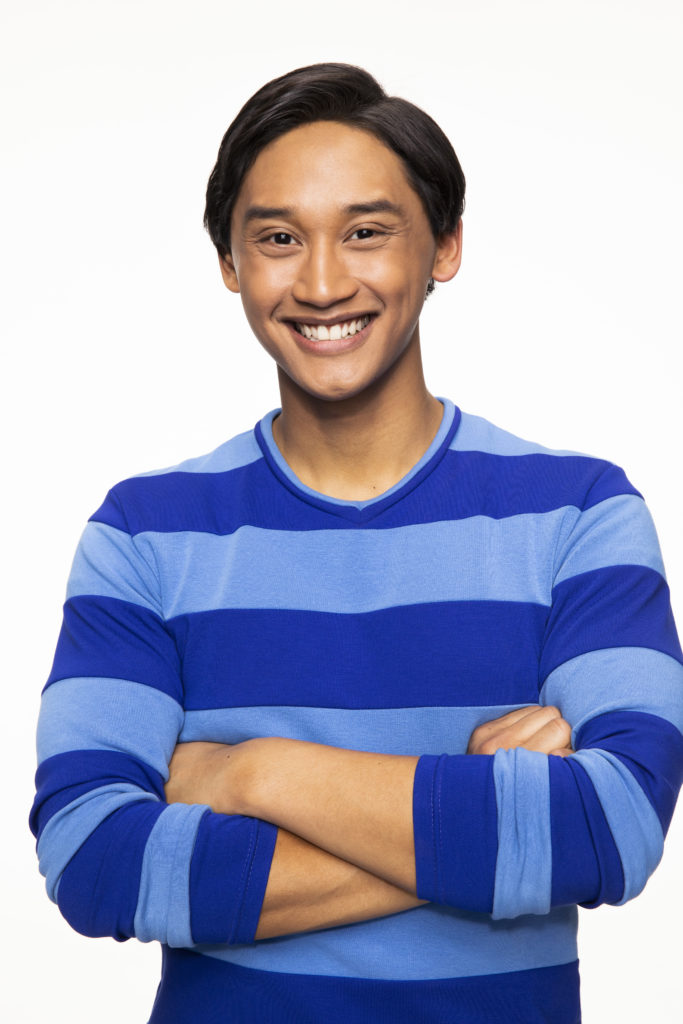 Speaking of the new notebook, did you know it also has a phone now? In order to keep up with the times, the show has updated a few things. "We get emails now, which is fun," says Dela Cruz. "I think it's amazing that they were able to marry a notebook and a phone. We never lose the fact that we draw each clue, but we also don't ignore the fact that technology is such a huge part of our world. I think kids are going to have a great time. Although, I apologize to any parent if the show becomes something that's on repeat all the time!"
While the new series will introduce more modern elements to the adventures of Blue and Josh, the heart and soul of the original will still remain the same. And just like his idol Mr. Rogers, Dela Cruz hopes that children will have fun learning while watching his show. "I hope that kids learn that whoever you are and whatever you identify as, it's okay to be silly and step out of your comfort zone," says Dela Cruz. "To be kind and to communicate to each other and the people around them, so that they can live life as full as they deserve. All of our content is focused on the well-being of our viewer—and that's all we're ever concerned about."
---
This article will appear in "Character Media"'s Unforgettable 2019 issue. Check out our current e-magazine here.