At a recent sold-out show at Los Angeles' Roxy Theater, musician mxmtoon took to the stage as the audience chanted her first name, "Maia." In front of a bedsheet-size cover of her latest album, "the masquerade," she introduced her first song and her bright voice was nearly drowned out by thunderous applause and cheers.
It's clear that should Maia ever turn from music and toward world domination, she'd have an eager army of teenage fans to back her up. Born and raised in the Bay Area, the 19-year-old hapa artist has become a force to be reckoned with on the indie scene since releasing her debut EP, "plum blossom," in 2018. Maia's music falls into the soft, homemade pop sound that tends to dominate platforms like Soundcloud and Spotify these days, but her candid and vulnerable lyrics, backed by her gentle ukelele strumming, set her apart from the pack.
Her meteoric rise to fame is pretty impressive, considering that Maia first got her start recording songs in her parents' bedroom. Although she's now playing across the country and collaborating with indie gold like Cavetown, she says that her parents are just as encouraging as they were when she was making music back at home. "I can't imagine what it's like watching your oldest child take on this huge industry that you have no familiarity with, but they've let me go and navigate the world on my own," Maia says via email, shortly after that high-energy Roxy show. "Both of them are teachers, and the idea of me becoming a musician and an artist in the public eye was the last thing they could've ever expected, but they're so supportive and show up to as many shows as they can. But I have to stay humble, so they still make me take out the trash when I'm home with them!"
It's that same down-to-earth, open attitude that appeals to Maia's fans. Songs like "prom dress," a bittersweet take on growing up and leaving high school, have garnered millions of YouTube views from listeners who can't help but fall in love with mxmtoon's unique sound and relatable persona. "I write a lot of my songs off of personal experience," Maia says. "Each one has some correlation to an event in my life, or a theme that I feel like I can't stop thinking about at a certain point, so each one is born out of that." 
Her simple process has proven to be a recipe for success, and the Roxy Theater was just one of many venues that Maia sold out on her tour. In her live shows she's friendly and charming, talking to the audience as if addressing each and every fan. Her outgoing stage presence comes as something of a surprise after listening to her songs, many of which deal with the trials of being an introvert. "I wouldn't say I'm shy in the live shows that I put on, but it's more 'reflective,'" Maia says. "The place I've found myself in when I do perform concerts is really just to be as authentically me as I can be, and that makes the whole job easier when you don't have to pretend to be something you aren't."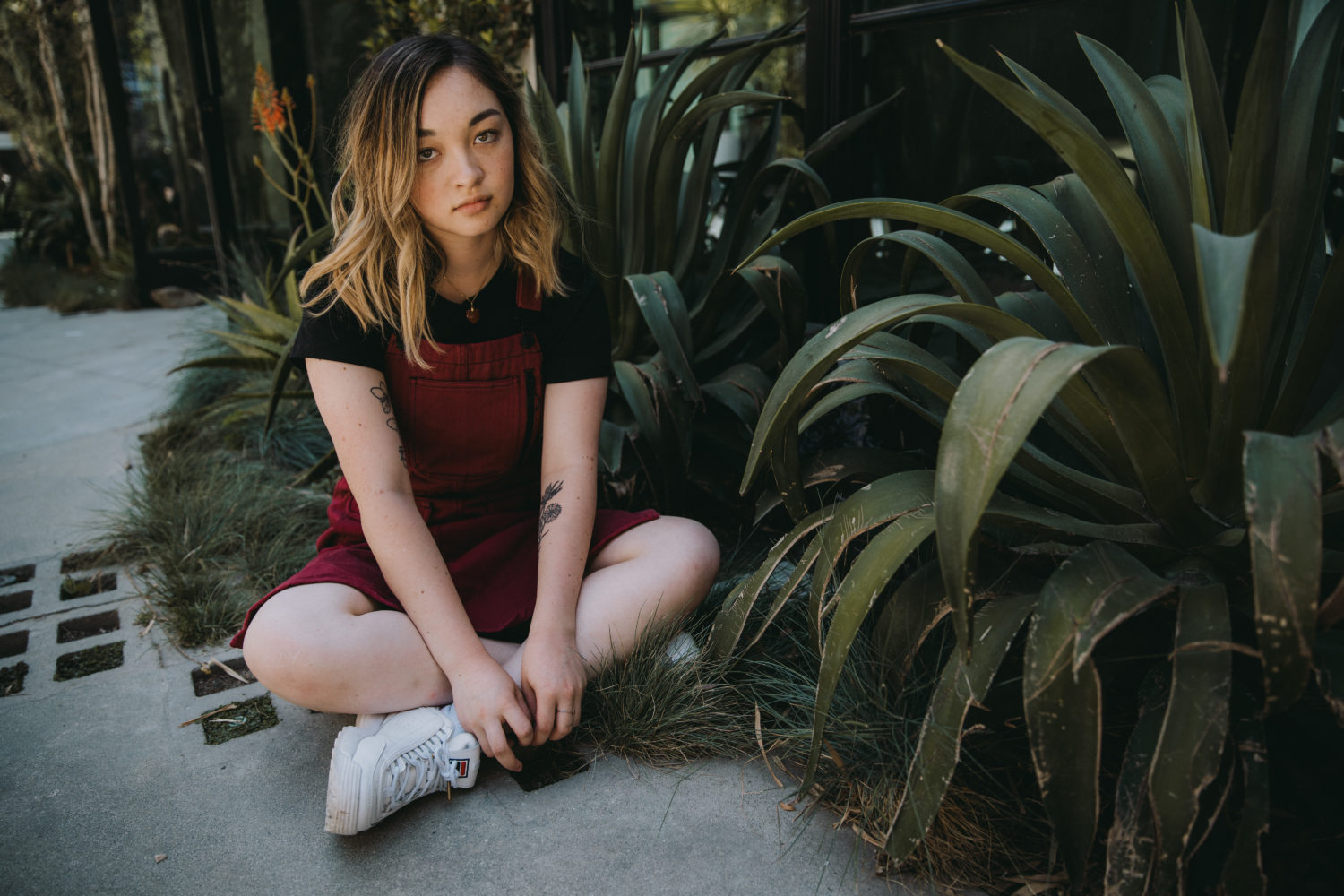 In addition to releasing "the masquerade" and a graphic novel accompaniment, this fall she also dropped a podcast on Spotify called "21 Days with mxmtoon," a chronicle of the three weeks that she took to record "the masquerade." "I'm a personal lover of podcasts, so the opportunity to be a part of making one was super exciting," Maia says. "But there's no way you can be prepared to be recorded for 13 hours a day for three weeks. When you're having a hard day you don't always want that to be obvious, and when you're being recorded that's not a possibility. However, being able to hear those moments when things were difficult as the podcast began to finalize just made me appreciate how hard we worked on the album, and celebrate the successes even more."
Maia has also got plenty to look forward to. Though she jokes that she wishes she had the time to relax, she's playing several international shows in the months ahead. This week alone, she also released a short animated film that she narrated, and signed a global publishing deal with Kobalt Music. But it sounds like these are just a few of the revelations mxmtoon has up her sleeve. "There's a handful of really cool stuff in the works for people next year," Maia teases. "I'm super excited for everyone to hear what's to come. If they were surprised by 'the masquerade,' their jaws are gonna drop in 2020."

You can catch mxmtoon on one of her upcoming international tour dates.
December
Dec. 1 – Southampton, United Kingdom, Engine Rooms
Dec. 2 – Birmingham, U.K., O2 Academy
Dec. 3 – Norwich, U.K., Epic Studios
Dec. 5 – Leeds, U.K., Brudenell Social Club
Dec. 6 – Glasgow, U.K., Garage
Dec. 7 – Manchester, U.K., Manchester Academy 2
Dec. 8 – Dublin Pike, Ireland, Dublin Academy Green Room
Dec. 10 – Bristol, U.K., The Fleece
Dec. 11 – London, U.K., The Camden Assembly
Dec. 12 – London, U.K., Electric Ballroom

June, 2020
June 16 – Bangalore, India, Manpho Convention Center
June 18 – Mumbai, India, NSCI Dome
June 25 – Taipei, Taiwan, Legacy Max
June 27 – Jakarta, Indonesia, Istora Senayan