There was a literal chill in the air during the 16th annual Character Media Pro-Am tournament. With lows under 40 degrees Fahrenheit, 30 teams braved the winds for the pure love of the sport and a celebration of comradery. Though the weather was cold, the competition was hot, on and off the green.
Presented by Joseon and held at the scenic Pechanga Resort Casino on April 3rd, things kicked off with a golf clinic where pros could meet their amateur teammates and show them some quick tips ahead of the torment the next day. A few hours after practicing their swings, both pro and amateurs made their way to the Pairings Party to let loose and mingle. The dress code was sport coats and cocktail dresses, with every player looking as spiffy as possible for their magazine cover-worthy team portraits. Before dinner commenced, host Paul "PK" Kim brought down the house with his beatboxing and Bill Anderson, Chief Marketing Officer of the resort, surprised everyone with his own performance. Anderson assured everyone that the weather, while dreary today, would be perfect for tomorrow's tournament. Guests also caught a glimpse of His Imperial Highness King Yi Seok — who, while too shy to make his own speech, elected former K-pop star Danny Im as his proxy to acknowledge the work ethic that events as grand as the CM Pro-Am takes.
After the glad tidings, dinner immediately kicked off with a fun challenge for the attendees.
Groups had to be quick on their feet to get in line for the buffet-style dinner, and post their team names on the mobile scorekeeping app ThunderPar. The pros and amateurs captioned their selfies with silly names like Hot Chicks, Lady Eagles and Team Tall & Blonde. After the meal and introductions of each of the pros, the fun continued with multiple games for the teams that had to participate in order to win cold hard cash for their pro teammate. This ranged from objectives like being the first to post a group selfie, scavenger hunts for IDs, Pechanga Casino Player cards and videos from any team member's latest golf outing to games like musical chairs and rock, paper, scissors. Among the scavenger hunt winners were fabulous pros Grace Kim, Karen Chung, Gabriella Then and Luna Sobrón, who received $100 each for their teams' swift work. Musical chairs and rock, paper, scissors proved more physically competitive with participants practically hip-checking each other to secure a seat in the former, and eagerly throwing out those well-known hand signs in the latter. Greta Voelker's amateurs ended up winning her $200 for musical chairs while Sydnee Michaels and Amy Lee won $200 and $400 for first and second place in rock, paper, scissors, respectively.
The night wrapped up with everyone busting a move on the dance floor with golf influencer Tisha Alyn leading the charge with the Cupid Shuffle. Her pro friends grooved alongside her, and, of course, the amateur attendees joined in too. The joyful night couldn't go on forever, though, as teams had to be up bright and early for the long-awaited tournament.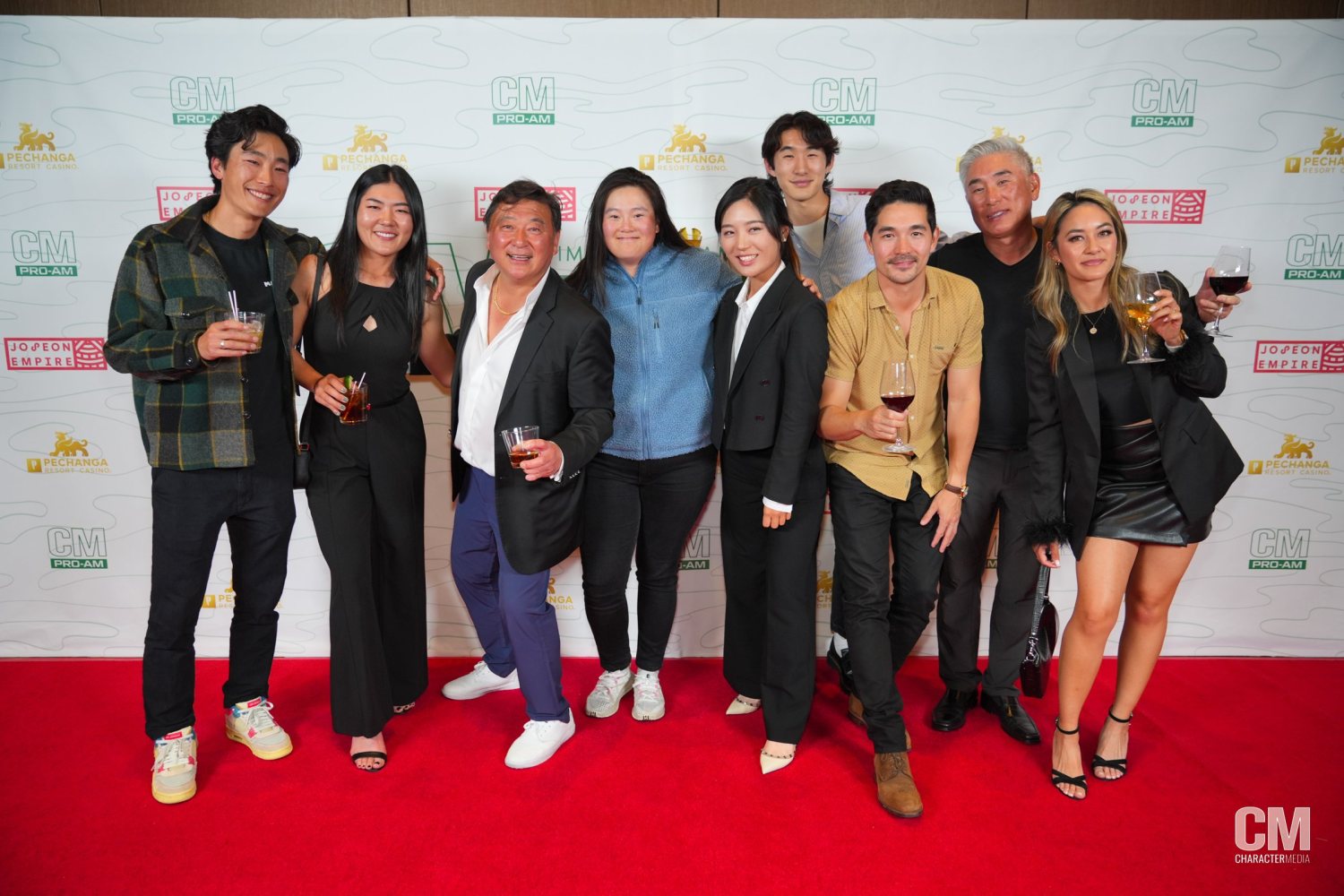 It didn't matter if the teams were made up of early risers or night owls — the 2023 tournament came quickly and started off right away at the Journey at Pechanga golf course with the highly anticipated Longest Drive competition, which had the golfers pairing up with one of their amateurs to see what duo could hit the ball the furthest with their combined score. The competition was hot, and not just because of that California sun.
Two teams, Angel Yin's and Louise Ridderström's, tied at 517 yards for most of the event until dark horse Amy Lee knocked both out with a combined score of 530 yards. Lee was rewarded $500 while her amateur Nicholas Cheh and the rest of their team won their choice of Vessel golf bags.
Soon after, the 30 teams officially teed off, more than ready to compete in an 18-hole scramble tournament to gain the CM Pro-AM Cup. (And the $5,000 cash prize isn't too shabby either.)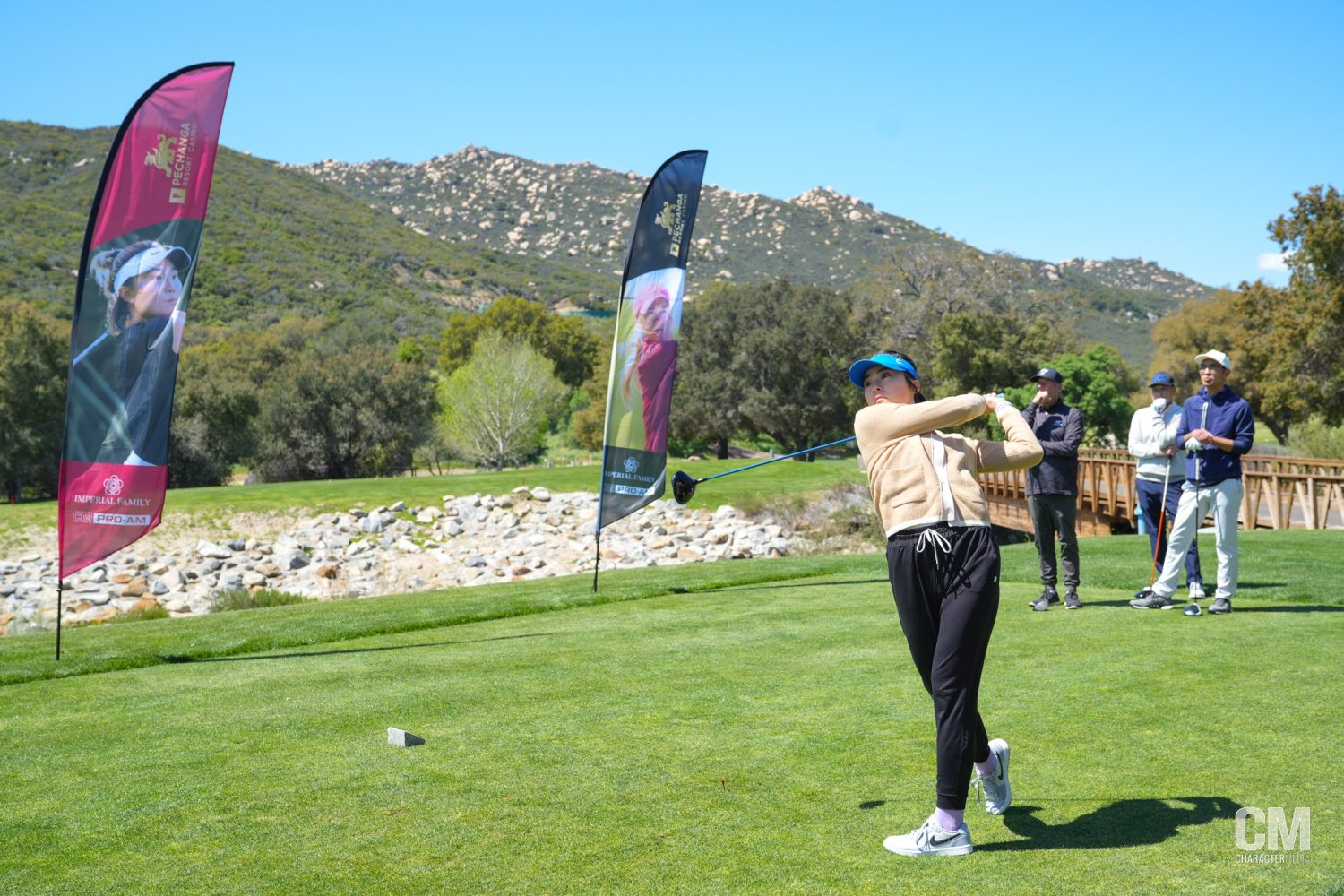 After an afternoon filled with swings on the pristine green, pros and amateurs were ushered to the Journey at Pechanga's restaurant, Journey's End, for the awards reception and dinner. Attendees were treated to a gourmet dinner buffet along with framed team portraits signed by their pros as souvenirs.
But back to the main event — after much anticipation and a bit of an emcee switcheroo, with Character Media's very own James Ryu filling in, the tournament winner was announced. The team that managed to win first place was no other than Ryu's team, also known as "The In-Laws." The foursome led by Yin included Ryu, Raymond Sun, Michael Yamaki and Sung Tae Yu. "I've been doing this for 16 years, and this is the first year we've won," Ryu exclaimed as he and the rest of his team huddled together for a photograph with their trophies.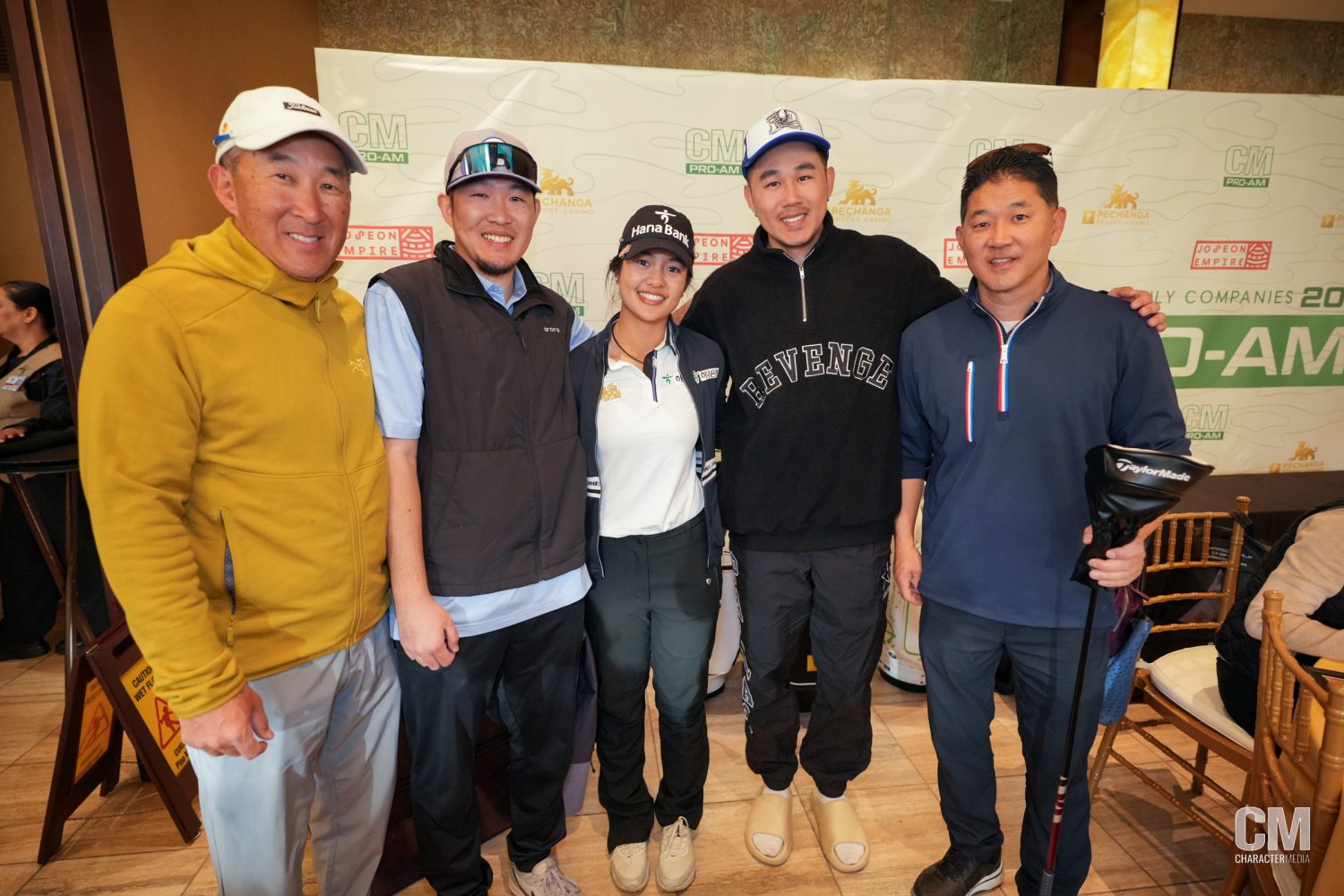 Other winners included Jaravee Boonchant, whose team was made up of Chris Lee, Addison Lee, Christian Lee and Kyler Lee. They took second place with Boonchant receiving a check for $1,000.
The night ended with the announcement of the sole winner of all the hole-in-one opportunities, Sung Tae Yu of the previously awarded "The In-Laws," clinching a lofty prize of $10,000 for scoring an ace at hole 3 earlier that afternoon. The same hole held a closest-to-the-pin challenge so evidently, he also won a Vessel golf bag.
As it is the 16th year that Character Media has hosted the CMPro-Am event, we hope to continue this tradition for many years to come. This year could not have been possible without the support of Joseon, our host Pechanga Resort Casino, and our many sponsors which include APW, Chun-Ha Insurance, Dave's Hot Chicken, Judith EHM Foundation, Momma Rose Foods, Ten Advertising, Tutor ABC, Uni & Good Friend Insurance and Vessel. Lastly, we are thankful for our product sponsors Cobra Puma Golf, Le Mieux, Naked Nutrition, Sanzo, TaylorMade and Titleist.