Most brides-to-be look forward to the thrill of picking out their dream wedding dresses. It's the stuff entire movies and TV shows are made of: wading through heaping mounds of white tulle and lace to find The One, buried somewhere and just waiting to be discovered. But for Chinese American brides on the hunt for a traditional cheongsam or qipao, the process is far less glamorous.
"It was harder than finding my white wedding dress," laughs Jenn Qiao, one of the co-creators of East Meets Dress. "There are very few choices; either you have sketchy sites where you're not sure if the dress is going to look like the picture, or local Chinatown shops where they're very limited and much more traditional."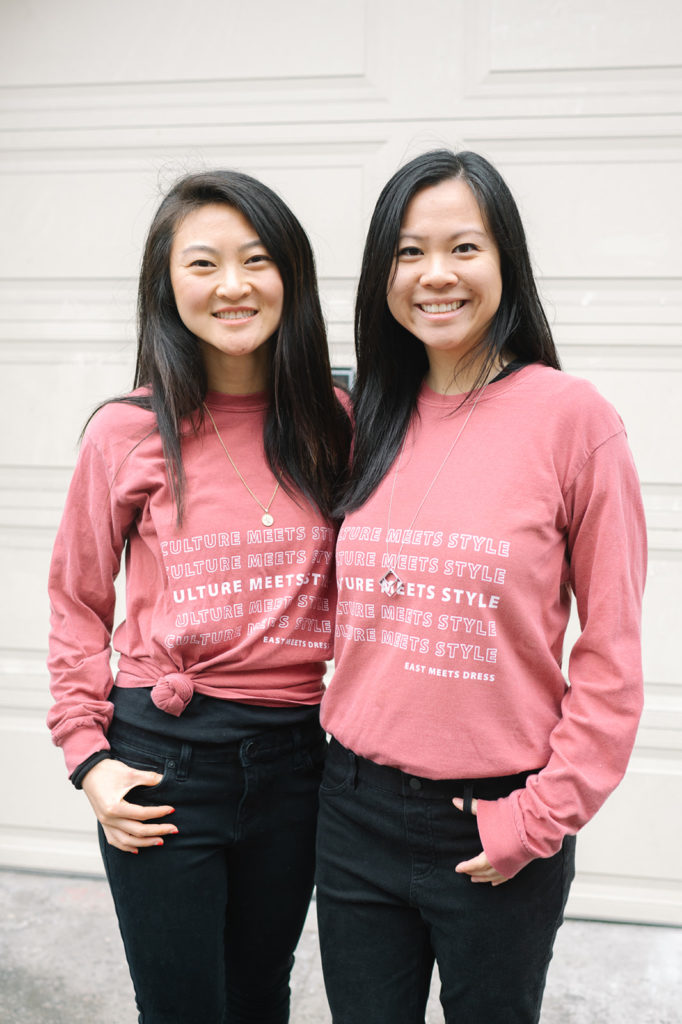 It didn't take long for Qiao to team up with Vivian Chan, her longtime friend and maid of honor, to find (or rather, found) the solution in the summer of 2018. Their joint brainchild, East Meets Dress, offers dazzling collections of modern cheongsams and men's tangs, updated for today's Chinese American brides and grooms. The website features a wide array of colors and styles, with a 21st century twist on classical elements like pankou knots, sheath silhouettes and mandarin collars. And it all started with just one dress.
"We launched with one dress on our site, and if you know anything about the wedding industry, you'd be like, 'What? How can someone just have one dress?'" Qiao says. "We were very idealistic and impatient." Fortunately, the duo found help and inspiration in the Cosmos—not the celestial body, but the nationwide Slack forum of Asian American womxn entrepreneurs and business-owners.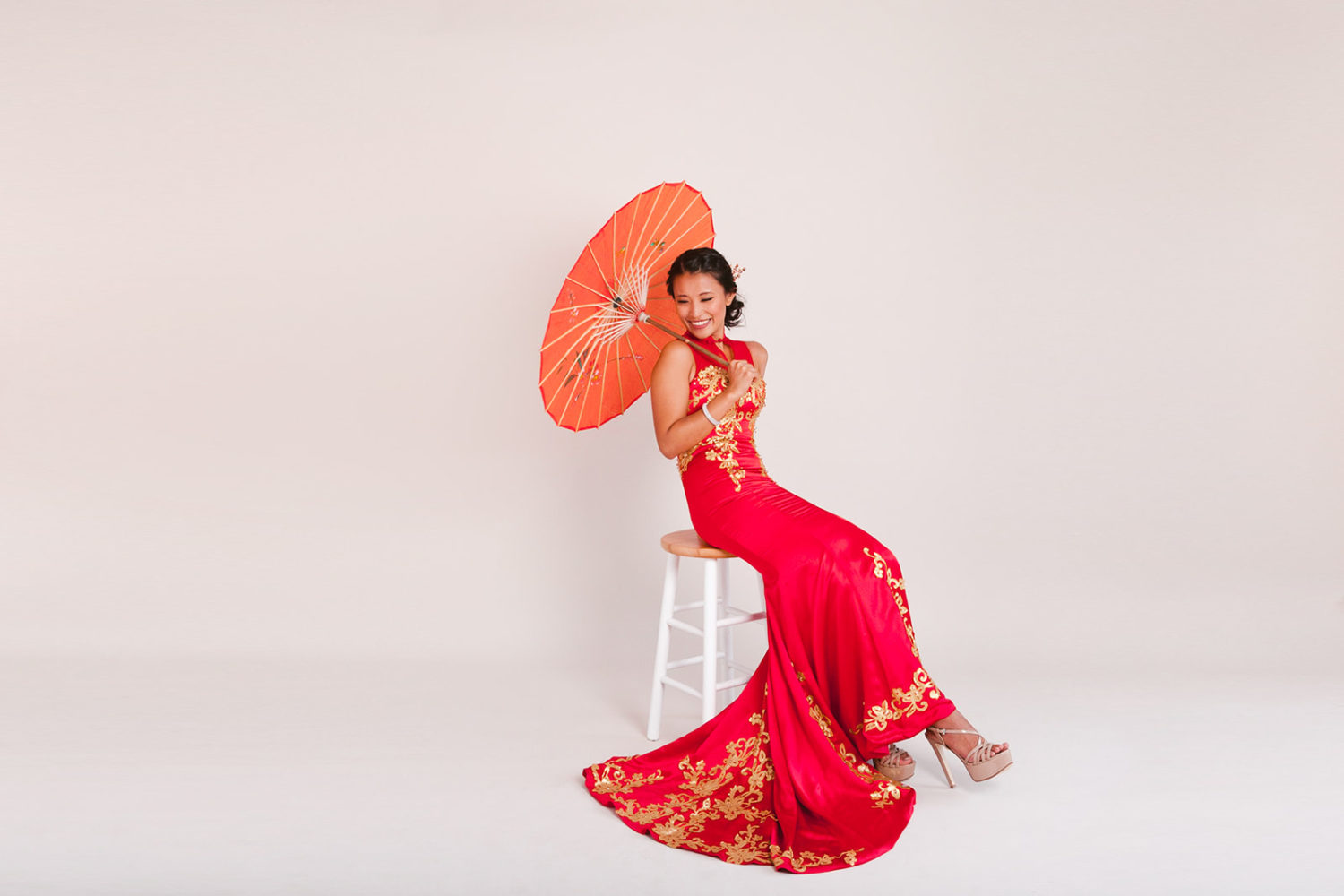 Qiao and Chan cite the community support as crucial to their company's progress, because as requests for new styles poured in, the two found themselves with their hands full and their pockets … well, less so. "Because our company was boot-strapped from day one and we come from immigrant backgrounds, one of the things we've been taught growing up is to 'Just save more money than you spend!'" Chan says. "But in business you have to spend money to earn money, so it was a learning experience. It's really about learning to prioritize rocks instead of sand, making sure that everything we do each day actually moves the needle."
Just two years later, those early investments of money and time have created one of the biggest and certainly best online marketplaces dedicated to helping Chinese Americans in search of that perfect dress or suit. Some customers even come to East Meets Dress from Australia and the U.K., but it's not just brides and grooms who are out shopping. "There's a large market of high schoolers who want to wear a cheongsam to their prom or dance, and that's been really heartwarming, all these girls reaching out to us saying how excited they are to celebrate their heritage and share their culture with their friends," Qiao says. "That's starkly different than what it was like when we were growing up. It's come a long way."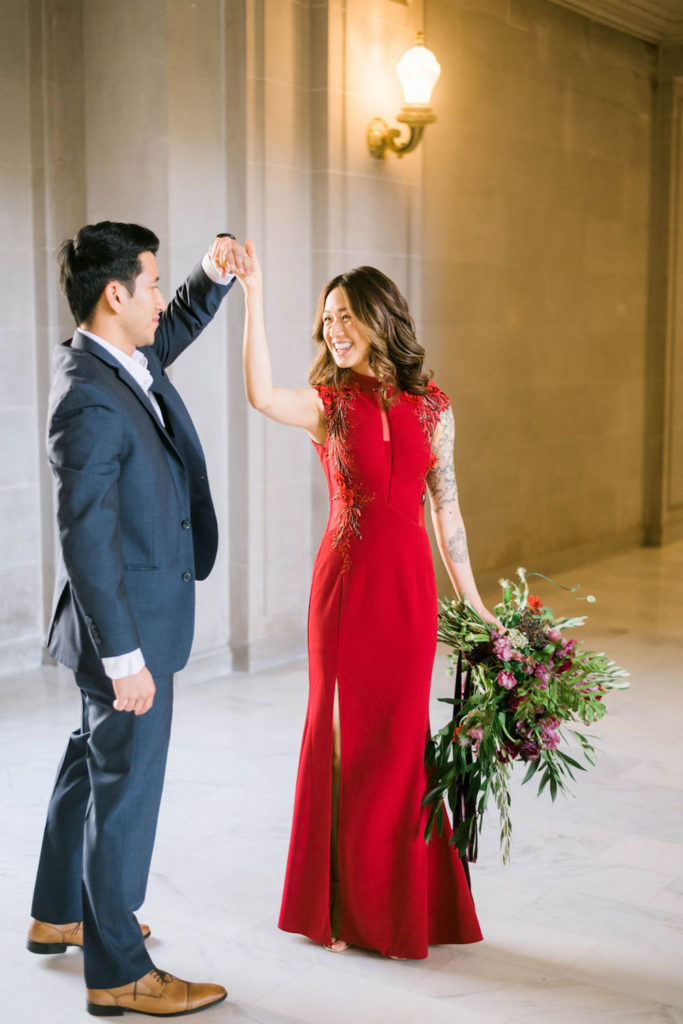 Although the duo now works with a small team to meet demand, East Meets Dress is still guided by its founding principles of high-quality product and responsive customer service. We might take that for granted in the age of Amazon Prime, but for most of the cheongsam marketplace, those basic standards remain elusive. "We make sure everything we do in our company passes our sniff test, so if we wouldn't wear a dress, we wouldn't sell the dress," Chan says. "If the experience on the website from end-to-end is something we wouldn't personally appreciate, then we'll improve it. That's the driving force behind it: we like modern designs, we appreciate quality, and we also want a seamless customer experience."
Qiao and Chan have both stayed hands-on in the business, especially as the COVID-19 pandemic has sidelined thousands, if not hundreds of thousands of weddings this year. Like most, Qiao and Chan started off the year in a spirit of celebration, only to see their plans abruptly derailed. "When we first came into 2020, we were super optimistic and happy. We were like, 'This is going to be the best year ever!'" Chan says. "We had our very first pop-up shop in San Francisco early in March, before the shutdown started." They'd planned to make it a recurring event throughout the year, but even in a world turned upside-down, the two are still finding ways to move the needle. They're holding remote bridal consultations via Zoom and polishing the East Meets Dress blog, a catch-all resource for everything that happy couples might need to know before the big day.
So, whenever Chinese American brides are ready to seek out The One, they know just where to go. Qiao and Chan are here to help.
---
This article appeared in "Character Media"'s July/August 2020 issue. Check out our current e-magazine here.