There is currently no vaccine for COVID-19, but coping with the distress and emotional turmoil after this pandemic is going to take more than an injection or a pill. The damage it inflicts may reach much further and last much longer than the virus itself can spread.
Outside, a war rages on—but inside the heads of millions of Americans, a whirlwind of anxiety and fear is its own battle. Housebound during quarantine, people are stuck reading story after news story about how bad circumstances are, and how the situation will only get worse. The abstract concept of an invisible killer in the air has become real for many, as loved ones become infected and pass away from the virus. There is little room for mourning, as many funerals are limited due to social distancing measures. Even hugging is a no-no.
For Asian Americans, it may also mean coming to terms with the idea that racism is still a very real problem for our communities. Recent events have sadly proven that the fear of getting sick is all it takes for people to shed the thin veil of praise for a "model minority" and lash out at the perceived "other." Stares, violent confrontations and debasing language have all become commonplace.
In times of crisis, when there are no simple solutions, and not even another person beside you, where can we turn to soothe our weary souls and to heal our emotional wounds?
Art is where many turn to cope, and creators around the world have found a way to express and share in art even from home. Here are four Asian American artists who are using art to help themselves and others cope during this crisis.
Cynthia Luo
Art has proved incredibly important for those working in the thick of the crisis. Medical workers who stand face-to-face with the reality of a pandemic need a way to express their struggles and cope with their experiences.
"Clear Air" is an online benefit open mic envisioned by Cynthia Luo, a student at Icahn School of Medicine at Mount Sinai in New York City. In addition to studying medicine, Luo writes poetry. She was encouraged to learn that many other students and faculty members were also invested in the arts and creative expression.
Going to school in a racially diverse city, Luo had never before felt uncomfortable as an Asian person. But as New York state became a major epicenter of the pandemic in the U.S., Luo felt a shift in how she was treated by strangers. She began experiencing many uncomfortable stares from people. "There's been a lot of actual violence targeted particularly against the Asian immigrant community. That, to me, feels very disturbing," Luo says. "I wanted to figure out ways to channel this frustration into a more productive, healthy way of processing things that could be directed toward actually helping the cause instead of just stewing in my anger and frustration with people being racist."
So, Luo created "Clear Air." Luo came up with the name because she wanted to envision a time, both literally and metaphorically, when people can breathe clear air once again. The open mic was hosted via Zoom video chat. Musicians, poets and dancers performed for an online audience. A nurse spoke about her experiences, as well her gratitude for people doing good.
"Clear Air" raised more than $1,000 for two local New York City charities: Invisible Hands, a community of volunteers delivering groceries to high risk demographics during COVID-19, and Safe Horizon, which supports victims of violence and abuse.
"During difficult times, art can be a really great outlet for people to express themselves creatively [and] start conversations with others. It's been helpful. I've seen it work as a tool for a lot of people to express all kinds of emotions," Luo says.
Darren Wong is a hip-hop dancer and teacher and a member of the dance group Kinjaz. During their tour at the beginning of January, the troupe was scheduled to perform in Wuhan, China, where the first cases of COVID-19 were reported. However, the location was changed to Guangzhou. Wong returned to the U.S. on Jan. 10, narrowly missing China's first recorded death on Jan. 11.
The social aspect of the hip-hop dance community is very vibrant, and learning choreography together and recording videos of group dances are normal rituals. During the quarantine, dancers can no longer come together and perform.
As a teacher, Wong also had to find a way to reach people while still at home, and began live-streaming beginner hip-hop lessons on YouTube. Encouraging people to dance provides a simple activity that not only improves physical but also emotional health. Wong's classes are for those who've never danced before, intended to give people confidence to hit the floor—once that opens up again.
"I was never thinking about live-streaming," Wong says. Before the pandemic, Wong had been prepping to make more online content, but when he saw how many dancers and studios were not prepared to move online immediately, he acted quickly to include live-streaming content as well. Wong's classes are now available for free.
On the live-stream chats, people ask questions about where to put their feet, ask Wong to do backflips and post a barrage of emojis. "You're kind of in your own little reset for your life. This is your time to figure out what you want to do, or what you can do with this time that you have at home," Wong says. "This is kind of a good life lesson."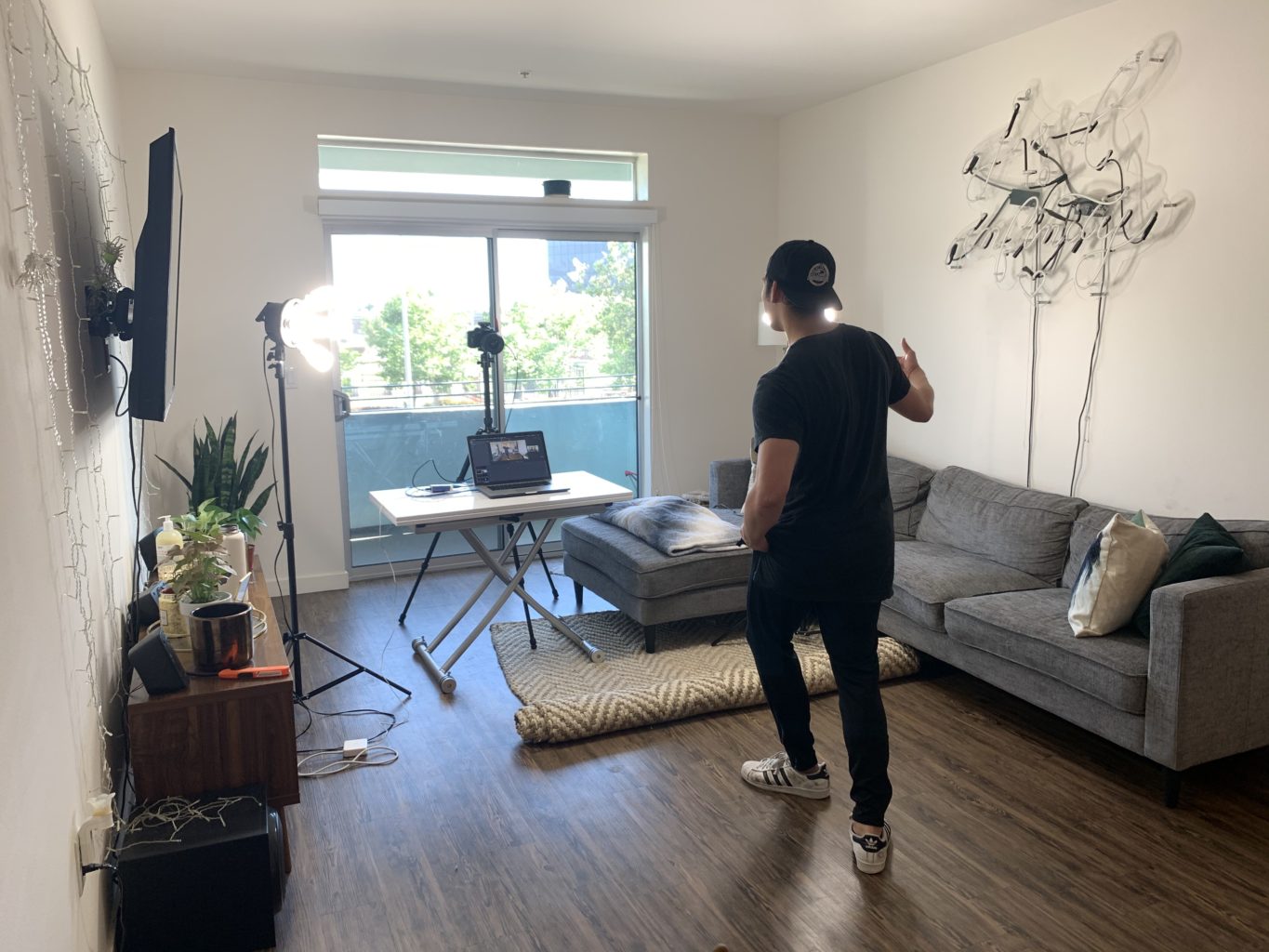 Cartoonist Kyla Smith has been making a series of webcomics dedicated to informing people about this disease. Her series, simply called "A Primer on COVID-19," presents a different topic on the pandemic in each episode. The information is relayed to readers through simple, cheerful characters and speech bubbles.
A recent college graduate, Smith began drawing as an illustrator for her high school's newspaper. While attending school, her art took a back seat as she pursued other interests and obligations. She recently picked up drawing again after graduation.
"I've been figuring out what I'm doing in this time period. Everything is in limbo," Smith says. "I've been really interested in education and activism, and I've wanted to find ways to combine the two." During the week, she takes note of what kinds of stories are present in the news, carefully considering what might be an important subject to focus on. On Sunday, she picks a topic, draws the entire episode and publishes the same day.
Due to the many unknowns of the virus, Smith relies on a minimalistic style to allow her to draw the comics quickly. This gives her the flexibility to adjust to any sudden changes or rapid onset of new information. "If anything very significant happens over the weekend or on Sunday, I might change the topic completely and hold off on that other idea for a following week or episodes," Smith says. "The information changes daily. I wanted to be able to respond very quickly to things, but also I wanted to present a digestible art style. Especially now, [news] tends to stress people out a lot. My comics are really simple, really straight-to-the-point. I hope that can help some people who might find it difficult to digest news outlets."
While the comics present very basic information, Smith encourages her readers to seek out more data and to start discussions at the end of every episode. "I hope that people can also be prompted to look to do their own research and look more into the issues that I talk about. Since I do talk on a very base level, I hope that it sparks conversations between people, or maybe people might share with others, and they might be able to talk about it," Smith says.
Smith also wants these comics to serve as a form of documentation of the pandemic, as well as a mini-memoir of her own personal thoughts during this time. "I'm trying to document not only for other people, but also so I can look back on it and be like, 'OK, this is what I thought, and this was my viewpoint,'" Smith says.
Some Asian artists, like singer-songwriter Susan Lucas, are learning to reconnect to their roots as they're confronted with the reality of racism toward Asian people during the pandemic.
Lucas says she recently experienced a verbal assault while in Santa Monica. "I was by myself, waiting outside. All of a sudden, a woman comes up to me and she's screaming at me. I was like, 'Oh my gosh, she must be crazy,'" Lucas says.
Because the woman was yelling at her in a different language, Lucas did not understand what she was saying. But she knows it couldn't have been good. "I do think she was afraid of me and screaming at me for the virus," Lucas says.
Despite the unsettling confrontation, Lucas says it helped her think more deeply about her heritage. Lucas was inspired to write monologues about the cultural dissonance she felt as an Asian American growing up. In addition, Lucas connects with fans through music live-streams. She's already organized several events, where she spotlights soul and indie musicians. While some intimacy is lost through a screen, she finds that direct interaction is much greater through this medium. "They can talk to the artists. They can feel like they can learn more about them. It's not just like, 'Oh, I'm locked in a screen,'" Lucas says. "In a crisis, as artists, it's always been our job to speak on what's going on within our internal and external worlds. And we can hopefully provide a space where it's like, you're having a sh*tty day and you forgot that it's Tuesday or it's Sunday. We can give people space to feel that together. Even though it's very difficult and under extremely stressful circumstances for some, I do hope that self-reflection breeds a whole renaissance of art and healing."
---
This article appeared in "Character Media"'s April/May 2020 issue. Check out our current e-magazine here.