After Character Media's 2013 article on Kristen Kish, readers were left wondering about the chef and soon-to-be travel show host's future. The story ended with a lot of questions: What kind of host would Kish be on her first-ever travel show, the Travel Channel's "36 Hours?" Would Kish ever open her restaurant? Would she ever visit her birthplace in Seoul?
Thankfully, we have some answers after a 2022 conversation. At a luxe hotel in Beverly Hills, she's harnessing her skills as a former model during a photoshoot. "Is my hair okay?" Kish asks our photographer. She's not sporting the same neatly cropped cut we described in 2013; it's now slightly tousled. She jokes that this messier look feels more like her these days.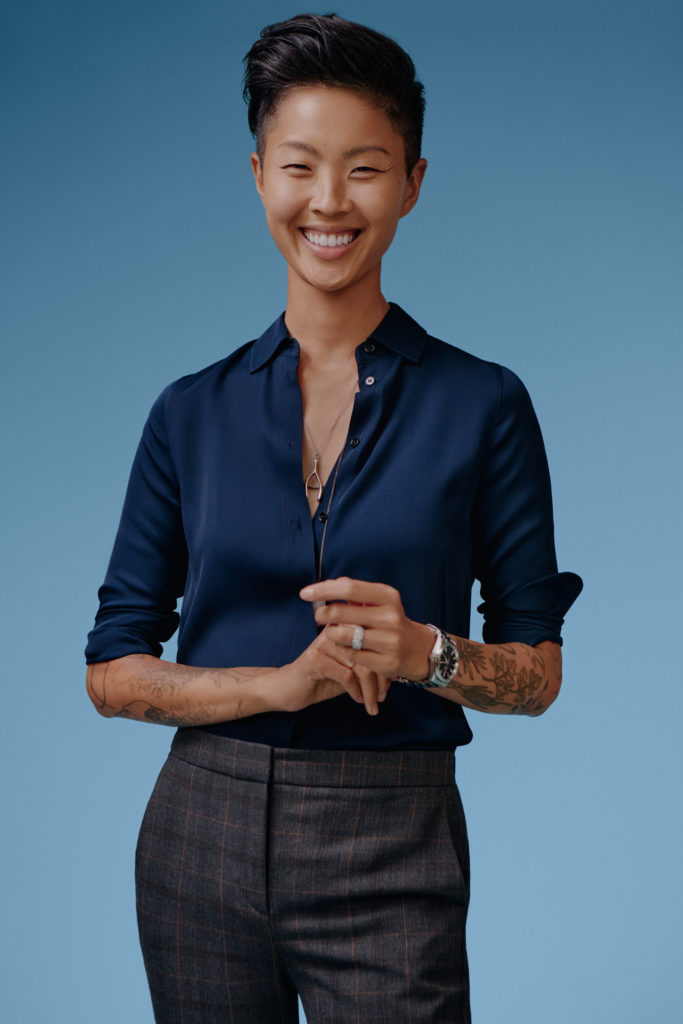 She hasn't always been unafraid to show her more casual side. At the beginning of Kish's culinary career, she found herself cooking mostly to impress others. But once she realized it was time to tell her story, everything fell into place. "The only story that hasn't been told through food is my story," she says. "I will never not love mildly over-cooked steak, meatloaf with ketchup [or] chicken tenders that my dad would make for me… all the good stuff that is my upbringing, that I didn't think deserved a spot in my storytelling of food. As a chef, you're taught to be creative, to wow people, but as soon as I started leaning into comfort, things started to really click."
Kish's love for home-style cooking may not have helped in high-end kitchens, but the story of her upbringing enamored Bravo's "Top Chef" producers and audiences during her 2012 appearance on the show. Kish was adopted from Seoul and raised by a Caucasian family in Kentwood, Michigan. Her mentor, chef Barbara Lynch, pushed Kish to audition for the show, telling her that more female chefs are needed on TV. After winning the tenth season with her Le Cordon Bleu style and French and Italian techniques, Kish said she wanted to use her "Top Chef" earnings to visit South Korea for the first time since she left at 4 months old.
A decade later, Kish can now brand herself as a well-traveled culinarian and seasoned host. In her latest gig, she co-hosts Netflix's "Iron Chef" reboot, "Iron Chef: Quest for an Iron Legend," alongside Alton Brown and Mark Dacascos. This version sees much more diversity in the Kitchen Stadium, featuring Iron Chefs from different corners of the globe showcasing underrepresented cuisines. Before joining the series, Kish was unsure if her own sense of wonder would connect with viewers, but now, she has hosting on lock. "All I have to do is be curious and be questioning," she says. "I'm literally an audience member watching all this play through."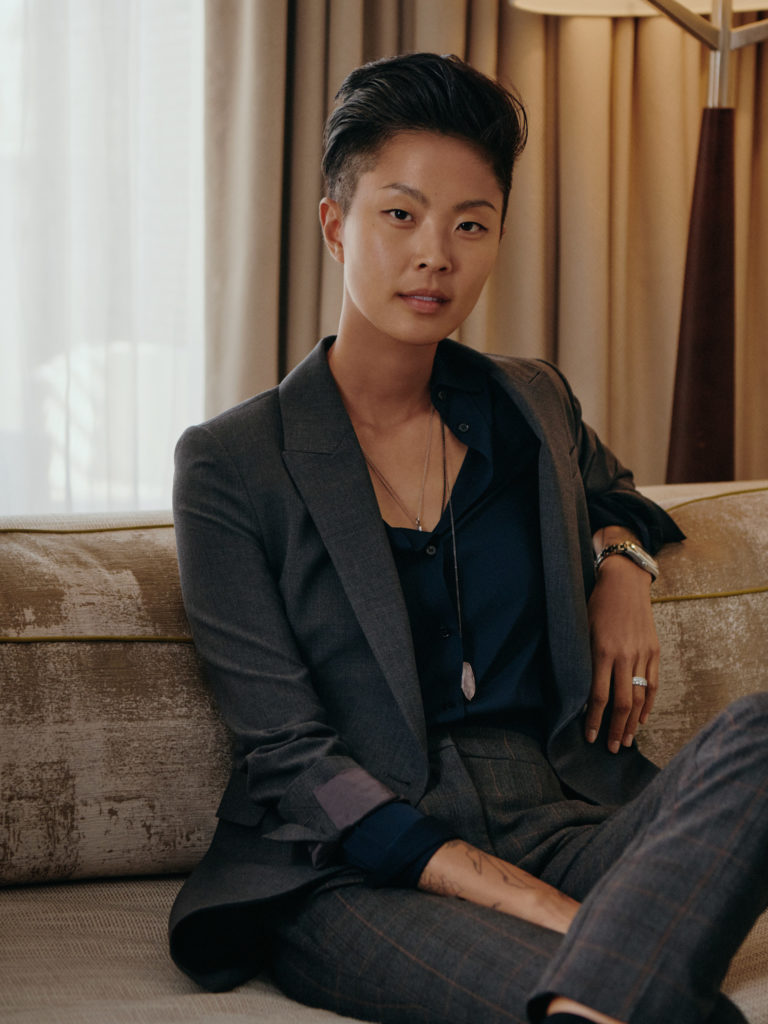 She no longer enjoys cooking competitively but has gladly returned to cooking on TV. Since 2021, Kish has been one of three featured chefs on truTV's "Fast Foodies." "It's like a competition, but no one actually wins or loses," she says. The show also features Kish's fellow "Top Chef" alums Justin Sutherland and Jeremy Ford, "remixing" celebrity guests' favorite fast food into high-end fare.
With a firm grasp in her culinary point of view, Kish opened her restaurant, Arlo Grey, in 2018. Thanks to a supportive team and Kish's vision, Arlo Grey found success even during the COVID-19 pandemic. Heavily inspired by the Midwest comfort food of Kish's youth, the menu's most popular dish is house-made mafaldine pasta, her ode to Hamburger Helper. In the back of the house, Kish and her staff advocate for healthy workplace culture. "It was a very conscious conversation early on," she says. Kish has made it her mission to ensure that everyone feels safe and respected in her kitchen—a standard notoriously not upheld by the restaurant industry.
Kish also prides herself on her diverse kitchen staff, as many queer-identified individuals have worked at Arlo Grey. She speaks highly of every single person on her team, citing them as the reason for the restaurant's success. Having come out as lesbian after appearing on "Top Chef," Kish explains that this aspect of her identity informs much of how she runs her business and how she hosts. Now, as a bona fide TV personality, Kish is aware of the scale of her influence. She wants to use her platform to help showcase queer creators, saying, "If you are introduced to one other queer-owned business or restaurant, great! I've done a little bit of good work."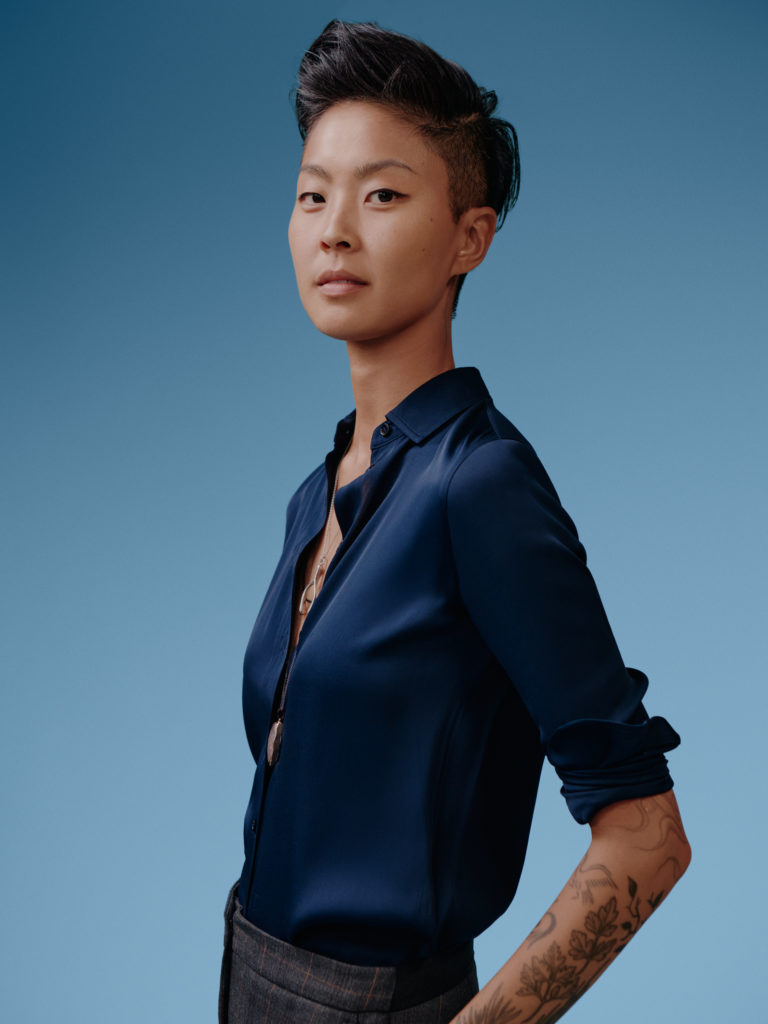 After completing this leg of the "Iron Chef" press tour, Kish will jet off to Panama to host the National Geographic docuseries, "Restaurants at the End of the World." She will also update everyone, in a heartfelt Instagram post, that she is finally going to visit Seoul. Despite Kish having opportunities to visit her birth country over the years, she had put off the trip until now. "Perhaps I was scared or simply kept myself too busy – probably both," she writes, closing the post with optimism and excitement for her trip. Kish includes a special thanks to her close friend and fellow Korean American chef, Esther Choi, for being her guide.
Kish's journey is far from over. In the years since the 2015 article, Kish has found her hosting style: authentic and curious, backed by culinary expertise. She has opened her restaurant, which is not only thriving but paving the way for positive change in the industry. As for Seoul, at the time of writing in June, Kish is posting often, endlessly excited for every new Korean word she learns, every new food she eats and every aspect of the culture she gets to experience.
---
This article will appear in Character Media's Annual 2022 Issue. Read our 2021 issue here.