The stars from "Mr. Trot 2" will have their very first U.S. concert on Saturday, November 18 (6 pm) exclusively at Pechanga Summit, Pechanga Resort Casino's mega concert space.
"Mr. Trot," an audition show for trot singers, drew sensational popularity across South Korea that it was selected as their favorite TV show by Gallup Korea. Its second season aired from last December to this March, giving birth to new rising stars who are coming to the States to meet their Southern California fans for the first time. An Sung Hoon, the winner of the competition will be joined by the six finalists including Park Ji Hyun, Na Sang Do, Jin Hae Sung, Choi Soo Ho, Jin Wook and Kim Yong Pil on stage.
An Sung Hoon took the throne and ₩500 million in prize money in season 2 after being the runner-up in the first season. His final song on the show, "You My Friend," touched so many souls who were watching and gave him the big win. The rest of the members might not have won the show but they have won so much love that each now has a dedicated fandom.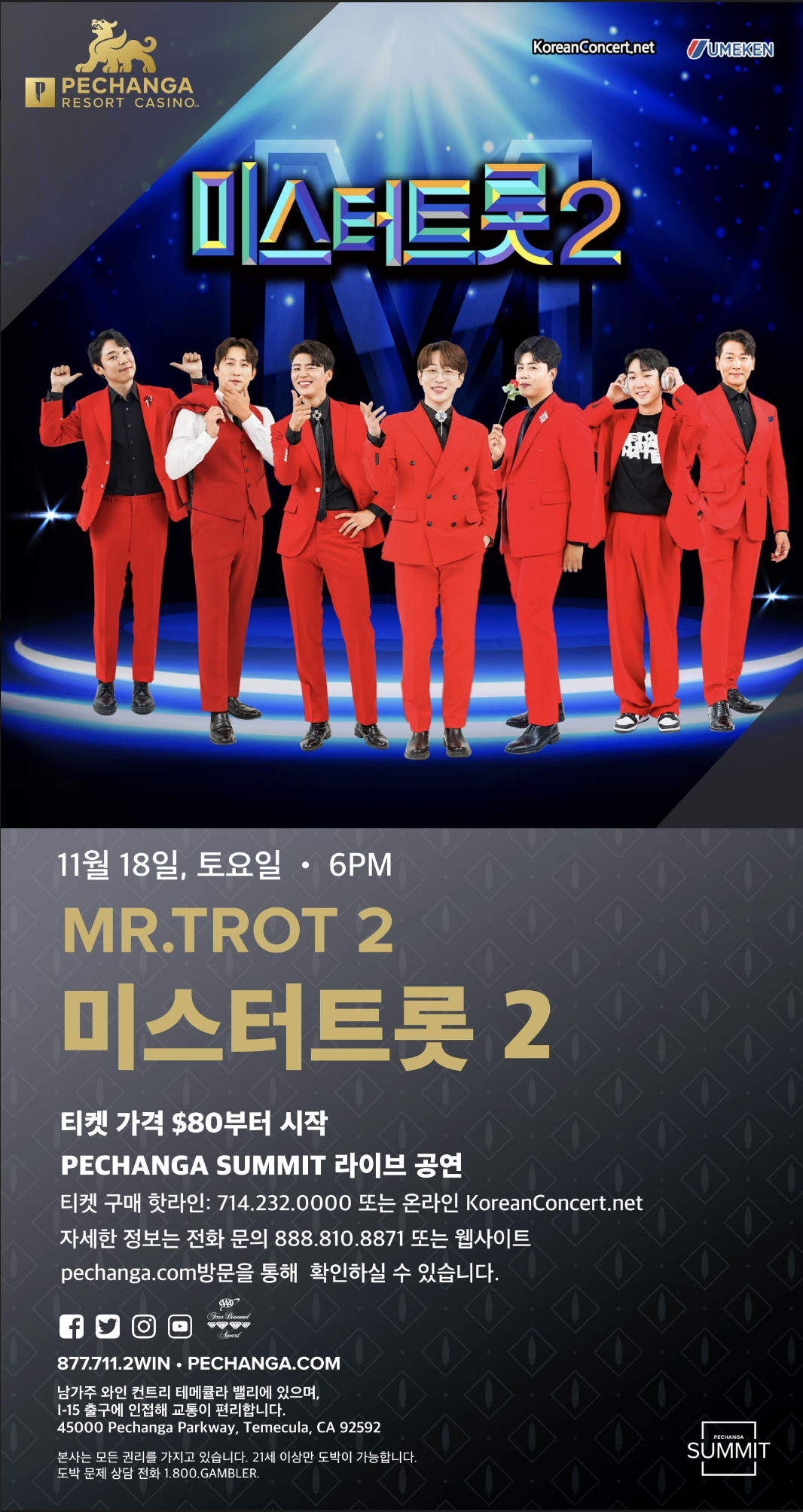 The "Mr. Trot" team said they are preparing many songs and performances on top of the ones from the final rounds that fans can really look forward to.  
Tickets start from $80 and can be purchased via phone (714-232-0000) or online (KoreanConcert.net). The first 30 purchasers of tier A ticket will be given a photo opportunity with the artists, so get yours early! For more information, please call Pechanga at 888-810-8871 or visit pechanga.com.
Pechanga Summit features a 40,000-square foot area for entertainers, concerts, live sporting events, trade shows, weddings, or any large groups to book.  In total, Pechanga now offers 274,500 square feet of indoor/outdoor contemporary meeting and event space, which significantly enhanced the amenities, space and visibility of Pechanga's event offerings. 
For more information on Pechanga Resort Casino and its health and safety measures, please visit their website here. Pechanga Resort Casino is located in Temecula, California.