Since Hollywood's inception, the occasional Regency period piece or Jane Austen adaptation has made a staple appearance in the never-ending list of remakes and reboots. It's not hard to understand why. Between ballrooms intricately decorated in gold columns and chandeliers, impeccably dressed characters dropping witty one-liners between elegant dances and charming tea times filled with cheeky whispers of gossip, period dramas transport viewers into a different world, filled with whimsical love affairs and happy endings.
In the last few years, the genre's popularity has skyrocketed following the arrival of the Netflix series "Bridgerton," which remixed all the beloved aspects of Regency with modern flair. An adaptation of Julia Quinn's novel series, the Shonda Rhimes-headed show twists history by including classical versions of Ariana Grande and Taylor Swift songs, a slightly more modern costume color palette and, notably, people of color as romantic leads. Until very recently, most films and TV shows featured entirely white casts—think back to "Emma" (1996), "Pride & Prejudice" (2005) and 2011's "Jane Eyre." From a purely historical standpoint it makes sense, as the Regency period refers to the years between 1795 and 1837, and most stories written during this era followed the upper, white class of English nobility.
As the industry has progressed in recent decades to include more performers and creators of color, on-screen diversity has begun to appear even within these typically white period pieces. Casting characters without specifying race or ethnicity is often referred to as "color-blind" or "non-traditional" casting.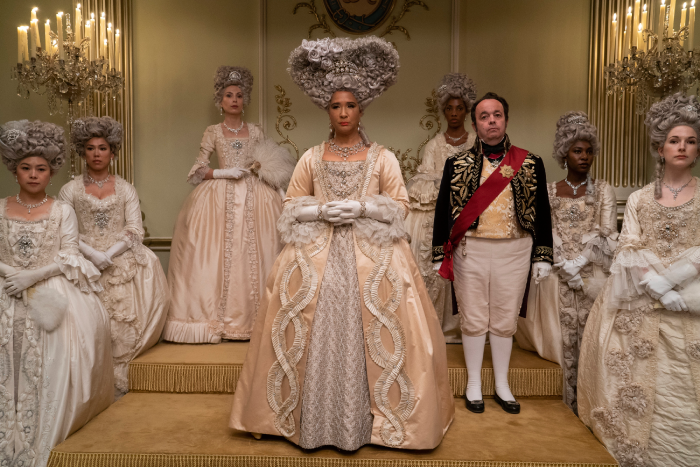 It's not a new practice; live theater has been more open to this form of casting for decades. In 1954, American playwright Joseph Papp kicked off the New York Shakespeare Festival by opening up all auditions to actors of any ethnicity. In film, one of the most memorable instances of color-blind casting appears in the 1997 "Cinderella" movie musical, which starred Black singer Brandy as the titular princess and Filipino actor Paolo Montalban as a Prince Charming somehow born to a white father (Victor Garber) and Black mother (Whoopi Goldberg). Goldberg spoke about the film's then-revolutionary approach to diversity in a November 1997 Jet Magazine interview, saying, "This integrated cast is how the real world lives. This is more normal than being part of a cast that doesn't have any color in it."
However, for the most part, color-blind casting does not acknowledge or explain why these characters are different ethnicities from those in the source material, and the story isn't affected by this change. While audiences have seen color-blind casting in several other films and TV shows, television producer and screenwriter Shonda Rhimes has helped pioneer a new method. As described in a 2005 interview with the New York Times, Rhimes did not assign any character a particular race during the creation of her hit medical drama "Grey's Anatomy"—instead, the actor best suited for the role was cast and their ethnicity incorporated into their role.
She brought this practice to Netflix's "Bridgerton," where she serves as executive producer through her company Shondaland. In Quinn's original novel series, the main Bridgerton family, as well as the supporting characters and love interests, are all white. But Rhimes chose to set the television series in an alternate universe, where King George III of England married a Black Queen Charlotte, thus opening the world of British nobility to people of color. Both of the show's seasons feature an array of non-white actors playing integral roles in the story, including Black British actor Regé-Jean Page as Duke Simon Basset and the two female leads of the latest season, Kate and Edwina Sharma (formerly the Sheffield in Quinn's novels), played by Indian British actresses Simone Ashley and Charithra Chandran.
This was an especially risky venture, considering that critics and audiences tend to place a heavy value on the historical accuracy of period dramas. The internet abounds with blog posts about incorrect popes featured on "The Tudors," an endless slew of TikTok videos on what "Reign" got wrong and YouTube videos with titles like "Films Historians Absolutely Loathe." But fortunately for Rhimes and "Bridgerton" creator Chris Van Dusen, "Bridgerton "was a smash hit with audiences. The first season became the most-watched English series on the platform at the time of its December 2021 premiere, and the second season soon followed suit upon its release earlier this year.
Already greenlit through season four, "Bridgerton" has become a cultural phenomenon and revolutionized the period genre. Recent period films like "Mr. Malcolm's List" and "Persuasion" feature similarly diverse casting, and an interactive Bridgerton experience called "The Queen's Ball" saw fans across North America clamoring for a chance to be swept away for a night of sophisticated dancing and performances.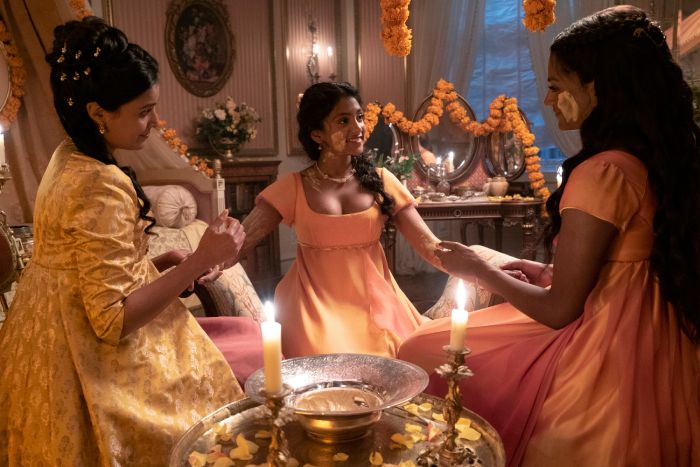 So, what made "Bridgerton" different from previously mentioned period dramas rife with historical inaccuracies? To start, the casting seen in "Bridgerton" differs slightly from the color-blind method of live theater and the aforementioned "Cinderella." Instead of merely inserting people of color into white roles, the series also incorporates real aspects of the actors' heritage. "In the 'Bridgerton' novels, [the characters] were all written white," says sociologist and author Nancy Wang Yuen. "For there to be a rewriting of names, dialogue and even costuming to reflect the culture, all these changes were intentional. So, it's color-conscious."
Yuen is far from the only person to prefer color-conscious casting over color-blind. Ashley and Chandran, the stars of "Bridgerton'"s second season, say that the show writers ensured that their characters' transformation from Sheffield sisters to Sharmas went more than skin deep. "[The Sharmas] don't just happen to be brown, but they're Indians—they're immigrants in London," Chandran says. "It informs their characters and it's thoughtful representation." Throughout the show's second season, the Sharma siblings' Indian heritage is apparent. From the way Kate prefers her tea, to the detailed pre-wedding ceremony (referred to as Haldi in Hindi and Gaye holud in Bengali) shown before Edwina's wedding, the Sharmas' culture can be seen throughout the season's eight episodes.
Bridgerton is, of course, not the only Regency-set drama to follow this method. Another color-conscious novel adaptation, "Mr. Malcolm's List," was released earlier this year. Originally, author Suzanne Allain wrote all characters as white, but in her 2019 short film adaptation, director Emma Holly Jones cast actors of color in all the roles. Nigerian British actor Sope Dìrísù plays the titular Mr. Jeremy Malcom, and Indian British actress Freida Pinto portrays his love interest, Selina Dalton. Following the success of the short, Jones retained almost all of the original cast when creating the feature film.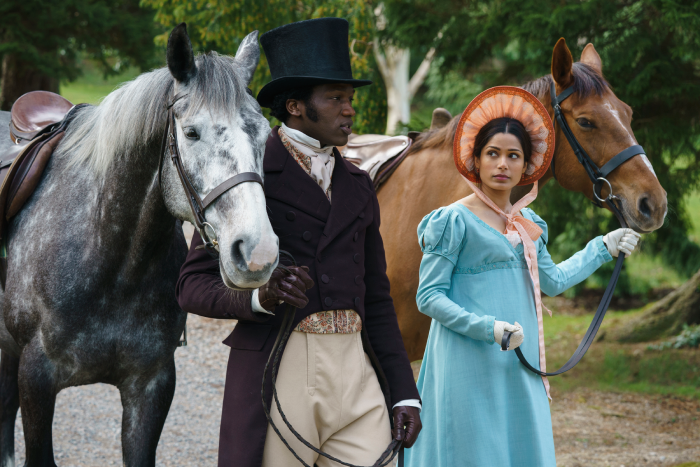 The change in ethnicity was reflected in the new script. In particular, Dìrísù's role integrated his cultural background. At one point, Mr. Malcolm offers Selina a helpful Yoruba proverb, and subtle hints of his ancestry are shown at his estate. "I wanted to give him a deeper history than a character that would have been written as white, [but] had just been played by someone that wasn't," says Dìrísù. "The introduction of Yoruba and his heritage gave a real depth to the character that wasn't missing, but was an added flavor that is quite important to the specificity of this character."
However, not everyone is a fan of the color-conscious casting trend. Critics often claim this practice ignores the factual, historical aspects of the time, and sanitizes the past. But Pinto believes it's not much of a stretch to include people of color in period dramas. "There were a lot of people from the [Indian] subcontinent and also the countries of Africa and the Caribbean, who all lived in England for whatever reason," Pinto says. "You never know what their backstories were, but they existed. And through research, we found out that existence actually was a historical fact. We then let our imaginations go wild, because ["Mr. Malcolm's List"] is a fictional piece."
Other criticism points to a more serious potential issue. Some opinion pieces featured in publications like The New York Times and The Guardian argue that color-conscious casting may replace original narratives from people of color with a shallow shell of "representation," achieved only by splashing forced diversity onto traditionally white stories.
Yuen says she understands these concerns, but believes this recent trend will only help the visibility of people of color in entertainment. "Hollywood has a history of rebooting and reusing materials that have public awareness in order to make sure that there's an audience because they are afraid of losing money," she says. "So, even if my personal desire is to see original material that is coming out of creators of color, Hollywood will continue to reboot things that have in the past been coded white because they were created by white folks. To change the characters to people of color is an attempt to simultaneously tap into the built-in audience, and also bring in new audiences that wouldn't have seen that original white story, except that now they can see themselves in it."
Ultimately, period romances are an escape. The swoon-worthy declarations of love, moonlit rendezvous and beautiful gowns are not indicative of the true nature of life during this time. Instead, they provide viewers with a peek into an idealized world, where love conquers all and problems dissolve as soon as a couple says "I do." Color-conscious casting makes a welcome addition to the genre. At the end of the day, shouldn't viewers of all ethnicities and backgrounds be whisked away on a romantic escapade, at least for an hour or two?
---
This article appeared in Character Media's Annual 2022 Issue. Read our full issue here.