Long gone are the days of hearing one of mxmtoon's viral bedroom-pop jams and not being able to place the artist. The now-22-year-old musician continues to garner immense popularity across social media platforms and music streaming services, but in 2022, the difference is that audiences know her smooth, ukulele-backed vocals by heart—no questions asked.
The singer-songwriter released her sophomore album "rising" this year, keeps a dedicated following on all zoomer social media sites of choice (TikTok, YouTube and Instagram) and is currently in the middle of her second world tour. Although her trademark sound has garnered fans from all corners of the globe (and web), mxmtoon is now embarking on a new musical journey. In "rising," the plucking of ukulele chords is camouflaged, or replaced altogether, by layers of bouncy dreambeats, synths and cyber-chic sonic waves. This album sounds as if someone's taken the unbridled vulnerability of Mitski and paired it with all the danceability of a Rina Sawayama album. But don't be fooled, everything on "rising" is pure mxmtoon.
"rising" originally arrived on May 20, bonus track "kaleidoscope" released on Aug. 4 and last on deck is the "rising" deluxe album, which drops today, Sept. 16. In the midst of all this album-track-deluxe-release chaos, mxmtoon took the time to sit down with Character Media, answering some questions about her upward trajectory, future plans and trying to keep her life unequivocally hers while in the spotlight.
You have so many other passions, like gaming, dancing and visual art. What made you decide on music as a career?
I fell into it. [I've] been doing music my whole entire life, because I was forced to play a handful of instruments growing up. When I was in high school, I started writing music in the background of going to school—it just gained traction for me. To this day, I'm trying to figure out how that happened, because I have no idea. But I'm glad it did. It was always a goal I had growing up, to pursue something that was creative and could allow me to have the flexibility to do anything I wanted to.
What's the biggest difference between "rising" and your previous albums?
I have the vocabulary to elaborate on what sounds I want to approach. Working on my first album, I didn't know what layers were, how to stack vocals, or even have references in music. I listened to [that] album a couple weeks ago for the first time in a long time, and so many of the [songs] are about crushes I had in high school. [Laughs] "rising" is much more about my growth as an individual and figuring out how I tell my story.
"rising" has such celebratory production choices, but the lyrics are actually quite melancholy. Was this contrast deliberate?
It's so fun… Well, maybe not "fun," to listen to lyrics and then be like, "Oh, my God, this is so depressing." In my own life, oftentimes I wish for music to acknowledge a feeling, and also lift me out of it. That's possible with production that's more upbeat, and lyrics that focus on a sadder feeling. It was also a goal for me on this project to make music I truly could love. The stuff I've made in the past wasn't always reflective of what sort of music I listen to in my free time: Disco, pop and really upbeat songs. So, how do I translate that to my own work while also keeping the core of what mxmtoon has been known for?
How do you balance relationships with your huge fanbase while still keeping a part of you for yourself?
I've tried to make sure I have those good, solid, real life touch points. Growing up, I neglected a lot of real people or activities because [social media] was all-consuming. There's [now] an ease of sharing things I enjoy in my own life because it's genuine, but also figuring out what I keep for myself at the end of the day—like the fact that I love video games, but maybe I stopped streaming because I don't want my video game time to be something that's shared with other people. [There's] that separation of self and social.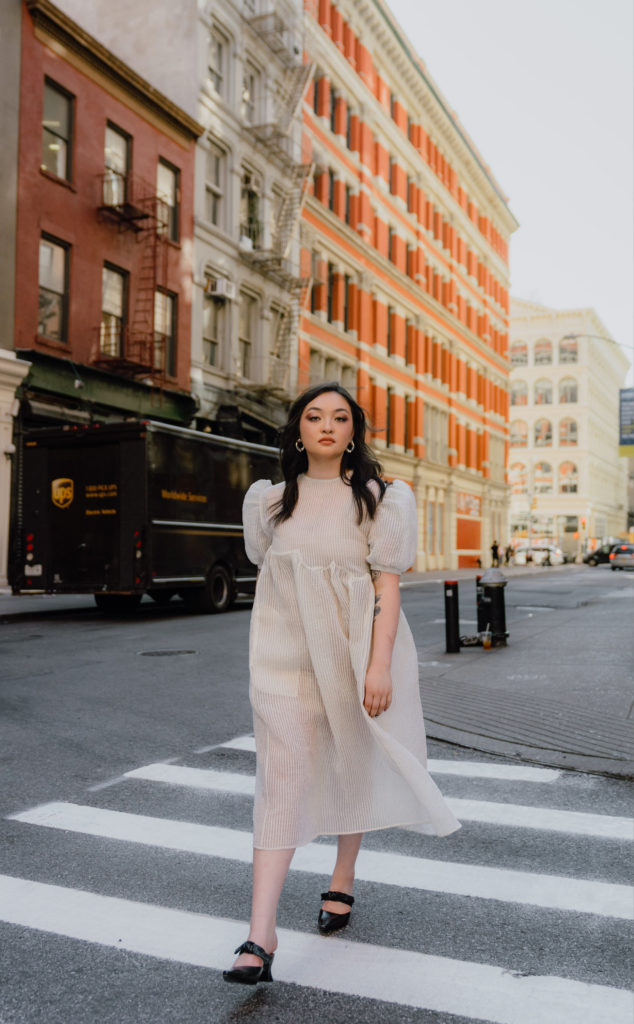 Did this balancing act inspire the "rising" track "dizzy?"
Totally. That song is about that feeling of having a spotlight put on you, and being that kid growing up where everyone tells you that you have this amazing sense of self, and you're so mature for your age. In the Asian experience that happens so often, feeling like you're pigeonholed into this maturity. You have to be a fully formed person by literally 7 years old, or you're just going to flounder. It was good to tap into that experience because it happened growing up, and it happens when I'm working as mxmtoon. People talk to me and they're like, "Wow, you're so eloquent for how old you are!" It's not an intentional thing. I think about how to take what I've learned from being in the spotlight now, and heal that part of me that felt so alienated when I was growing up, settling into that unknown factor without feeling intimidated by the fact that maybe I don't have a clear sense of it.
How do you navigate being a queer person of color in the entertainment industry? Were there any particular public figures you looked up to, or did you have to forge your own path?
[YouTube] was the only place I saw people openly expressing pride in their cultural identity. But when I think about the intersectionality of my identities now, and the way I can talk about being queer, mixed-race and Asian—I never saw a single person that encompassed all of those identities at the same time. The people I watched on YouTube growing up were bro-ey Asian dudes who talked about boba, and it was great for me to see that, but it didn't represent who I was. I'm thankful to look at the landscape of music and feel like there are these elaborations of identity and different people who represent especially the mixed-race Asian community. Olivia Rodrigo is a huge one, and I love her. She's fantastic, but I didn't have that growing up, and it's really special for me now to be somebody that has an online presence.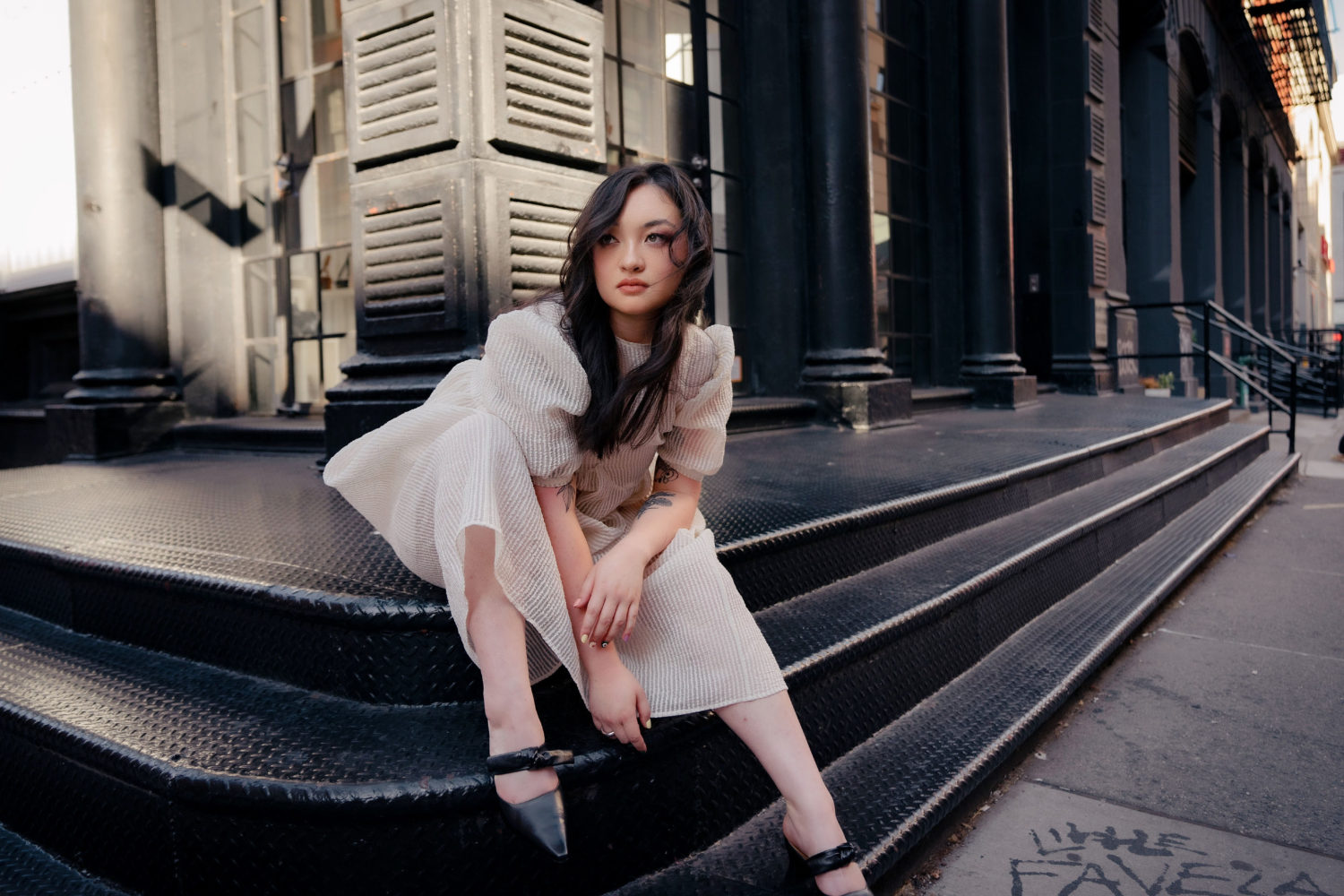 You had to cancel a couple of your European tour dates, which must have been difficult. What went into that decision and did it ultimately help you in the long run?
It has taken weight off my shoulders. My schedule for an entire year is pretty much predetermined, and it can be overwhelming to think about. I reached this point where I've been going and going, and the going isn't just playing shows. It's posting online and doing interviews and streams. It's a constant cycle. While I knew [the decision] was going to make so many people sad, I'm going to burn out, and I don't want to subject people to watching this girl on stage feeling half-present, because that's not fun for anybody. I want to wait and get myself into a space where I can approach live concerts with the fullest amount of energy.
Where do you see yourself in 10 years (per the farming Chihuahua meme you posted recently)? Is music something you want for the long haul?
I'm riding the wave of figuring out what the hell I'm even doing here in the first place. That's been super fun for me, even though it's anxiety-inducing. Growing up, I saw art as being three different pillars: performance, technical arts and music. But it's so much more than that. [It's] helping score video games and doing voiceover work for movies and TV, which I never thought I would do. It's fun to dip my toe into the pond and figure out the world outside of writing songs and releasing them. In 10 years, I have no clue what I'm going to be doing. I'm just excited to see what's out there, and music will always be the core of what I do. That'll carry me through, I hope, for a long time to come, but I'm open to doing any number of things—especially being a Chihuahua farmer.
---
This article will appear in Character Media's Annual 2022 Issue. Read our 2021 issue here.