Stephanie Hsu has gone from the hallowed halls of Broadway, where she originated the role of Christine Canigula in "Be More Chill," to the lofty silver screen over just three years. That might seem like a standard amount of rise-to-fame timeline to onlookers, but to Hsu, it might as well be the speed of light. 
The latest stop on the actress' whirlwind journey? "Everything, Everywhere, All at Once." Helmed by directing and writing duo Daniels (whose previous work includes 2016's blasphemous "Swiss Army Man"), A24's highest-grossing film explores concepts of nihilism, regret and inherited traumas. Hsu plays quarter-life-crisis-having Joy, daughter of Evelyn (Michelle Yeoh) and Waymond (Ke Huy Quan), whose alter-ego, the almighty Jobu Tupaki, is out to destroy, well, everything. Through Joy, Hsu gives descendants of immigrant children everywhere what they want: a nuanced representation of the lingering pain of existing in a world that's the opposite of your parents', and becoming someone they find hard to understand.
The film premiered March 25, and due to high demand, received a theatrical re-release on July 29. Although "Everything Everywhere" is finally pattering out of theaters, awards season is around the corner, and trust that there is a tsunami of buzz for the film and its stars to possibly land some big wins. Hsu sat down with Character Media to talk about the love she has for the film, the kind of art she's passionate about putting out into the world and, of course, philosophy.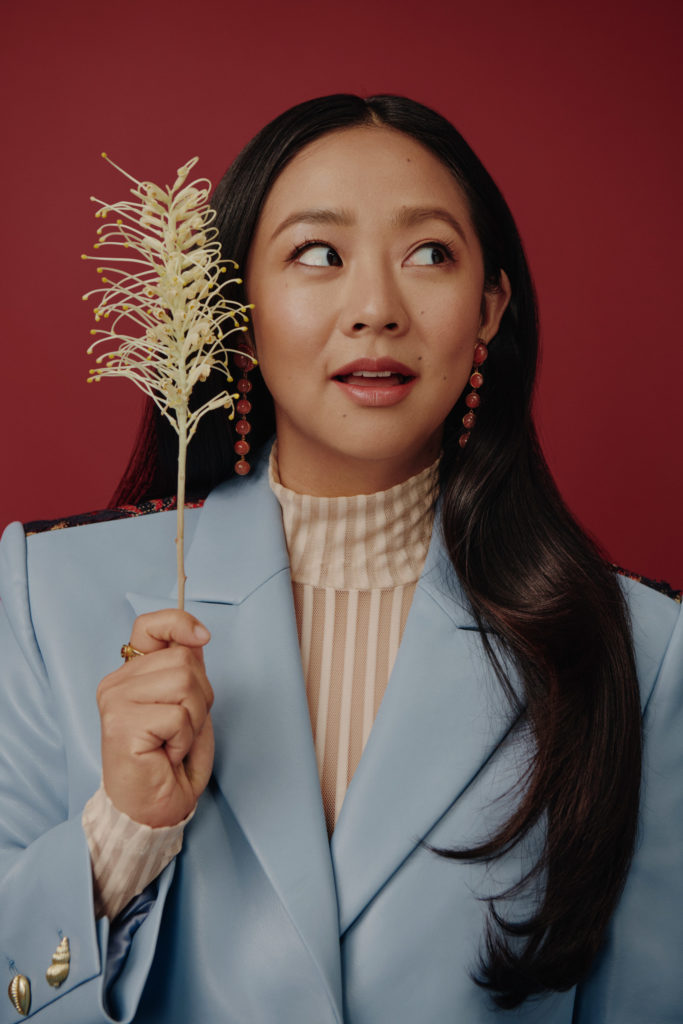 Did you find yourself pulling from your Broadway experience while working on "Everything, Everywhere, All At Once?"
They're parallel in terms of their trajectory. ["Be More Chill"] was unexpected, and weird, but resonated with a lot of audiences. "Everything, Everywhere" is that, times 10 million. The through-line between them is that I never got involved with "Be More Chill" because I knew it was going to be a cult sensation. I wanted to work with that team because I felt excited about the story they were telling, and the same with the Daniels. I didn't sign on to "Everything, Everywhere" because I knew it was going to become what it has become, I just was passionate.
That has been such a helpful guiding force in my career thus far. I want to work with people that I love, and, when you're lucky, [that] comes with certain external signifiers of success. But, internally, you are just happy because you love the people you're working with.
You can tell when a project has that camaraderie behind it.
The reason why people are responding to "Everything, Everywhere" in the way that they are is no accident. We made a movie that would challenge people, but would also offer to hug them. We love each other so much, and we all surrender to the process so deeply that there's an unseeable energy people are receiving. And that's not just the cast, that's the crew, that's the people who are making props, costumes, PAs—it was a labor of love.
Did growing up in the Los Angeles area bring you closer to "Everything, Everywhere, All At Once," as it takes place in southern California?
Maybe. When we shot, I'd been living in New York for 11 years. I met the Daniels doing an episode of "Awkwafina Is Nora from Queens," and we fell so deeply in love with each other that I was like, 'You know what? "The Marvelous Mrs. Maisel," wrapped season 3, and "Be More Chill" closed. I'm ready to go to L.A.' Within a week of me getting there [the Daniels] called me [and said], 'We're working on this movie—no pressure—but we think you would be really great for it, are you interested?' I was returning home in many ways, filming my first feature in L.A., and also going through the process of readjusting to a place that was familiar, but also far away from me. I don't know if [that] was consciously in the capture of the film, but artists are really porous and soft and squishy, so I'm sure being with most of my family, with my mom, was definitely feeding into the ethos of the character.
The film has a special place in the hearts of Asian Americans, immigrants and immigrant children. What aspects from your own life did you bring to the character of Joy?
Oftentimes, people who ask me this question are Asian women and also children of immigrants, or first-generation. And, while they're asking it, they start crying. [Laughs] I'm laughing because I'm like, 'Wow. Yeah. This shit is so deep in us.' When I was making the movie, I [wasn't] thinking about my relationship with my mother and unpacking intergenerational trauma. But also, I'm constantly unpacking that in daily life. In a weird way, it's made me feel less alone in my experience, because at the time I was drawing from what I've seen as a daughter of an immigrant, but also as a millennial living in a world that is very confusing and dark. The fact that [Joy and Jobu are] landing so deeply with audiences makes me feel less alone in the moments where I have felt those feelings of sadness and discomfort. The beautiful thing about making art is that it isn't just about us artists making the thing and then it's over—it's a circle. It's a bagel. There is a true transference of energy that goes out but then comes back in.
The movie rerelease has revived my belief in art and its capacity to reach people and offer healing. What this movie has proven is that audiences still want to be challenged. They are hungry for art, and they're also hungry to be held by art. It's reaffirming, because I came up from experimental theater that offered healing, or a critical look at what was happening in society. This movie was the most honest handshake I could make with Hollywood, because I was like, 'This is the weird cloth I'm cut from, so, if they like it, they like it. If they don't, well, that's what I'm about!"
You've spoken frequently about how you felt there wasn't always space for someone like you in the entertainment sphere. Have you still noticed any lingering tentativeness around giving Asian women space on screen?
I want to be positive, because I do believe things are moving in a way better direction. But I am in another process now, where I am trying to be mindful about what I do next. Everyone wants me to do some epic next role that I really sink my teeth into and get to show what else I'm capable of. And a lot of those roles—unless it's centered around an Asian family—the family that is on the creative mind is not the [one] we got in "Everything, Everywhere." If the story is not centered around identity, then will people be willing to include [those of marginalized identities]?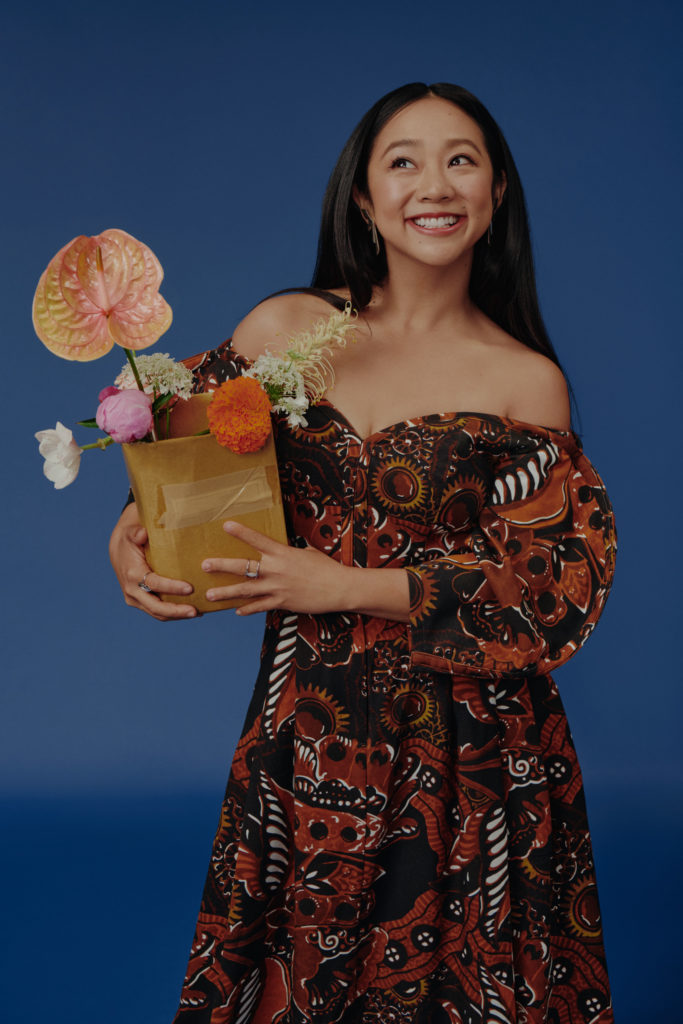 Like, will a casting director take that leap?
Yeah. Obviously, there's so many Asian actors that are making incredible art, but I'm excited for there to be even more faces tied to projects that are outside of identity.
Just because you cast someone who's not [white], it doesn't mean you need to change the story to be about race. I don't wake up every morning thinking about my identity while I'm making coffee. I also have questions, thoughts and feelings outside of how I look and my body of experiences.
Which scene was most difficult to film?
The hallway scene, where you're seeing all the Jobus. That was the first time I had really acted with Michelle. I was so scared to freak her out. The Daniels are weird, they think I'm weird, we're all weird. I knew that they knew what I was playing with with Jobu, and all of a sudden we had to start filming. I was like, 'Oh, my gosh. Daniels. She doesn't know how weird this is going to get, and it's going to get really f*cking weird. Can you announce when we're gonna unleash Jobu?' I made them announce to the room, "O.K., Stephanie is going to unleash Jobu now,' to prepare everybody. It wasn't even just Michelle but the whole crew, too. That was the first week and we were just getting to know each other. I'm new here in this family and all of a sudden, whipping out some Jobu action—that was crazy.
I read in another interview that you identify as a "philosophy nerd," what do you mean by that?
I'm into philosophy and existentialist ideology. There were so many conversations with me and the Daniels around nihilism and how it can be self-destructive, and also incredibly liberating if nothing matters. It's fun to have this conversation now, because every time I watch myself [on-screen] it takes me a while to see it how somebody else might.
Maybe the seventh time, I was able to recognize that my heart is the soul of the film. It's not even about my performance, it's about the passion I have for philosophy and the conversations around being nihilistic that I had with the Daniels, and what I want art to be, which is, ultimately, healing. I was like, 'Oh, it's because I was a part of this film that it was able to work in this way,' and I felt proud of myself as a human.
[Another] huge inspiration was also Carl Sagan. Not even philosophy in terms of these more cerebral existential spots, but Dan Kwan and I had so many conversations around the nature of the cosmos and infinity. Playing with that as a villain who sees all and knows all, can be anything, anywhere, everything, everywhere, how do you also embody that cosmic chaos that is infinite?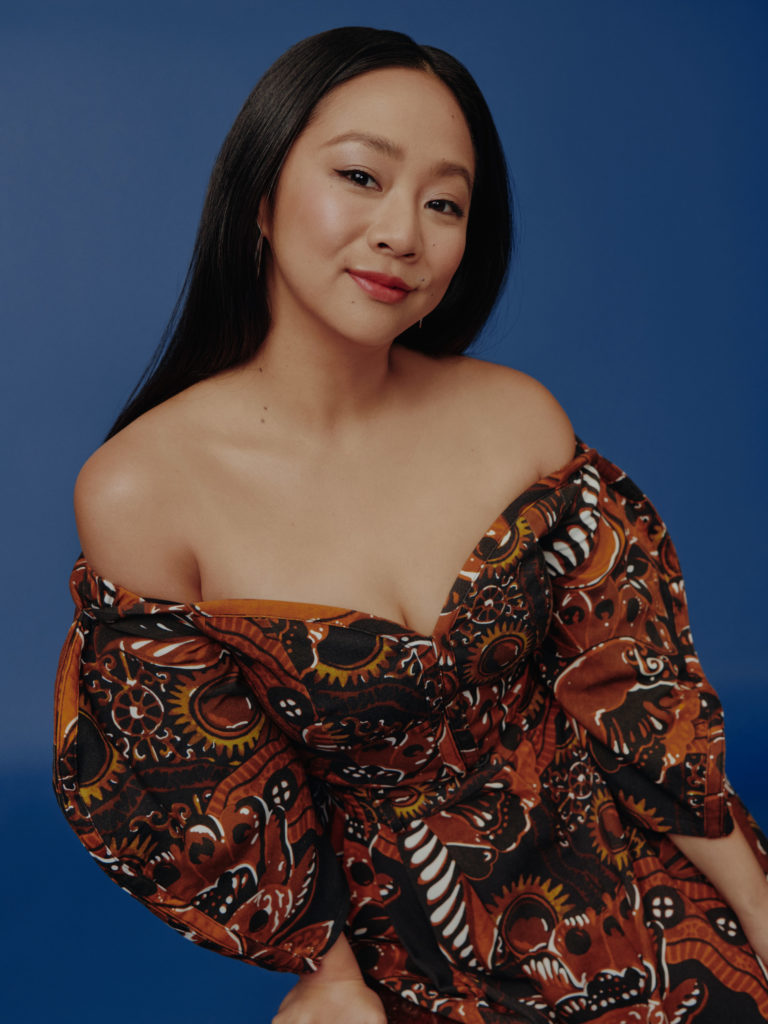 Jobu is a very concise way of describing the unfathomable.
The core of Joy and Jobu—the thing that I wanted to explore and that I definitely relate to—is being a hyper-empath. There's this incredible author, Octavia Butler, and in her book, "Parable of the Sower," her main character, Lauren, is a hyper-empath and overwhelmed by her awareness of how the world is moving, and that can be either a cause for paralysis and depression, or a desire of complete chaos. That's definitely something that is still very prevalent [in reality]. It's louder now than it was even when we were making the film.
Did playing the character of Joy reveal anything about you to yourself?
We filmed this movie before the pandemic, and the boys had been actively editing it with our incredible editor, Paul Rogers. But we've all been sitting on it for two years, and before the movie came out, I was feeling really vulnerable. I was preparing myself for people to potentially hate the movie, and what that would mean. My friends and I joked that I started unleashing my inner Jobu, and I didn't know I had a Jobu, but I had a Jobu. My Jobu was loud, crazy and a chaos creator. I was like, 'Wait, I don't think I had a Jobu when I was playing Jobu—I thought I made Jobu up!' It turns out I have an internal Jobu when I'm trying to protect myself. I just start creating chaos in my brain, blowing everything up, [saying], 'Well, none of it matters, so, f*ck it!' More than Joy, I was freaking shocked that I have been living with a Jobu all this time, and she made an appearance in my life. Luckily, she's gone now—for the most part.
---
This article will appear in Character Media's Annual 2022 Issue. Read our 2021 issue here.