A little girl in a royal blue detective's uniform dances across the screen with two animated mongooses. As she locates a clue, she pulls out her magnifying glass and notebook and begins to sing to help young audiences follow along.
For the first time, children worldwide will get to experience the cultures of South Asia through Disney Junior's revolutionary new animated musical series, "Mira, Royal Detective," premiering on March 20. Written by Becca Topol and produced by Sascha Paladino, "Mira, Royal Detective" is the first Western-made children's show with a majority South Asian cast and crew, and takes place in the magical kingdom of Jalpur, where a young, brave detective, Mira, takes on the cases of the royal family and others in her town. Mira constantly showcases her resourcefulness and deductive reasoning skills for kids at home to easily follow along. She's a "commoner" in the world of Jalpur, the youngest appointed detective and the first female royal detective.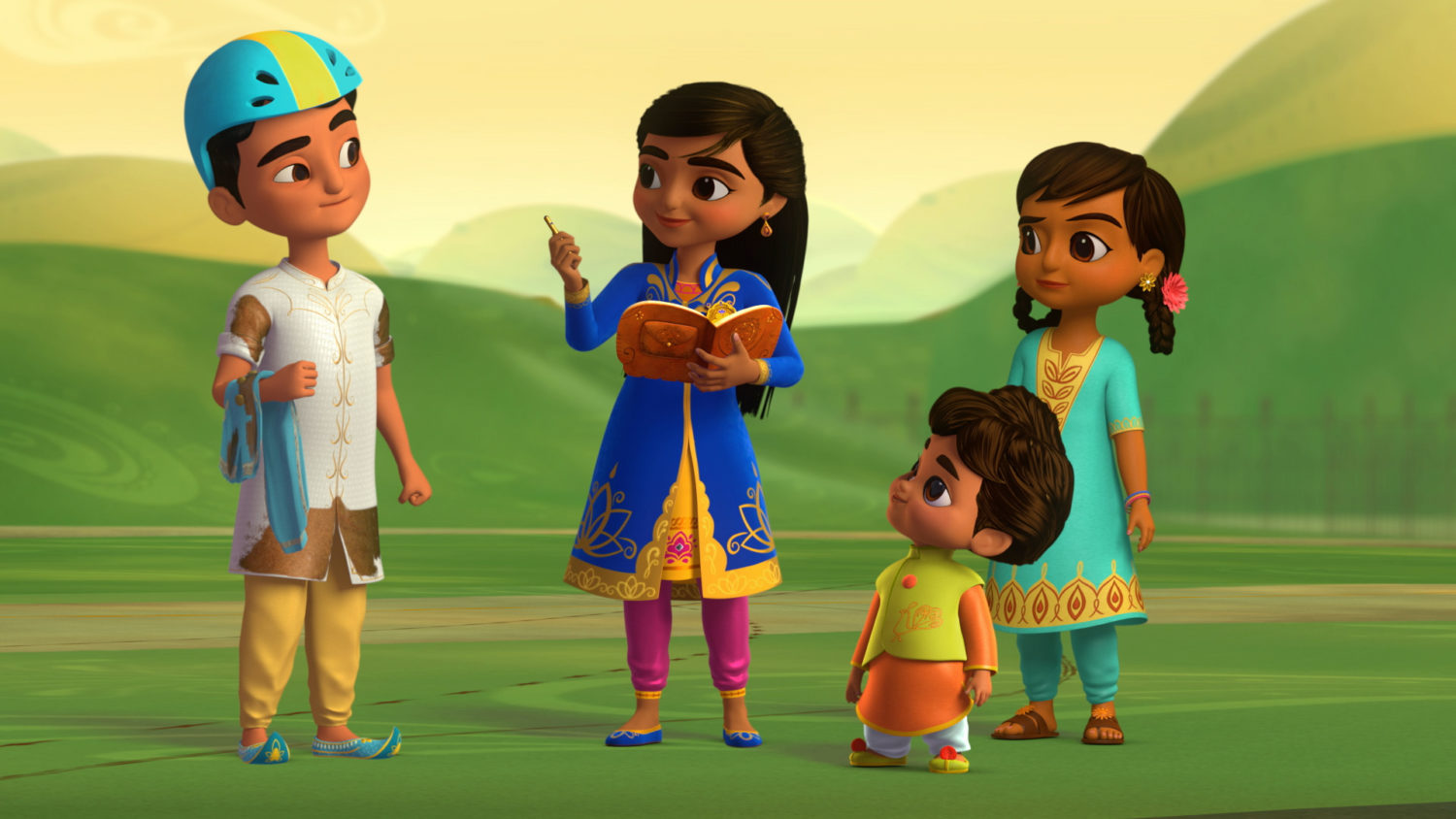 While Jalpur and Mira are fictional, "Mira, Royal Detective" is inspired by multiple real South Asian cultures, and draws from their food and customs. Samosas, traditional clothing and Diwali celebrations are just a few of the elements featured in the show.
What makes "Royal Detective" so special not just to younger audiences, but also to their parents? Series composer Amritha Vaz, known for her work on independent film like "Miss India America," describes her 4-year-old daughter Iris' reaction to watching the show. "She looked around and saw Mira and said, 'Mama that's me,'" Vaz says. "And I thought, how incredible of her to see herself as smart, caring, funny and captivating." Iris even gets a little of her own input into the series, as Vaz uses her daughter's happy reactions as a sign of approval while composing the music for each episode.
While this is Vaz's first time working in animation and with a children's show, she's well-versed in Indian and South Asian melodies, and that gave her a special interest in working with the series. "When we think of Disney, there are very few South Asians, very few women, especially women of color, who are running their own show," Vaz says. "It all seems surreal." Vaz was able to find more freedom in creating her original scores, while receiving constructive feedback and notes from the rest of the "Mira, Royal Detective" team. 
The show is full of original dancing and singing, and it takes a lot of hard work to create those lighthearted numbers. "You're not seeing the facial cues that you're used to," Vaz says. "You don't see the body or physical interactions. You rely on the levels of voice acting to bring life to characters." Vaz has to create engaging stories for children ages 3 to 7, all in each episode's 11-minute window. She readily admits that the entire project has been a learning process, which is refreshing to hear from a creator as well as a parent who is willing to learn and grow for the sake of younger generations.
The themes and instrumentation of the show help young viewers navigate Mira's world of Jalpur. And though the melodies share the palette of South Asian music, they also incorporate a Western sensibility that makes the show inclusive to all audiences. Vaz mixes Western and Indian themes to create a friendly appeal to children's sensibility, and make the show rich and unique. "So many kids of color will watch the show and feel they have a right to inhabit and explore that world," Vaz says. "There's a specificity to the fabulous characters and incredible writing that will appeal to so many people, outside any sort of small geographic boundary."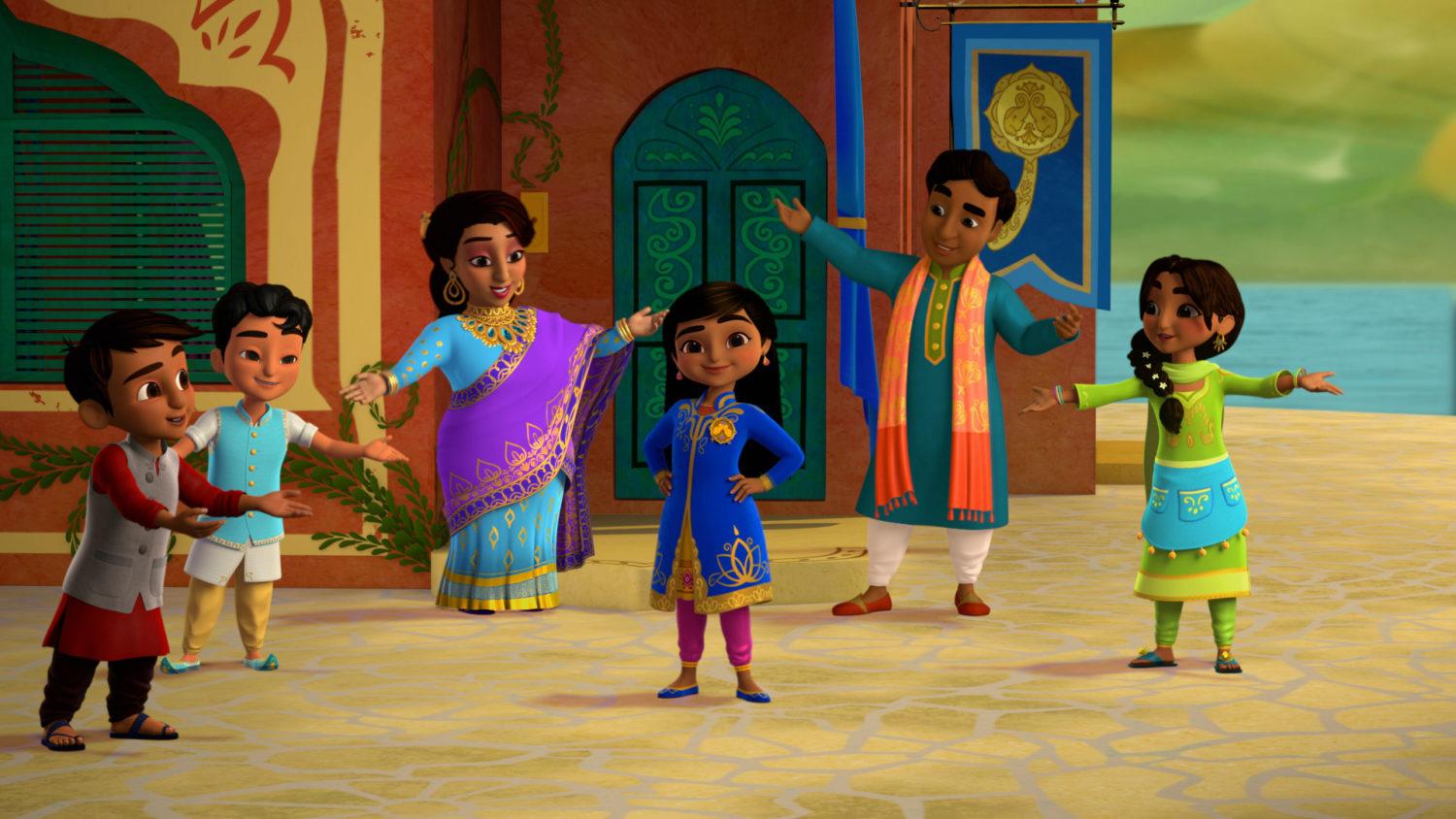 But this accessibility has to be brought in by association at times, and as Bollywood remains a hugely familiar South Asian territory for global audiences, the show features numerous recognizable themes from the genre. For the unaware, the genre combines South Asian cultures and modifies them with Western fusion. Nakul Dev Mahajan's status as a legendary dancer and "So You Think You Can Dance" choreographer made Disney approach him for the role. His three decades of working and running NDM Dance Studios were also a plus. "My bread and butter is teaching Bollywood dance to children, so it doesn't hurt," Mahajan jokes. His expertise and knowledge of dance is impressive, and he breaks down regional themes and his approach to teaching them to the cast and animators of "Mira, Royal Detective." 
"The music itself tells a narrative, tells a story," Mahajan says. "That allows me to decide what kind of Indian dance we will do for each particular choreographed number." Although Bollywood-style dancing is the most recognized here in the States, it's full of subcategories (like hip-hop, muses Mahajan). "I've always defined [Bollywood dance] as a style set on music and movement and the music itself is derived from Indian traditional styles, Indian classic style and Indian modern form. And then grabbing from different dance styles worldwide and fusing [them]," he says. "Then, bam, you have a Bollywood dance number, which is such a celebration in itself because it's so inclusive as far bringing different cultures together through movement and dance."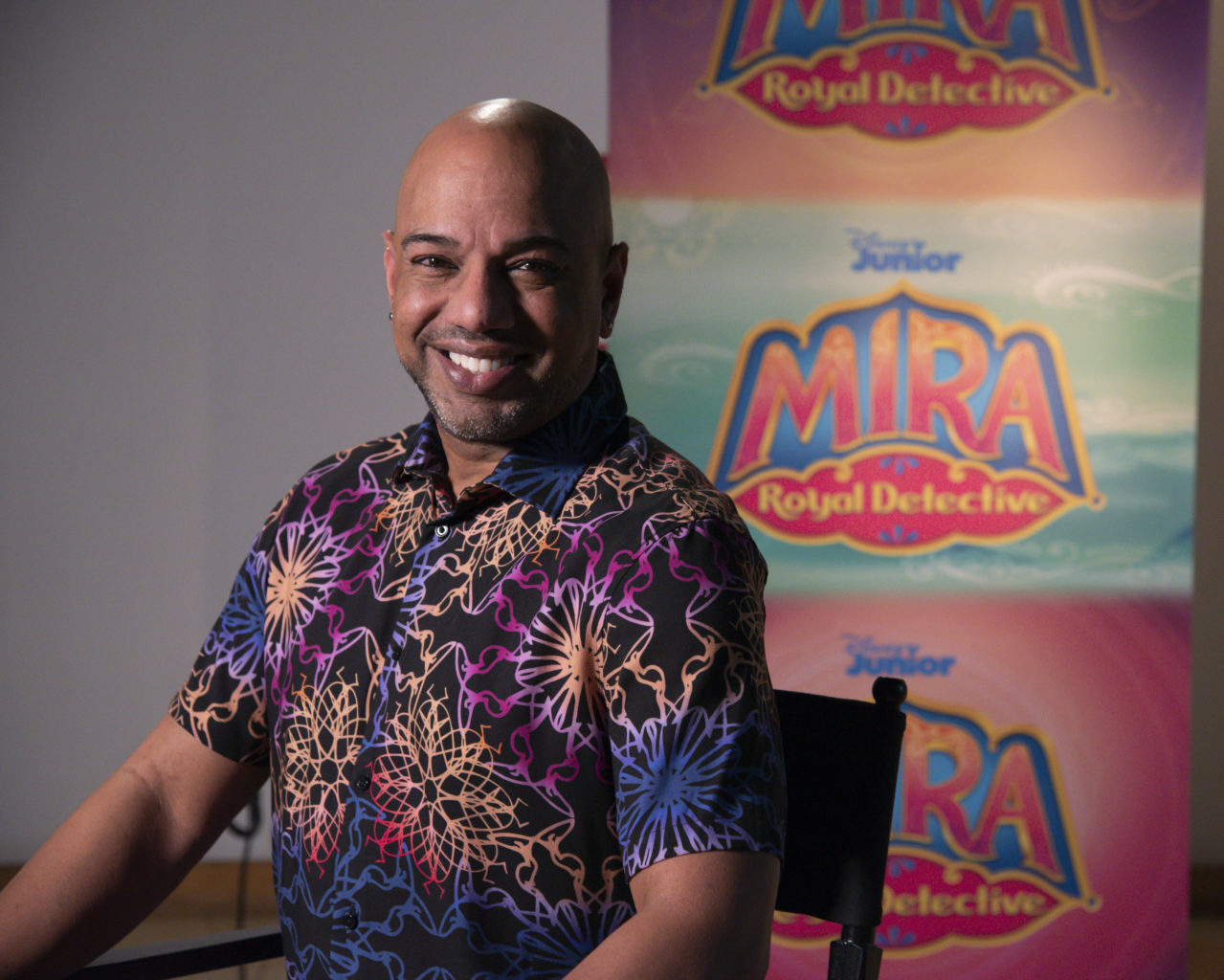 Once he decides on what style of dance to use, Mahajan begins his choreography process, which involves dance and tutorial videos that even cover facial energy, details and nuances. "The magic of Disney," as Mahajan puts it, comes in once the animators watch these videos and are able to translate Mahajan's vision into animatics.
The integrity and authenticity of the choreography combine to make the show special. But it's also the camaraderie and collaboration amongst cast and crew that inspires Mahajan in his craft. Mira and her friends in Jalpur will dance and sing to some themes taken from Bhangra and Rajasthani dancing, which share a type of folk essence. But choreographing for children is dramatically different from doing so for adults. "In learning the audience of Disney Junior, I knew I wanted to create something that a child can look at and go, 'I wanna do that!'" says Mahajan. "And they're doing it and they're getting it and they feel confident, because they do look like that character who's dancing, and it's not overwhelming for them." Mahajan explains that for kids, dance can be an educational journey where they can grasp, absorb, appreciate and execute what they see.
Like Vaz, Mahajan sees the necessity of a show like "Mira, Royal Detective." "I am a first-generation South Asian American," he says. "Growing up, there was never any kind of representation like this; if there was it was very stereotypical." The beauty of Mira's character is that she includes her friends and their individual ideas, but the show integrates concepts of South Asian culture that may not have been passed down to all generations, allowing American Asians to feel included and validated in their heritage and culture. Seeing one's resemblance on a platform like Disney can make all the difference in a child's life. 
"Mira, Royal Detective" isn't created just for South Asians or people of Indian heritage. "The show just translates and transcends to anybody and everybody with the narrative and the messaging and the oral story—providing children with confidence and giving them the reassurance and encouragement that they too can problem solve, and that they can use their skills to help and uplift someone," Mahajan says.
The show's premiere is a historical moment, but "Mira, Royal Detective" is also indispensable, and that's a direct symptom of the change in the film and television industry. We've seen it for ourselves, with Academy Award recognitions for movies such as "Roma" and "Parasite." Newcomer Leela Ladnier, who voices Mira, firmly believes that the show is monumental. While it was her singing chops that hooked her the role, it was the predominantly South Asian cast and crew who helped support her as she learned the ropes of being a voice actress in a Disney animated series.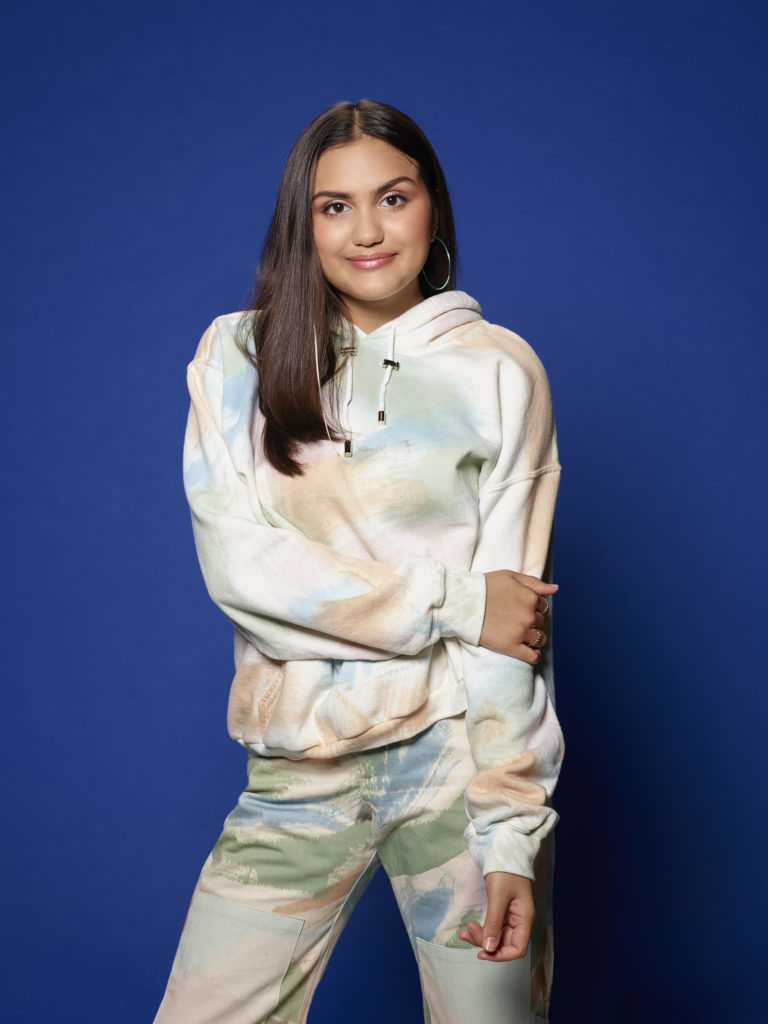 Ladnier felt that the show was an opportunity she couldn't pass by. "I am honored to be a part of a show that's the first of its kind," she says. "A show that my mom's generation deserved and waited for, for a really long time. But also, a show that younger kids are going to hopefully grow up idolizing." After all, Mira could very well be the next Dora the Explorer or Kim Possible. Ladnier feels she can relate to Mira, but admits that she also looks up to her. "Mira's a young heroine who is dedicated and passionate in whatever she does," Ladnier says. "Every time she has a case she never gives up, and I'm trying to be more like that every single day." Working on-set with people like Vaz and Mahajan also encourages Ladnier, who says she'd long dreamt of working with South Asian stars like Kal Penn (the voice behind Mira's mongoose pal Mikku) and Freida Pinto (the regal Queen Shanti).
As a kid watching Disney, Ladnier never saw herself represented on-screen, but she did grow up playing with princess dresses. Today, she still gets to play dress-up, but now she's on the red carpet showing other young kids that childhood dreams can become reality with passion and drive. Working with Disney has taught Ladnier that even someone like Mira has the power to make children dream big; Mira represents someone that more people can strive to emulate. "I grew up watching the princess who wanted their Prince Charming to sweep them off their feet, and that's not a bad thing, but that's not what you're getting from this show," Ladnier says. "You're seeing a strong independent female that not just little kids, but everyone can relate to."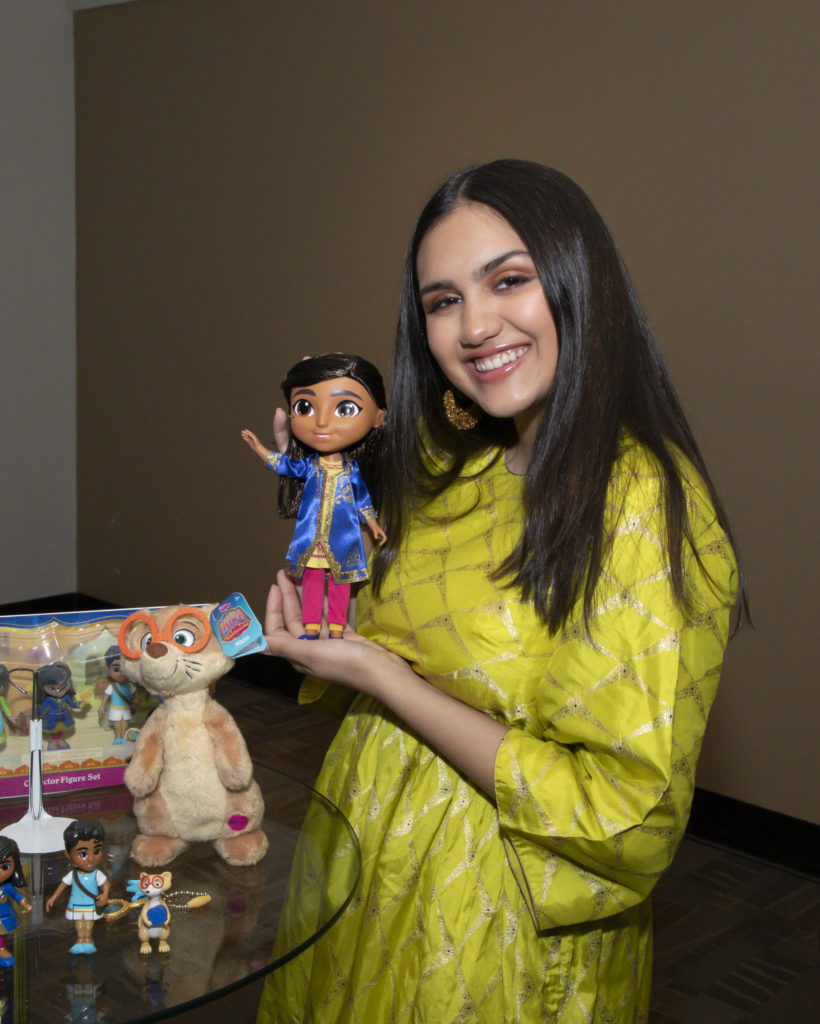 Ladnier wants both boys and girls to be able to look up to Mira. She feels that Disney is representing her culture in an authentic and respectful way; episodes that highlight traditions such as Diwali (the festival of lights) show a world where children respect their elders but also themselves. The series stays true to South Asian life, but makes sure that even those not of South Asian descent are well-represented. Mira may be from Jalpur and the show's cast and crew may all be South Asian, but the show is about human kindness and mutual respect toward your neighbors.
Ladnier also points out that "Mira, Royal Detective" can teach young kids that "there's always a solution to our problems, there's always a way out." In today's crucial times, when shows and movies are halted in both production and premieres, where a virus has spread fear and panic in many communities, Mira shows us that human kindness is always free to give.
---
"Mira, Royal Detective" will air March 20 on Disney Channel at 11AM ET/PT and at 7pm ET/PT on Disney Junior.