SUVA Beauty founder Shaina Azad never has a dull moment. On a Tuesday afternoon, she sits in front of a self-made black-and-white mural littered with hand-drawn eyes, pandas, musical notes and other doodles. Azad stands out against the stark background with her purple hair, gold glitter eyeshadow and pastel button-up.
But the makeup mogul hasn't always been in the beauty space. In fact, Azad started out as an international journalist, moving to Egypt "on a whim" to report on its arts and culture. After a few years of intense, on-the-ground reporting, she decided to transition back to her first love: art. She got into the beauty scene and became a makeup instructor at Vancouver's Blanche Macdonald Centre. She also did makeup for television, including a few Superbowl commercials, before starting her own makeup brand, SUVA Beauty.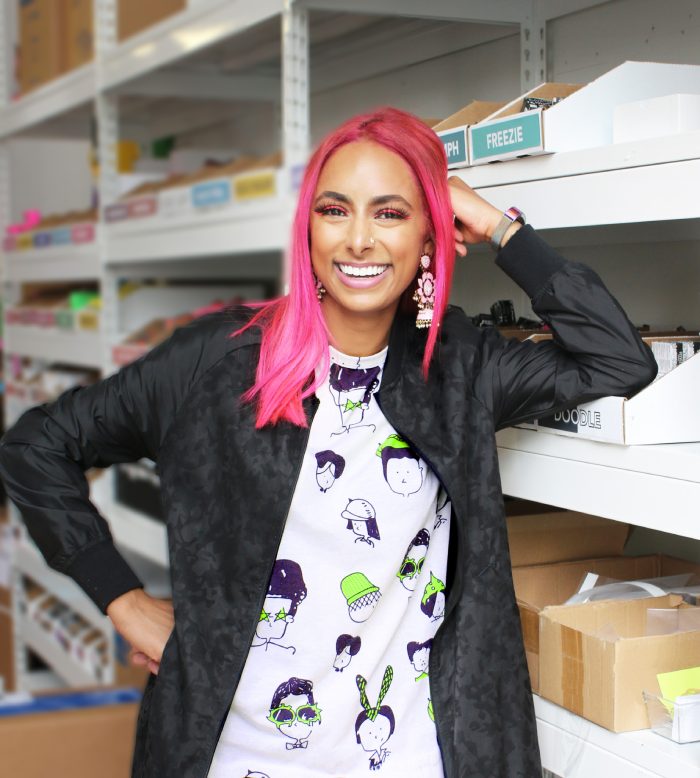 "I'm a traditional artist first, and I always will be," Azad said. "Cosmetics is the medium I found to be the most exciting and influential in terms of implementing my art and speaking to the world about it. SUVA Beauty is an extension of me; it's basically my personality in a color cosmetic brand."
Like Azad, SUVA Beauty is unapologetically bold, colorful and innovative, offering products like neon UV Hydra Liners and pigment palettes. Though she started her own brand, Azad remains well-connected with all her professional makeup artist friends in the industry and frequently holds development meetings to perfect her products' formulas and guarantee that they work for both self-taught makeup artists and professionals like herself.
And that it has. SUVA Beauty's makeup has been seen just about everywhere, from YouTube tutorials to red carpet events and shows like Euphoria, DC Legends of Tomorrow, Glow Up and Supergirl. "Whenever I see neon in shows lately, it's most likely SUVA Beauty," Azad said. "That makes me really happy and excited to see that the pro community, which is where my roots come from, are continuing to support us. I'm just really appreciative."
SUVA Beauty's looks are largely inspired by rave and punk culture and pay homage to Azad's time as a raver and festival-goer. "I grew up in rave culture," Azad said. "We'd stick gems onto our faces and go to after hours clubs and walk out dazed at 8 in the morning. All the looks that you see are inspired by nightlife."
But Azad's South Asian and Fijian roots are also woven into the SUVA Beauty's DNA. She uses her Hydra Liners to create detailed mehndi looks, affectionately names her products things like Badmash (misbehaving person) and Bakwas (nonsense) and accessorizes with shimmering jhumkas and naths in the brand's promotional photos. The brand's color stories themselves are inspired by Azad's cultures. Though she was born in Canada, she traveled back to Fiji for months at a time as a kid, taking in all the bright colors and designs. She remembers the intricately painted curtains hung up in her relatives' houses and her aunties draped in pink-patterned mumus. These memories have transformed into SUVA Beauty's artistry.
Above all, Azad wants her communities to feel celebrated. The brand's first product, a 30-shade eyeshadow palette specifically for makeup professionals, is a tribute to Fiji. All the color names, like Papaya, Queen's Road and Kava, a drink popular in Fiji, are inspired by the island nation. "There's a lot of our history in that palette of where I come from and where my people come from," Azad said.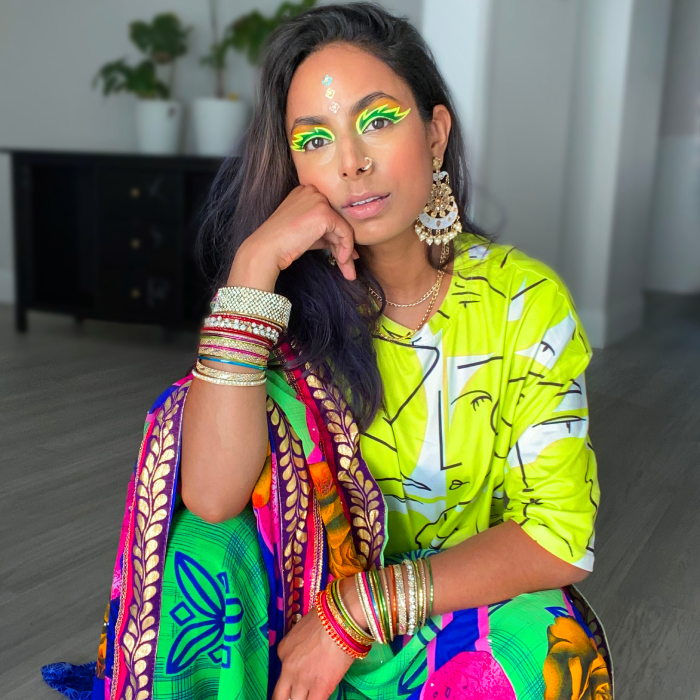 Azad explains that she hopes to be the visibility for South Asians and Pacific Islanders that she didn't have growing up. "It took me a while to embrace my culture and who I was, so when I created SUVA Beauty, I realized that I want to be a representation for others," Azad said. "And now, I get DMs from people thanking me for putting Fiji on the map."
Azad follows a similar mission when she's casting models, striving to create representation for not just herself, but anyone else unable to often see themselves in mainstream media. She handpicks all the models for the brand's group photo assets, reviewing their social media pages to ensure they fit SUVA Beauty's mission of authenticity and positivity. "It just so happens that the right people and models for our brand end up being a lot of women of color," Azad said. "My goal is picking people who I think could actually be friends in real life, and it has to be a diverse group that our community can connect with."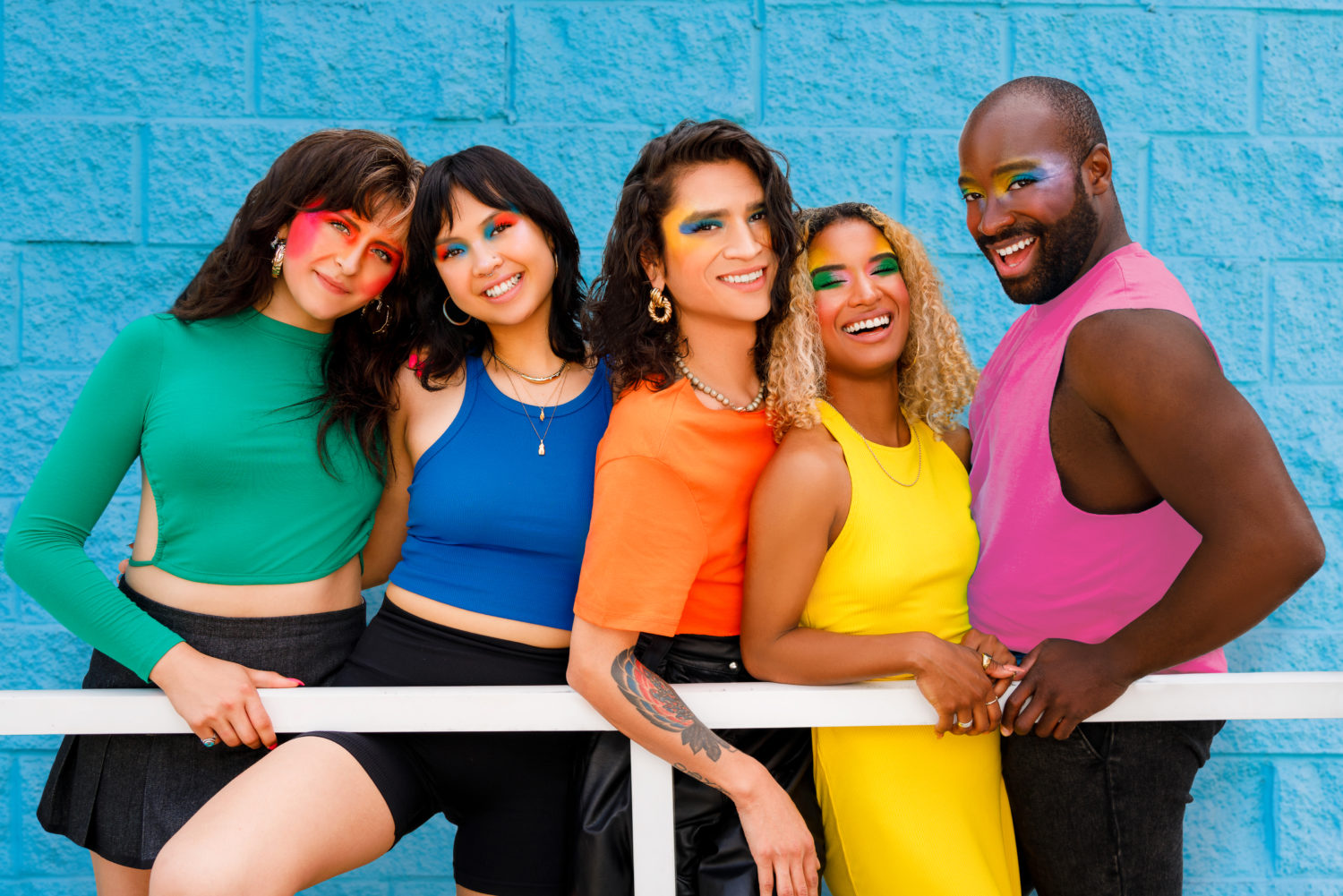 For Azad, SUVA Beauty is more than just makeup. It is a manifestation of her cultural history, background and joy. "I was immersed in color; I grew up with it," Azad said. "Color is a part of who we are. It's so innate. I can't walk around wearing dull colors because I just don't feel uplifted. And if I am wearing dull colors, I have to have insane makeup because it brings me up and connects me back to my roots. We're colorful, positive and joyful people."
---
This article will appear in Character Media's Annual 2022 Issue. Read our 2021 issue here.