Sometimes it's packed with the latest in technology, sometimes filled with the automobile world, and other times the Convention Center hosts the L.A. Art Show, one of the largest growing collections of modern and contemporary art under one roof. At this year's show, which took place from Feb. 5 to Feb. 9, over 120 galleries from around the world presented work from resident artists, solo exhibits, immersive exhibitions, colorful installations and some of the best selfie-worthy photo ops in the city. Among the booths of Oban Single Malt Scotch Whiskey and Tito's Handmade Vodka, artists and other attendees strolled through the gallery cells, marveling at each of the numerous pieces. 
The space, which stretches beyond 200,000 square feet, enhanced the audience experience by housing immersive exhibits like a live ink calligraphy presentation by Japanese artist, Sogen Chiba. Watching the barefoot Ishinomaki artist showcase his signature "Spiral Splash" technique hypnotized onlookers, who put down their drinks and raised their phones at the opportunity to capture history in the making.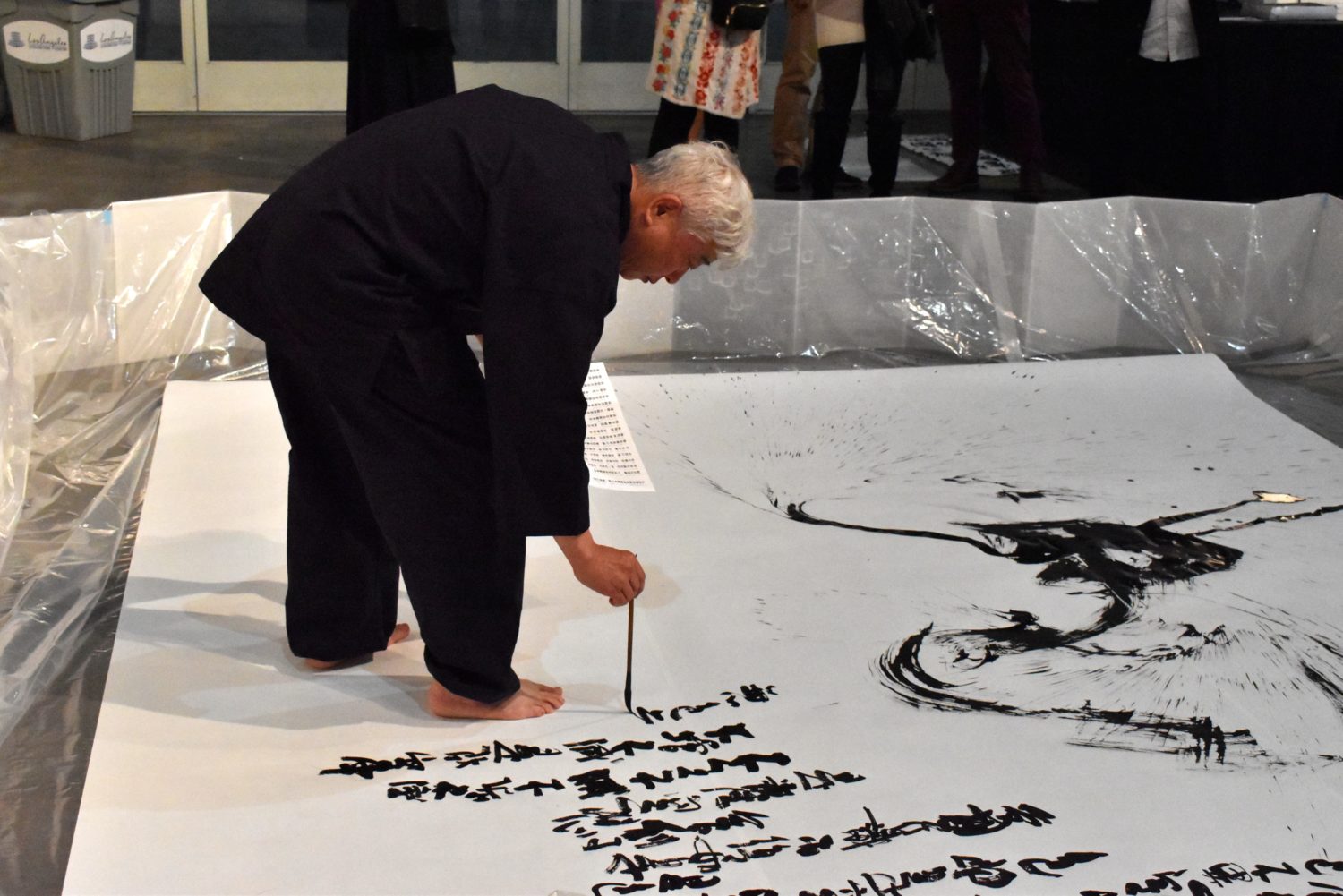 While navigating through the maze of art, the crowd bumped into some interesting walking and standing exhibits that went beyond canvas and paint, like Takeshi Haguri's "Otokogi – Un," which towered over patrons on its pedestal.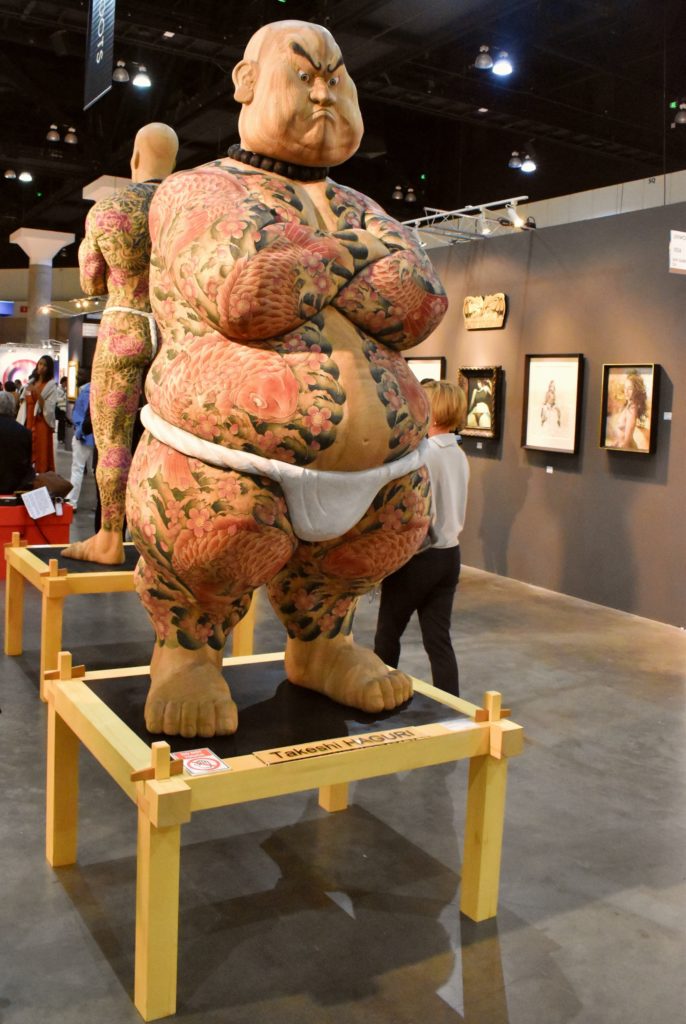 Pop culture fanatics got up close and personal with the work of Oscar-winning special effects and makeup artist, Kazu Hiro (known for his work on "Bombshell," "Darkest Hour" and more). His "Iconoclasts" were presented by Copro Gallery. The featured pieces were placed by the entrance and red carpet for all onlookers to grab a quick selfie with, while a fascinating dual sculpture, "2 Periods of Audrey Hepburn," was propped up in the Copro space in the event's main hall.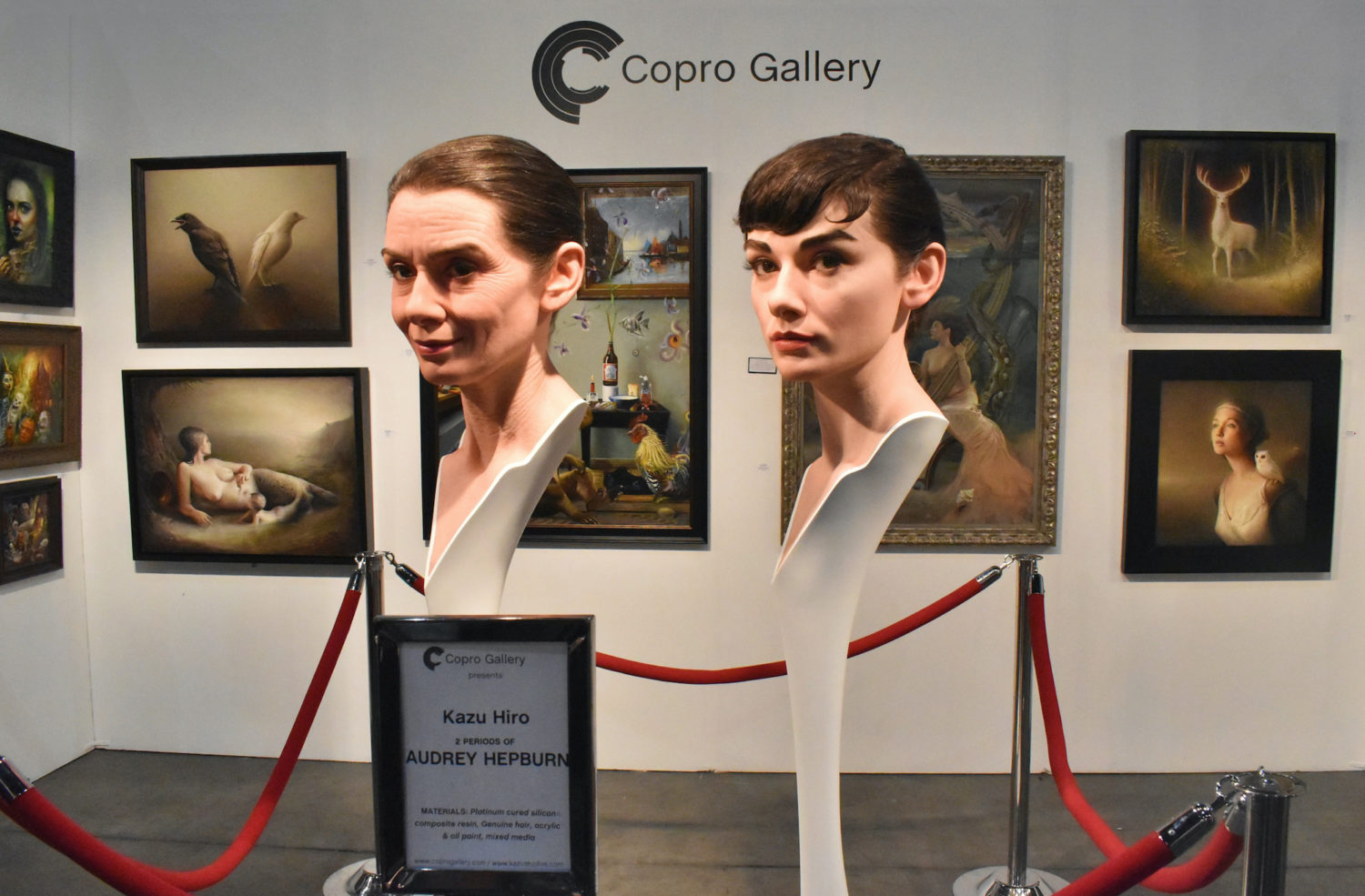 Opening night was taken by storm, with an arrangement of diamond-encrusted and feathered gowns made by iconic Chinese couture designer Sue Wong. Her decades of fashion enterprises were on display both on mannequins and on live models, who added to the glamour of the dresses.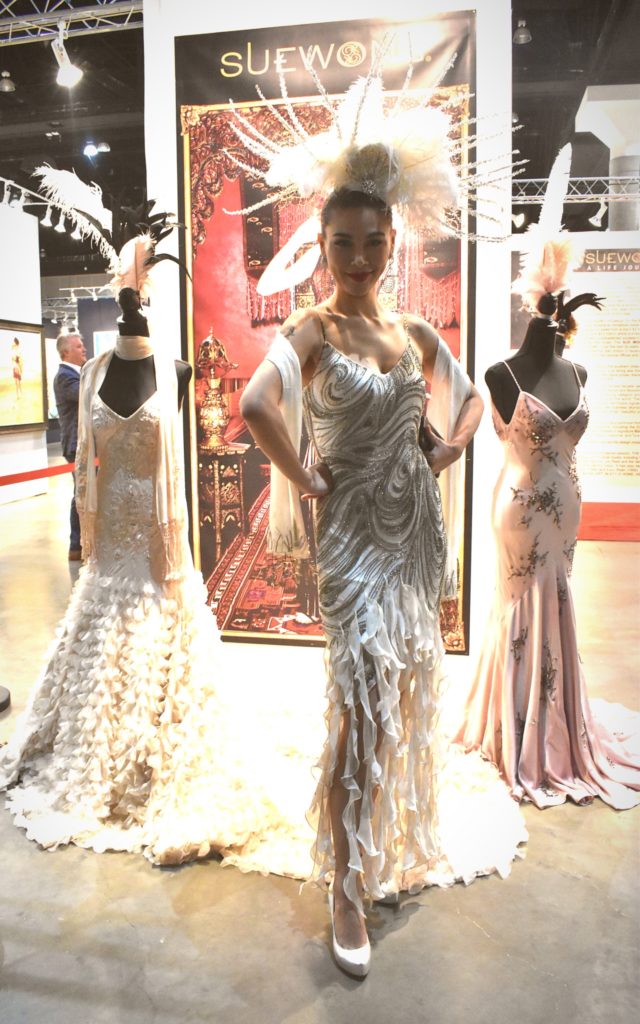 And with the Academy Awards taking place right after the L.A. Art Show, Wong's exhibit generated a loud buzz as onlookers tried to guess what celebs would be wearing which of her designs.
We caught up with Sue to ask a few questions about her historic influence on fashion and her inspirations. Read the exclusive interview here.
CM: In your artist bio, you mention some of the time periods that inspire you. What makes eras such as Weimar-period Berlin, 1930's Shanghai, pre-Code Hollywood and Manhattan's gilded Jazz Age so special for you?
I've done a lot of period adaptation, but my favorite periods are the 1920s and the 1930s. I love the dawn of the early 20th century. It's my favorite period in art, for instance. I love cubism. I love the constructivists. I love Russian avant-garde. I love German rationalism. I love everything about that period, because it was the period when women got liberated. 
In the 1920s, or even into the teens, they cut and bobbed their hair, took off their corsets and became these sort of wild, Bohemian, liberated creatures, in that they got out of the Victorian construct.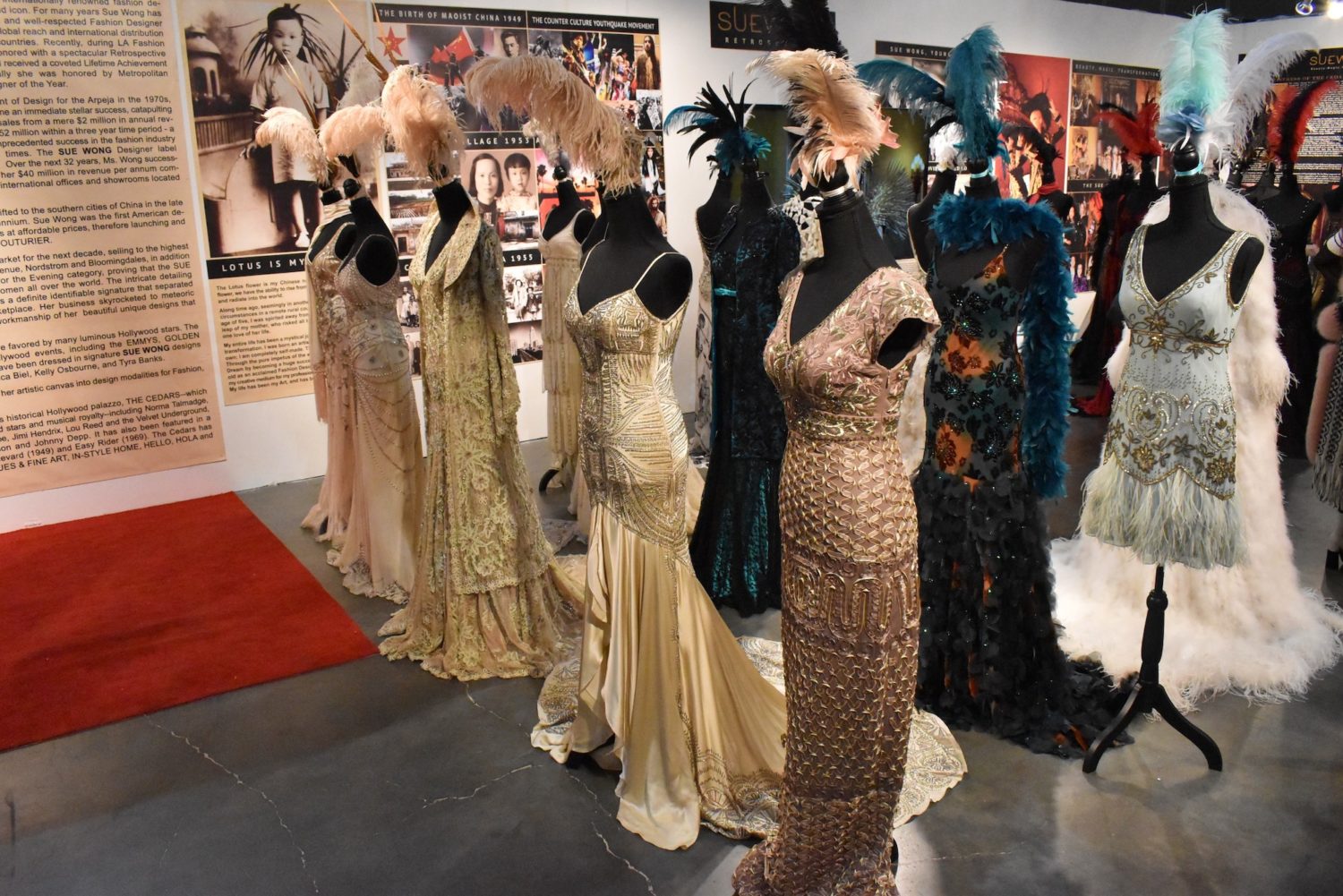 These were really the first modern women, and that's why I really love that period. I probably lived through it as well, because I believe in reincarnation. I own a home called The Cedars, also known at the Norma Talmadge Estate. And it's considered the quintessential palace of old Hollywood glamour. So that's why I relate to art-deco, New York and Weimar Berlin—it was really the height of glamour. Even my own native China, with Shanghai in the 1920s and 30s, that was the Paris of the East, and had so many architectural and cultural influences from Europe. 
What is so unique about the Sue Wong Signature? And how do you ensure it remains timeless?
My signature is classic, timeless elegance. Regardless of the era I'm making a tribute to in my designs, when I instruct my models how to walk down the runway, I'm telling them to channel the elegant goddess energy, because what I really do in my work is [pay] homage to the divine feminine goddess herself.
That's the energy I channel when I make clothes. It's a way to honor women. 
What is your typical, or atypical, research process when creating a new look or outfit?
I am a total creative intuitive, which means that all the knowledge and the wisdom that I carry within my soul already exists in me through probably many, many lifetimes of creative and artistic expression and discipline. So I can recall at any given time all these various aesthetic experiences that I've had in the past. There's no other way to explain how I know how to create so many different styles from different eras with the high level of detail that I do, without any formal academic training. 
Were there any Sue Wong dresses at the Oscars this year? 
Whenever I go to the Emmys or Oscars or Golden Globes, I always manage to find about a dozen of what I called my old friends, which is what I like to call my older designs. Still, they all look completely relevant and modern, because like I said, they're timeless. I haven't been active in manufacturing for three years. I'm sort of semi-retired, and I focus mainly on establishing my legacy foundation. I'm also working on building a fashion museum, because I've archived over 11,000 of my beautiful gowns.