Leyna Bloom is a model, actor, activist and dancer, making history in each respective industry. This week, Bloom became the first openly trans person of color to grace the cover of the Sports Illustrated Swimsuit Issue, in which she spoke on empowering women. She's also modeled for brands like Tommy Hilfiger and Dior, as well as several other magazines. And the Sports Illustrated cover isn't the only barrier she's broken in the last few years, as she's the one of the first openly trans women to walk the runway at Paris Fashion Week, the first openly trans woman of color to lead a movie at the Cannes Film Festival with Danielle Lessovitz's "Port Authority" and the first openly trans woman to be featured in the pages of "Vogue India." On Instagram, Bloom wrote that she "dedicate[s]" her Sports Illustrated cover to "all ballroom femme queens past, present and future" and that she hopes it "empowers those, who are struggling to be seen, feel valued."
British Pakistani actor Nabhaan Rizwan plays Rory, an endearing archivist in Netflix's "The Last Letter from Your Lover," a film based on Jojo Moyes' 2012 novel of the same name. The movie, streaming now, follows the story of a determined journalist, played by Felicity Jones, who discovers a trove of secret love letters from 1965. Rizwan and Jones' characters work together to track down more letters and eventually, the mystery behind how the lovers' story ends.
Comedian, actress and rapper Awkwafina returned to Comedy Central's "Awkwafina is Nora from Queens" in the second season trailer. The Queens native is back to her usual antics as she navigates life with her grandma, dad and cousin—who are respectively played by actors Lori Tan Chinn, BD Wong and Bowen Yang—and learns to balance young adulthood with a new job at a CBD store, coming to terms with her dad's blossoming love life and even a surprise marriage proposal. The second season will also feature all-star guests, such as Margaret Cho and Alan Kim. The second season debuts on Comedy Central August 18 with a special two-episode premiere.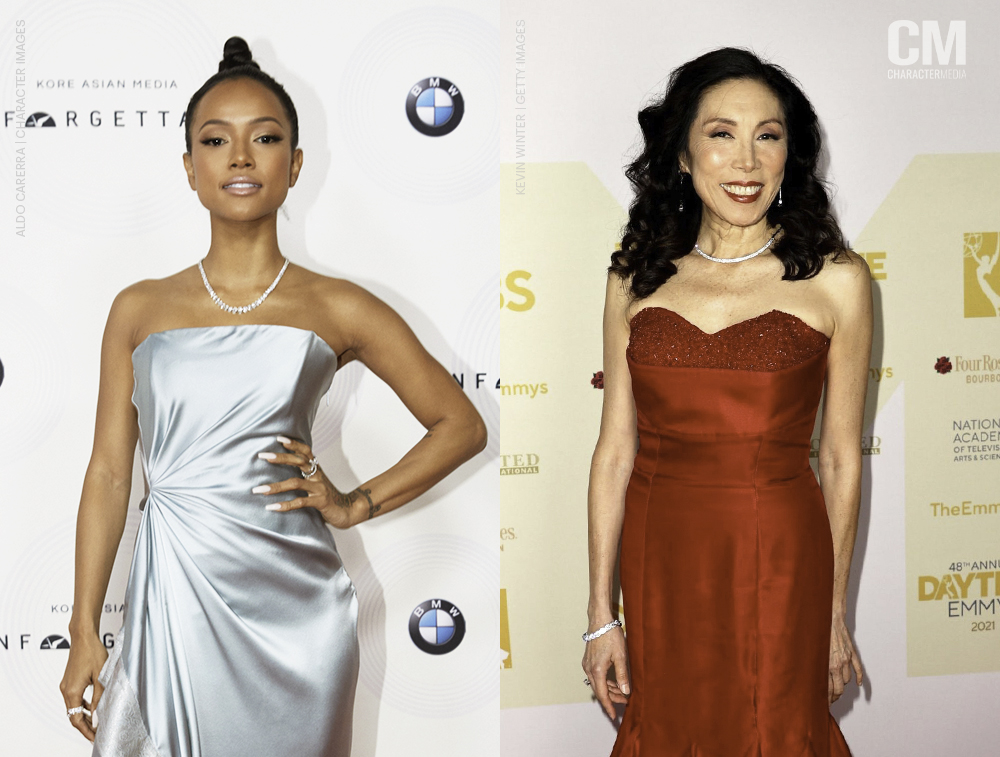 Karrueche Tran and Jodi Long made history with their wins at the Daytime Emmys this week. Tran, who is also a model, won the Outstanding Performance by a Lead Actress in a Daytime Fiction Program award for "The Bay" in which she played Vivian Johnson, a woman who returns to the Bay City naive to how much her life would change, as she struggles to balance both her love and work lives. Her return to "The Bay" for its latest season earned her the Emmy, making Tran the first AAPI acting winner of any competition and the first-ever to win a lead acting Emmy as well. Similarly, Long became the first Asian American Daytime Emmy winner, receiving the Outstanding Performance by a Supporting Actress in a Daytime Fiction Program award for "Dash & Lily" in which she plays Mrs. Basil E., the great-aunt of the main protagonist Lily, played by Midori Francis. The show also stars James Saito, Agneeta Thacker, Jennifer Ikeda, and Leah Kreitz, and scored a total of 12 nominations at the ceremony. This year marked the first time that two Asian actors won on the same night at any Emmys ceremony. 
Pianist and composer Chloe Flower, who gained nationwide attention for her piano playing at Cardi B's 2019 Grammys performance, released her self-titled debut album this week. A reflection of Flower's own eclectic interests and talents, it includes original pieces, a cover of Billie Eilish's "Bad Guy" and spoken word from author Deepak Chopra. The album is divided into three acts—Innocence, Suffering and Hope—and features a mix of classical, pop and hip-hop trap influences.
World-renowned DJ Steve Aoki ventured into fashion once again, as his fashion brand, Dim Mak Collection, partnered with Paramount Pictures and Hasbro to create a limited edition "Snake Eyes" clothing line, on sale now, to celebrate the theatrical release of "Snake Eyes: G.I. Joe Origins," led by Henry Golding. The five-piece collection, which features signature black ninja gear, Arashikage symbols and exclusive art from the film, highlights Aoki's American upbringing as well as his Japanese heritage.
Collin Morikawa broke a record this week after his second major title win at the 2021 British Open Championship over three other former major winners. While this was the golfer's first trip to the world's oldest golf tournament, Morikawa has made his name known, as he is the fourth American to win the Open before age 25, as well as the first golfer ever to win two majors at their event debuts.
Similarly, Kumar Rocker made history in the MLB, as he became the highest drafted South Asian of all time, when he was selected by the New York Mets and was the 10th pick in the overall 2021 MLB draft. Rocker, who is of Black and Indian American descent, began his career early and was selected for USA Baseball's 18-and-under team in 2017. He had a 1.93 earned run average and went on to play for Vanderbilt during his college years.
Sky Brown won the gold medal for the women's skateboarding park at the 2021 X Games. Brown, who is just 13 years old, is also Great Britain's youngest Olympian ever, as she was selected last month to represent the country in skateboarding at the Summer Olympics. She's also one of the youngest Olympians of all time.
Editor's note: Adapted from our monthly listicles, "The Lookout" is our new weekly series bringing you the latest scoop of what's happening in AAPI entertainment. We're doing the legwork, so you don't have to.