Fil-Am pop sensation Olivia Rodrigo has partnered with President Joe Biden and Dr. Anthony Fauci to emphasize how accessible vaccination centers are and the importance of getting vaccinated against COVID-19. Rodrigo's participation is a part of the Biden Administration's larger initiative to work with schools, social media and celebrity influencers to encourage young people between the ages of 16 and 26 to get immunized. Some celebrities involved in this initiative include Ross Butler, Lana Condor, Kim Kardashian and Joe Jonas. Dr. Fauci also did a Q&A on Tik Tok with influencers Mia Finney, Nia Soux and more. 
Netflix and nonprofit Gold House are teaming up to expand Netflix's outreach to AAPI audiences. They will be forming Netflix Gold, a long term partnership to promote and celebrate AAPI films, tv shows, stand-up specials and documentaries. Some of the upcoming releases include projects such as Sandra Oh's "The Chair" and Marie Kondo's "Sparking Joy." The first Netflix Gold event was an in-person screening of "Never Have I Ever," which included a sneak peek of the second season, South Asian food vendors and a chance to highlight small South Asian businesses.  
Bowen Yang made history as the first Chinese American to be nominated for an Emmy in the "Outstanding Supporting Actor in a Comedy Series" category as well as the first "Saturday Night Live" featured player to receive a nomination. Yang was previously nominated for writing for "Saturday Night Live" back in 2019, making this his second Emmy nomination ever. Other notable AAPI Primetime Emmy nominees include Phillipa Soo of "Hamilton," Max Minghella of "The Handmaid's Tale," Padma Lakshmi of "Top Chef," Maya Erskine of "PEN15" and Tan France of "Queer Eye."
After gaining much popularity and success from season one, "Never Have I Ever" returned to Netflix for a second season. Fans will get to witness even more high school drama through Devi, played by Maitreyi Ramakrishnan, as she navigates a complicated love triangle before she moves to India. All episodes of the popular show, created by Mindy Kaling, are now available to stream. 
Netflix's female-led action thriller, "Gunpowder Milkshake," is out now, featuring Michelle Yeoh among the star-studded cast. Following a group of female assassins as they protect a young girl from danger, the film is a hefty mix of dark humor, violence and colorful visuals that will leave audiences intrigued. Other stars of this film include Angela Bassett, Karen Gillan and Lena Headey.
DC comics series "Titans" will premiere its third season on HBO MAX this August after the first two seasons previously aired on DC Universe. Fans got a sneak preview of our heroes returning to the famous Gotham City where they encounter a new vigilante, Red Hood, as well as other Batman-adjacent characters. The series is based on the popular comics and animation "Teen Titans" and features Ryan Potter as Gar Logan/Beast Boy, a popular superhero in the DC Universe who has the ability to shapeshift into any animal. The new season will feature many comic book reveals and air its first three episodes on August 12.
"Blue Bayou," written and directed by Justin Chon, is a heart-wrenching drama that tackles important issues on U.S. immigration policy and Asian hatred. It follows the story of a Korean adoptee, played by Chon, and his family's struggles to fight for the future as he discovers he might be deported. His wife, played by Alicia Vikander, must also help him confront the ghosts of his past while trying to keep their relationship together. The film had its world premiere at the Cannes Film Festival, but will be released in theatres on Sept. 17.
Pik-Shuen Fung debuted her first novel, "Ghost Forest," following an unnamed protagonist as she delves into the memories of her late father and pieces together the story of her family and cultural roots. "Ghost Forest" is described as an emotional novel that will leave readers filled with joy and sorrow as Fung paints a moving portrait of a Chinese Canadian "astronaut" family. The novel, written in a unique poetry-like structure, was featured on the New York Times' shortlist as a debut novel to watch out for.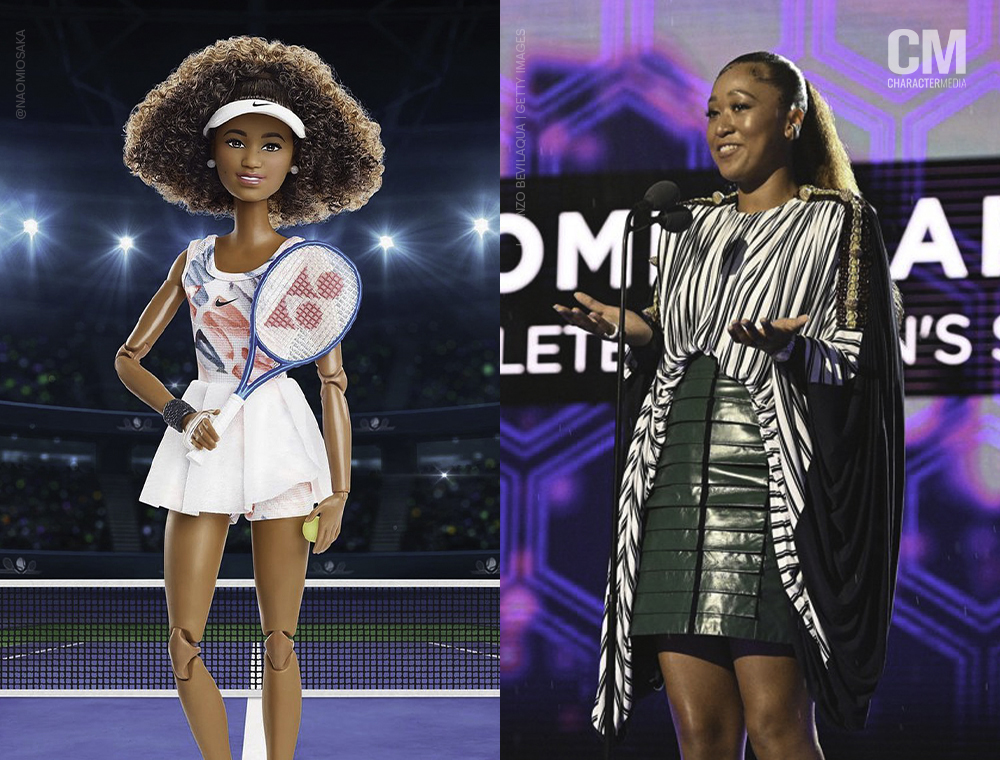 Naomi Osaka received many major achievements this week. Barbie and Mattel honored her with a doll modeled after her own likeness as a part of their Barbie Role Model series. The doll sold out just hours after its release, reflecting Osaka's influence even outside of the tennis world. This new doll isn't the first time Osaka has been immortalized in toy form. In 2019, she was one of 20 women gifted with unique dolls, as part of Barbie's "Shero" line for sale. The tennis superstar was also honored at this year's ESPY awards, winning "Best Athlete" for the Female Sports division. This was the athlete's first public appearance after withdrawing from the French Open and Wimbledon due to mental health concerns. 
That's all for now on the Lookout. Tune in again next week for another recap of the biggest headlines in AAPI entertainment news!
Editor's note: Adapted from our monthly listicles, "The Lookout" is our weekly series bringing you the latest scoop of what's happening in AAPI entertainment. We're doing the legwork, so you don't have to.