There's something special about an event that people attend for no one but themselves. For cosplayers, the Los Angeles Comic Con, formerly known as Comikaze Expo and Stan Lee's L.A. Comic Con, serves as a nerd Met Gala, where sci-fi seamstresses can preen around the lobby in elaborate costumes. To collectors, the L.A. Convention Center-hosted event is a pop-cultural Wall Street for participants to wheel and deal for plushies, comics and Funko Pops at a massive bazaar of vendor booths. But for all attending, the L.A. Comic Con serves as a judgment-free sanctuary, to celebrate fandoms and engage with those involved in creating them.
The convention, which ran for its ninth year on Oct. 11-13, also reflected the growing trends of Asians and Asian Americans in the media. On Saturday morning, the "Steven Universe" panel included not one, not two but five Asian American voice actresses on the main stage. Deedee Magno, Michaela Dietz, Shelby Rabara, Jennifer Paz and Grace Rolek dished on the beloved sing-along Cartoon Network show, which concluded earlier this year. Created by "Adventure Time" alum Rebecca Sugar, it's a charming animated episodic romp about the series' namesake, Steven (Zach Callison), an awkward adolescent boy who tags along with sentient super-powered gemstones Amethyst (Dietz), Pearl (Magno) and Garnet (Estelle Swaray) to save the world.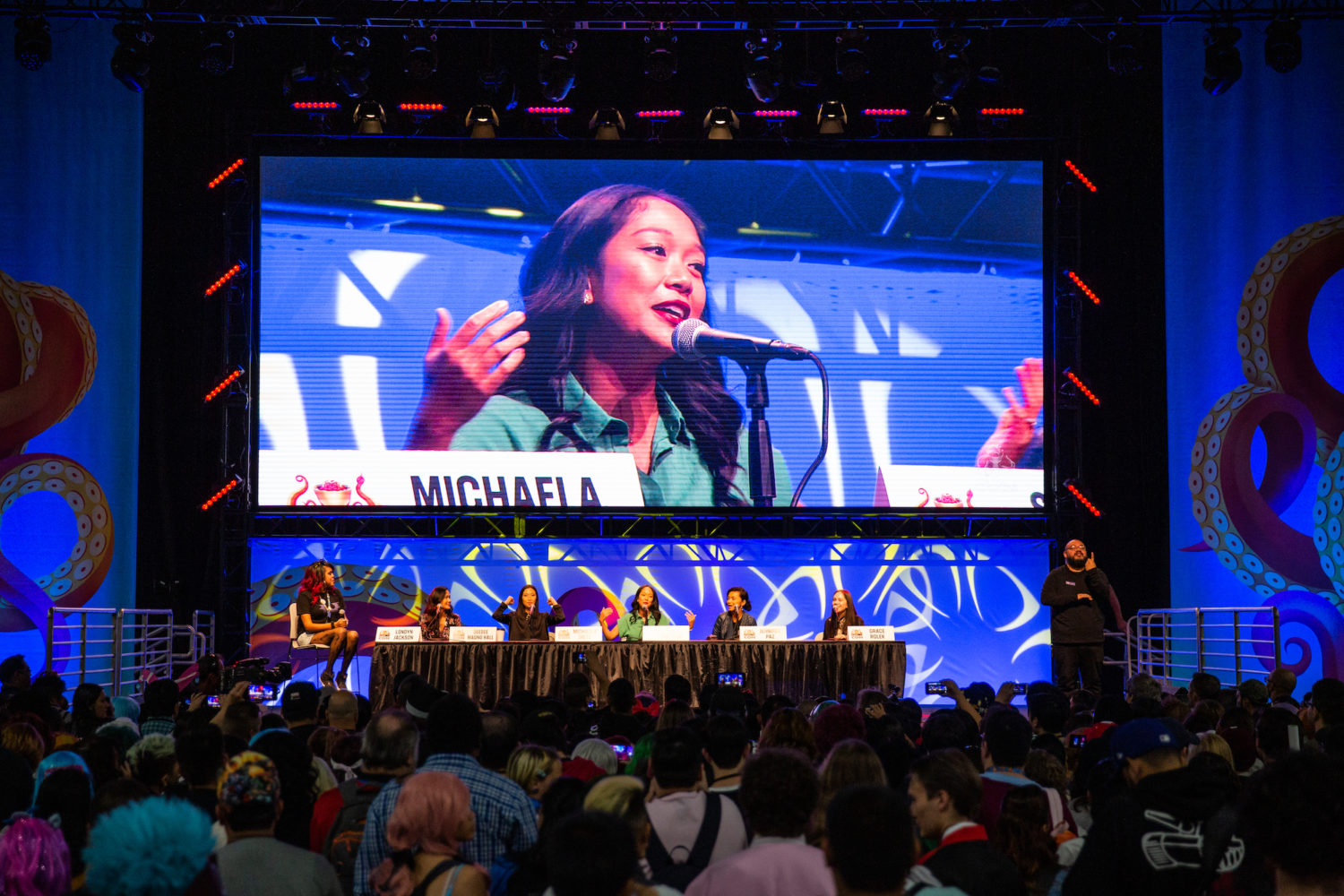 When asked about what cast enjoyed most about the show, Dietz was quick to answer: "It's been amazing for representation… purple space rocks haven't been represented [enough]," joked the Korean American actress.
Shelby Rabara, who voiced the haughty villain Peridot, agreed with Dietz. "The representation and the inclusion," said Rabara. "What other cartoon has ube cakes?" The crowd's Filipino Americans cheered her on.
---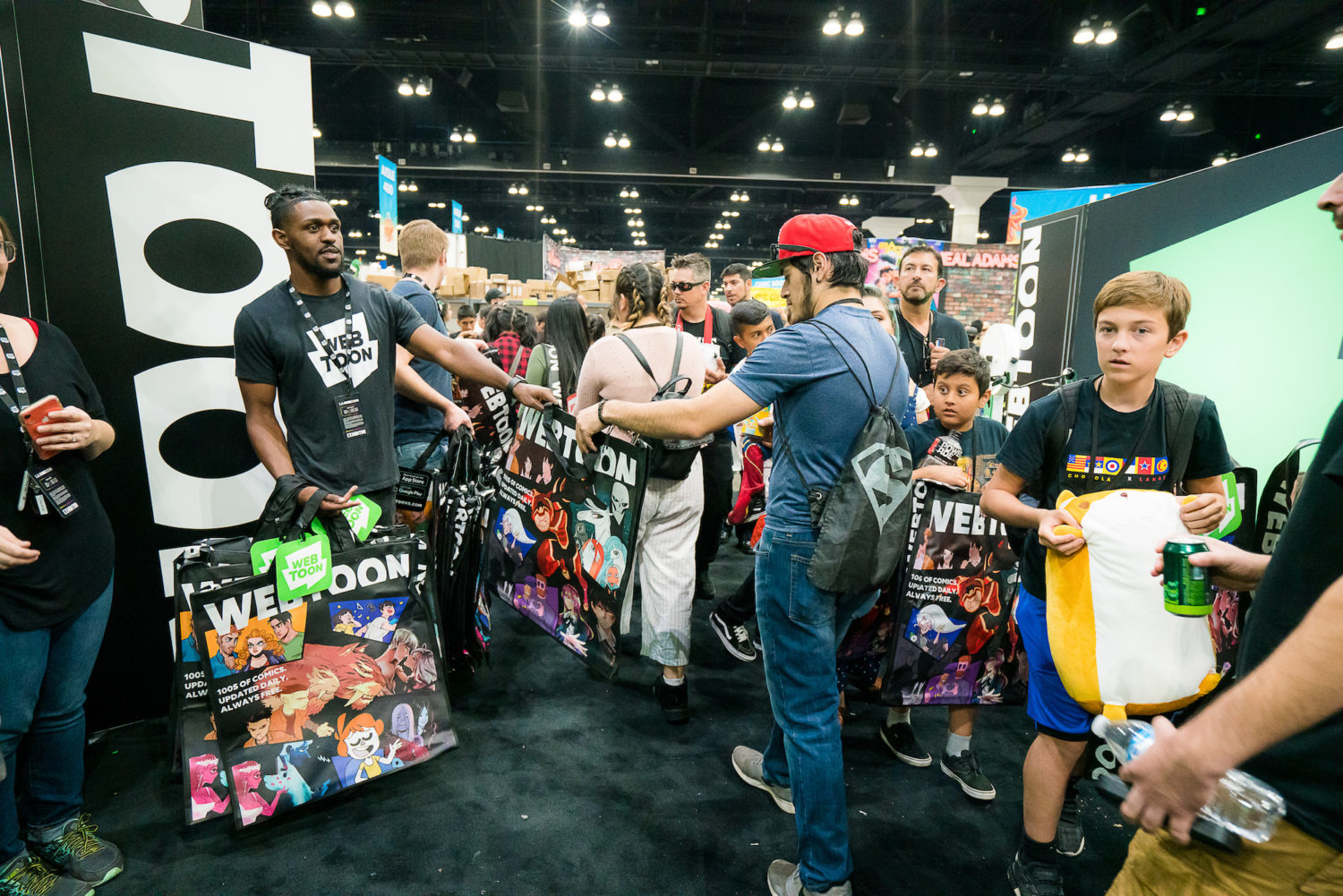 If you attended the convention, you were bound to see pizza box-sized WEBTOON totes everywhere you looked. The company that handed out the bags is just as excessive in size. The biggest webcomics platform in cyberspace, South Korea's WEBTOON amasses over 100 billion views a year. Its concept is simple but game-changing: Instead of the traditional page flipping comics, WEBTOON comics employ a vertical scrolling layout, not unlike the mobile reader for this article.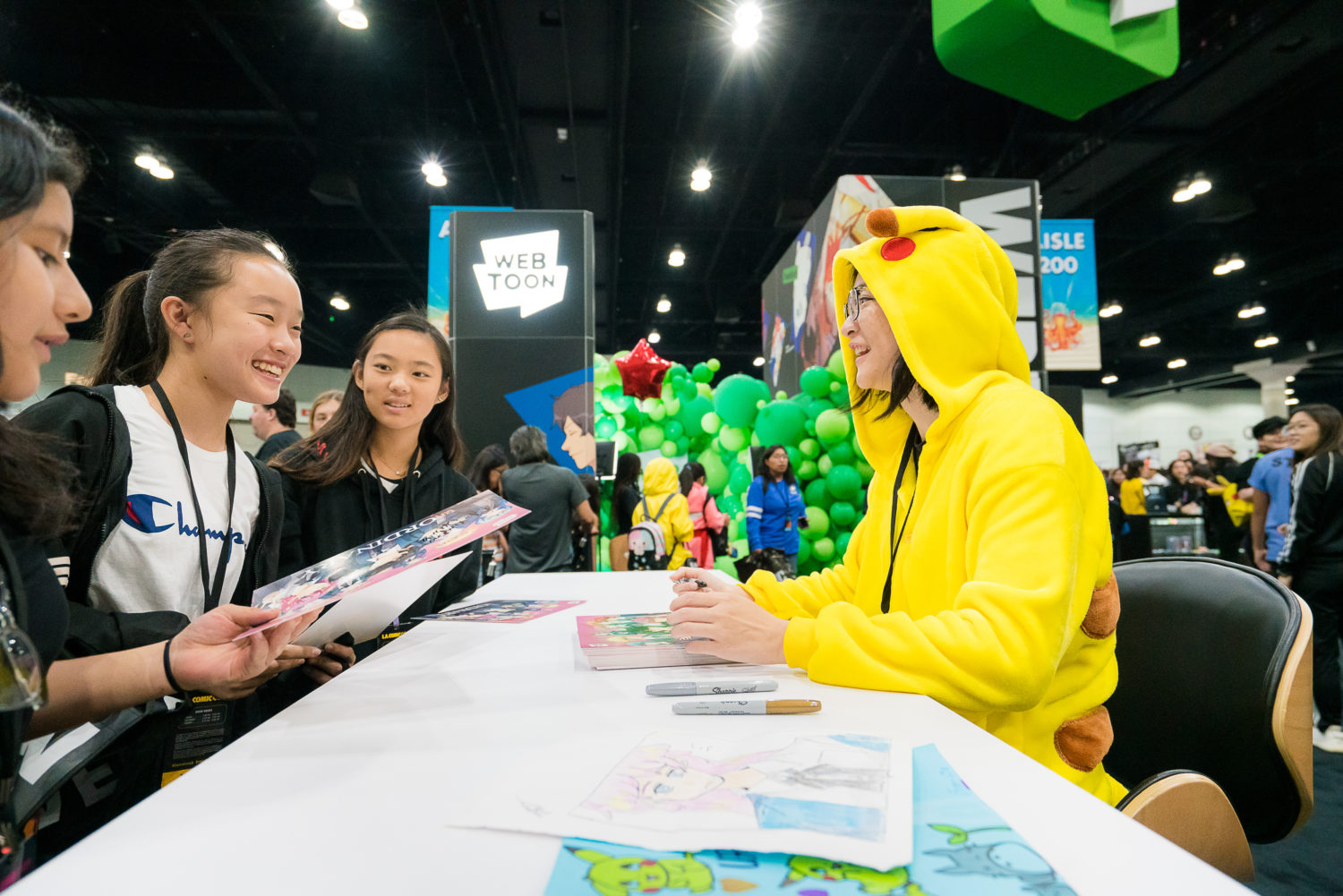 Thanks to WEBTOON's self-publishing platform and fan-made catalog, it has never been easier for the aspiring Jack Kirbys of the world to connect with a worldwide audience. Following in the footsteps of YouTube, the site has helped usher in a new wave of Asian and Asian American creators and has served as an escape-hatch from "traditional" careers. The author of popular WEBTOON series "unOrdinary," best known by her screen name uru-Chan, never predicted she'd be drawing comics for a living. "Before I started working at WEBTOON, I had a stable job working for an aerospace company," said uru-Chan. "When I quit my job, I actually asked my manager if I could come back in a year if [WEBTOON] didn't work out, and he was cool with it. That's when I jumped ship." Funny enough, the plane the New England-born artist took to L.A.s was one she helped build. Since then, she's seen her career take off to new heights, and the Comic Con lines for her autograph rivaled those of Ron Perlman and Elijah Wood.
A fellow illustrator, known as Quimchee, says she faced similar vocational anxieties. The Filipina American, who was in nursing school when she decided to pursue a career in comics, kept her parents in the dark about her popular webtoon "I Love Yoo" until her first convention. Today, her weekly comic is closing in on its hundredth episode and has garnered over half a million readers. "Some advice I would give to lots of Asian or Asian American [creators] that want to follow a dream like creating webtoons: keep going at it," said Quimchee. "If it's something you're truly passionate about, don't let anyone bring you down."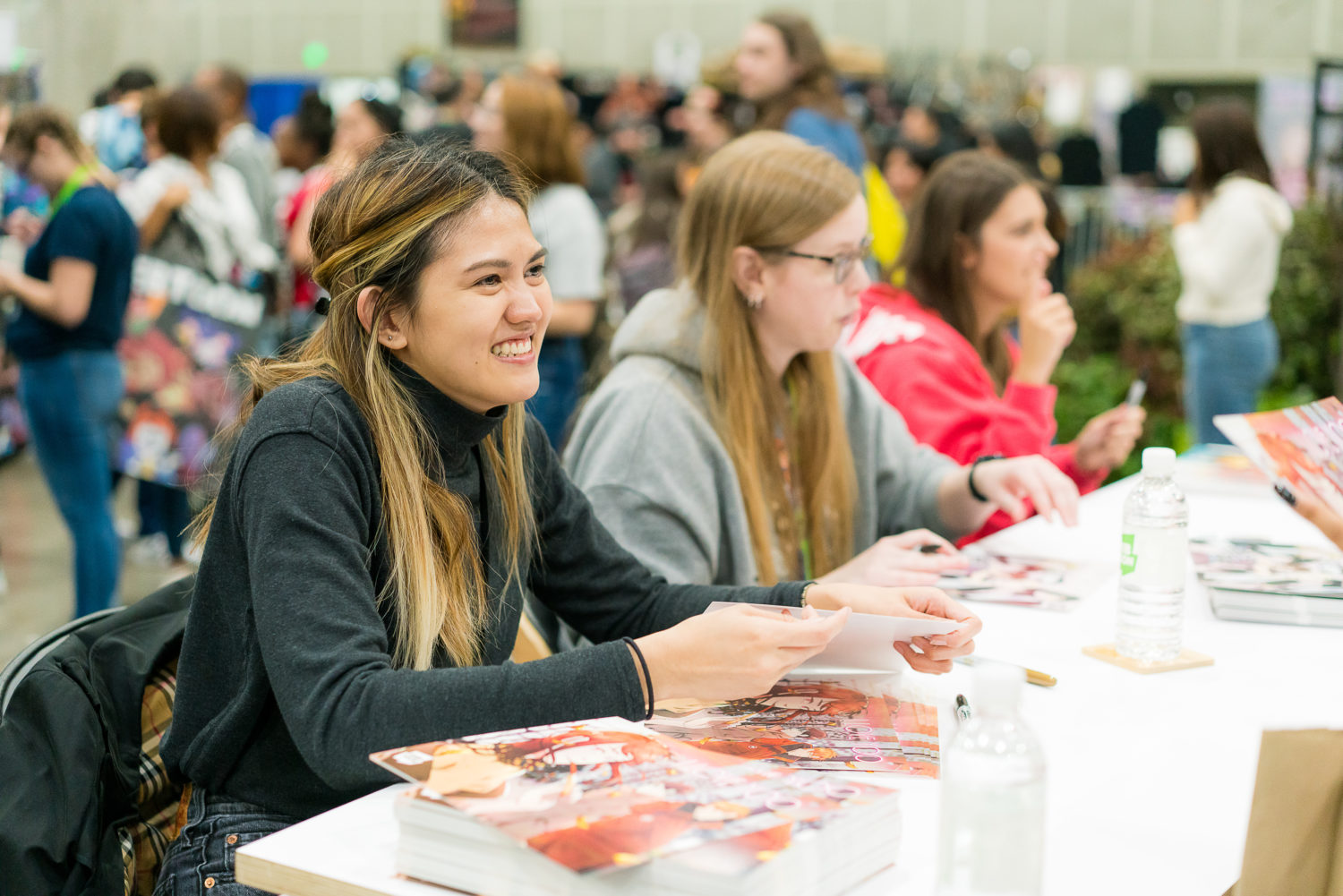 That advice also rings true for WEBTOON's newest rising star, known as Kristina N. For the better part of a decade, she's been hustling hard as a commercial artist. At the L.A. Comic Con, she was in her natural habitat, as a huge part of her come-up came from selling her pieces at conventions. In the past, she once parlayed an Artist Alley interaction into a gig with the animation company Rooster Teeth. Last year, all that hard work was realized in a huge way: Kristina N.'s comic, "Cape of Spirits" won Best Story and $80,000 in WEBTOON's contest.
While Kristina N. has graduated from the Artist's Alley, for other doodlers, L.A. Comic Con is their first introduction to the creative world. Featuring talented independent artists and liberal interpretations of the fair use doctrine, the Artist's Alley is the place to visit if you're in the market for a painting of the Joker fighting Mike Tyson, or a sketch of Sherlock Holmes interrogating Deadpool. "My favorite part about being an Artist Alley vendor is seeing people you know come up and support you," said Tim Baksh, a first-time Comic Con artist. "It was crazy to see friends and family coming up to my booth to say Hi, and look at what my work has become."
---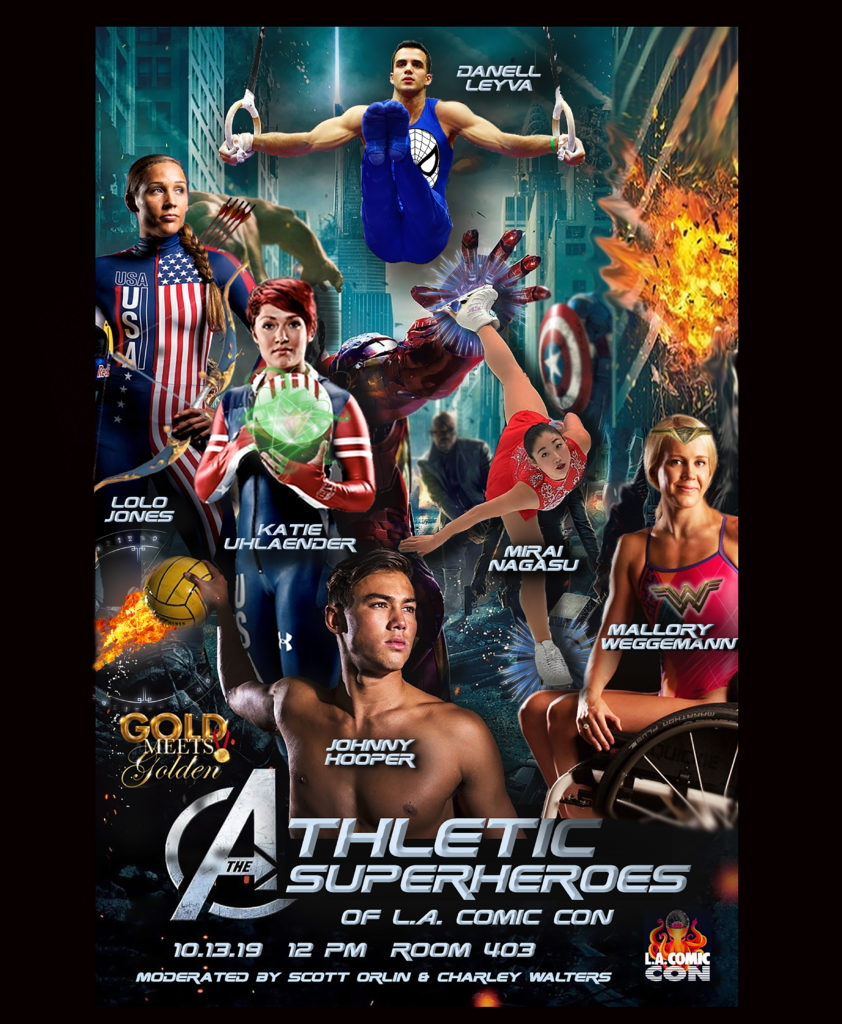 L.A. Comic Con isn't just for your "Big Bang Theory" brand of geeks. At the "Athlete Superheroes" panel, Team U.S.A. jocks had a chance to sit at the nerd table and chat about their real-life comic book origin stories. Among the Olympians were Japanese American athletes Mirai Nagasu and Johnny Hooper. Nagasu, a bronze-medal winning figure skater at the 2018 Pyeongchang Olympics and self-professed coffee addict, likened herself most to Iron Man. Her reasoning? She once cut the line at a media event, something the self-obsessed Tony Stark would "totally do," she says.
"The thing I love about Los Angeles is the diversity, and to be here at Comic Con to see so many characters come to life is different from the Olympics, but equally as special," said Nagasu. The two-time Olympian grew up in Arcadia, a short drive away from the Convention Center. Growing up idolizing Kristi Yamaguchi and Michelle Kwan, Nagasu surpassed both to become the first American female Olympian to land a triple axel, the most hallowed feat in figure skating.
This year, she's also made strides in another field. While recovering from an injury this past February, Nagasu interned at KABC-TV in Los Angeles, even getting her name on the byline after she helped break a story on the Del Amo mall shooting.
Hooper, a star water polo player at the University of California, Berkeley who recently qualified for the 2020 Tokyo Olympics, saw personal parallels between himself and Aquaman, because of, you know, the whole water thing. For the biracial athlete, his first Olympics is an especially exciting one. Going into Tokyo, Hooper says that he has the unique opportunity to convey his American patriotism while partaking in his maternal heritage. "It's surreal because my mom and grandma were born there, so I have deep roots that lie in Japan," said Hooper. "[While I'm] playing as an American and trained all my life here, I still am very close with my Japanese heritage and culture."
For those who couldn't make it to the Convention Center this year, hindsight is literally 2020, but L.A. Comic Con will return next year from September 25-27. And with "Shang-Chi" premiering in early 2021, it's likely that by then we'll know just how Simu Liu looks in his new superhero role. Imagine all the cosplays of the "Master of Kung-Fu" that we'll see next year!