R&B singer UMI will get to you when they're ready—respectfully. But when the singer-songwriter is ready to share herself to the world, she takes great care in the details.
UMI, who uses both she/her and they/them pronouns, often pauses during our interview to close her eyes and take deep breaths while considering her responses. She's quick to jot down notes in her journal or record a passing sound on her phone when inspiration hits.
These days, being a musician can feel synonymous with constant self-promotion. However, UMI remains insistent about taking their time. The artist admits it took a few years for them to get on Tiktok, the app responsible for viral trends that have turned struggling artists into chart-topping sensations overnight. "I didn't mind that I had to work my way into it," they say. "The most sustainable way for me to keep up to date with technology is just going, 'I accept you, but I'm going to get to you at my pace.'"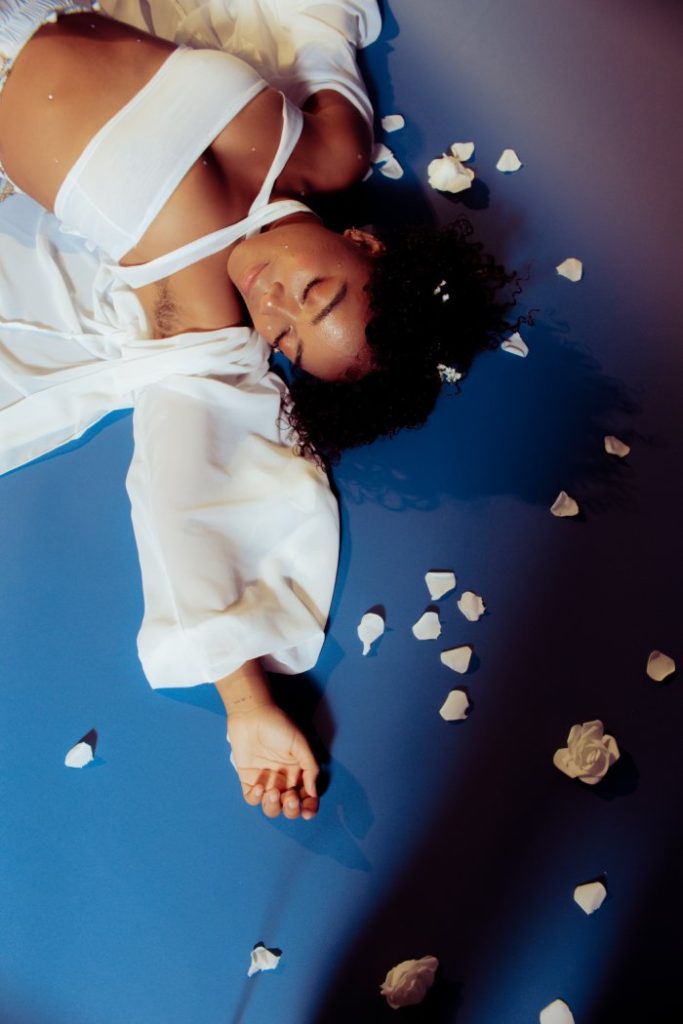 After all, it did take a few EPs and singles before the singer dropped their debut album, titled "Forest in the City." Born Tierra Umi Wilson, UMI started her musical journey like many of her Gen-Z peers: by sharing songs to online platforms like Soundcloud and YouTube as a teen. The success of their 2018 debut EP, titled "Interlude," led them to drop out of the University of Southern California and focus on music full-time. With influences from neo-soul and R&B artists like Erykah Badu and Frank Ocean, as well as J-pop musicians like Seiko Matsuda, UMI's music has since garnered a dedicated and growing fanbase.
It hasn't always been smooth sailing, though. They admit they have undergone a transformative mindset shift throughout their years of being in the spotlight. "I would tell my younger self: 'Don't rush it, there's no timeline I need to follow and no one to compare myself to,'" the now-23-year-old singer explains. "A big breakthrough in my self-care happened two-and-a-half years ago, when I went through a depressive episode." During that time, they started to prioritize their mental health and find peace through mindful thinking and breathwork, which they credit for helping overcome their depression.
UMI's mental health journey became a catalyst for "Forest in the City," her 15-track album released this past May. The project invites listeners inside the artist's psyche, from that time of initial personal growth to the present day. The first track, "hello hi," opens with a flurry of bird chirps and city sounds layered over soothing hums, eventually joined by snippets of UMI speaking in both Japanese and English. She cites the 36-second introductory piece as one of her favorites from the collection. "It feels like what it's like to be inside my head," they say.
UMI developed "Forest in the City" during a time of feeling overwhelmed by city life in Los Angeles. "I would always find myself thinking that if I lived in the forest, I would feel a lot more peaceful, a lot less anxious," she recalls. "Then I realized, the peace I'm seeking is within me. If I take a deep breath while these sirens are happening around me, I can feel just as peaceful as if it's quiet."
As in "hello hi," UMI aims to embody this serene disposition in every aspect of their career. When recording the album, UMI intended each song to be imprinted with love and positivity. "I don't think that has to be so clear and in your face; it can be in subtle ways, like me including little sound bowls that you don't even hear but think, 'Whoa, I just feel better,'" UMI says. "You have the power to get stuck in somebody's head through the melody and words you create. As long as I'm doing music, I want it to leave a positive impact on someone."
After the release of "Forest in the City," UMI also embarked across the country on her first headline tour, which she describes as a "peace tour." Although the musician admits to experiencing stage fright during initial shows, they eventually realized their priority was making audiences feel comfortable and safe. She even led guided meditations every night before each set. "I love sharing it with people because it's so easy," UMI says about her breathwork sessions, which she also hosts every now and then on Instagram Live and at fan events. "It's right here. You don't need anything for it."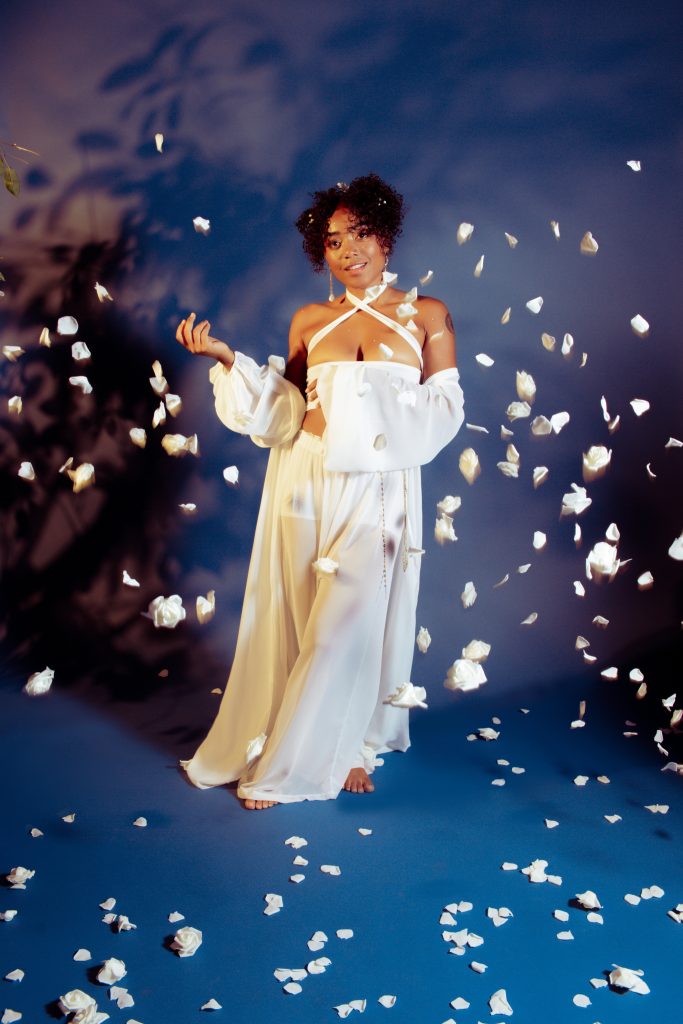 This December, UMI will take fans deeper into her world with the release of an NFT project based on the "Forest in the City" tour. "I had these poems between performances that told the story of me and my past lives as different elements of Earth—as a drop of water, an ember of fire, as wind," UMI says. She then created art pieces for each poem with her sister. "By purchasing one of the artworks, you're also joining this globally conscious community that I'm creating," UMI says. "I foresee a lot of creatives being there, and the project also ties in elements of soil conservation, Earth conservation and offsetting my carbon footprint." She also plans to host monthly meditations featuring speakers on mindfulness, psychedelics and more.
Above all else, though, she strives for peace of mind and sustainable growth in her life. "I'd love to keep incorporating the healing and mindfulness in what I do, and I just want to be me—always," she says. "No matter what, I'm an artist that really values connection. I hope people can become more aware of what they're listening to and how that impacts them. Once people really understand that, it can change the world."
---
This article will appear in Character Media's Annual 2022 Issue. Read our 2021 issue here.