Can you believe we're already three weeks into May? Time sure flies in quarantine, but the online APAHM celebrations aren't over yet. If you're missing your typical opportunities to express support for the Asian American and Pacific Islander community, you can still get in on the virtual fun with these upcoming online shows, panels and more.
1.The #UnapologeticallyAsian Campaign
Since the beginning of May, AAPIs from all around the globe have been participating in the #UnapologeticallyAsian campaign on social media platforms. Even celebs like Celia Au, Ron Yuan and Jake Choi are joining in. Showing your pride online is easier than ever this month, so make sure to share your post with the hashtag!
2. Kollaboration's EMPOWERD Virtual Creative Conference
Originally slated for the end of March, Kollaboration's annual EMPOWERD Conference, featuring AAPI creatives and innovators, has since moved online and is coming to a screen near you this weekend. " "After our disappointment with having to cancel our annual in-person event back in March, we're so excited to host our annual Kollaboration EMPOWER(d) Creative Leadership Conference online for all viewers to connect and learn how we can navigate the creative industry moving forward," says Minji Chang, Kollaboration Board Member.
On Saturday, May 23 and Sunday, May 24, get to hear from diverse panelists and speakers like teen rock climbing prodigy Ashima Shiraishi, fashion designer Jeff Staple, musician AJ Rafael and more. And in case you were wondering, the event is free to attend, so register here.
3. Transparent Arts' #OURIDENTITY: Project Blue Marble
The annual Identity show might look a bit different this year, but it's now more accessible than ever! Presented by Transparent Arts, Gold House, Pacific Bridge Arts Foundation, Amazon Music and XRM Media, with support from McDonald's and International Secret Agents, the eight-hour event will stream live on Amazon Music's Twitch channel starting at 2pm PST on Saturday, May 30.
The lineup is also substantially larger than usual, featuring former Presidential candidate Andrew Yang, comedian Ronny Chieng and basketball superstar Jeremy Lin. The stream will also see performances from musicians Yuna, Jay Park, Raja Kumari, MIYAVI and many more. And if you need any other reason to tune in, proceeds from the event will go toward United Way Worldwide.
4. Asian Art Museum's Acting, Healing, Learning: Artist Talk
To put a new perspective on COVID-19, San Francisco's Asian Art Museum is hosting a virtual chat on May 28 with artists Jas Charanjiva, Chanel Miller and Jenifer K Wofford, focusing on the pandemic and how it's impacted their work. But there's also a bright side, as the artists will also share their own stories of how creativity fosters self-growth.
5. Gluestick Entertainment's Gluestick Fest: Home Edition 2020
What better way to celebrate APAHM than getting to know new Asian artists? This weekend, from May 23 to 24, Hong Kong-based Gluestick Entertainment is bringing an all-star lineup of musicians together for a virtual concert that will benefit the charity HandsOn Hong Kong's COVID-19 relief efforts. Performers include rapper Tyson Yoshi, cehryl and Charlie Lim.
6. PHASE's APAHM Benefit Film Screening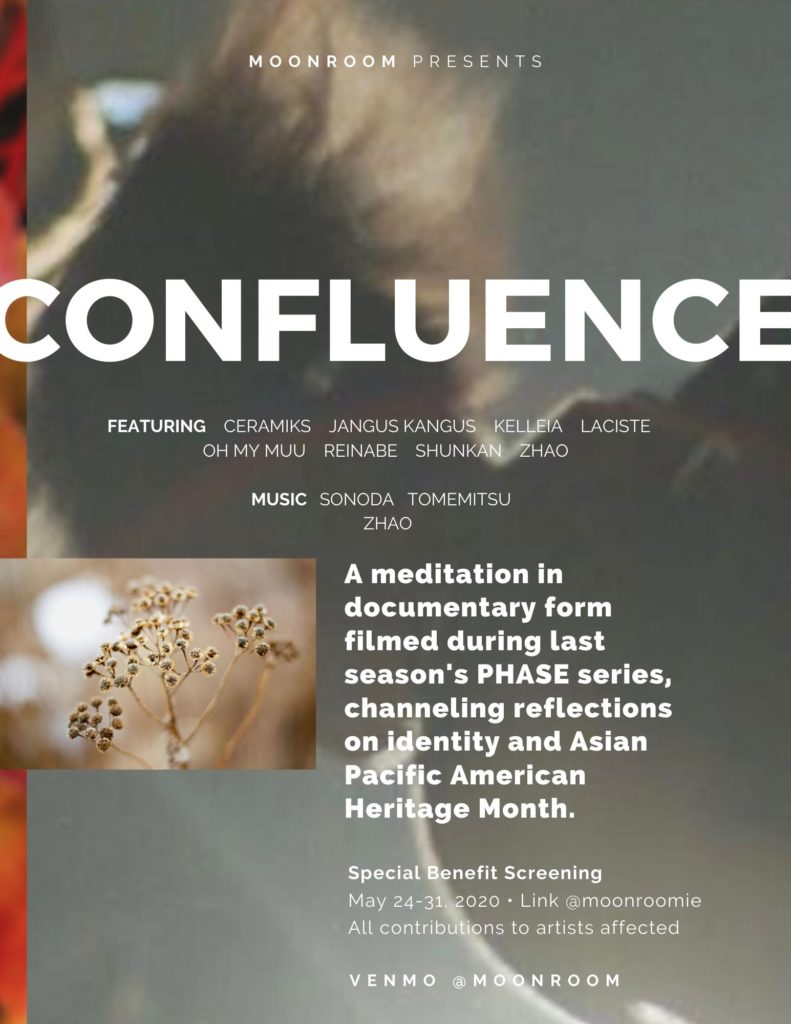 Since 2017, artist collective moonroom has brought diverse artists together under its annual PHASE showcase. This year, PHASE is back with a new documentary, "CONFLUENCE," which will be screening online from May 24 to May 31. Described as a "meditation in documentary form," the film will feature interviews with Zhao, Music by Sonoda, Oh My Muu and more. moonroom is accepting donations during this time, which will go toward AAPI and Desi artists who have been impacted by COVID-19. You can also check out their APAHM playlist here.