Social media trends may come and go, but food is forever. From restaurant recommendations to outright "food porn," the possibilities are endless when it comes to creating appetizing content. But while some food influencers may make content just to fill the timeline, others are utilizing their following to pursue their passions in the culinary industry. Meet these five Asian food creators paving their own way offline and try out one of their signature recipes for yourselves.
H Woo Lee | @HWoo.Lee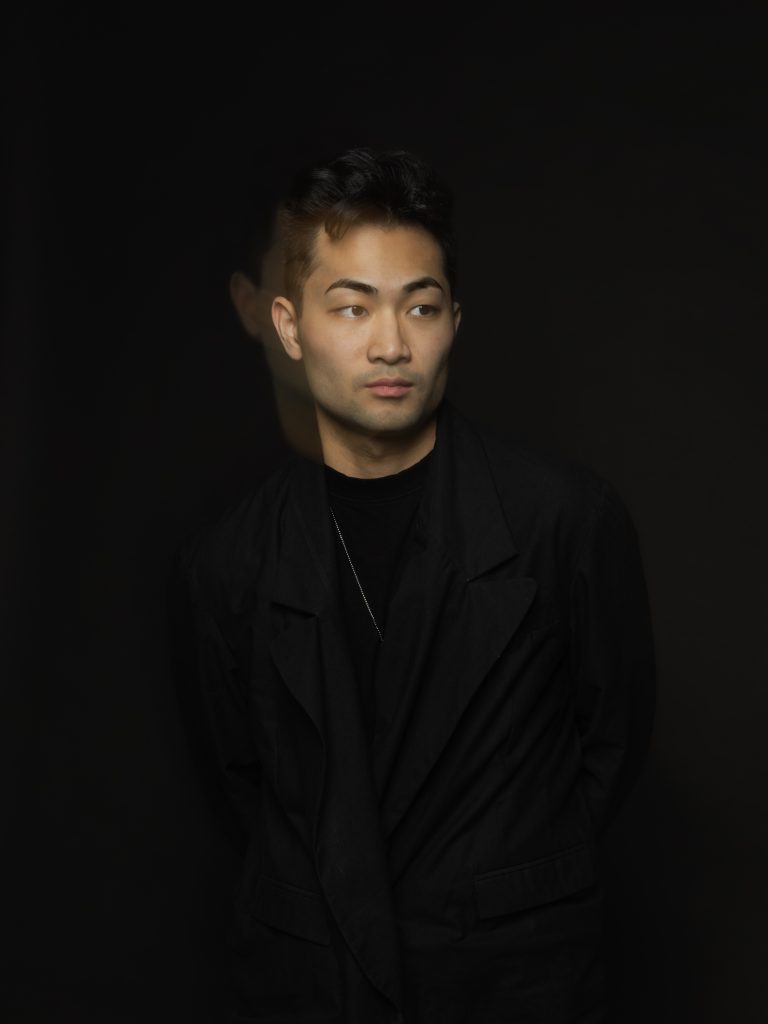 "I'm a very big believer in learning something and doing it the proper way before I'm allowed to break the rules."
— H Woo Lee (Photo by Brent Ferguson.)
Many novice cooks don't have the tenacity to attempt Michelin-level dishes, let alone college students learning to cook for the first time. Most known for his ASMR-style, beat-for-beat editing and his penchant for gourmet dishes, H Woo Lee is running the gamut of fine dining right from his home kitchen. Lee started cooking out of necessity while in university, as food options around USC were limited to student dining and fast food. He never intentionally set out to make restaurant-quality dishes, just wanting to recreate food he wanted to eat — which happened to include things like dry-aged rib eye with foie gras sauce.
What started out as a necessity became a passion, with Lee taking the time and effort to learn from YouTube, cookbooks and through other cooks. While in school, he started Maru, a supper club operating out of his apartment where he hosted private dinners and tasting menus for friends. Lee didn't think much of pursuing the food industry, instead pivoting to focus on his event planning career. It wasn't until during the pandemic that he revisited food and cooking as a profession when his social media accounts began to grow. Some of his first forays into TikTok saw him cooking gourmet meals for himself, like freshly made squid ink pasta in uni cream sauce and yellowtail aguachile, edited with quick cuts and little to no narration that has now become his signature.
But before anyone calls him a chef, Lee clarifies he needs to hone his skills more. "I'm a very big believer in learning something and doing it the proper way before I'm allowed to break the rules," he says. "Like, I didn't go to culinary school, I didn't work in restaurants, [yet] people call me a chef. I'm the essence of breaking rules but I want to know all the rules so I can break more." He's taken up internships at restaurants in order to learn more about the techniques and fundamentals of different culinary disciplines and operations, including fish butchery and mixology.
Lee expresses that content creation is not his end goal, despite how popular he may be among his 1.4 million TikTok followers. He has always wanted to open his own restaurant and host people for an evening of good food, drinks and vibes. "I feel the most joy when I'm in-person doing a five-course menu at my house for 10 people and trying to make them as happy as they can be," Lee shares. "I'm learning as much as I can about food so that I can eventually do what I really love doing, which is hosting."
Burnt Honey + Whiskey Ice Cream
300 g cream 
100 g honey 
20 g whiskey 
2 g salt 
50 g sugar 
2.5 stabilizer (follow package instructions) 
100 g egg yolks 
100 g buttermilk 
Instructions:
Caramelize honey over med-high heat until almost burned (it should have a dark amber hue)
Carefully add whisky and let the alcohol burn off
Slowly and cautiously whisk in the cream until a caramel forms
Whisk in salt, then chill in the fridge
Combine milk, glucose syrup, sugar, and stabilizer in a saucepan and bring to a boil
Add egg yolks to a blender (or whisk in a bowl by hand)
Slowly add the hot milk mixture to the blender (or bowl)
Using a thermometer, make sure mixture does not go about 180F
Chill in an ice bath
Once chilled, whisk in burnt honey mixture and buttermilk
Place ice cream base in the fridge overnight to cure
Follow your ice cream machine's instructions to churn
Bonus: Candied Sesame + Gochugaru Walnuts (Optional)
200 g/2 cups walnuts 
2 oz/55 g sesame seeds 
¼ cup/62 g water  
100 g sugar 
2 teaspoons/10 g gochugaru 
Salt
Instructions:
Line a baking tray with parchment paper and preheat oven to 350F
Combine all ingredients in a saucepan over med-high heat
Occasionally stir to coat, and let water boil off almost completely. The texture should almost be like "wet sand"
Let cool, then remove from parchment paper
You can either leave the walnuts whole, or you can chop them up as a smaller garnish 
Kat Lieu | @SubtleAsian.Baking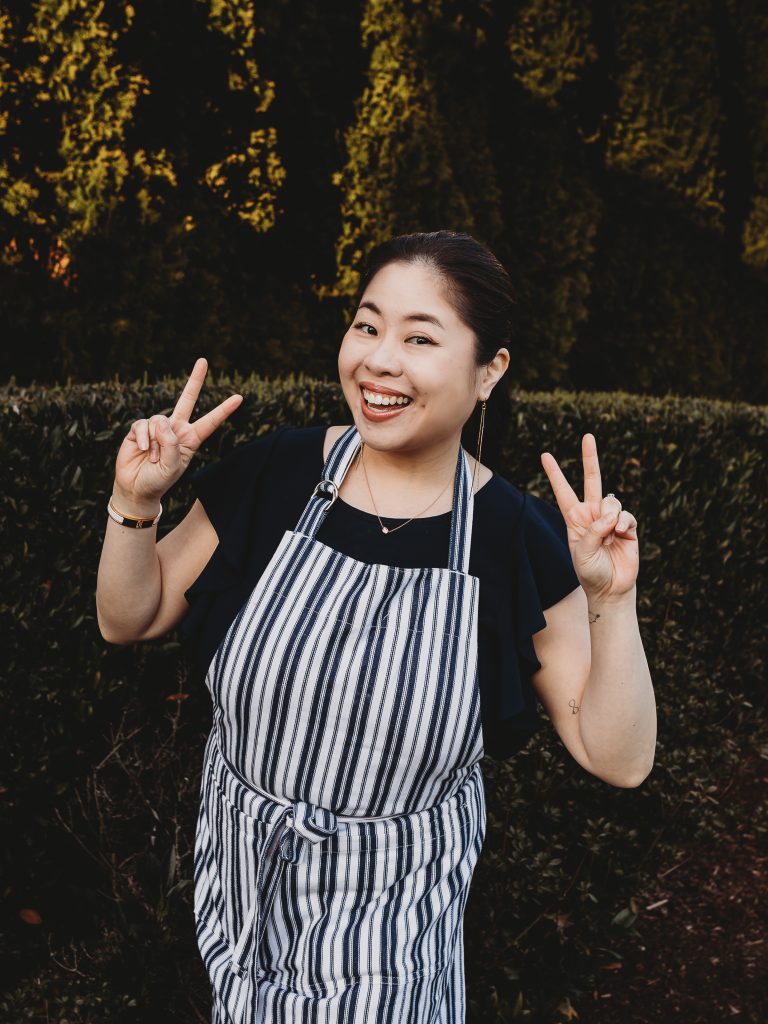 "Our recipes are very third culture … it's helpful in fusing all these flavors and techniques to make new things."
— Kat Lieu (Photo by Gabriella Nicole.)
The ultimate compliment someone with an Asian-trained palate can give to a pastry chef is that their food is "not too sweet." It's a balance of flavors that Washington-based recipe developer and content creator Kat Lieu has nearly perfected over the years she has been experimenting with her recipes. Founder of the popular Facebook group, Subtle Asian Baking, Lieu started cooking and baking as a kid. Growing up, she helped her parents steam rice and prepare chicken, and would spend summers in Montreal, watching her grandmother make choux cream and mooncakes. Lieu has had a lifelong affair with the culinary arts, but was pushed towards a financially stable career in healthcare in her young adulthood.
In 2020, when people were home more than ever, she made the leap into the food industry. While in lockdown, Lieu started the Subtle Asian Baking group to fuel creativity among those who were taking up baking and enjoyed taking risks on classic treats by adding Asian concepts and flavors they may have grown up eating. "The things that came from Asian bakeries are not always sweet," she says, citing pork floss chiffon cakes and salted egg yolk mooncakes as examples.
One can find unconventional baking ingredients like mochi, miso and even gochujang present in many recipes on Subtle Asian Baking, as many of the members try to hit the next trend in baking. "Knowing to balance all these flavors — haam, suen, fu, laat — I think that's where the experimentation comes from," Lieu says. "Our recipes are very third culture … it's helpful in fusing all these flavors and techniques to make new things."
What started as a pandemic project became Lieu's new livelihood as managing Subtle Asian Baking, a brand that currently has over 157,000 members on Facebook and 156,000 followers on Instagram, has granted her brand partnerships, a book deal and a burgeoning food writing career. Lieu's first cookbook, "Modern Asian Baking at Home," is heavily inspired and influenced by Subtle Asian Baking. She and her community has also helped raise over $100,000 for Asian American and Pacific Islander-focused organizations like the Very Asian Foundation and Vietnam Health Clinic in Seattle. Lieu is currently working on her second cookbook based on the dishes in her everyday life like a laksa recipe beloved by her friends and is writing part-time for Tasting Table. She also hopes to raise another $100,000 for charity and develop a cooking show to showcase her expertise.
Doubanjiang Red Velvet Mochi Brownies
Ingredients:
½ cup (112g) butter, softened
1 cup (200 g) granulated sugar
2 large eggs (about 100 g)
½ to 1 teaspoon doubanjiang (Chinese fermented chili bean paste, common in Sichuan cooking)
1 teaspoon vanilla extract, optional
8 oz (228 g) high-quality semisweet chocolate, chopped
½ cup (120 g) milk
1 cup (120 g) glutinous rice flour
20 g Dutch-processed cocoa powder
10 g red beet powder
drops of food coloring gel, optional
Instructions:
Preheat the oven to 350°F (180°C) with a rack in the center.
Line an 8-inch (20 cm) square baking pan with parchment paper.
In a stand mixer fitted with the paddle attachment, beat the butter and sugar until well incorporated. Add the eggs, doubanjang, food coloring, and vanilla extract and mix until well combined, scraping the sides of the bowl as needed. It's OK if the mixture looks oily and gritty at this point.
Melt one-half of the chocolate with a double boiler or in the microwave in 20-second bursts. Set the other half of the chocolate aside.
Add the melted chocolate and milk to the stand mixer and mix on low speed until incorporated. Sift in the flour and cocoa powder. Using a flexible spatula, fold to combine. Do not overmix the brownie mixture. Fold the chocolate chunks into the batter.
Transfer the batter to the prepared baking pan. Be sure to spread the brownie mixture evenly, covering every corner of the pan. Bake for about 50 to 60 minutes, until an inserted toothpick (or bamboo stick) comes out clean.
Cool completely at room temperature. Slice into 9 even pieces.
Store leftover brownies in an airtight container and consume within a few days
Mehreen Karim | @ReenieKarim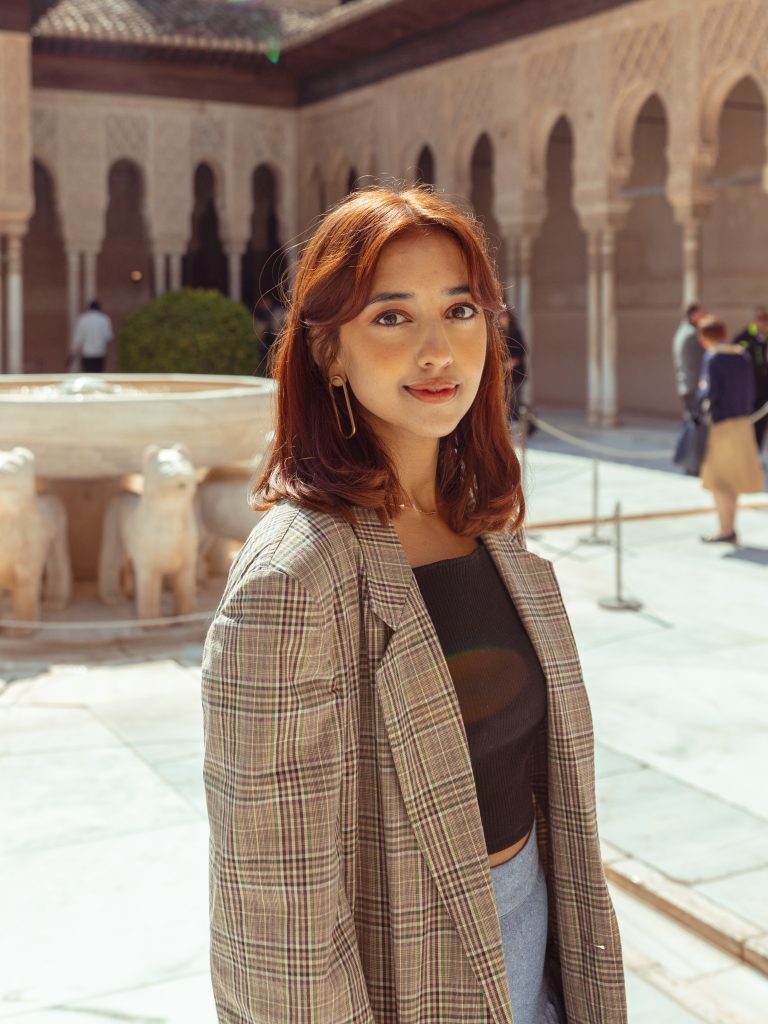 "I never thought I could [become a food content creator]. I didn't give myself permission to dream that big or think that I could enter that space and succeed in it."
— Mehreen Karim (Photo courtesy of Mehreen Karim.)
Imagine going from working at a nonprofit to cooking for the likes of Gordon Ramsay on national television. Home cook and food writer Mehreen Karim doesn't have to imagine too hard, as her emerging career has brought her to that exact point. Karim grew up cooking alongside her mother in her home state of Georgia, learning to make a variety of dishes from various cultures due to her diverse upbringing. As she began sharing her recipes online, she thought seriously about what she had to offer as a recipe developer. She wanted to produce recipes that she had a unique say in, that blended her Muslim and Bangladeshi heritage with the food she grew up with.
Karim launched her food blog in the summer of 2020 to help archive the recipes she was sharing with friends who were cooking at home more than ever and was in the process of being convinced by a friend to shift careers from working at the International Women's Health Coalition in her new home of New York City to becoming a writer at Bon Appétit, a food and entertaining magazine. After a long hiring freeze and a couple of informational calls with Eater and VICE food contributor Bettina Makalintal, Karim was brought onto Bon Appétit as their Recipe Production Assistant. "I never thought I could [become a food content creator]," she says. "I didn't give myself permission to dream that big or think that I could enter that space and succeed in it."
She was later approached in 2022 to submit a tape for the second season of "Next Level Chef," a competitive reality cooking show hosted by celebrity chef Gordon Ramsay and featuring "Top Chef"'s Nyesha Arrington and Richard Blais as mentors. During this time, she also began to post more on her social media, investing in Instagram reels and TikTok to showcase her cooking skills and to react to her appearances on "Next Level Chef" as the episodes came out. "It was really cool because I got to experience watching myself on TV […] and I got to translate that reaction to TikTok," she says. "I think people enjoyed understanding a personal insight into these contestants that they're watching every week."
Since appearing on the show, Karim hosted her first pop-up restaurant, Reenie's, at Gertie, a modern "Jew-ish" diner in Brooklyn, a goal that she had verbalized while on the show. The pop-up sold out an hour after tickets were released and served four courses that perfectly blended Karim and Gertie's culinary profiles, including honey-glazed Kashmiri chili challah knots and tamarind braised brisket, to friends, family and fans. For the next chapter in her life, she wants to cultivate a clear culinary presence in New York City and has plans to host more pop-ups that explore American Southern, South Asian and South East Asian cuisines.
Salmon Curry
<
Ingredients:
2–3 salmon fillets, skin-on 
2 tablespoons neutral oil 
6 oz broccoli florets, chopped 
1 yellow onion, diced 
5 large cloves garlic, minced 
3 anchovies or 1 teaspoon fish sauce 
3 tablespoons tomato paste 
1 tablespoon sambal oelek 
1 tablespoon honey
1 tablespoon rice vinegar 
½ tablespoon kosher salt 
1 tablespoon ground turmeric 
13 oz can of coconut milk 
1 cup vegetable broth or water 
Rice or naan, to serve 
Instructions:
Heat a deep-sided, large skillet on medium heat. Add 2 Tbsp neutral (canola or vegetable) oil to the skillet. 
Pat salmon fillets dry with a paper towel and place onto the hot skillet, skin side down. Let fry undisturbed for 3-4 minutes, or until the skin is browned and crispy. Flip salmon flesh side down and cook for no more than 30 seconds, allowing the flesh to just barely cook. Place salmon fillets onto a plate, skin side up, allowing the skin to stay crispy.
Add an extra 1 Tbsp of oil and the chopped broccoli to the same skillet and set to high heat. Leave the broccoli undisturbed on the skillet, letting it fry and char on the high heat, for about 5 minutes. Once the broccoli edges are charred, set aside on another plate. 
Add the diced onions to the same skillet with the reserved oil. Saute on medium heat for 2 minutes or until the onions are softened. Add the minced garlic and anchovies and continue frying for another 5 minutes, or until the garlic is fully cooked through. Add another drizzle of oil if the mixture is drying out or sticking to the skillet. 
Finally, add the tomato paste, sambal oelek, honey, rice vinegar, salt, and ground turmeric. 
Stir and saute for 7-10 minutes, or until the mixture has fried down into a deep brown paste. If the paste at any point sticks to the pan or burns, add a ¼ cup of water to deglaze the pan.
Add the coconut milk and water and stir to meld and incorporate the paste and liquids completely. 
Lower the heat to medium-low and add the charred broccoli and let simmer in the curry for 2-3 minutes or until just tender. 
Place the salmon fillets in the curry, skin side up so the pink flesh is submerged in the gravy. Simmer on low heat for 4-5 minutes, or until a fork can easily flake a piece of salmon off. 
Serve salmon curry with rice or warm naan.
Saeng Douangdara | @SaengDouangdara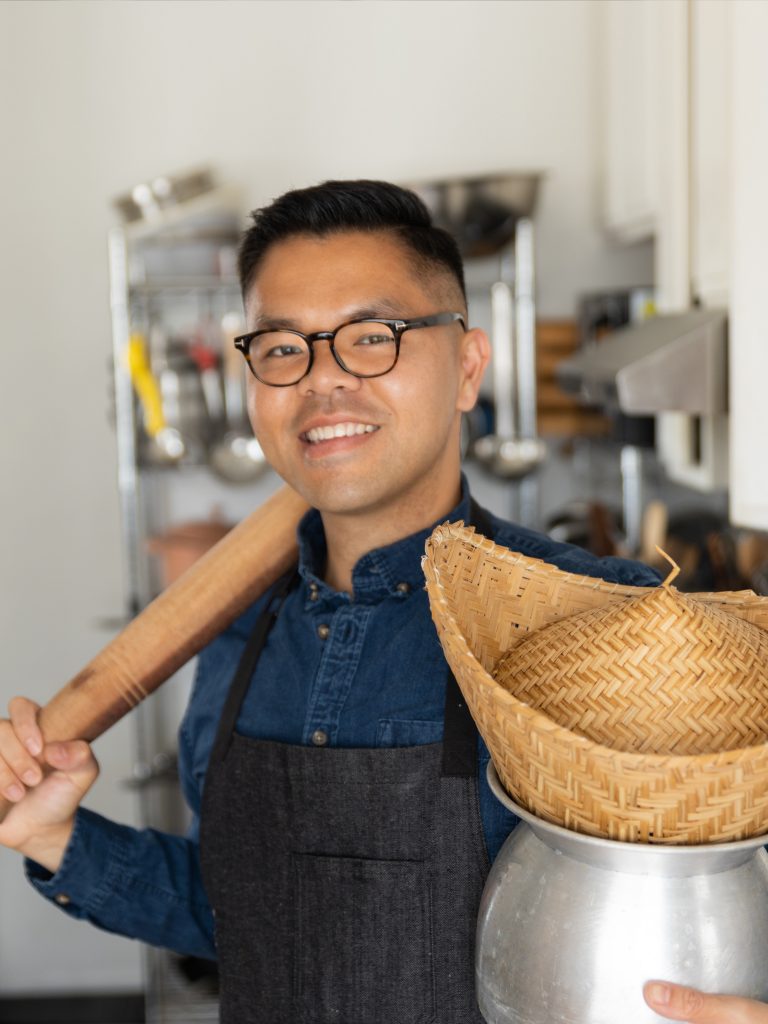 "Food was the connecting piece to understanding myself and my community."
— Saeng Douangdara (Photo by Saeng Douangdara.)
Chances are, people are consuming food content for educational purposes. Whether it's a new recipe or a fun fact about what we eat, there's an inherent exchange of knowledge happening. This is the crux of content creator and former private chef Saeng Douangdara, whose mission is to educate people about Lao culture and history by way of food.
Douangdara's passion for cooking stemmed from what was happening in his childhood kitchen with the same passion seeping into his adult life, as he spent the early years of his career moonlighting as an instructor at The Gourmandise School in Santa Monica while spending the days as a counselor at UCLA. Eventually, he quit his day job and backpacked across Laos to learn more about his home country's history and how to contextualize the localize cuisine there. "It wasn't until I did my own research that I understood why my parents didn't talk about certain things and why the Lao community is so spread out across the world," he shares. "So, food was the connecting piece to understanding myself and my community."
He never sought out to be a content creator, just wanting to fill the gap left open by mainstream media by sharing his heritage and experiences with others in and outside of the Lao community. Douangdara's recipe videos often see him preparing a traditional dish while overlaying it with a narration of Lao history or a personal story that adds more flavor to the typical cooking video. The comments are often positive, with others sharing their own perspectives that keeps the cultural exchange going. And because of the community he has built, he now has plans to host tour groups to take people around Laos to help further bridge the gaps between the motherland and the diaspora.
Additionally, Douangdara has been working on other ventures, including his own Lao spices set that includes laab, chili and BBQ seasonings. It's not only perfect for those wanting to try cooking with Lao flavors, but it's also helpful for those who don't have access to an Asian grocery store. "Living in Janesville, Wisconsin, we had to drive an hour away just to buy groceries, but for other people who live farther than that … it's hard," he says. "Which is why I wanted to create an e-commerce dry seasoning blend that is accessible to these pockets." He has plans to expand and explore more flavors, as well as create accompanying content to teach people how to use the blends in their everyday cooking.
Funky Fast Lao Laab
Ingredients:
8 ounces bone-in, skin-on chicken thighs, ground
2 tablespoons Saeng's Kitchen Lao laab seasoning blend
1 tablespoon padaek (unfiltered fish sauce)
1 tablespoon lime juice
¼ cup thinly sliced green onion
¼ cup roughly chopped cilantro leaves
¼ cup whole mint leaves
¼ cup minced lemongrass
1 fresh bird's eye chili, thinly sliced (for garnish) 
Instructions:
Remove the skin and meat from the chicken thighs, save the bones to make soup.
Mince the chicken meat or use a food processor to roughly grind it.
Heat a skillet over medium heat and cook the chicken skin until most of the fat is rendered and the skin becomes crispy and golden brown. Set the crispy skin aside.
Add the ground chicken to the skillet with the rendered fat and sauté for 6-8 minutes, or until cooked through.
In a large bowl, combine the cooked ground chicken, Lao laab seasoning blend, padaek, and lime juice. Mix well to combine.
Gently toss in the sliced green onion, chopped cilantro leaves, whole mint leaves, and minced lemongrass.
Plate the mixture and garnish with thinly sliced bird's eye chili pepper. Crumble the crispy chicken skin on top.
Serve with sticky rice and lettuce. Enjoy your delicious dish!
Tuệ Nguyen | @TwayDaBae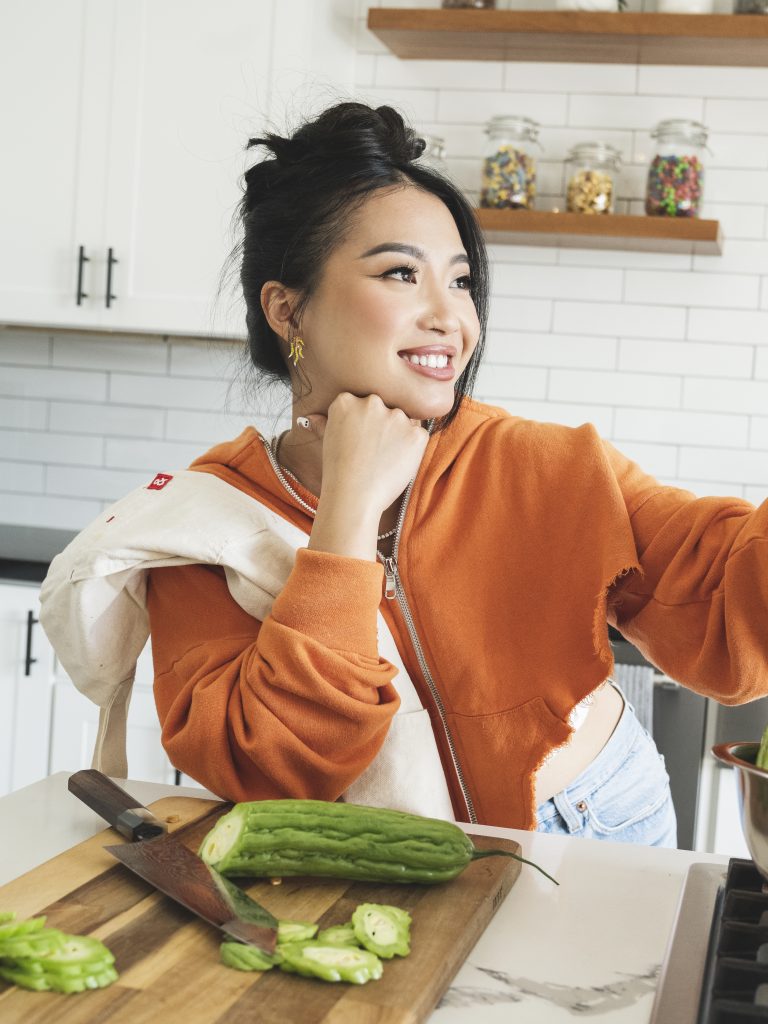 "It's one thing to just plan [the menu and how the restaurant looks] but it's another to really execute it, so watching the restaurant come to life little by little is crazy."
— Tuệ Nguyen (Photo by Victoria Stevens.)
Imagine this: you're a young adult who just started living on their own and you're missing your parents' cooking. What do you do? If you're on social media, you may look to Tuệ Nguyen, a content creator whose recipe videos make Asian cuisine approachable and easy to follow. Going by TwayDaBae, she first started her YouTube channel while in culinary school, making food reviews and mukbangs. She later pivoted to making cooking videos during the pandemic, amassing a following of over 1 million people combined on Instagram, TikTok and YouTube.
Heavily influenced by the Southeast Asian flavor profile she grew up with, Nguyen often found herself gravitating toward ingredients like fish sauce and lemongrass while in culinary school when class assignments were technical and paint-by-numbers. When Nguyen branched into making content, she took that philosophy with her and made it a mission of hers to make Asian food less intimidating in her own way. Not having much experience in the kitchen growing up, she realized the more she began to cook that cooking could be simple. "The easier, the better," she says, sharing her culinary philosophy. "If I'm at home, I'm not going to spend all day cooking. I'm going to spend 10 minutes cooking and the rest of the time eating."
Once she gained an audience, Nguyen began hosting her own pop-up restaurants around Los Angeles and New York City, including a collaboration with Roy Choi's Kogi truck. Her pop-ups allowed her to experiment with different restaurant concepts and figure out what kind of eatery she hoped to eventually open. A dream that is now coming true, her first brick-and-mortar restaurant, Đi Đi, opened in July 2023. Đi Đi is a culmination of all of Nguyen's hard work over the years and will feature an elevated Vietnamese menu and a curated atmosphere that has her detailed stamp of approval. "It's one thing to just plan [the menu and how the restaurant looks] but it's another to really execute it," she says. "So watching the restaurant come to life little by little is crazy."
In addition to opening Đi Đi, Nguyen has her own special fish sauce coming down the pipeline in collaboration with Red Boat Fish Sauce, and a cookbook that is coming out in Spring 2024. Nguyen has attributed her rapid success to social media, citing how she's been able to tell her own story the way she wants it to be told, in a way that has been received well by people everywhere.
Honey Glazed Shrimp
Ingredients:
½ pound jumbo shrimp, head and tails removed 
½ cup cornstarch 
1 large egg  
1 tablespoon oyster sauce
2 tablespoons soy sauce 
2 tablespoons apple cider vinegar 
3 tablespoons honey 
1 teaspoon cayenne pepper 
1 ½ teaspoons red pepper flakes
½ cup avocado oil 
½ teaspoon kosher salt
½ teaspoon freshly ground black pepper
Steamed white rice, for serving
Instructions:
Devein, pat the shrimp dry with a paper towel and set it aside. 
Separate the egg white from the yolk. In a small bowl whisk up the egg white until it gets nice and foamy. Add 1 cup cornstarch to another small bowl with the salt and pepper.
Dip the shrimp into the egg white foam then dunk it in the cornstarch. Make sure that it's nice and coated on both sides.
Heat up 1 cup cooking oil in a medium saute pan on high heat. Place the coated shrimp in the pan and shallow fry until it develops a golden brown crust, about 30 seconds. Flip and let the other side develop color as well. Make sure to not cook the shrimp all the way through, take it off the oil as soon as you see color forming.
In a small bowl, combine 1 tablespoon oyster sauce, 2 tablespoons soy sauce, 2 tablespoons apple cider vinegar, 3 tablespoons honey, 1 teaspoon cayenne pepper, and 1 ½ teaspoons red chili flakes. Mix well. 
In the same pan that the shrimp was cooked in, reserve 1 tablespoon of the cooking oil, enough to coat the bottom of the pan. Discard the excess oil. Lower it to medium heat and pour the glaze mixture into the pan. Reduce until the sauce thickens, 3 to 4 minutes.
Add the cooked shrimp to the sauce and toss until every piece is coated. 
Take it off the heat and enjoy with rice.
---
This article will appear in Character Media's Annual 2023 Issue. Read our 2022 issue here.