I catch Bianca Bustamante between travel days, on a rare morning spent at home in Manila. She touched down three days ago, but the half-packed suitcase between us already alludes to her next adventure.
"It's been one of the craziest weeks of my life," she tells me, folding her fireproofs neatly into her luggage. "As soon as I got off the track in Austin, I was on a plane for the Philippines — race sweat, messy hair, everything. I leave for Sydney tomorrow."
Not many 18-year-olds spend their weekends juggling cross-continental training sessions with practice laps hitting 260 kilometers per hour. But for Bustamante, it's all part of the job.
She's a professional racing driver. And she's one of the best in the world.
Bustamante (or Bia, as she's affectionately known) was one of 15 drivers on this year's inaugural F1 Academy grid. An all-female junior league partnered with Formula 1, F1 Academy is designed to help young women racers rise through the feeder formulas for a chance to reach the coveted F1 — a stage that only two female racers have ever seen.
Having made her single-seater racing debut just last year, Bustamante's four podium finishes and two race wins have already cemented her as a rookie to watch. But to many, her success is much more than a trophy or a checkered flag.
Bustamante's inaugural victory in Valencia this May made her the first Filipina winner of any race sanctioned by the Fédération Internationale de l'Automobile, the governing body of world motorsport. And in an arena where Asian faces — especially Asian female faces — have rarely ever been celebrated, her teary-eyed podium quickly became one for the masses.
"We are filled with pride upon hearing the Philippine national anthem played on the F1 stage for the very first time," Philippine President Bongbong Marcos tweeted to Bustamante after her win. "Continue to break barriers and inspire young women around the world."
And for the promising junior racer, this moment's been a lifetime in the making.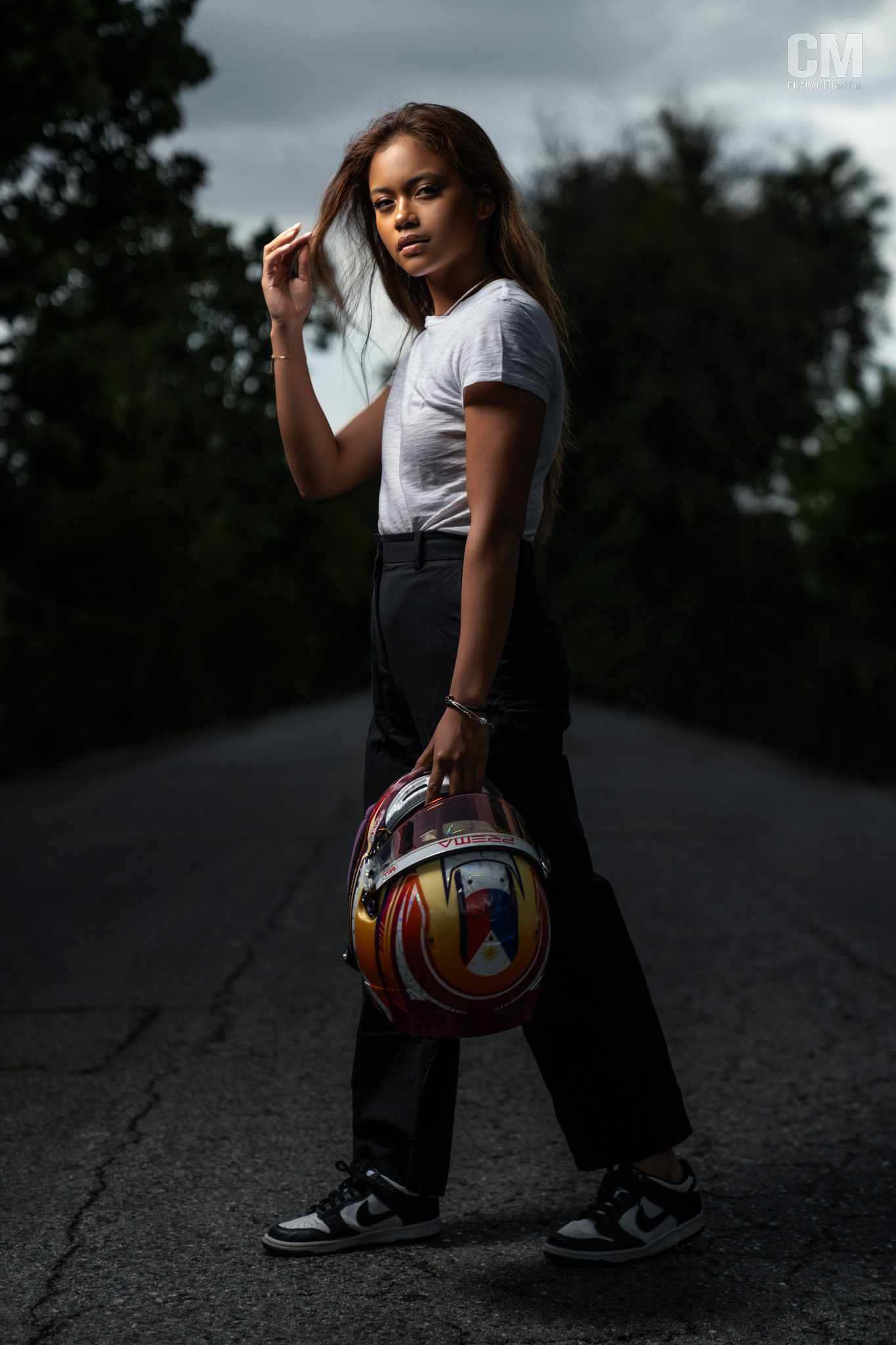 As the daughter of a once-aspiring racecar driver father, Bustamante found herself in a racing suit at age 1 and behind the wheel at age 3. While other children played pattycake and skipped around in the streets, Bustamante found comfort between the throttle and the brakes — carving corners in her go-kart as the village passed by in a blur.
"It was one of those moments in life where it just clicks; everything just feels right," she says, recounting her first time in the driver's seat.
"It's crazy to say that I was born for it, but honestly, that's really what it felt like."
By age 6, she had won karting races all around the Philippines. By 7, she'd taken home her first international title.
"That was the first turning point in my career, that Macau Kart Grand Prix at age 7," she says with a laugh. "That's when I thought, 'Maybe I do have a chance at this.' And I was ready to give it my all."
Even then, Bustamante understood the immense dedication demanded of competitive drivers. Though karting circuits in her native Laguna were few and far between, she spent her off-track days analyzing race reruns and simulating the car's G-forces at the gym — priming herself for the next time she'd hit the asphalt.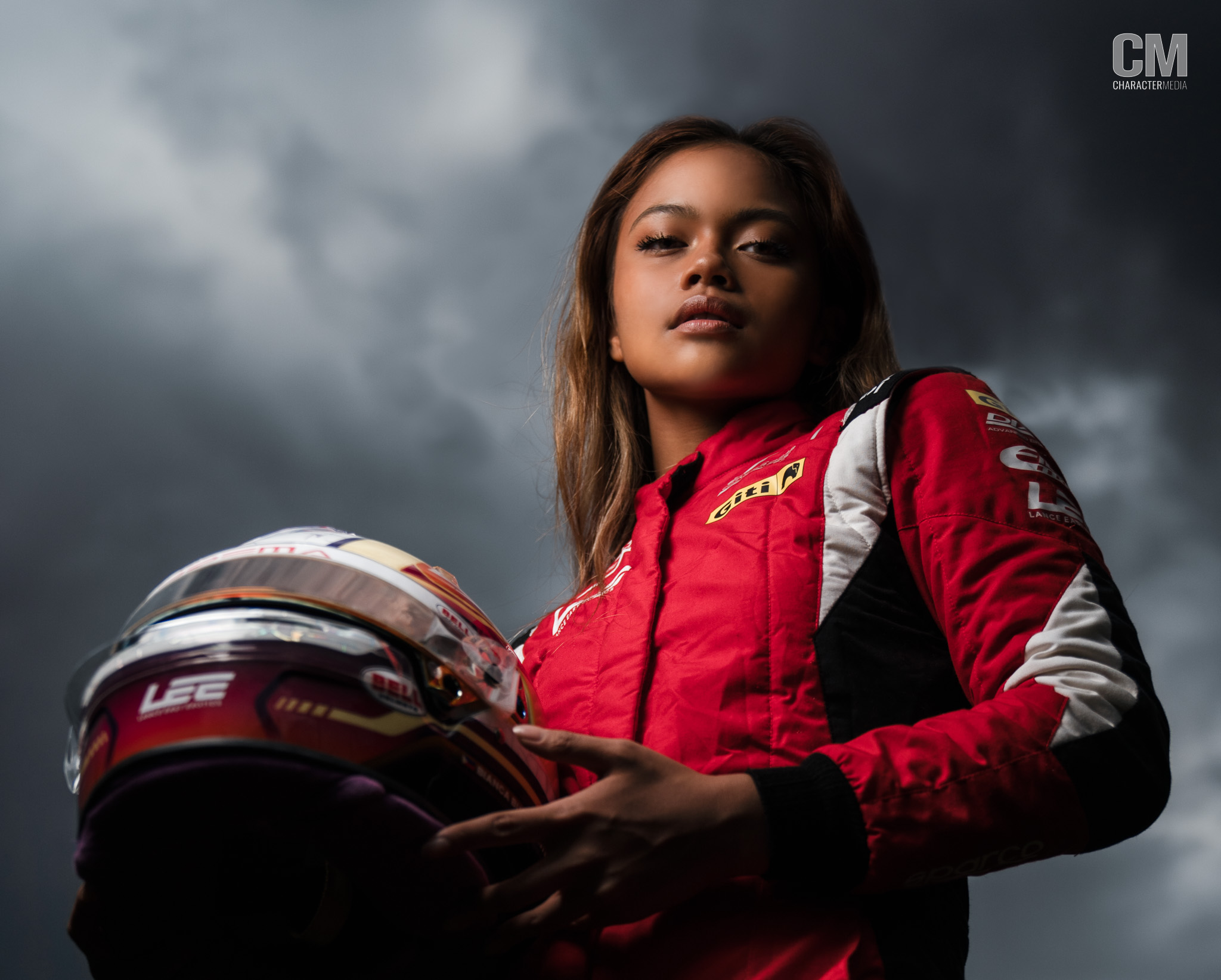 "Racing was never something I could just do on the weekends or as a hobby," she says. "My family made all of these sacrifices for me to be able to pursue this dream, so I couldn't afford to take any of it lightly" — which was true in more ways than one.
Laden with travel costs, entrance fees and cars with a six-to-eight-digit price tag, formula racing is one of the most expensive sports in the world. And while for many aspiring racers this can mean the death of a dream, for the Bustamantes, it meant saving every cent to keep Bia in the driver's seat.
"My dad was an overseas worker; he worked three jobs, seven days a week, to allow me to do this," Bustamante says. "So when I hit the track, that's what made the difference.
"I was more eager, more disciplined. I knew it wasn't just for me, but for my family, for my country — for everyone supporting behind me. That's fueled me to reach even greater heights."
The latest of these heights? Securing the first-ever F1 Academy Team Championship alongside her fellow drivers at Prema Racing. The picture-perfect end to her historic season, Bustamante hopes their victory helps move the needle forward — showing young girls that, "It's not just for boys; you can be feminine and soft and gentle and still kick ass on track."
She continued, "Formula 1, the whole motorsport community, we're bettering ourselves a little bit every day. It's truly beautiful to see all these initiatives opening up for women in the sport — and not even just for driving. Girls are becoming engineers, mechanics; they're not afraid to pursue paths that are often male-dominated. And we do what we do to pave the way for the next generation."
With every push of the pedal, Bustamante and F1 Academy are redefining what it looks like to perform at the pinnacle of motorsport. So, what would the young racer say to other girls dreaming of the driver's seat?
"Don't take any advice from me, I'm only 18," she laughs. "But honestly, I would say to not worry about the future. To not worry where you'll be in a few years and to just enjoy the journey.
"Enjoy that you get to live this life — that you get to work hard for your dreams and have the chance to pursue them — because not many people do."
Lucky for Bustamante, it seems her dreams are just about within reach.
Three days before the final F1 Academy race of the season, legendary F1 team McLaren Racing announced that Bustamante would be joining them as a development driver in 2024 — making her the first female development driver in their 60-year history. With eight world championships and many a racing great as part of their legacy, McLaren is synonymous with nurturing talent and pushing the limit, from the first lap to the final flag.
"A good start can get you so far in a race," Bia tells me, a bright smile spreading across her face.
Good thing she's just getting started.
---
This article will appear in Character Media's Annual 2023 Issue. Read our 2022 issue here.