At downtown Los Angeles' Sari Sari Store, bags of chips, jars of preserves and packets of dry noodles adorn the front of the stall. Colorful tins and containers hold a variety of spices and condiments essential to Pinoy food. Sari Sari could easily be mistaken for a general store in Manila, where one can purchase anything from toothpaste and newspaper to rice and mops.
However, this particular location, in the middle of Los Angeles' Grand Central Market, is the brainchild of husband-and-wife chef duo Walter and Margarita Manzke. Owners and operators of some of Los Angeles' best restaurants, like République and Petty Cash Taqueria, the Manzkes brought the quirky food stall to life by anticipating just when Filipino food would have its mainstream moment. "Adobo Fried Rice," "Lechon Kawali," "Buko Pie" and good old halo-halo are just a few of the staples available at Sari Sari Store today.
Raised in the Philippines, Chef Margarita was born into a family of chefs and bakers. Her grandmother, mother and relatives owned and operated restaurants that Margarita worked at throughout her younger years, developing a palate for flavorful food. On her father's advice, Margarita headed to London to study pastry at Le Cordon Bleu, and then went on to receive a degree in Culinary Arts from New York's Culinary Institute of America. "It was such an eye-opening experience," Margarita says, reminiscing on her time spent in training. "It was the first time we were exposed to caviar, dover sole, truffles and other luxury ingredients we never had access to in the Philippines."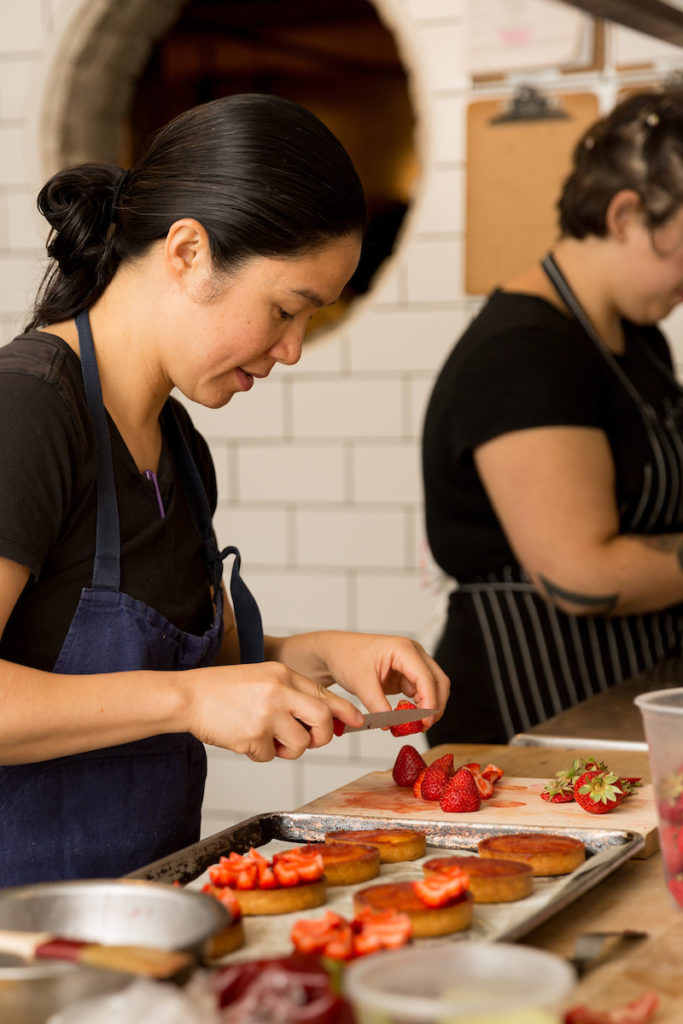 If moving to a new country, working long grueling hours in the kitchen and poring over cookbooks was a challenge, Margarita doesn't carry any scars. Instead, she remembers only the thrill and excitement of the ride, elated to be immersed in doing what she loves. After graduating, she worked with culinary giants like Josiah Citrin, Wolfgang Puck and Joachim Splichal before turning her sights on opening restaurants with her husband and business partner, Walter. What followed was a bevy of top-notch eateries: Petty Cash Taqueria, République, Sari Sari Store and now Bicyclette, which is set to launch this spring.
Los Angeles has become a hub for global cuisine, brought to patrons by incredibly talented chefs who represent their cultures. So when the space at Grand Central became available, it felt like the perfect opportunity to bring Filipino food to a diverse group of people. At Sari Sari Store, the menu is based around silog, savory rice bowls containing fried rice, protein and a fried egg, the perfect gateway to Pinoy cuisine. "It's a small introduction to Filipino food," says Margarita. "Everybody understands it and the flavors are there."
Though some traditional Filipino ingredients are switched out for locally available substitutes, the results are a strong nod back to Margarita's heritage. In the halo-halo, which traditionally means "mix mix," she opts for fresh fruit and locally available ingredients over preserved fruit, which are typically placed in large jars at the fronts of sari sari stores in the Philippines. The buko pie is a luxurious coconut custard with a flaky pie crust (expect no less from the hands of pastry wizard Margarita), and cream topped with jelly-like slices of young coconut.
For Margarita, traveling the world is a vital way to introduce her two children to different cultures and the myriad of delicious food each country has to offer. "I've never seen so many different kinds of bread," she recounts of a recent trip to India. The Manzkes often visit their family back in the Philippines so that the children remain connected to their rich heritage. "When they see something different from the usual, it allows them to be receptive of new things."
---
March 30, 2020: Sari Sari Store remains open Sundays through Tuesdays and Thursdays through Fridays for pickup, takeout and delivery options.