Justine Mae Biticon's Hollywood apartment is wrapped in late-afternoon shadows from the surrounding buildings, but there's still plenty of light to make out the grills that glitter on the model's canine teeth as she flashes a grin. She's busy finishing up an email, her long frame stretched out on a sofa, but she looks like she's just stepped off the glossy pages of a fashion magazine.
"I've had meetings all day, just running around showrooms in L.A.," Biticon says, her nails clicking on the laptop keyboard. "It's been really hot, and I decided to wear long sleeves, so that's perfect. All black, you know, even better."
Despite the soaring L.A. temps, Biticon has plenty of experience with keeping her cool. The 21-year-old has modeled since high school, and was just 18 when she made her national debut on a certain Tyra Banks-led reality TV show. Biticon signed to Ford Models less than a year later, and subsequently became the face of an international Nike campaign. She's also appeared in a number of popular music videos, including one that's so high-profile she declines to specify it. "I hate name-dropping and being weird," she explains.
Long before her days of not-name-dropping, Biticon had other, but still lofty goals. Like many first-generation Asian moms, Biticon's mother wanted her daughter to become a surgeon—and/or an Olympic athlete, of course. So, when Biticon first began modeling, she hid her work from her mother, often saying that she was off to figure skating practice when she was instead headed to photoshoots. "I didn't tell her until I turned 18, and I was flying to New York without her knowing I was flying to New York," Biticon says, with a sheepish smile. "I don't think my mom associates being a model with being happy. She associates being happy with being a doctor and having a stable job, which is understandable, because she just wants the best for me. But this is a job that makes me happy, and I like what I do."
Biticon overcame plenty of hurdles to reach that positive mindset, however. It'd be impossible to tell from the polished, confident self-image that Biticon promotes, but she coped with crippling doubt and depression even in the early days of her career. Looking at the supermodels that inspired her, Biticon struggled to appreciate her own appearance as a Filipina-Latina woman. "I wanted to be a white woman so bad when I was in middle school," Biticon says. "I wanted to be something other than Filipino. There's also a lot of internalized hate within the Filipino community when it comes to our features: whitening our skin, getting a nose job to make our noses look different. Sometimes, I still feel like my facial features get judged a little differently in the industry."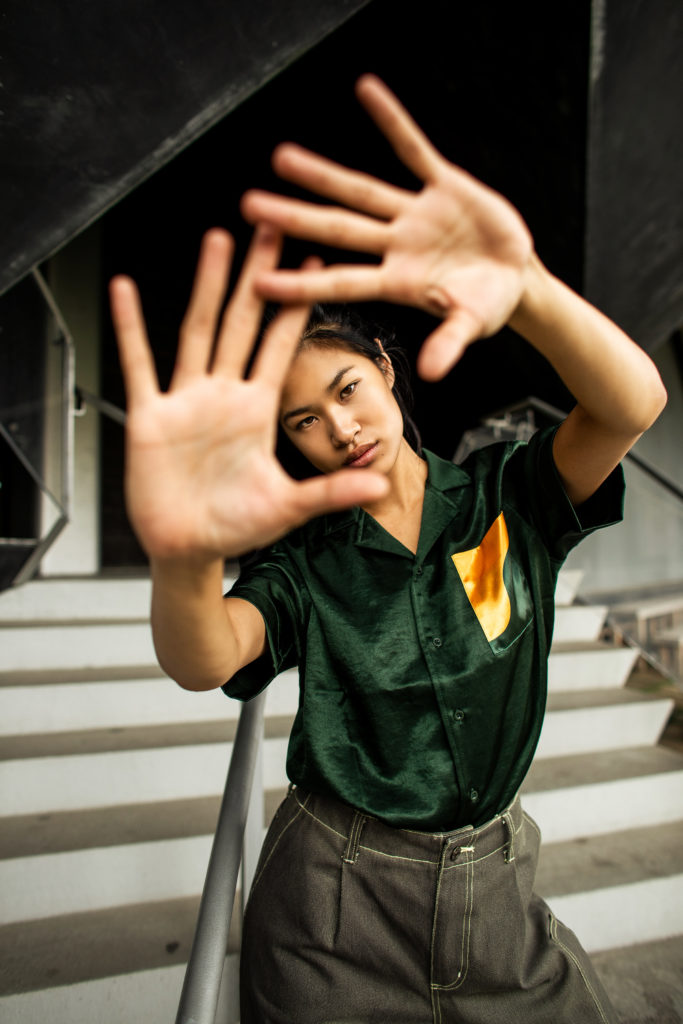 But after clients like Nike came calling, Biticon isn't letting those nagging voices in her head hold her back. She still remembers the insecurities she used to carry, and she's turned those memories into a concrete goal: to provide representation for other Filipino kids like her. "I realized that so many kids outside of my life are experiencing the same thing," Biticon says. "So, the main thing I want to do is just create representation, and a safe space for Filipino models and people of color. And show them that they can dominate in any industry, and they don't have to be afraid of who they are, because I don't want anyone to feel the way I felt when I was a kid."
Biticon isn't stopping at advocating for Asian American representation. She's also a proud social justice and environmental activist, and though she wrinkles her nose at the term "influencer," she says that she wants to spread awareness of issues she cares about through her widespread social media following. She's the first to admit, though, that outside Instagram, she's not perfect. "I've been trying to embody it, but it's really hard," Biticon says, pointing out a nearby Evian water bottle. "I'm also trying to find brands that don't just do fast fashion methods, and recycle clothing and things like that. I've really taken it into my industry and become very aware in my job."
It's that sense of awareness that's driven Biticon this far down the path of modeling. Now, as she looks to what's ahead, she's more conscious of the world around her than ever before. "I'm so focused on what's happening now that sometimes my goals get hazy," Biticon says. "But I'm just really excited to see where the Asian community can go in the next few years. Our time is now, and we're about to really make a dent in this industry, and whatever industry we put our minds to."
---
This article appeared in Character Media's October 2019 issue. Check out the e-magazine here.