At Character Media, we have been proud to cover AAPI media for over 30 years. In light of the recent attacks against the AAPI community, we reached out to the women in our industry to share their perspectives on the horrific events and to help amplify the stories of our community. These women are among many who have been impacted by the racism, xenophobia and sexism that exists in our country's long history. See what they had to say, how they're reacting to the violence and how they want people to help.
The day after the tragedy in Georgia, Ashley Park recorded and posted to her Instagram an emotional video detailing her thoughts and feelings on the recent attacks that were brought to light in the past year. "I'm so tired of people not knowing what's going on," the "Emily in Paris" actress lamented, "and also tired of people not understanding where these acts of hate and violence towards Asians are coming from."
She went on to say through tears, "I'm angry because I don't want to be bitter. I've lived my entire life trying not to be bitter and trying to move forward…in a society run by white supremacy."
Park also brought to light the microaggressions that many of the community may have experienced in their lives, "These things, yes it comes from entitlement and rage, but this racism starts at a very small level. It starts with things that you say. It starts when someone calls a virus that shut down the whole world the "Kung-flu" virus, but it also starts when you roll your eyes or make fun of the Asian waiters and Chinese delivery food people and the nail artists…It starts with stupid little jokes, even with your close friends. It starts with saying, 'oh, this is a good time for you to be in [the entertainment] industry because ethnic is really in right now. I can go on and on and on."
But, she does have a lot of hope that future generations will have the tools and the allies to deal with the onslaught of racist attacks, highlighting the importance of having a community around you.
Actor and comedian Sherry Cola felt a personal connection to the shootings in Georgia as her mother owns a small business in California's San Gabriel Valley. "My mom owns a local Asian business. It could have been any of our moms and so many of our Asian families and friends we know," Cola lamented. "Our parents are immigrants that came to this country with the least expectations. It was a wakeup call, almost like the final straw."
Cola spoke about the recent onslaught of hate crimes and her experiences with racism in the latest episode of Character Conversations with fellow actor Anna Akana.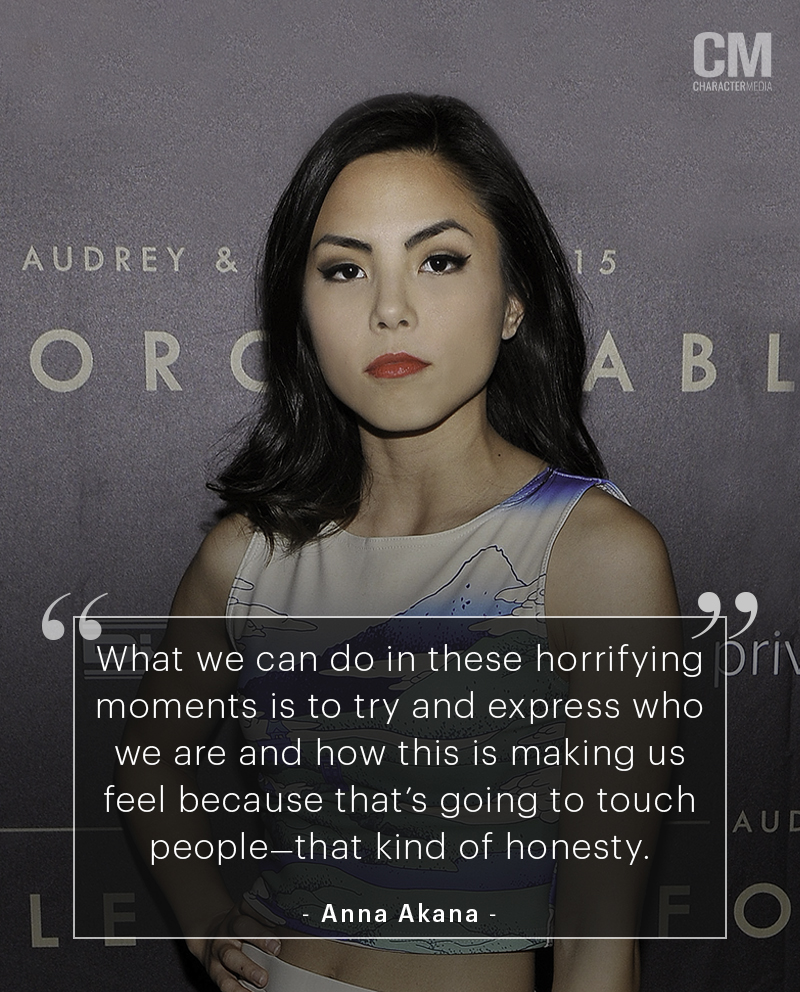 Actor and musician Anna Akana was outspoken on social media about the incidents and was incredibly candid about the racism and sexism she endured in the early years of her career in the entertainment industry in her Character Conversation with actor and friend Sherry Cola. She also wanted to advise people to confront their feelings about these issues. "What we can do in these horrifying moments is to try and express who we are and how this is making us feel because that's going to touch people—that kind of honesty."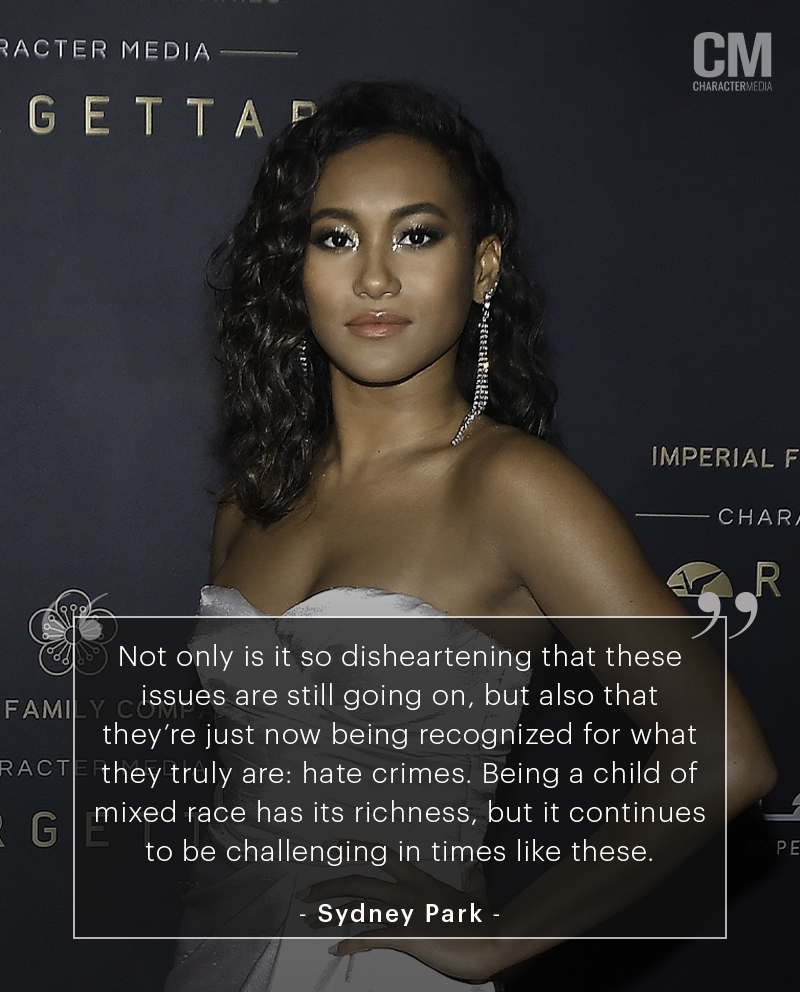 TEXT BY SYDNEY PARK
Growing up as the daughter of a Korean father and a Black mother, racism has unfortunately always been a topic I knew too well. My parents have and continue to endure discrimination for just being who they are and for coming together to have me. The racist attacks that have transpired against Asian Americans and Black people are absolutely horrific.
Not only is it so disheartening that these issues are still going on, but also that they're just now being recognized for what they truly are: hate crimes. Being a child of mixed race has its richness, but it continues to be challenging in times like these. It's safe to say that me & my loved ones feel an incredible amount of heaviness from the events that have transpired out of 2020.
I believe that the best possible thing we can do as a community is talk amongst our peers, our families, and our friends about ally-ship. If you want to be an ally, listen to us and believe us when we say that we need help. I stand in solidarity with both the Asian & Black community. Lets have some empathy for one another.
TEXT BY CHRISTINE KO
People need to understand that they don't have to know they're committing a hate crime in order to commit one. These feelings are so deeply rooted and we have to acknowledge they exist in order to solve the problem.
As someone who grew up in Georgia, I understand what it feels like to not be believed when I've experienced racial descrimination. We cannot put people in positions of power that do not protect us. This man was not just having a "bad day."
Resources: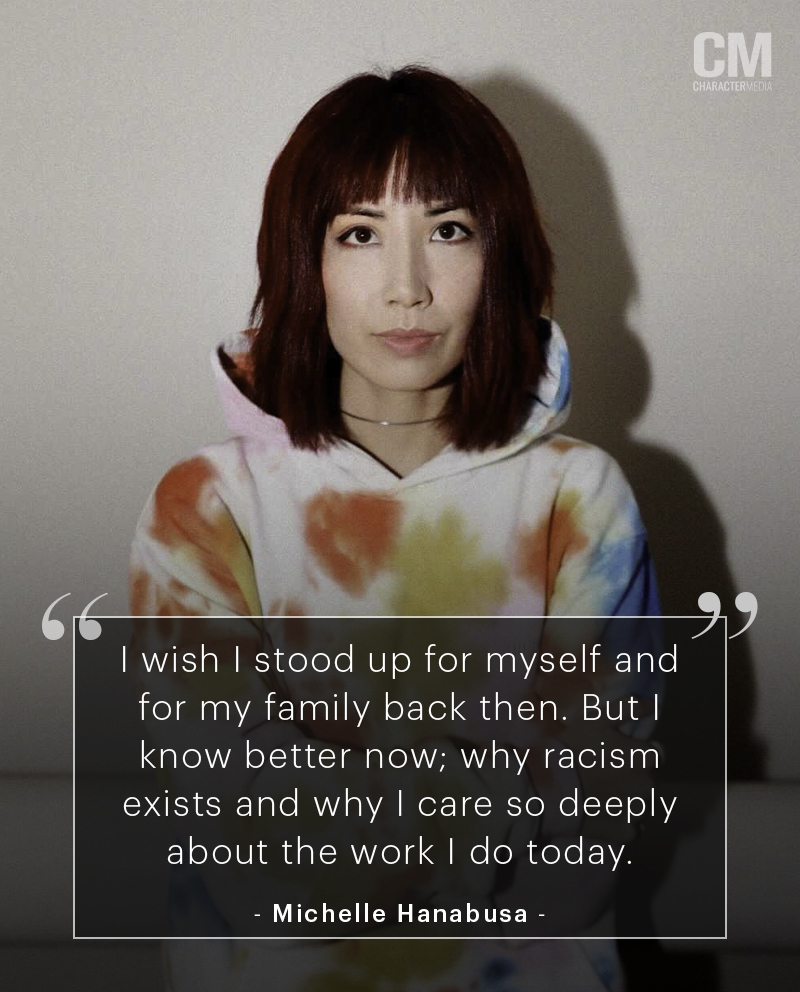 TEXT BY MICHELLE HANABUSA
According to the CSU San Bernadino's Center for the Study of Hate and Extremism, attacks against Asian people rose by 145% in 2020 and some cities are experiencing even more. This doesn't even capture the majority of incidents that go unreported.
Unfortunately these incidents are not new. However with the recent attacks and murders on the most vulnerable, I go through waves of emotions from grief to fear to anger. I worry for my family, parents, grandmother. What if something were to happen to them? We should feel safe to go out and run errands, pick up food for the family, etc. I've also been thinking a lot about experiences I've seen or heard growing up. From my father making up an American name because he used to be made fun of for his Japanese name or making it easier for his coworkers to remember his name, to comments I remember getting from my friends parents: "Wow your dad sounds so American (and white) but he's Asian…" to my mother being scared to answer the phone when she was a college international student in Minnesota…the list goes on. I wish I stood up for myself and for my family back then. But I know better now; why racism exists and why I care so deeply about the work I do today.
We are continuing to build our resources and programs through our Hate Is A Virus nonprofit as well. Last month, we launched the CommUNITY Action Fund, our effort to raise $1 million to give back to local community organizations serving our AAPI community and solidarity-building efforts. Furthermore, we publish various educational resources in partnership with other nonprofits dedicated to this movement, including on topics related to bystander training, navigating anti-Blackness, and more.
TEXT BY TAMMY CHO
On March 16, eight people were killed at three spas in Atlanta. Six of the victims were Asian women. This is not an isolated incident—it is symptomatic of the long history of violence and discrimination against Asians and Asian women in the US.
When I see these stories of these hate crimes, I see my parents, both of whom immigrated to the U.S. to provide a better life for us. Growing up, I witnessed my father, a U.S. Army veteran, still get perpetually "othered" as a foreigner by customers at his dry cleaning business for not being able to speak English fluently. I've seen my mother toil numerous low-wage jobs to provide for us and what she endured. Through my work with workplace harassment, I've witnessed women, and especially Asian women, disproportionately faced with racist and sexist attacks long even before the pandemic. I'm exhausted, grieving, and most of all, angry. I will keep fighting for our communities.
Thankfully, as much as racism and sexism is not new, activism is not new either. We've been encouraged by the incredible community leaders and organizers who have been fighting for justice for our community for decades.
A few of the organizations and leaders we encourage following:
We encourage people to research and support local organizations that resonate with them as well.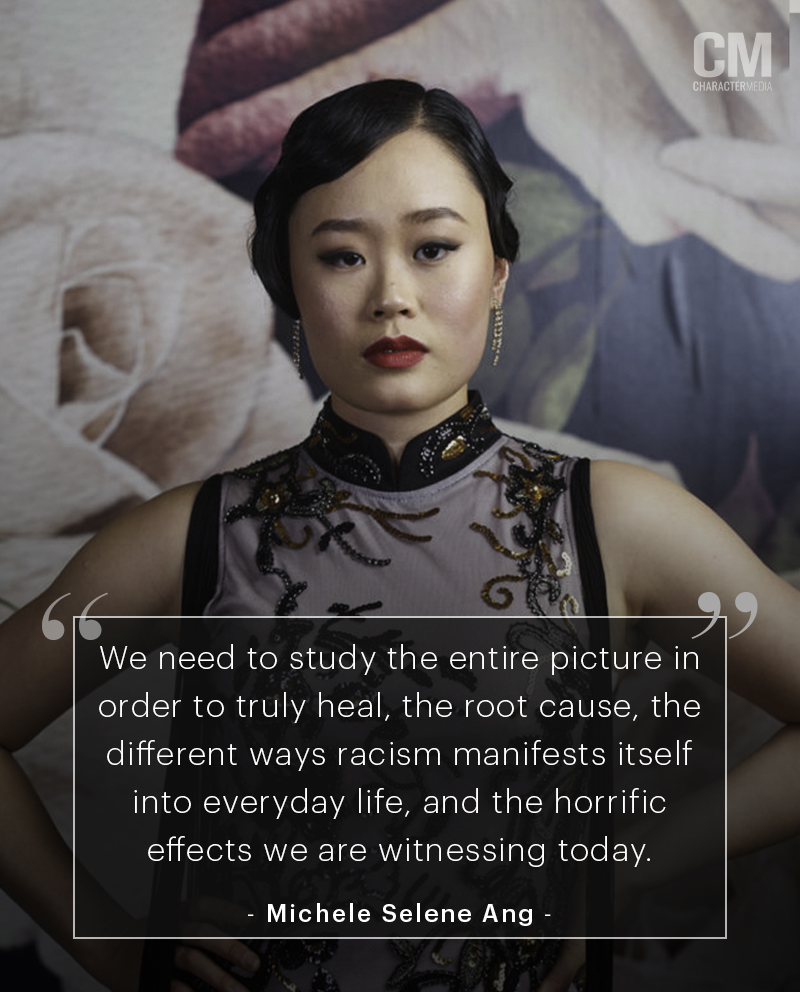 TEXT BY MICHELE SELENE ANG
The recent surge of brutal attacks against AAPI people didn't come out of nowhere. Anti-Asian sentiment has happened for years in this country. This resentment has roots in American legislation, politics, and media and the escalation of this hatred was given full permission to explode by the racist remarks from our last president. We need to study the entire picture in order to truly heal, the root cause, the different ways racism manifests itself into everyday life, and the horrific effects we are witnessing today.
Resources: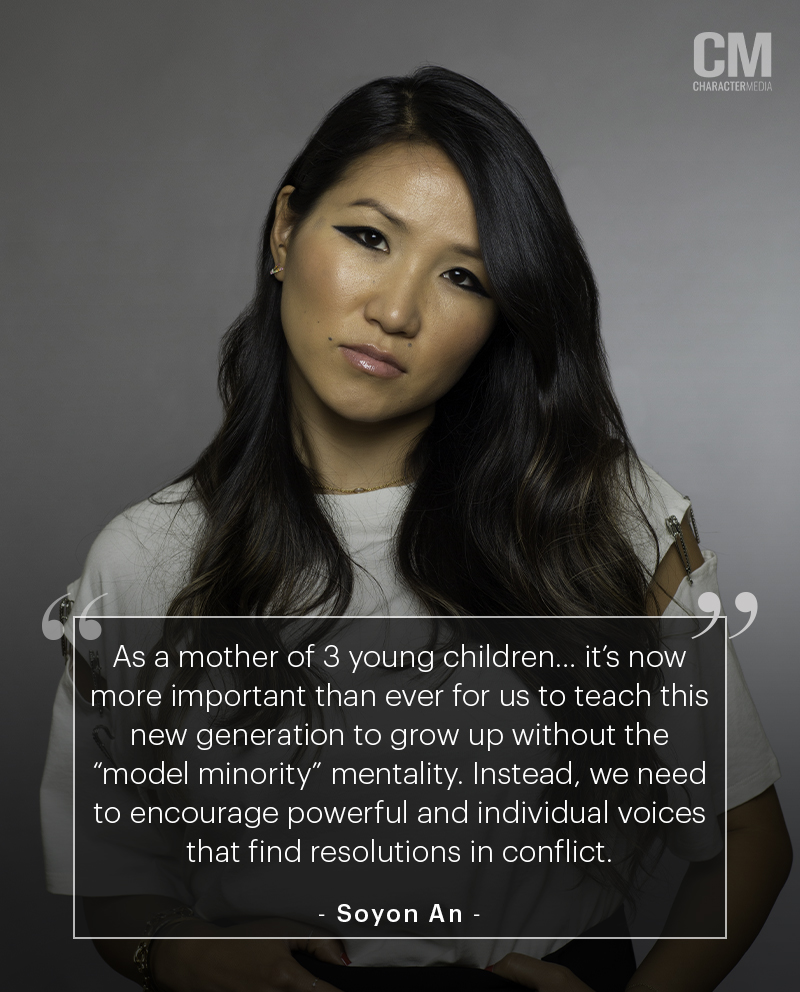 TEXT BY SOYON AN
What we are experiencing right now is heightened awareness of the hate crimes towards Asian Americans because it is finally being spotlighted by the media. The sad truth is that we have been enduring racial slurs and discrimination on American soil for centuries. This is not new to us, but because it is being brought to light, now is the time for all of us to unite, speak up, and fight for equality, justice and true freedom to live without fear in our own neighborhoods.
As a mother of three young children, I find that it's now more important than ever for us to teach this new generation to grow up without the "model minority" mentality. Instead, we need to encourage powerful and individual voices that find resolutions in conflict. I know for my kids and for all AAPI children that are growing up during this time, I want them to be confident in who they are and where they come from. I want them to ask questions to learn and expand their perspectives, plus stand and speak up for what's right. The most recent anti-Asian hate crimes highlight the larger issue and that is racism. We all need to stand together—AAPI, Latinx, Black, White, all communities—against racism, xenophobia, stereotypes. We are stronger together.
StopAAPIHate and Stop Asian Hate are organizations that provide resources for those looking to combat racism. They advocate for the AAPI community and help community members take action against anti-Asian hate crimes, whether it's through donations or using their voices on social media. They have a list of links on the various ways people can get involved and I believe it's incredibly useful: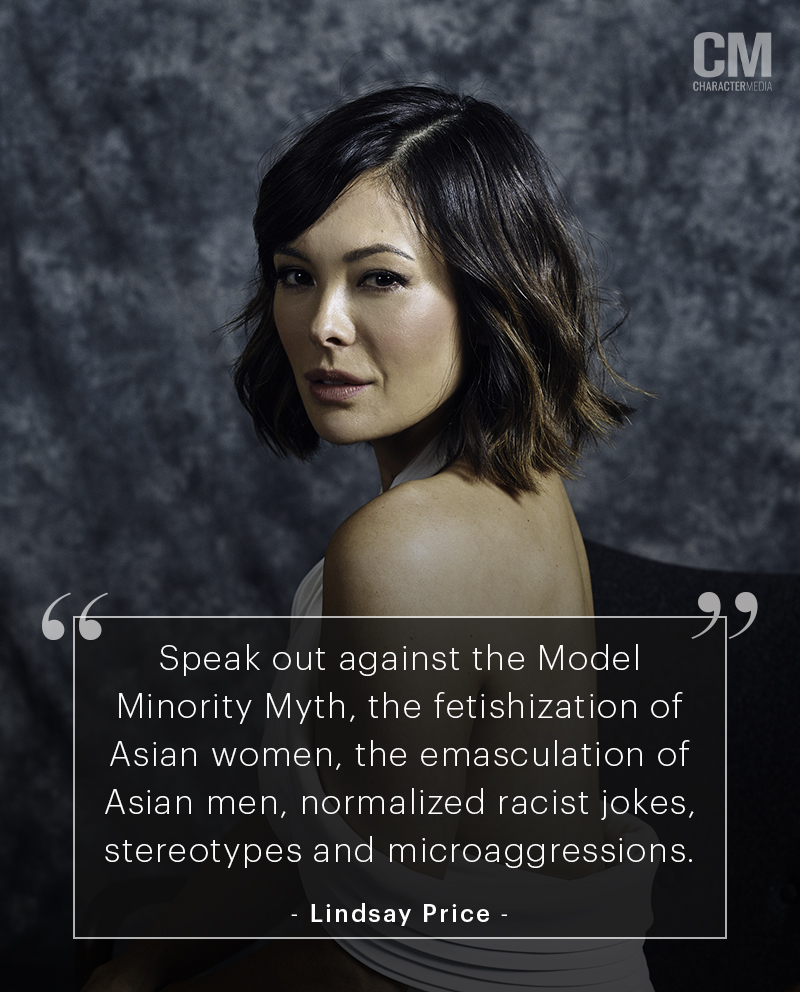 TEXT BY LINDSAY PRICE
In a year of already tremendous fear and challenge, Asian Americans have felt the pain and humiliation of a significant uptick in xenophobic hate that has been brought on by the misplaced fear and frustration over the COVID-19 virus, and the ignorance and irresponsible articulation that Asians are responsible for what has happened. It has liberated the small-minded and already racist minds to outwardly express their hate and superiority.
Our elders are being senselessly attacked. They are being spat at, yelled at and murdered. In a culture where our elders are our most respected treasures, it is beyond heartbreaking and feels very personal. My mother has been through so much in her life. She has worked hard to be here and gain freedom. She still loves her country with all her heart. But she is an Asian American woman living in America today and she is not safe. I cannot believe that after a year of being afraid of getting this virus, being isolated, being scared after losing my father suddenly, and 5 days after being vaccinated and able to have the simple joy of being with her grandchildren and going to the Korean market again, now we have to worry about her being harmed or even murdered. She does not deserve this pain. No one does.
I always knew that the white supremacy of the world was there. I've lived with it but never lost my sense of self because of it. The problem lies in the lap of the racist person and was not mine to hold. However, it was hard not to feel it as acutely as I have in the 35 years I have steadily worked in the entertainment industry. I knew it was there because of every single time I played a nameless GIRL #3, or the sidekick or BFF to someone who was white and given permission to have a full life—a story—on screen. I knew that I was there to support and color his or her white picture. It was the reality. I was cast in stereotypical roles like a Thai prostitute or the cook's daughter scheming for a green card. As frustrating as it was, I would not give up.
Soon enough I just got to a place where I worked hard enough to be the best actor in the room and I got the jobs I wanted but, there was still a ceiling and I knew it. Many things have changed as far as opportunities in Hollywood are concerned. But these demonstrations of hate and the living in the truth that others see me as less than them because of the color of my skin are unfortunately glaringly obvious now. I cannot believe that it's taken this long for Asians in film and television to make their mark. But, we are here. And there is hope in the fact that we are getting chances now to represent our people and tell our stories. It will help to stop the dehumanization of Asian Americans in this country. The only way forward is to tell our stories and gain empathy and understanding. Even in my social circles, even with my friends, I hear their eyes rolling in the back of their heads. They feel like people just want to complain. That this isn't a real problem. I will not be silent, and I will be an advocate for myself and my Asian brothers and sisters. No matter how hard they try to dismiss this old, ignorant and deep darkness.
Report and speak out. It's time to speak up and educate ourselves in this country. It is the moment that can change everything. Speak out against the Model Minority Myth, the fetishization of Asian women, the emasculation of Asian men, normalized racist jokes, stereotypes and microaggressions.
Donate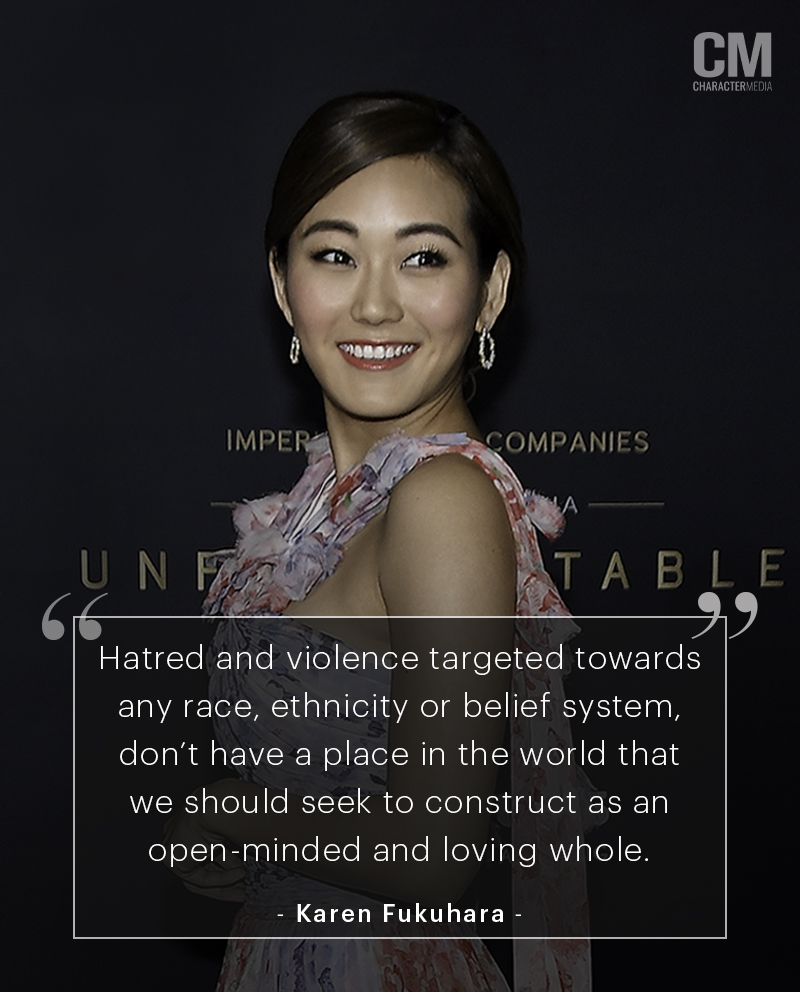 TEXT BY KAREN FUKUHARA
Asian Americans are being racially harassed, assaulted and murdered by xenophobic assailants. These attacks are global in nature and target women and the elderly.
I fear for our parents, many of whom moved to the US for an opportunity to work hard and contribute peacefully to their new home. Their struggle and sacrifice as immigrants and outsiders have made possible the beautiful melting pot of the United States, that we now enjoy. What makes our country special is that we can have a Chinatown, Little Tokyo, and Koreatown miles from a Little Ethiopia and Little Tehran – in some cases within one city. Hatred and violence targeted towards any race, ethnicity or belief system, don't have a place in the world that we should seek to construct as an open-minded and loving whole.
We need YOU to step up and become our ally. Please amplify our voices, support Asian businesses, and help us not feel so alone. Here are some organizations that I have been looking into:
TEXT BY BRIANNE TJU
There's a global pandemic due to COVID but we are also facing a racial pandemic due to deep-rooted white supremacy and ignorance. Black Lives Matter really blew up at the beginning and now Anti-Asian hate crimes are peaking during what is hoped to be the last leg of COVID-19. Hate crimes against Asians have been spiking since the pandemic started due to our former "president," and other people in power, referring to the virus as the "Chinese-flu." This ignorant behavior heightened the nation's passive-aggressive tendencies toward Asians and turned it into something violent, recurring and eye-opening. We have been silenced by the media, reduced and ignored by the police and are the designated scapegoat for this pandemic, while our men, women and elders are under attack. On March 16th eight people, six of which were Asian women, were murdered at the hands of a white man in Atlanta. Enough is enough.
We're dealing with this violence, alongside the erasure of our existence as Americans.
The monolithic portrayal of our race is harmful and needs to be dismantled. We need to talk about the disparities and the ugly truths within the Asian-American community. We need to be humanized as a racial group.
My reaction to these tragedies is one of anger, shame, embarrassment, fear and sadness. It's not really linear for me. I wish I could just be angry, but I don't think that's the way most Asian people function. In my experience, we have been groomed to keep our heads down, be endlessly grateful, and led to believe that America is a meritocracy. If we work hard and play by the systems' and society's rules, we will "survive" in peace. That kind of thinking has silenced our voices and hindered our abilities to rally together and fight. I found that I was kind of paralyzed by the attacks early in the pandemic. It hurt too much to acknowledge. I was willing to speak up and fight for black, trans, and other marginalized lives, but not for my community or myself. Now I realize that's not an option. Asian silence/obedience does not keep us safe. It never has. Instead, it created a ticking time bomb that has finally exploded and now we must pick up the pieces and rebuild together.
I have flooded my Instagram feed with Asian activists, brands, artists, influencers, news outlets and organizations. I think having that daily reminder and being forced to acknowledge the problem is a big first step. Having those tough conversations with your family, friends, co-workers and partners is an integral part of this healing process. It can be scary and exhausting, but enlightening and educating our inner circles are needed to dismantle ignorance and prejudice. I'm very lucky to be working right now, but after the shooting in Atlanta, I knew I needed to be more proactive besides just posting on my Instagram. I ended up texting everyone on my cast resources, educational materials and organizations to support AAPI. It scared the sh-t out of me, but I was met with empathy and kindness. That may not always be the case, but starting with our inner circles will have a domino effect.
Support Asian-owned brands and businesses.
Don't stand-by when you see injustice happening around you- in any capacity.
Take the initiative to educate yourselves.
For all friends of POC, please check in and show your love and support. We need the help of others, especially white people, to amplify our voices.
---
Author's note: This is a series of quotes collected from AAPI women in the industry that will be periodically updated as needed. Updated as of March 31, 2021.